4 Ways to Style Your Human Hair Wig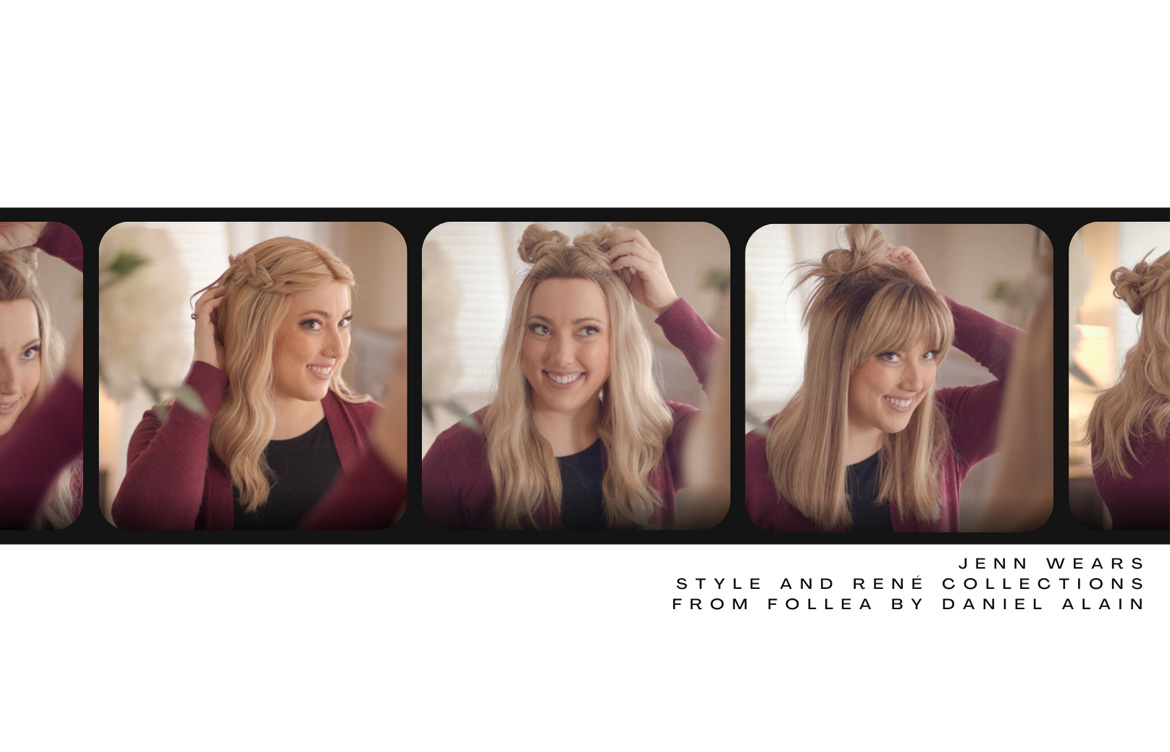 Hair loss, whether through thinning hair or bald patches, can be tricky to manage. Many people spend a lot of time trying to hide it by styling their hair to appear fuller and thicker. It can be distressing being unable to emulate the fun hairstyles popularized by celebrities and flaunted on social media. People often turn to human hair wigs to give them a beautiful, full head of hair, where their bio hair fails to meet the mark.
Here at Daniel Alain, we have been crafting premium human hair wigs for over two decades. Our wigs have achieved worldwide acclaim for their superior quality, craftsmanship, and natural beauty. We source the best human hair, and our wigs can be styled just like bio hair.
We love seeing our customers make their wigs their own, and we're committed to sharing styling tips and tricks so that everyone can feel confident in wearing human hair wigs that feel like a part of them.
One of our real-life customers, Jenn Brown, shares her styling tips for wig wearers. Jenn has been wearing a Follea René wig by Daniel Alain for over two years after experiencing hair loss through androgenetic alopecia. Her thinning bio hair was too fragile for heat tools and too fine for braids and updos. When choosing her first human hair wig, she knew she needed to find a piece that would complement her youthful style and fun personality.
Here, Jenn shares some of her favorite looks she creates with her Follea René wig. She wants to reassure you that if your bio hair can't offer you the flexibility you crave, a human hair wig may be able to give you just what you're looking for. If you've been thinking about investing in a human hair wig, you're in the right place to learn how you might style one of your own. Like Jenn, we hope you'll soon feel confident to express yourself by wearing hair that doesn't hold you back.
"I dealt with really thin hair for about 10 years, and during that time I couldn't do any fun creative looks with my hair that I saw all of my friends doing. But now that I have my wigs, I'm able to make fun looks happen super easily," explains Jenn.
---
---
how to braid a human hair wig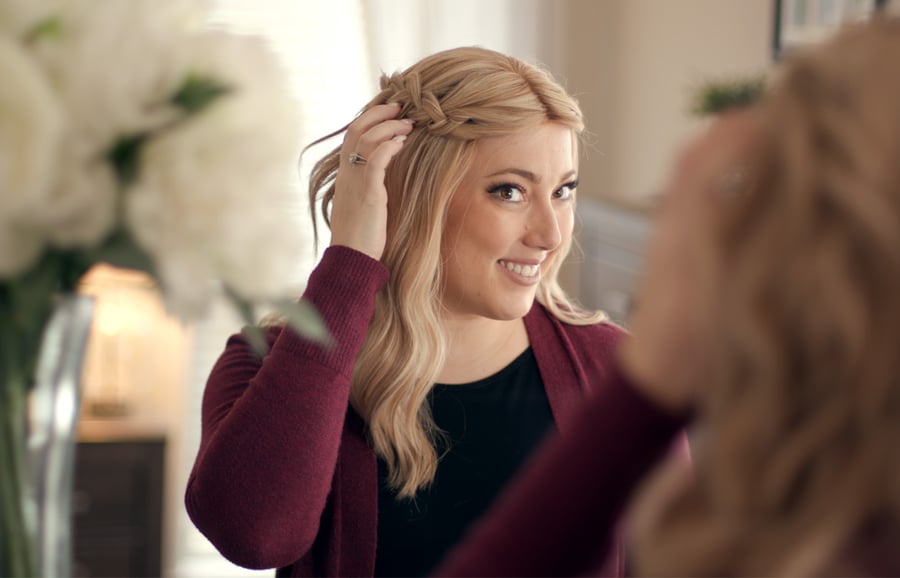 Jenn is a busy mom to two small children and works as a pediatric RN in a hospital. Like all working parents, Jenn doesn't have much spare time to spend on herself, and her favorite go-to styles are quick and easy.
"When I started styling my René wig from Follea by Daniel Alain, I learned to braid just my bangs. I bobby pin them up just to keep the hair out of my face and it's still one of my favorite looks now. It's super quick to do, and it makes me feel put together," says Jenn.
To create her signature braid, Jenn places her wig on her head and brushes it through. She then sections off one side of her part and braids her hair towards the back of her head. "If you haven't had a lot of hair for a long time, it can take some practice to get it right. Don't be scared to sit in front of the mirror and be patient with yourself. It's definitely worth putting in the time to find what styles you like."
---
How to create a half-up, half-down look with a human hair wiG
The René wig is one of the most popular styles at Daniel Alain. It features a lace front, a hand-tied top, and machine-wefted sides. The lace front gives a realistic front hairline and allows you to wear styles with the hair pulled up and towards the back of the head. The hand-tied top means it's possible to change the part from side to side according to preference as the hair will move in a natural direction. And although the machine-wefted means it's not suitable for high ponytails, it's the perfect human hair wig for half up, half down looks.
Jenn explains, "I'll do a half-up, half-down messy bun look any time I really want to look casual or relaxed. I tend to wear this look a lot when I'm going to work. It keeps the hair away from my face."
To create her half-up, half-down style with a human hair wig, Jenn secures her bio hair to the top of her head in a ponytail or bun.
Next, she places the wig on her head. She sections the hair with a comb and takes hair from the hand-tied area of the wig. Leaving some hand-tied hairs loose ensures the machine-wefting on the sides is covered.
Jenn then twists the hair into a loose bun - the messier, the better! She secures the hair with a hair tie and bobby pins, being cautious not to put the bobby pins into the wig cap.
Finish the look by brushing out the remaining hair to make it smooth. "You can pull out a few baby hairs around your face and ears to make it look completely natural," suggests Jenn.
---
How to do space buns with your human hair wig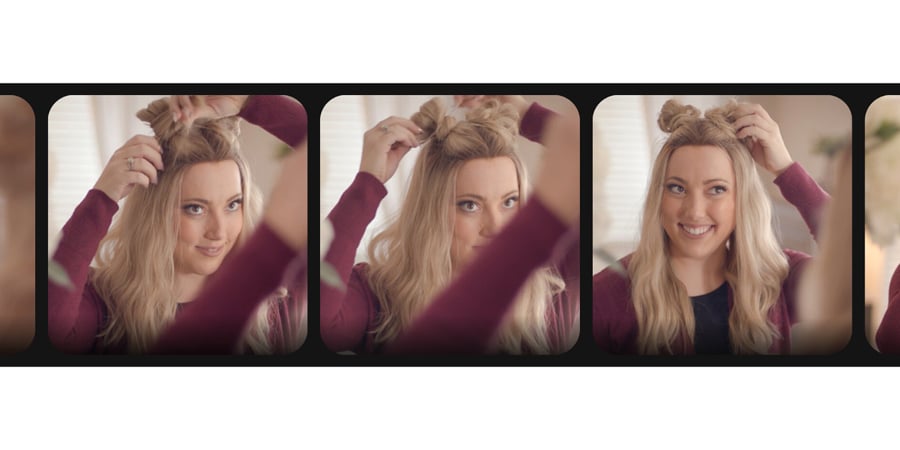 Some looks are easier to achieve than others, and one of the benefits of wigs is that they can be styled on a mannequin head, giving you the range of movement to access the hard-to-reach areas. With practice, you can become your own expert, in-house stylist.
One of the more elaborate styles Jenn was desperate to try when she first started to wear wigs was space buns. "It was a style I had always seen so many people do with their natural hair, and it was something I never had enough hair to do. When I realized I could wear my wig in space buns, I was just so excited. It's the look I do when I want to feel fun and playful," she explains.
Jenn creates the look by giving her Follea René wig a center part. She wets the hair at the root with a spray bottle filled with water, then combs the hair back to find the center line. She combs down each side of the hair and dries the hair in the direction of the new part.
Next, Jenn brings the hair on one side of the part up and back, making sure to only take hair from the hand-tied area, not the machine-wefting. She leaves some of the hand-tied hair at the back of the wig to cover the machine-wefting.
To create the space bun, Jenn twists the hair into a bun and keeps it in place with a hair tie. She uses bobby-pins to secure the space bun where necessary, taking care not to push the bobby pins into the wig cap as it could damage the lace material.
After creating a space bun on both sides of the part, Jenn combs the remaining hair at the side, to smooth it down.
---
How to put a human hair wig into a ponytail
Before Jenn wore wigs, she lamented that she didn't have enough hair for the simplest of styles. Even the humble ponytail was beyond her reach because she felt her thinning hair didn't cover enough of her scalp. These days, Jenn loves being able to pull her wig back into ponytails that are both practical and flattering.
As every mom to small children knows, some days just call for a ponytail. Jenn notes, "Pulling my hair into a ponytail makes me feel ready for whatever the day is going to throw at me. I make my wigs work hard and I love figuring out ways to make them do what I want them to do. I do have some bio hair but this look won't work for people who don't."
To put her René wig into a ponytail, Jenn selects a wig that most closely matches the color of her bio hair (she has a few René wigs in different colors!) She starts by sectioning off the sides and back of her bio hair and tying the rest into a ponytail or bun on the top of her head.
Next, she chooses a wig grip that also matches the color of her bio hair and secures it around her head. "Some of the wig grip may be visible so you want to use one that blends in with the color of your bio hair. It'll look most natural and seamless," explains Jenn.
After pulling the front and back sections of her bio hair out from under the wig grip, Jenn places the wig on her head.
Taking the bio hair and the wig, Jenn pulls everything back into a ponytail and secures it with a hair tie. The bio hair helps give a more natural-looking blend around the back and sides of the wig.
To finish, she tightens the ponytail and pulls a few baby hairs out at the sides for a casual, effortless look.
---
Ready to experience the versatility of human hair wigs for yourself?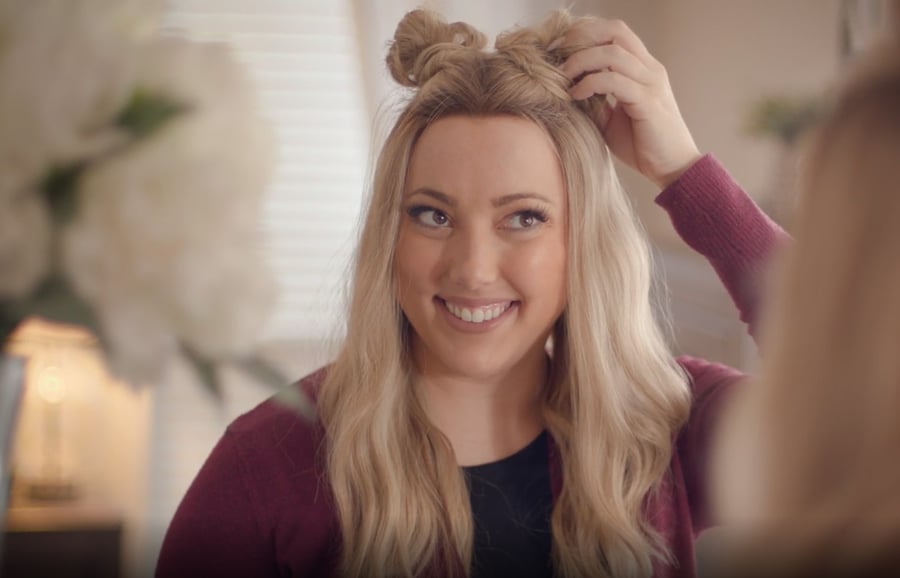 While Jenn was living with her thinning hair, she felt limited by how her hair looked. More often than not, she wore baseball caps to hide her hair loss, and she knew that recreating the hairstyles she saw online and in magazines was impossible. She had almost given up on ever seeing herself with a full head of hair that completed any outfit. Finding Follea wigs by Daniel Alain helped Jenn regain her confidence and opened up a world of styling possibilities and fun.
The best human hair wigs are natural-looking, beautiful, and versatile. With appropriate care and attention, they can be styled in the same way as bio hair, and almost any look is possible. Being able to enjoy your hair and have fun with your wigs renews the spirit and offers a new lease on life. Wigs aren't boring, and you aren't limited to wearing the same look day after day.
If you're interested in learning more about Follea wigs by Daniel Alain, our expert consultants are ready to help. They know all there is to know about human hair wigs, how to find the right one for you and how to style them in a way that feels natural for you. Booking a free consultation will set you on the path to finding your dream hair.