The Best Blonde Human Hair Toppers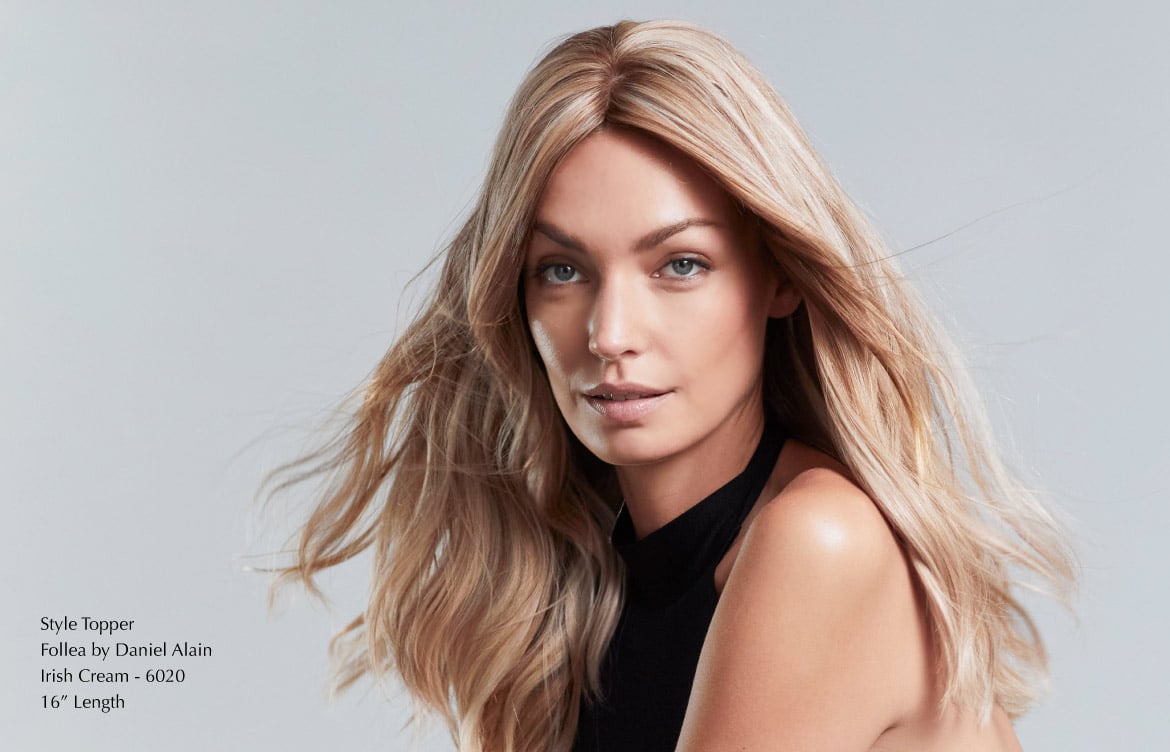 Blonde hair is the ultimate symbol of fun and glamour, and it's easy to see why. From sparkling platinum to warm honey, blondes radiate an allure unmatched by other hair colors. If you want to amplify your blonde superpower, blonde hair toppers are the perfect way to pump up the volume, cover sparse spots, and flaunt your golden locks.
There are tons of blonde toppers out there, but not all of them meet top quality standards or consider your individual style. For a seamless, natural-looking blend, you want a topper made with premium human hair and thoughtful innovation.
Because your signature blonde vibes are too fabulous to jeopardize with the wrong hair.
At Daniel Alain, we know that looking and feeling fabulous is all about having the right hair. That's why we're proud to offer a wide range of vibrant blonde hues in various styles, so you get the exact look you want without ever having to compromise your personal aesthetic.
We've raised the bar for blonde human hair toppers created with unsurpassed craftsmanship, meticulous attention to detail, and unparalleled versatility. Our toppers are made with ethically sourced, 100% European hair that looks and feels just like your dream natural champagne locks. In fact, we're the only brand with a private reserve of premium European hair available just for you.
In this article, we'll introduce you to our favorite blonde hair toppers for elevating your sun-kissed tresses and igniting the unshakeable confidence you deserve.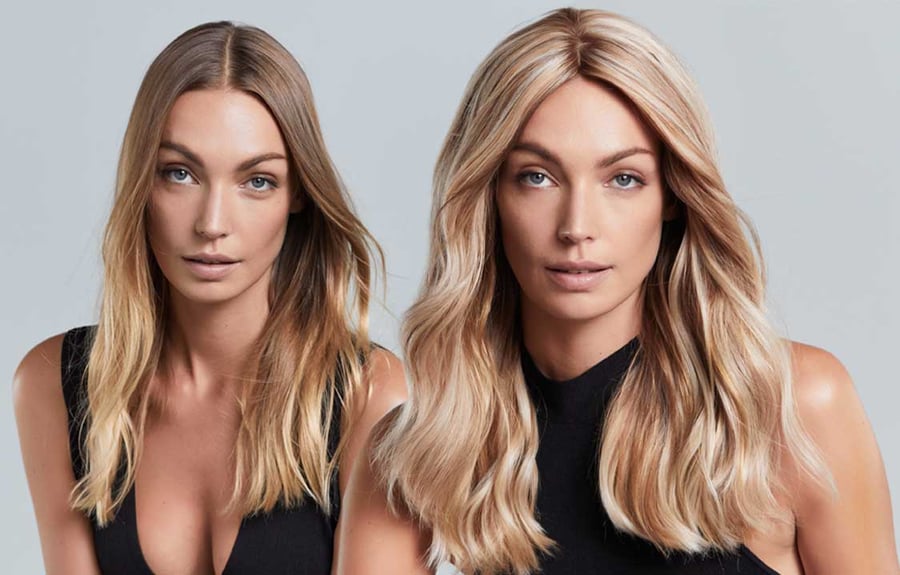 ---
Our line of LUXURY BLONDE HAIR toppers
Thanks to hand-tied premium 100% European hair, our soft and silky blonde human hair toppers seamlessly integrate with your biological hair. The result? Virtually undetectable coverage and a gorgeous, natural appearance that makes you feel unstoppable.
But we know blondes come in all shades and styles — so we don't offer just one token blonde shade and call it a day. Instead, we offer a diverse selection of colors to suit every preference and ensure that every blonde babe finds her perfect match.
You can take a pick of:
So which makes for the best blonde hair topper? Let's explore our collection so you can find your quintessential match!
PETITE TOPPER
If you're new to the world of hair solutions and want the best blonde hair topper for getting your feet wet, the Petite is precisely what you need!
The Petite has silky soft hand-tied 100% European hair — perfect for concealing thinning spots while adding a subtle lift and enhancing your natural hair. Made of soft, breathable handmade Swiss lace, it measures 2.5" x 5.25" and blends discreetly into your own hair.
Our Petite topper lives up to its name. Featuring our smallest base for just the right amount of coverage and lift — no more, no less.
Add a little oomph to your blonde locks with the Petite.
TREND TOPPER
Secure coverage? Silky, soft hair? And a new attitude to match? The Trend topper makes it happen.
The Trend is designed to give you the ultimate in coverage and volume with its slightly larger handmade Swiss lace base. Made with our signature 100% European hair, it blends and flows seamlessly with your natural strands.
Always on the go? Extra attachment clips ensure your topper looks undetectable and never budges — just like your resilience.
For blonde hair toppers with an equally fab attitude to match, the Trend is your go-to.
STYLE TOPPER
If comfort and style are at the top of your must-haves, one of our most popular blonde human hair toppers, the Style, is your MVP.
The Style features the same silky, soft handmade Swiss lace base seen in all our toppers, but with a few differences. The slightly larger size conceals thinning spots and smaller areas of hair loss while adding a little extra volume to your luscious, blonde locks.
We added a ventilated design that integrates invisibly with your natural hair and keeps you cool, comfortable, and confident. Hand-tied 100% European hair flows naturally, adding lift and effortless sophistication.
Your golden tresses are the ultimate accessory - make a statement with the Style.
CHIC TOPPER
Love the look and feel of smooth, sleek hair? Meet the best blonde hair topper to make your hair dreams a reality: the Chic.
Whether you're experiencing subtle hair thinning or more diffused hair loss, our premium Chic topper won't disappoint. Featuring the softest and sleekest 100% European hair, the Chic beautifully camouflages scarcity and seamlessly blends with your natural tresses for a sleek, polished look fit for the red carpet.
Delicate handmade Swiss lace with breezy under-ventilation provides comfort, flexibility, and secure coverage perfect for everyday wear.
High fashion blonde locks have never easier with the Chic .
---
SHOP BLONDE HAIR TOPPERS at Daniel Alain
Whether you're rocking a sleek and straight style or voluminous curls, when you love your blonde hair, you feel like you can conquer anything.

That's what sets Daniel Alain apart from the rest. We know it's not just about the product; it's about how it makes you feel. That's why we've set the highest standard for exclusive, 100% European human hair alternative hair solutions crafted with unmatched artistry and superior craftsmanship.
Shop Daniel Alain's blonde hair toppers and fall in love with your hair all over again.
Book a consultation

now for personalized guidance from an expert stylist.

We understand that the cost of hair transformations can be a concern, so we offer

flexible financing options

to help make your dream hair a reality.

Rather take your topper for a test drive first? Our

7-Day Home Trial

allows you to try your dream hair before committing —

shipping's on us!
BOOK A FREE CONSULTATION
Our stylists will help you find the right hair human hair topper for you
---
frequently asked questions
How Do I Find the Best Hair Topper?
With so many choices, choosing the best topper can feel overwhelming.
Some factors you'll want to consider are:
Color — A topper that matches your natural hair color will blend right in, or you can take this as a chance to try something different.
Texture — A topper with a similar texture helps ensure you get a virtually undetectable blend.
Length — You can match your natural hair's length or use it to add some layers.
Lifestyle — Always on the go? Then you'll want a topper that can handle everyday wear.
What Color Topper is Best For Me?
Since toppers are meant to provide partial coverage, choosing a shade that matches your natural hair as closely as possible is important. This helps your topper blend seamlessly, creating a natural-looking end result.
If you can't find the right shade, you always have the option of dyeing your topper to match your natural hair or dyeing your hair to match your new topper.
Ultimately, you want to choose a shade that best compliments your complexion and makes you feel beautiful.
Is a Hair Topper Worth it?
Yes, but not for everyone. Hair toppers are a great solution for women noticing initial signs of thinning or hair loss in certain areas of the scalp. They're also a great way to add a little extra length and volume to your natural hair. Individuals experiencing more significant hair loss may benefit more from a wig or regrowth treatment like Minoxidil.
Does Wearing a Hair Topper Damage Your Hair?
Hair toppers are safe for those with little to moderate hair loss or thinning. However, if you're experiencing excess shedding or have delicate strands much more prone to breakage, a hair topper may be too strenuous. In that case, a wig might be a gentler alternative.
What is the Difference Between a Wig & a Topper?
A wig is a large hairpiece meant to cover your entire head and replace the look of your natural hair entirely. A topper is a smaller, more lightweight hairpiece that provides partial coverage (usually around the crown) and adds more fullness to your natural hair.
Unlike a wig that's equivalent to a full head of hair, a topper camouflages sparse areas and blends into your natural hair. Whether a wig or topper is best depends entirely on your personal preference and hair goals.
Should a Hair Topper Be Longer Than Your Hair?
To achieve a natural look, you typically want to choose a hair topper that resembles your biological hair's length. If you're looking to add some extra layers, you can play with the length and opt for something a little shorter. Just be sure it isn't too short, or it may not blend as seamlessly as you like.
How Do I Install a Hair Topper?
Your hair topper is equipped with clips that securely attach to your natural hair. After placing the topper where you want it, snap the clips into place. Give it a soft tug to ensure it has a good hold. Then just style it to your liking, and you're good to go!
How Do You Sleep With a Hair Topper?
Due to the friction created by rubbing your head on your pillow as you sleep, it's recommended you remove your hair topper before your beauty sleep.
How Do You Brush Your Hair With a Topper?
To prolong your topper's lifespan, we recommend using your fingers or a wide-tooth comb to brush and detangle.
Can Hair Toppers Be Worn Daily?
Yes! With proper care, you're free to wear your topper every single day.
How Much Hair is Needed to Wear a Topper?
Since toppers are designed to grip onto your natural hair, you should have a solid foundation of strong, healthy hair for it to attach to securely. Otherwise, a wig might be a better fit for your hair needs.
Can You Swim With Hair Toppers?
Swimming with your topper isn't recommended, as salt water, chlorine, and harsh chemicals encountered while swimming or bathing can damage your hair topper beyond repair.
Can Hair Toppers Get Wet?
Swimming and showering while wearing your topper isn't recommended. However, regular washing is part of your topper's maintenance.
How Often Do You Wash a Hair Topper?
If you wear your hair topper daily or use hair care products regularly, you should wash your topper once a week. However, if you only wear your topper occasionally, you can wash it less frequently (every two to four weeks or so).
How Do You Properly Wash a Topper?
To wash your hair topper:
Fill a basin with warm water and add a few drops of shampoo.
Detangle your topper and dip it in and out of shampoo mixture.
Rinse until the water runs clear, repeating the process as needed.
For conditioning, refill the basin with clean water and a few drops of conditioner.
Run the topper through the water, combing through any tangles.
After conditioning, rinse it under warm water and remove excess conditioner.
Squeeze out excess water and

pin

on

mannequin head

to air dry or blow dry as desired.
Can Hair Toppers Be Permanent?
Toppers secure to your natural strands via attachment clips and aren't meant to be permanently fixed to your hair. Not only would the pressure of the topper put too much strain on your natural hair if worn 24/7, but the hygiene and health of your scalp will also be compromised.
How Do You Keep Your Topper Secure?
Each hair topper has four to six clips that grip onto your natural strands and keep your topper securely in place. No budging, no slipping - just a perfect fit!
Do Hair Toppers Make You Hot?
Our toppers are made with a handmade, silky soft Swiss lace base and hand-tied with cuticle-correct hair, ensuring a gentle and breathable fit for your hair and scalp.
What Are the Different Types of Human Hair Toppers?
As you search for the perfect topper, you'll find there are various types of hair used in their fabrication. Here's a quick breakdown of the most common options:
European Hair
European hair is extremely rare, high-quality hair sourced from Europe and best known for its thick, shiny, healthy tresses that emulate your natural hair. It's available in many colors, making it the most versatile option, but most manufacturers cannot obtain this rare, premium-quality hair. Daniel Alain is the only brand with a private reserve of premium 100% European hair.
Indian Hair
Indian hair is thicker and more textured than European hair, making it ideal for those desiring more volume and fullness. This hair is soft, thick, and healthy, rivaling European hair. However, the production process often compromises its integrity, resulting in a loss of softness and natural feel. It is readily available and thus, more affordable.
Asian Hair
Asian hair is thinner and straighter than European hair but has a similar luster. While it's popular and less expensive than other hair types, it's not always ethically sourced. Many Asian hair wigs and toppers use strands collected from hairbrushes, pulled from drains, or swept off the floor.
Virgin Hair
Hair that's never been colored or chemically treated is known as virgin hair. While it's the most sought-after hair on the market, it's also the most difficult to source. Most hair that's marketed as "virgin hair" has actually undergone chemical processing at some point or another. Therefore, it's important to research and be cautious of brands making exaggerated claims regarding their hair's purity.
Remy Hair
Remy hair refers to a sourcing method and can be European, Indian, or Asian. This type of hair is cut from ponytails, preserving the natural direction of the cuticles, resulting in silky smooth tresses that are less prone to tangles, shedding, and frizz.
With cuticles intact, Remy hair maintains its integrity and creates a stunning, natural look and movement indistinguishable from your own hair.
---