What is the Best Solution for Preventing Hair Fall in Women?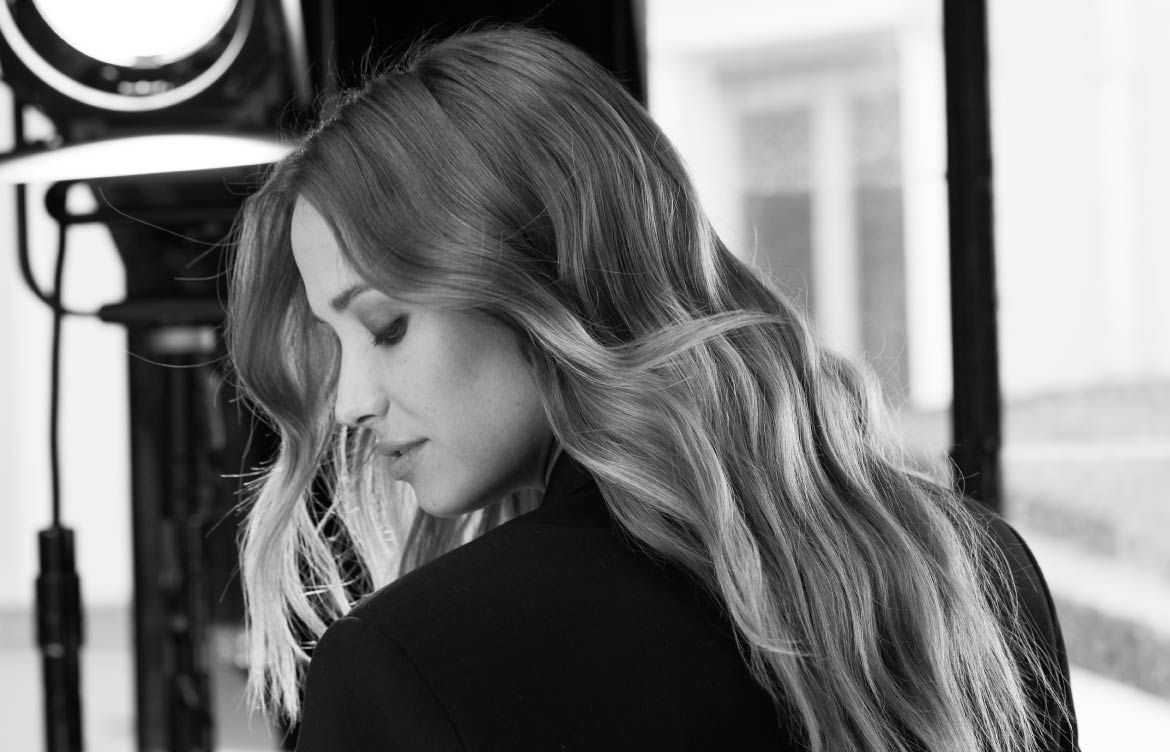 You've gone through another "magical elixir" hair treatment but saw no results. This one looked so promising. That's the third hair fall solution you've tried in the last two months, but your hair is still falling out.
Losing your hair is hard enough. And throwing more money into ineffective treatments is like pouring salt on the wound. How are you supposed to know the best solution for hair fall amidst the masses?
At Daniel Alain, we understand you've been on an emotional roller coaster. Our founder battled hair loss and decided there had to be a better way to control hair fall.
What innovative solutions and breakthrough research was lacking in the market? That's what we set out to discover. Through meticulous research, decades of development, and revolutionary products designed to alleviate the strain of hair loss and empower you to take control of your hair, we're committed to making your journey easier.
In this guide, we'll share the most effective hair loss solutions with proven results — that are actually worth your dollars.
---
effective solutions for stopping hair fall altogether
Since there are so many hair loss causes, the best solution to stop hair fall will vary for each woman. That said, there are several well-known solutions with proven results. Keep reading to explore your options.
Using an Ani-Hair Fall Treatment

Many anti-hair fall treatments boast thicker hair and faster regrowth, but that's not always the case. Most treatments use subpar ingredients to plump up the hair shaft temporarily. When researching anti-hair fall treatments, look for those boasting good reviews and nutrient-loaded ingredients known to reduce shedding.
Prime example? Daniel Alain's anti-shedding treatment, INTACT.
This innovative solution was born from five years of clinical research and testing. Its one-of-a-kind root-securing technology literally locks hair in place during high-shed activities.The novel PiliLock® Sevilla Orange Complex constricts your hair follicle muscles to stop hair from falling.
Easy application? Check. Clinically proven? You bet. Results after just one use? That's right!
Consider INTACT your hair's new best friend. But what about hair you've lost? Can you regrow it?
Regrowing Hair with Minoxidil

Minoxidil is an FDA-approved drug for hair loss. Doesn't ring a bell? You might recognize it by the popular brand name, Rogaine®.
Are you dreaming of having your old hair back — before it started thinning and shedding? If you're a responder to the drug, Minoxidil will deliver you your old hair in all its glory within a year, and begin showing results within 3-6 months.
But what if you're not a responder? For the longest time, figuring out who Minoxidil worked for was a guessing game. Some would see results quickly, others never saw improvements.
That's what led Daniel Alain's research team to dig deeper. We discovered the missing link; the secret to activating Minoxidil was SULT1A1 scalp enzyme activity. Those who have this activity saw results, and those who don't were left pursuing other treatments.
Before you try Minoxidil, take our Minoxidil Response Test (MRT). It's the difference between knowing right away if the drug will work versus waiting up to 9 months.
Pros:
FDA-approved
Reasonably priced
Cons:
Long waiting time for results
Response isn't guaranteed
Has common side effects like facial hair and inflammation
Conceal Hair with a Wig or Hair Topper
Wigs aren't the best solution to stop hair fall, but high-quality human hair wigs are the best for concealing hair fall!
Our Follea wig collection features the most precious, 100% European human hair in the wig world. Hand-tied individually, each wig flows, bounces, and moves naturally. Craving a certain look or length? Take your pick! With human hair wigs, you can style and dye them as you would your bio hair. Meaning? No limitations when you're flaunting premium strands.
If you're craving extra volume, a topper is an undetectable, affordable way to pump up your tresses and give you that lift you love.
Why wear a wig or topper? Women wear them to conceal loss or thinning, add volume, or cover up patches while regrowing their bio hair.
Pros:
Versatile
Instant hair fall solution
Superior coverage
Undetectable
Cons:
Doesn't regrow hair
They're a significant investment


Trying Platelet-Rich Plasma (PRP) Injections
Platelets are protein cells in your blood's plasma that have regenerative properties. PRP injections work by separating platelets from blood plasma and injecting them into areas with hair loss and thinning.
Despite its initial use as a sports injury treatment, the procedure has grown in popularity in recent years.
Do PRP injections regrow hair? One dermatology study explored PRP injections' effects on women with androgenetic alopecia.
The result? They significantly reduced hair loss after four months, specifically around the hair part.
That same study cites seven other studies showing positive results from PRP injections. However, more controlled testing and standardized PRP practices would help experts garner insights about PRP's efficacy on regrowing hair.
Pros:
Regrows hair
Relatively painless procedure
Cons:
Nerve injury risk (albeit small percentage)
Expensive


---
WHY INTACT IS A GUARANTEED & IMMEDIATE SOLUTION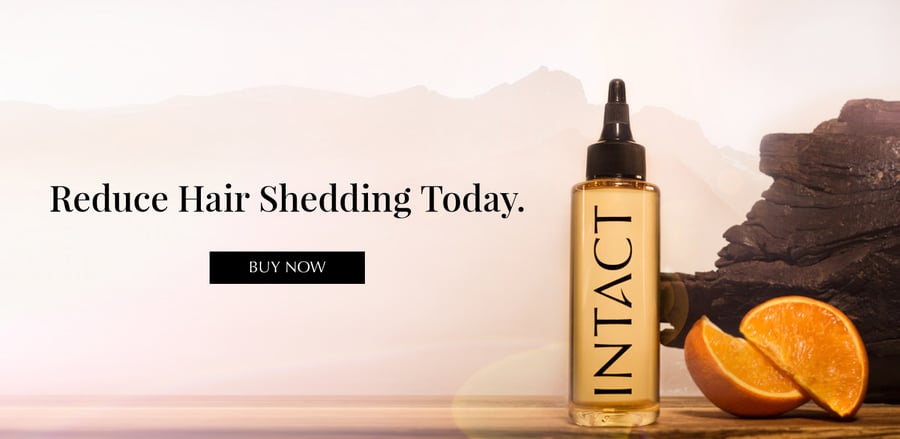 We're confident that our hair fall treatment is the ultimate solution. However, you should always do your research on any treatment to ensure it has proven results and reputable science to support its efficacy.
In this section, we'll walk you through INTACT's benefits, and share what our real customers have to say about it.
Clinically Proven
How many hair products are clinically tested by dermatologists and peer-reviewed in medical journals? Not many! This is where INTACT stands apart from the crowd.
Our skilled team of industry-leading dermatologists developed INTACT's novel PiliLock® Sevilla Orange Complex in our lab where it was tested for:
Safety
Efficacy
Allergic reactions
This meticulous quality control testing enabled us to formulate a product with plant-based ingredients and proprietary technology proven to retain hair.
Here's what one of our INTACT customers shared about her results:
"I experienced the most hair loss I've ever had in my life! I'm talking chunks and chunks were escaping my scalp. After finding INTACT and experimenting with their scalp and hair primer, my shedding has reduced over 90%! My baby hair has even begun to grow back from the thinning spots!
~ Azia
This level of satisfaction and testing should be the standard for all beauty products, including every female hair fall solution. But that's not the case.
Harvard Medicine professor Dr. Rexrode says the FDA doesn't test all beauty products for safety – instead, they wait until someone complains about an adverse reaction. Meaning? Beauty companies might opt for savings instead of clinical testing. When it comes to your hair, we never cut corners.
Works in 30 Minutes
The problem with many hair fall solution products is the waiting game. Moisturizing serums and regrowth drugs like Minoxidil take months to see results. Meanwhile, more hair falls out.
Some products require lengthy applications, leaving you stuck with your hair in a towel for hours. INTACT works its magic in just 30 minutes. And you certainly don't need months to see results either!
Delivers the Impressive Results in Just One Use
Can you think of a faster-acting hair fall solution? Of course, you'll notice the best results with regular use over time.
Our clients swear by INTACT's fast-acting results!
"I've been struggling with postpartum hair loss for a while now and even though this is my second time around, for some reason it seemed worse then last. Seeing the amount of shedding at anytime of day really bummed me out. Guys, it worked in just ONE use! It left my scalp moisturized and smooth and soften[ed] my hair beautifully."
~ Tracy
Speaking of moisture…
Nourishes & Hydrates the Scalp
Did you know that almost 50% of North Americans have dandruff? Those pesky flakes aren't a welcome sight. The biggest culprit behind dandruff is dry scalp — but INTACT has enough hydrating nutrients to give your scalp sweet, soothing relief.
INTACT is packed with B vitamins and coconut fatty acids that load your follicles with hydration. Its humectants and emollients seal the deal by preventing contact dermatitis and hair thinning.
And guess what thrives with moisture and hydration? Vibrant, vivacious volume.
Volumizes Hair
Ever wonder why we love volume so much? Apparently, it's more than just the aesthetic. A Harvard psychologist describes an animalistic attraction to voluminous, textured hair — it's thickness subconsciously signals health and an abundance in nutrients, channeling sex appeal. Spicy!
With INTACT, your hair will have no shortage of volume. The product gives your roots extra oomph, energizing your hair into sultry, supple, voluminous strands that'll make you do a double take when you pass a mirror. Go ahead, give yourself a wink. ;)
Contains Ingredient You Can Trust
What's really in your shampoo? Maybe you don't think twice – it's so ingrained in your routine. But shampoos and other products are often filled with irritating, dehydrating, hair-damaging ingredients.
A common one is parabens – a beauty preservative used in hair cosmetics. It's also a common allergen connected to cases of contact dermatitis, an itchy red rash on the scalp. Y
INTACT is 100% free of ANY parabens. It's also free of SD-alcohol, artificial dyes, mineral oil, and silicones. Why? Because a hair fall solution should have plant-based ingredients that nourish each and every strand!
Here's a look at INTACT's growth-boosting nutrients:
Hydrating emollients like propanediol
Coconut fatty acid derivatives like PEG-6 caprylic
Vitamins B3 and B5 in Niacinamide and Panthenol
Antioxidant properties from butylated hydroxytoluene

The result? The most hydrating, nourishing hair fall solution for women!
---
GET THE BEST HAIR FALL SOLUTION at Daniel Alain
You don't need to waste any more time with faulty products. You can count on Daniel Alain's clinically proven hair fall solutions, from our hair-retaining INTACT to undetectable, 100% human hair wigs.

Not sure where to start? Schedule a consultation with one of our hair experts today!
book a free consultation
Our stylists will help you find the right hair loss solution just for you
---
Frequently Asked Questions
Is INTACT Actually a Solution for Hair Fall?
Yes, INTACT stops existing hair from falling by securing it right at the root. The product's PiliLock® Sevilla Orange Complex stimulates tiny little muscles in your hair follicles to tighten its grip on each hair strand.
Is INTACT Safe to Use on My Hair?
INTACT is one of the safest products available. Unlike many untested hair solutions on the market, INTACT was researched, developed, and tested by doctors and dermatologists in a state-of-the-art facility. The solution is clinically proven to be effective and safe, as seen by multiple peer-review studies published in medical journals like PubMed and Wiley Papers.
How Do I Properly Apply INTACT?
Applying INTACT is simple. Here's what you need to do.
Gently brush out any tangles from your hair.
Separate your hair into different sections to expose your scalp.
Apply INTACT with the applicator down the lines of your scalp.
Give your scalp a relaxing massage for a few minutes to ensure even distribution.
Rest for 30 minutes. If you don't wait for the full half-hour, the product might not be as effective.
Wash and shampoo your hair, and continue your routine.
Can I Use INTACT Every Day?
You'll notice the best results after using INTACT over time. By all means, use it every day! It's safe and free of harmful ingredients like parabens and SD-alcohol. However, we recommend you schedule your applications for the days you wash your hair.
Does INTACT Regrow Hair?
No. INTACT helps prevent further hair fall, but it can't regrow lost hair. If you're interested in regrowth, consider trying Minoxidil or talking to your doctor about lifestyle changes.
What Happens If I Wash INTACT Out of My Hair in Less Than 30 Minutes?
If you don't wait the full 30 minutes, INTACT might not work as effectively in securing your hair. If you're running low on time, consider skipping your application and trying again when you can wait the full 30 minutes.
What Causes Hair Fall in Women?
Women experience hair fall for countless reasons, including:
Childbirth and postpartum
Hormonal imbalances
Nutritional deficiencies
Stress
Genetics
Tight hairstyles
Aging
Is Hair Fall Normal?
It's normal to lose between 50-150 hairs per day. However, you might lose more hair during high-shedding activities like showering. If you notice a few extra hairs falling with the water, that's normal. But if you see large clumps, you might have a hair loss condition.
Can Hair Fall Be a Sign of a More Serious Problem?
Yes. Hair fall could indicate genetic hair loss, underlying health conditions, dietary issues, and stress. The best way to know for sure is to consult a doctor.

Keep in mind that some hair fall isn't serious. It could just be seasonal shedding or extra hair fall from high-shedding activities like brushing, washing, and styling.
Does Hair Regrow After it Falls Out?
Sometimes. If you're experiencing postpartum hair loss, telogen effluvium (stress-related hair loss), or hormonal hair loss, the hair will likely grow back after a few weeks or months. With stress- and hormone-related hair loss, it's always best to consult a doctor.
Are There Any Natural Solutions for Hair Fall?
Yes. You might try coconut oil and onion juice to reduce hair fall. Additionally, rejuvenating your body with hair-healthy nutrients might also slow down the progression of hair loss.
How Can I Stop My Hair From Falling?
There's a hair fall solution for every woman. You might consider:
A hair fall treatment like INTACT
Minoxidil
A human hair wig or topper
Lifestyle and

diet

changes
PRP injections
Is There a Solution to Stop Hair Fall in the Shower?
It's impossible to stop all hair fall in the shower. However, you can mitigate it by:
Trying a cold shower: Heat makes your hair more prone to damage and could propel hair loss. Challenge yourself with a cold shower — not only will your hair thank you, but you'll also increase circulation and feel energized after!
Using a shower mirror: After shampooing, you probably rinse a few times for good measure. A shower mirror limits guessing by showing you exactly which areas still need a rinse. This limits overwashing, which causes more hair fall.
Wearing loose hairstyles: A slicked bun is uber-sophisticated, but you'll notice more hair fall in the shower after wearing one. Tight hairstyles pull on your hair follicles and make them more prone to hair fall, especially during a high-shedding activity like showering.
Is There a Solution to Stop Hair Fall When Brushing?
A brushing session is bound to leave a few hairs on your comb or brush. But you might be able to change those big clumps into stray hairs with these tips:
Use a Detangling Spray: Your brush might need some backup working through tough tangles, especially after a windy or sporty day. Spray your hair and comb through one section at a time to remove all tangles.
Slow down: Rushing through tangles is a sure way to snap and break your hair strands. Take your time and comb one section at a time.
Wash your brush:

Do you think you always wash out every last bit of product and shampoo out of your hair? Here's the thing: anything outstanding will sit in your hairbrush and come back to weigh on your hair. Wash your hairbrush regularly to remove any excess product or dust.
Is There a Solution to Stop Hair Fall When Styling?
Styling is a notoriously high-shedding activity because of one main element: heat. One study showed that heat initiates protein loss in hair, and damages the cuticle. Here's what you can do:
Use cooler temperature settings: Don't pump your flatiron to the highest setting. See what you could get away with if you came down 50 or so degrees. Chances are, your hair will still respond to the heat.
Style on occasion:

Limit heat-styling sessions as much as you can. You might consider only styling on the weekends, for example.
How Can I Make My Hair Stronger?
INTACT is an excellent way to strengthen your follicle muscle's grip on your locks. You'll notice results after only one use. Other ways to strengthen your hair include:
Higher intake of nutrients like protein, Vitamin B12, and zinc
Limited heat-styling
Looser hairstyles
Quality products
Should I See a Doctor for Hair Fall?
You should see a doctor for hair fall if you notice large clumps of hair, a widening hair part, or patchy, thinning areas on your scalp. A doctor can also help you determine what you can do about hair loss.