How to Find the Best Human Hair Topper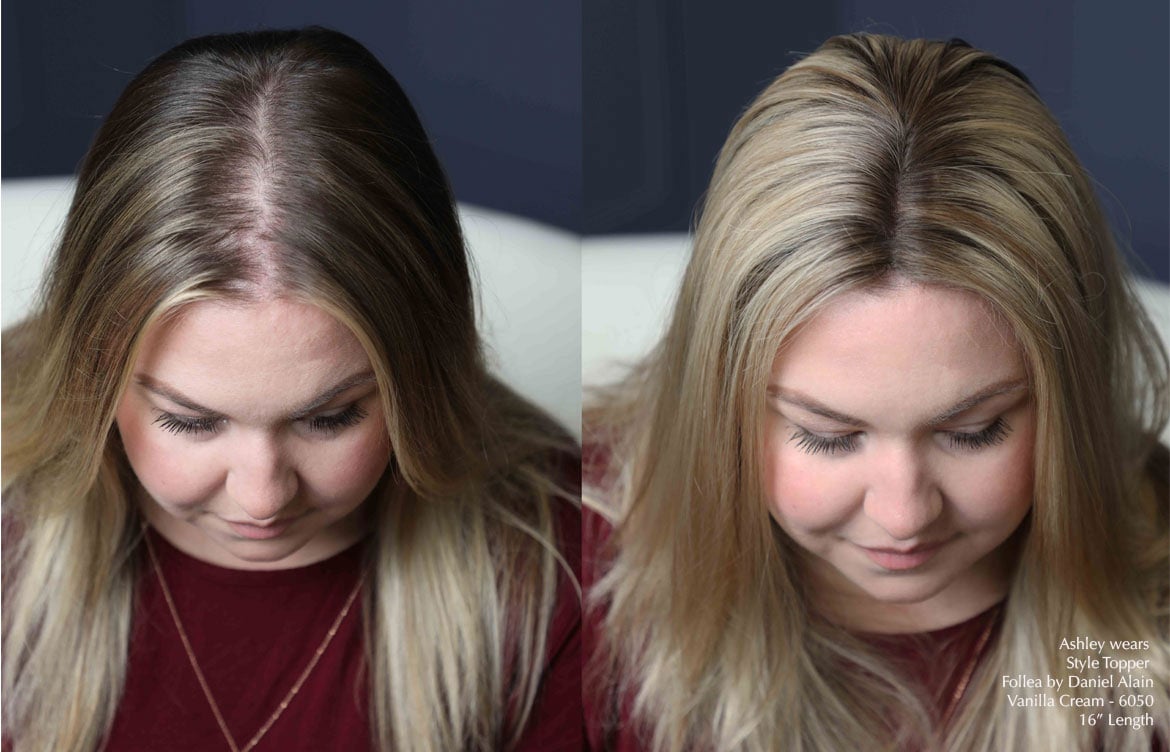 Losing your hair, a thinning crown, or bald patches are not something anyone wants to experience, but the reality is that the majority of women will notice some kind of hair loss during their lifetime. If you've noticed your hair is thinner and finer than before, you might be considering a topper to conceal an increasingly visible scalp or patchiness.
Like many women, Ashley Harfman has noticed her hair is losing fullness and density. The part line is wider than before, and her hair doesn't have the bounce and weight it used to. Ashley has started researching human hair toppers to cover the top of her head and provide volume to her locks. Working at Daniel Alain as an expert consultant for wigs and toppers, Ashley has great insight into what makes the best human hair topper.
Daniel Alain is the leading manufacturer of premium 100% European human hair wigs and toppers. We've dedicated over two decades to creating the most realistic alternative hair solutions that are soft, bouncy, and of the highest quality.
In this article Ashley draws on her real-life experience of thinning hair, tells us everything there is to know about human hair toppers and discusses what to look for when choosing your own. So if you're wondering where to buy a hair topper or how to make a hair topper look completely natural, you're in the right place. Ashley has a wealth of professional knowledge and personal experience to share.
---
---
---
Like many women experiencing hair loss, Ashley has noticed she loses hair in cycles every few years. The causes of hair loss are varied and not entirely understood by professionals, and Ashley is typical of the many people who can't identify exactly what triggers the shed/regrowth pattern she experiences.


"It seems to come and go every couple of years," says Ashley. "I can't exactly pinpoint what causes it and why. When I see myself in photos and videos, I notice my hair is getting visibly finer. My brush is full of hair after only a day or two and I'm constantly clearing out the shower drain. When other people notice and comment that my hair is getting thinner, it's hard not to panic."
---
What is a human hair topper?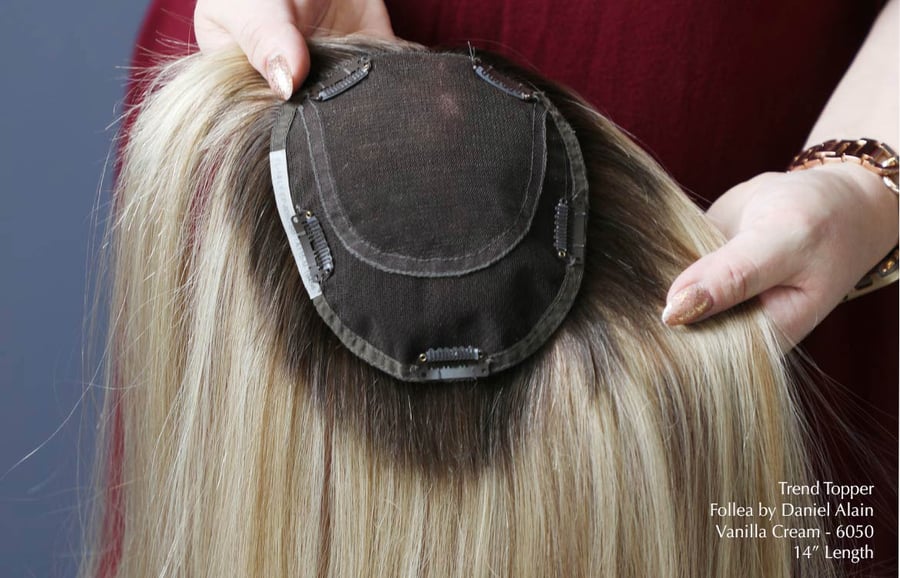 A human hair topper is a perfect way to add volume to thinning hair or to cover hair loss on the top of the head. It attaches with or without clips and provides partial coverage exactly where you need it most. The best human hair toppers blend naturally with bio hair and make thin hair look full and more voluminous.
"A hair topper is a hair piece with clips on the underside that attach to your bio hair," explains Ashley. "It can also be adhered to the scalp with glue or tape if that's your preference. The hair is hand-tied to the base to give a natural look at the top of the head and they come in a range of sizes depending on the size of the area you're looking to cover."


At Daniel Alain, we offer four different Follea hair toppers that range in size from our smallest which is 2.5" x 5.25", to our largest size which measures 6" x 6.5". A larger size of 7.5" is available by special order. All of our hair toppers are lightweight due to being 100% hand-tied, meaning each hair is meticulously tied to the base 1-2 strands at a time by skilled artisans, and easy to wear.
---
Will a hair topper look natural?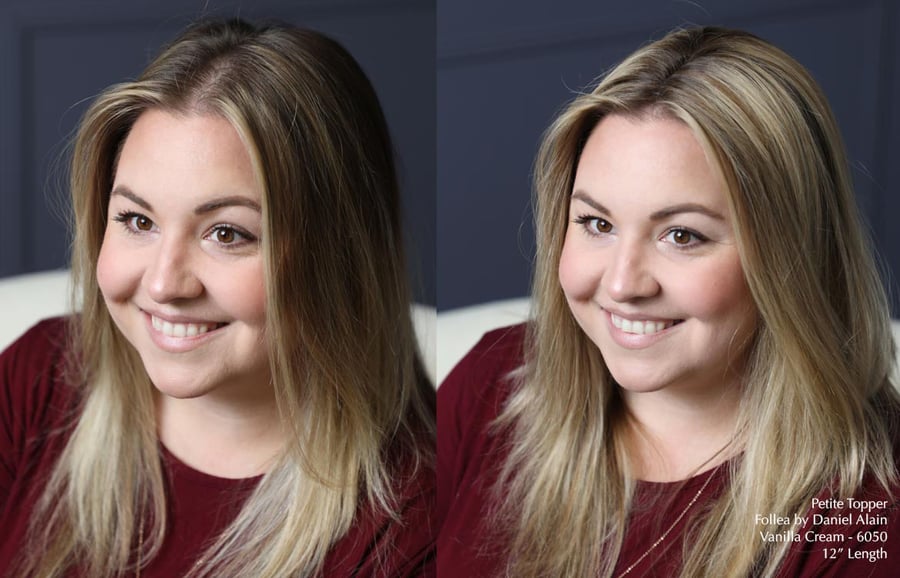 A hair topper should be discreet, blend seamlessly, and enhance the look of your bio hair. You should expect a topper to look completely natural. Here are 7 things to consider before picking one.
Hair Type
Most people will want a topper made from hair that closely resembles the texture of their bio hair so it's a perfect match. At Daniel Alain, our Follea human hair toppers are made from 100% European human hair, which is extremely fine, straight and has a natural sheen and movement. Chinese hair is coarser, straight, thick and has less movement. Indian hair has a medium texture and more body and movement. If your hair type is coarser or curlier, you should bear in mind that you'll likely have to style the topper as well as your bio hair so that the two blend seamlessly.

"Hair type, length, and quality will drive up the overall cost of a topper, so you will want to consider your budget when selecting a piece that's right for you," advises Ashley.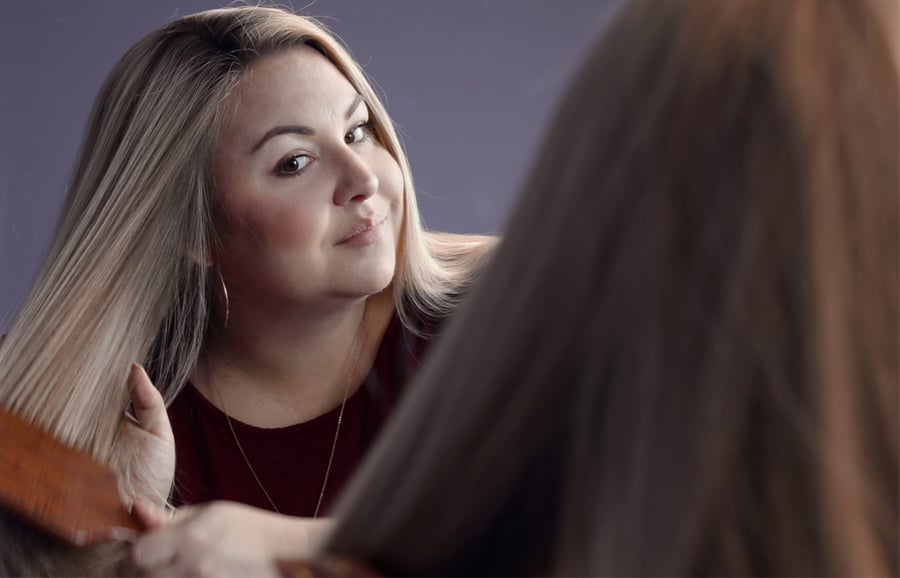 Color Selection
When it comes to hair color, Ashley emphasizes the importance of getting the color selection just right. Unlike a wig that covers bio hair entirely, a topper provides partial coverage and the bio hair is visible beneath. Ashley recommends finding a topper that matches your bio hair as close as possible so that it's undetectable.
"Above all, I would make sure the color [of the hair topper] is super similar to the color of your bio hair because that's going to be one of the first giveaways. Find a company that offers a wide range of color choices so you can find something that matches your own hair. Rooted colors are great to explore as well as they give a more natural appearance of the hair growing directly from the scalp."
Base Size
A comfortable, great-fitting base will provide you security and confidence to wear your topper all day long. Ensuring the base size covers your problem area will also give you peace of mind.
Ashley points out that, "accurate measuring is key. Look for a brand that has a fitting system that can help you properly measure and try on bases for maximum comfort and security."
Base Construction
Another thing to consider is whether you can use clips to attach your topper, or if you need a bonded option. If you choose a topper with clips, you'll need to ensure that your bio hair is strong enough to attach them.
If you prefer a bonded method, you'll need to select a topper with poly patches or silicone on the underside of the base for the adhesive.
Cut
Having a hair topper trimmed is a great way to make it feel more natural to you and helps it blend with the style and cut of your bio hair. Take your topper to a stylist who should trim and shape the piece while it's on your head.


"You can have a hair topper cut and layered around the face if you feel you need to," Ashley advises. "You can even have it textured to take out some of the weight. You might find it feels heavy or gives you too much fullness in the beginning, especially if you're not used to having a lot of hair."
Length
Picking the right length of hair is also important for achieving a perfectly natural look. Using a company that stocks a range of lengths means you're more likely to find a close match to the length of your bio hair. It's also worth mentioning that while your bio hair will continue to grow, the topper will not. If you're planning on growing your hair, you might want to wait until it has reached the desired length before you purchase a topper.


"I would make sure the length of the hair is consistent with the overall length of your bio hair. If the topper is too long it's going to look wispy on the bottom. It won't look natural over a thicker layer of bio hair and it'll look obvious," advises Ashley.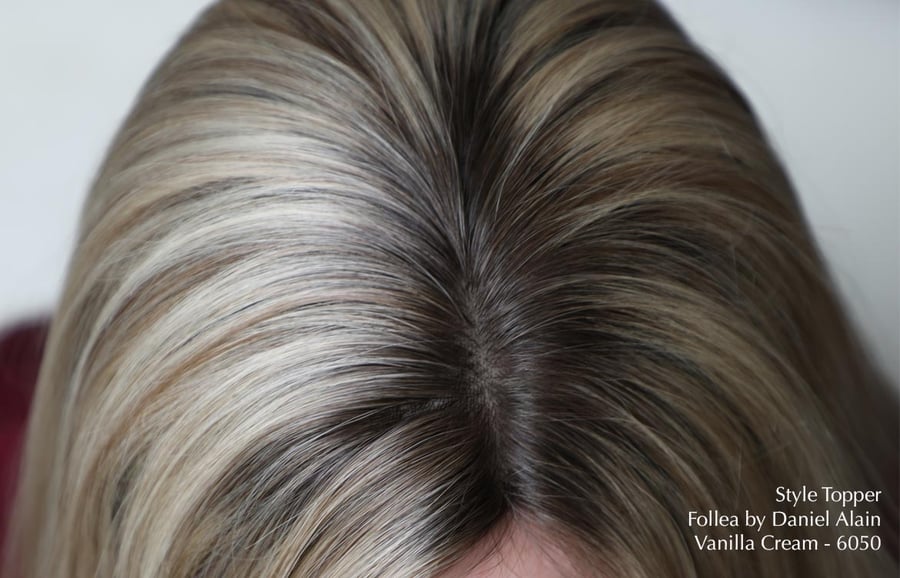 Part
Some people who wear a human hair topper worry about whether the part will look natural or whether the topper itself will lay flat. It will be important to decide whether you want a skin top or a lace top on your topper. A skin top, also known as a French part, will give you a true-to-scalp appearance and provides the most realistic part. A lace top has a much thinner base and provides more breathability, but doesn't give the appearance of a faux scalp or a natural part.


"At Daniel Alain, our toppers come with a lace top or a silk top. The lace top is great if you have concerns about the topper laying flat. It's thinner and more pliable so it molds around the shape of your head. The silk top is slightly thicker but offers a faux scalp appearance, giving you a completely natural look along the part," explains Ashley.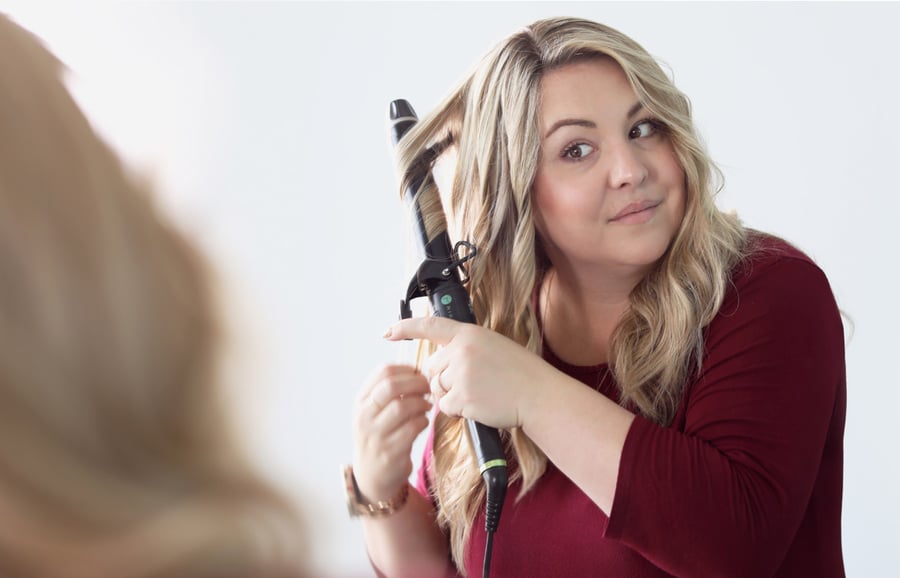 ---
Where can you buy a hair topper?
Of course, Ashley would love to personally guide you through the process of picking just the right topper via a free consultation at Daniel Alain. Ultimately, her number one tip is to find a reputable brand that stands behind the quality of its products.
"It's really important to read reviews and see what real people are saying about a company. Check out social media or a company's website for the latest information.
Make sure the company you use is assisting you with taking accurate measurements to ensure your topper fits you correctly.
A company that teaches you how to style and care for your topper once you take it home has your best interest in mind. They're invested in your experience and want you to feel great about your new piece."
---
How do I know a topper is right for me?
With Ashley's experience in the hair industry, it was easy for her to make the call that a topper was the best way to deal with her thinning hair. Unfortunately, we're not all experts like Ashley so we look to her to advise us on whether or not the topper is the right choice for others.
"If you don't require the full coverage of a wig and have strong bio hair around any problem areas, a hair topper might be the right option. You also need a strong hairline - meaning you have hair around the front of your head. With a weak hairline, it can be difficult to make a topper look natural without cutting bangs, and if you don't want bangs, there's no good way to make the topper blend in.
You also want to be the kind of person who is consistent with their cut, length, and color. If you're always changing your look, it will be very difficult to find a topper that can keep up with the changes.
At the end of the day, a high quality, natural-looking human hair topper is an investment piece, not fast fashion."
---
Ready to explore human hair toppers at Daniel Alain?
Despite Ashley's experience in the alternative hair industry, deciding to wear a hair topper was a big deal. Recognizing she had a hair loss problem, albeit not as significant as some of the women she encounters through her work at Daniel Alain, was as challenging for her as it would be for anyone. Admitting you have hair loss and a pressing desire to do something about it, can be difficult and perhaps even embarrassing. Not knowing what options are available and what would be best for you, can be overwhelming and confusing.
At Daniel Alain, we believe there's nothing to feel embarrassed about and are proud to be part of a hair loss community of women like Ashley, who openly share their stories and real-life experiences. The majority of women will experience hair loss at some point in their lives and we want to assure you that you're not alone in the journey.
If you aren't sure whether a human hair topper is the right choice for you, talking to one of our stylists will give you an expert's opinion on which of our alternative hair solutions will best suit your needs. We would be honored to be your guide as you explore the options and take your first steps toward regaining control of your hair loss.
---
Book a free Daniel Alain Consultation
During a Daniel Alain consultation, your experienced consultant will guide you through the purchasing process, discuss prices and payment options as well as help you find the perfect fitting wig and your dream hair.