2023 Guide to Human Hair Wigs with Bangs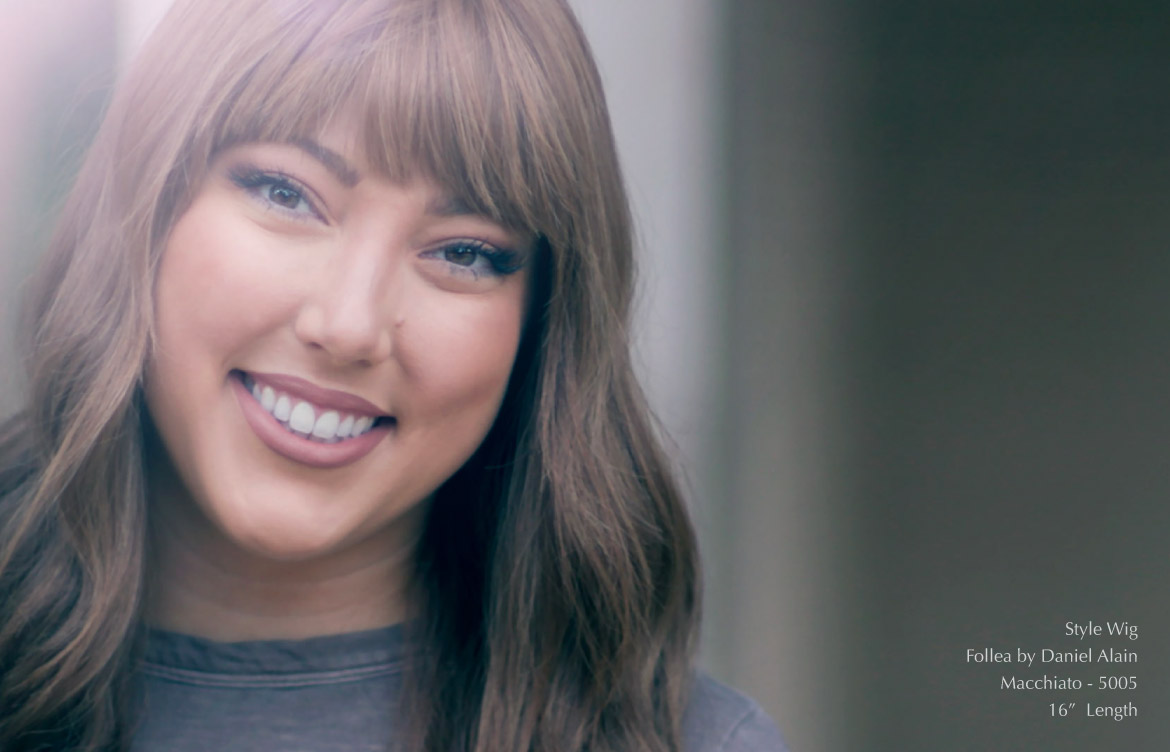 For as cute and flirty as they are, bangs have unfairly been dubbed as the first sign of an existential crisis—or a trendy haircut gone horribly wrong. If you've ever been on the losing end of some kitchen scissors and a YouTube tutorial, you know that there's nothing quite as tragic as a bad set of bangs.
That's why wigs with bangs are such a lifesaver. They take out all the guesswork (and risk) of getting a fringe, letting you experiment with the style without having to commit to a permanent change. If you're ready to jump on the bang wagon (pun very much intended), here's everything you need to know about rocking a temporary version of this timeless hairstyle.
---
What Makes a great wig with bangs?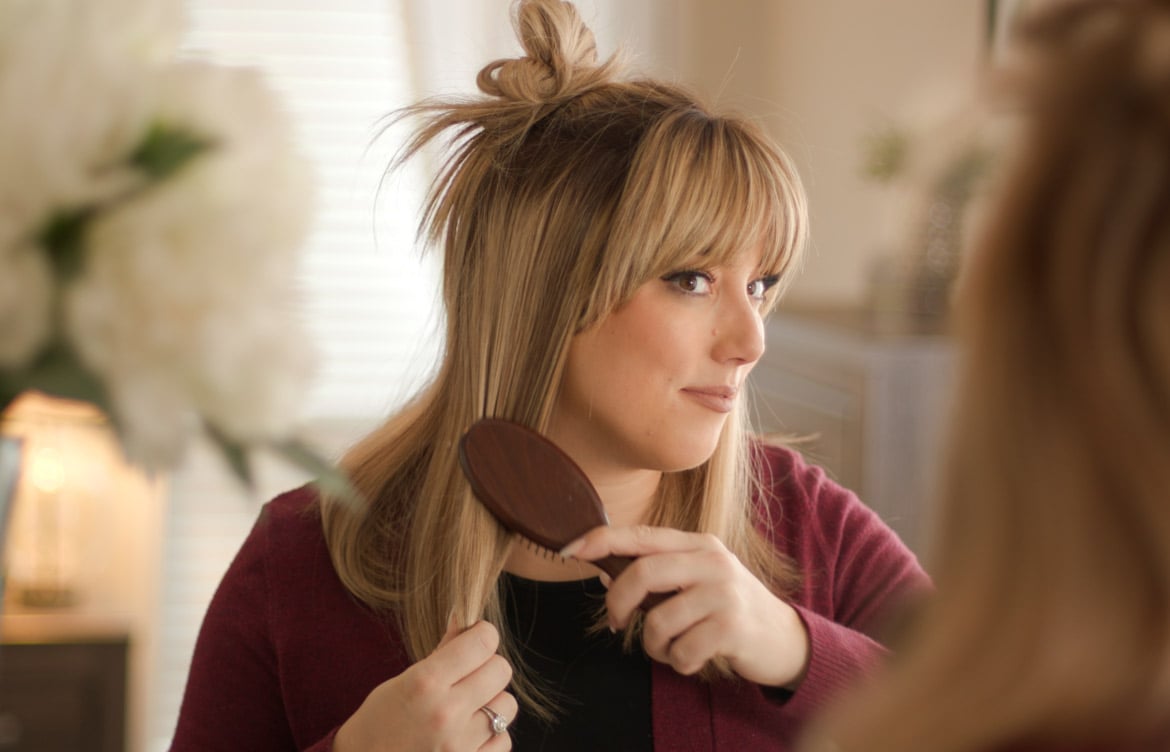 Sure, you could Google "wigs with bangs" and find yourself flooded with a colorful array of head-turning options. But virtual wig shopping requires a bit of detective work as not all pieces are made the same.
First, you'll want to rule out synthetic styles. While affordable and definitely a step up from those drugstore wigs of yore, they're nowhere near as realistic or comfortable as human hair wigs with bangs. Synthetic wigs are made of plastic fibers that have been designed to mimic human hair. But because they're not actual strands of hair, they don't move and behave the same way as human hair wigs do. Plus, human hair is a thousand times easier to style (hello heat tools), color, and cut—which is vital if you're itching for some face-framing bangs.
Next on the checklist? Make sure the hair is hand-tied to a lace front cap. Even if a wig is made of 100% human hair, it won't look as natural or feel as comfortable if it's machine-wefted onto a cap. Hand-tied wigs are individually knotted by expert craftspeople, which results in a piece that's far more delicate (and realistic). Adding that level of naturalism to a lace front cap that already simulates the look of a real hairline is key to nailing that undetectable wigwear vibe.
---
DANIEL ALAIN'S FOLLEA 100% HUMAN HAIR WIGS
Great news! You don't have to scour the internet for hours searching for a brand that meets all the criteria for bang-worthy wigs. Daniel Alain is a go-to destination for anyone and everyone in need of high-quality lace front wigs with bangs.
While none of our collections come off-the-shelf with bangs cut in, every piece we sell can be cut and customized according to your specific requirements. And if bangs are what you're after, look no further than our pieces. They are made with 100% human hair (sourced from some of the most exclusive parts of the globe) and feature hand-tied lace front caps. There's no match for the level of detail and naturalism in their wigs—seriously, you'll have a hard time believing they're not your real hair.
GRANDEUR WIG
This wig is synonymous with both luxury and elegance thanks to its premium 100% European hair that's sourced from the world's only private reserve. While her ravishing 16-inch tresses certainly turn heads, you can easily customize Grandeur with some delicious wispy bangs for an even more dramatic look.
Embrace your inner it Girl with Grandeur
CHIC WIG
Wigs with a fringe are a hot commodity right now—but wigs with fringe and layers? Now that's what we call a must-have. Available in three layered (and unlayered) lengths, Chic's bouncy tresses are practically begging for a set of bangs. Trust us, this style will make you feel like the ultimate fashionista.
STYLE WIG
A gal has to have her options, and with Style, you've got plenty. This lace wig comes in a whopping six different styles (both layered and unlayered) and 16 different colors, so you can cut and curate a look that's all your own. From sultry chocolate brown to fiery red, there's a shade for every single one of your alter egos.
Find your perfect match with Style
PIXIE WIG
Put the scissors down because Pixie has entered the chat. This sassy style is the one piece in our collection that comes with pre-cut with long bangs that are so versatile that you can play with pretty much any hairstyle you can think of. Nothing is off limits for this 5-inch cutie—including a bold set of bangs.
Live out your wildest hair fantasies with Pixie
RENÉ WIG
With René, you can have your cake and eat it too—in the form of a luxurious lace wig that won't break the bank. Made with an enchanting blend of our World Select Hair, this gorgeous piece offers the same level of quality and naturalism as our other wigs but at a more budget-friendly price. And she looks like a stunner with a set of bangs cut in if you choose.
Get the best of both worlds with René
GRIPPER ACTIF WIG
Just because you're battling hair loss doesn't mean you can't experience the pure joy of strutting down the stress in a human hair fringe wig. Gripper Actif is uniquely designed with a silicone liner that adheres to the scalp, providing a secure and comfortable grip that refuses to budge. And yes, it looks fabulous with bangs too.
Tell hair loss to get lost wih Gripper Actif
GRIPPER LITE WIG
Love stability but hate the heaviness some hair loss wigs can bring? Gripper Lite is your girl. This lace wig with bangs has an airier design that's 50% lighter than our Gripper wigs but still offers the same level of security, comfort, and standout style. Throw a pair of bangs on this baby, and you'll be stopping traffic in no time.
---
different style bangs for wigs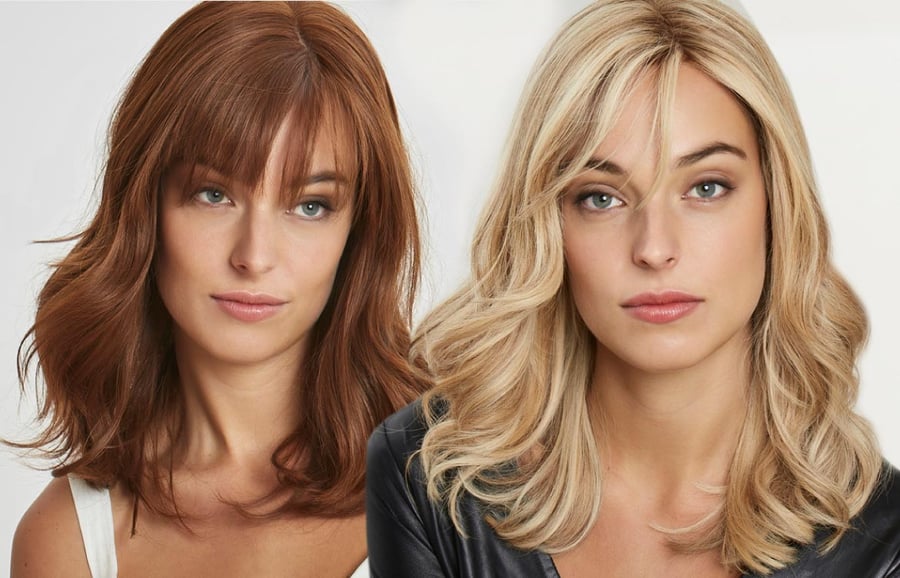 There is no singular blueprint for bangs—you can tailor them to your specific face shape and personal style. Maybe you're an old soul at heart who's drawn towards the vintage look of curtain bangs. Or maybe you're more of a modern maven who's all about the blunt bob with micro bangs. You can arch your bangs into an edgy, angular style, or chop them up into a playful pixie cut.
If you're certain you want to jump on the bang train, be sure to seek advice from a professional stylist who is experienced in working with expensive pieces like our Follea human hair wigs.
---
FIND THE BEST BANGS FOR YOUR FACE SHAPE AT DANIEL ALAIN!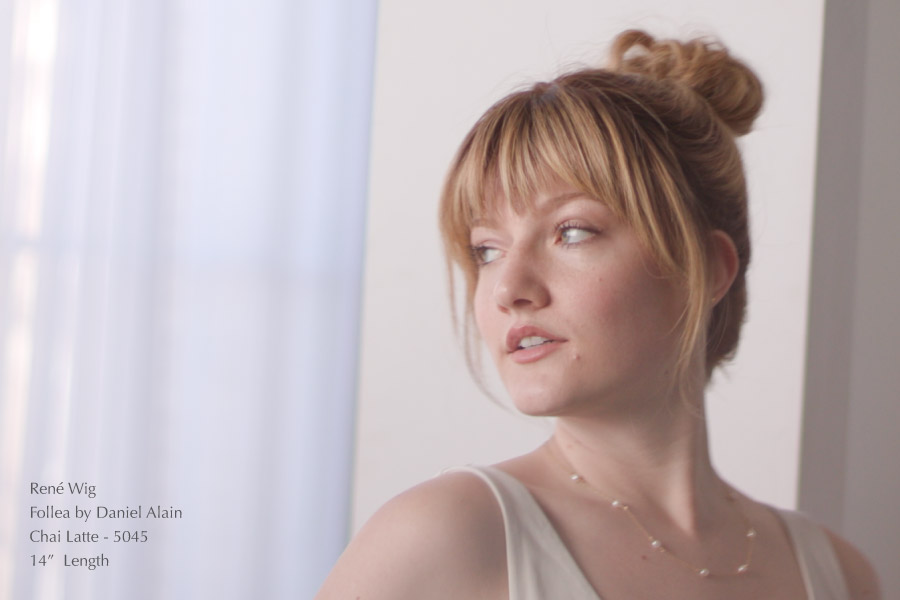 If you've been dreaming of a life with bangs for what feels like forever but have been too afraid to make the cut, wigs with bangs are the ultimate way to test-drive the look without any permanence. And as you already know from your crash course in artificial hair, the best wig with bangs is one that's made with 100% human hair that's hand-tied to a lace front cap. These kinds of state-of-the-art pieces provide an ultra-realistic look and feel, plus the ability to style your bangs any which way you please.
At Daniel Alain, we believe every woman deserves the human hair fringe bangs of her dreams—and we want to be the ones that make that happen. Click here to schedule a one-on-one consultation with one of our experts, and we'll help you find the best wig with bangs for your face shape, personal style, and budget.
---
Frequently Asked Questions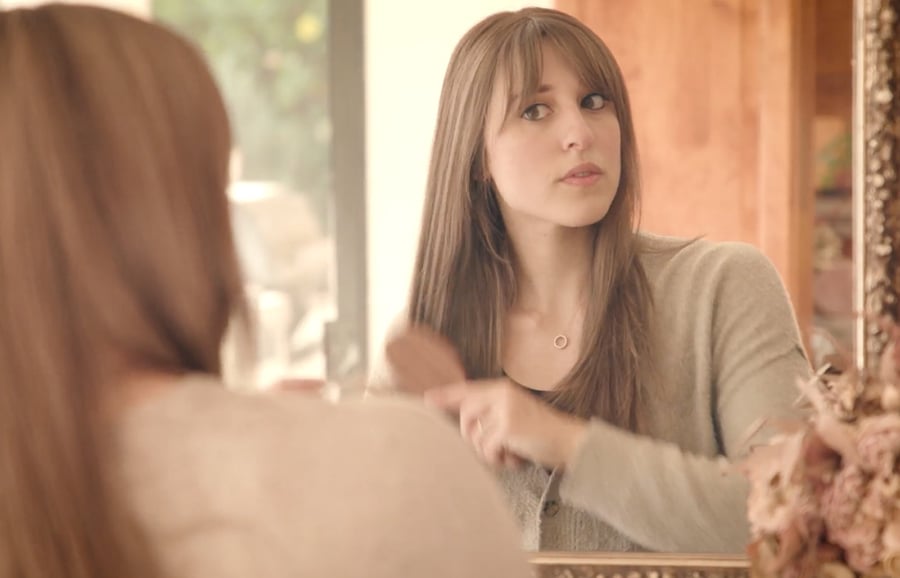 What Does a Wig With Bangs Mean?
A wig with bangs is a wig that has been specifically cut to feature some type of bangs. You can style both synthetic and human hair wigs with bangs in a number of different ways, but human hair wigs are definitely known to hold styles better. Plus, you can use heat-tools on them without running the risk of damaging the hair—and we all know how crucial a blow dryer is to keeping bangs looking their best.
Do Wigs Look Better With Bangs?
Whether or not wigs look better with bangs is subjective. Some women feel like bangs are the best way to add some style and personality to their wig, while others find them to be high-maintenance and prefer a more classic look. Ultimately, it comes down to what you like. But we will say that wigs constructed with high-quality human hair and caps tend to rock bangs a little better than their synthetic counterparts.
Do Wigs With Bangs Look More Realistic?
Bangs don't necessarily make or break the realism of a wig. You know what does? The kind of hair that's used. Synthetic strands have a plastic-y sheen to them that'll make you look like you just left the costume shop rather than the salon. On the other hand, human hair wigs that are hand-tied to lace fronts give off a much more natural appearance. If you're going for realism, definitely go the human hair route.
Can You Add Bangs to a Synthetic Wig?
You sure can—but be warned: it might not be easy. Since synthetic wigs are typically made with cheaper, lower-quality materials, they don't always take kindly to being cut or styled. If you're set on adding bangs to your synthetic wig, go slow and make sure to use some seriously sharp scissors. We also recommend taking it to a professional stylist if you can.
Can You Add Bangs to a Lace Front Wig?
Yes you can! And human hair lace front wigs are actually the best kind of wig to add bangs to, since they're already so realistic-looking thanks to the lace material. If you're not comfortable cutting your wig yourself, we recommend taking it to a stylist who can do it for you.
Can My Hairdresser Cut My Wig?
Most hair stylists are more than happy to cut bangs into your wig—but not all of them have experience working with wigs, so it's always best to call ahead and ask. If you're not comfortable entrusting your wig to just any old stylist, we recommend taking it to a wig salon where they have experience working specifically with wigs. You want to treat your wig with the best care possible, so it pays to go to someone who knows exactly what they're doing.
What Makes a Wig Look the Most Natural?
The best way to make a wig look natural is to choose one that's made with the highest-quality materials and construction possible. Per our industry standards, human hair wigs that are hand-tied to a lace front cap are the best of the best—and will definitely give you the most natural look.
download our wig buying guide