The Best Premium Wigs for Women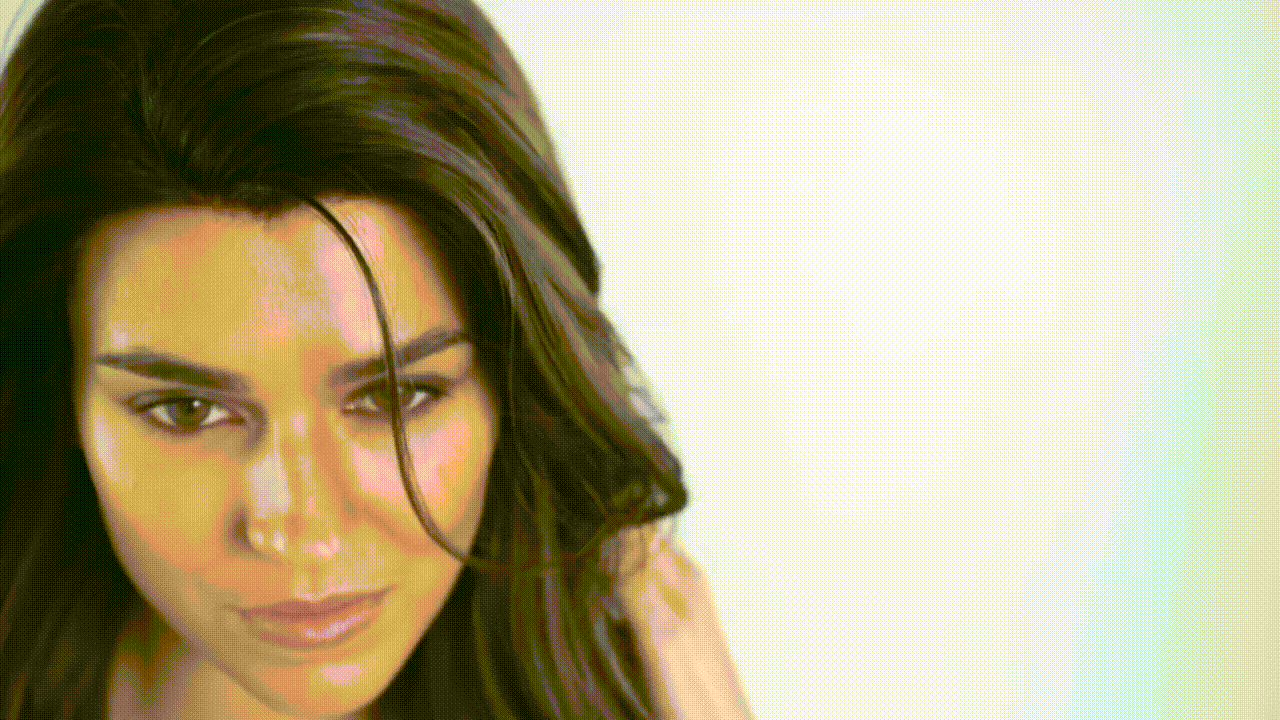 Ever spent hours browsing premium wigs online? Your eyes dance across buzzwords like:
"Genuine hair wigs"
"Undetectable hairline!"
"1,000 styles and colors!"
"Maximum comfort!"
While these selling points are enticing, they don't always reflect the quality or origins of the wig. Finding premium wigs amongst a sea of choices is difficult in the near $20-billion wig market.
What can you do? You know you want a beautiful, sleek wig to mimic your dream hair's fun, bouncy movement. But how do you pick premium hair wigs that check all the boxes on your list?
For decades, we've sourced the world's most precious 100% European human hair for our wigs and toppers. At Daniel Alain, premium wigs are our specialty. Pair that with the highest quality Swiss lace fronts and skilled artisans handcrafting every piece in our Follea collection. The result? Flawless, undetectable, natural wigs that move, bounce, and shine radiantly.
So, how can you find the premium wig you desire? Keep reading as we share how to spot premium human hair wigs, including what qualities to look for. Then, we'll share some exquisite examples of premium wigs for you to explore!
---
What is Considered a
Premium Wig

?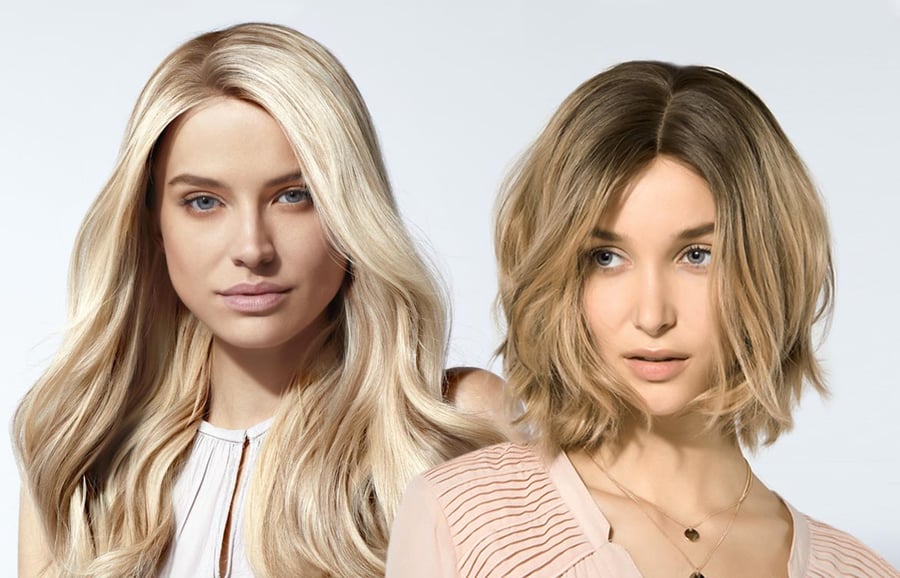 Losing hair is stressful and, at times, unbearable. You might worry the wig you bought won't conceal your hair loss, or worse, slip off. The anxiety encroaching every time you leave the house can deplete your confidence and leave you searching for better solutions.
But it's important to keep perspective. Over half of women experience hair loss, and while it can feel isolating, you do not have to battle this alone.
Your first step is to find high-quality wigs you can depend on to offer trustworthy coverage, undetectable movement, and flawless integration with your natural hairline.
Premium wigs give you security, luscious, bouncy locks, and maximum hold and coverage. On your quest for premium wigs, look for hand-crafted, premium, human hair lace front wigs. This is what sets Daniel Alain apart from other wig manufacturers. What makes our wigs par excellence? We own every step of the manufacturing process. From sourcing the genuine European hair to dyeing, color-treating, hand-tying the knots, composing the luxurious lace caps, and enforcing strict quality control through every step of the production line.
We live and breathe quality because we believe that's what gives you peace of mind. With a premium wig you can trust, you'll see your confidence soar with every fabulous hair flip.
Next, we'll outline what differentiates a premium wig from other products on the market.
1. Premium Wigs Have Real Human Hair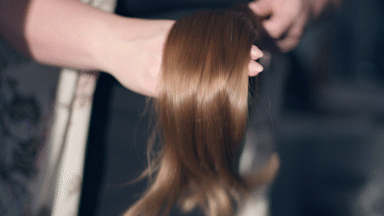 Human hair wigs are more durable, breathable, and natural-looking than synthetic hair wigs.
But the most premium wigs don't use just any type of human hair. You'll find plenty of human hair wigs made from waste hair – hair collected from hairdresser floors, hairbrushes, and bathrooms.
Despite Asian women having some of the most beautiful hair in the world, Asian wigs lose their hair quality due to shifty sourcing methods and lowered quality checkpoints along the production line. Much of the manufacturing processes are outsourced and, thus, untraceable. It's hard to gage what processes the hair encounters along the way to retailers.
Now, that's not to say Asian hair isn't premium. Chinese hair, for example, is thought to grow the fastest of all other hair types. It's also known for a sleek, straight style that many of us can only achieve with a flat iron.
However, with strict quality control, Asian and Indian hair wigs can retain their premium status. It's rare to find a manufacturer who prioritizes these stringent manufacturing standards. But they do exist; you'll have to do some digging to unearth them. For example, our World Select René wig is a premium wig made with a blend of Asian and Indian ponytail hair.
So, what type of human hair best indicates premium wigs? European, specifically from Eastern European countries..
European hair is hard to find on the market because it's scarce. It's not common for wigs to be made from clean-cut Remy ponytails that retain the cuticle. This usually is how European human hair is sourced, meaning the quality of hair, to begin with, is premium. With artisanal craftsmanship, the quality remains throughout the production line and onto your head.
Other qualifiers for premium human hair include Remy and Virgin hair. Remy hair has the cuticle intact, also known as "ponytail hair." Virgin hair is even purer and hasn't been treated with chemicals or dyes.
Aside from the hair, what other factors make the perfect, premium wig?
2. Premium Hair Wigs Have Lace Fronts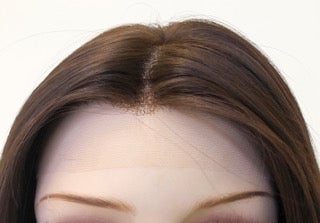 Lace front wigs are sheer and more comfortable to wear, allowing more breathing room for your scalp. Hello summer, without all the sweat!
Premium human hair wigs are undetectable thanks to luxuriously made lace caps. Lace fronts fulfill the undetectable requirement by mimicking your hairline seamlessly. An authentic manufacturer of premium lace front wigs won't sacrifice lace quality to keep costs down, either. Look for premium wigs with Swiss lace – the most durable and breathable. Every piece in Daniel Alain's Follea wig collection is handcrafted using the most prestigious Swiss lace. It's so soft on the skin, it's the same lace used for luxury lingerie, so you know your scalp is in loving hands!
3. Premium Lace Wigs are Hand-Tied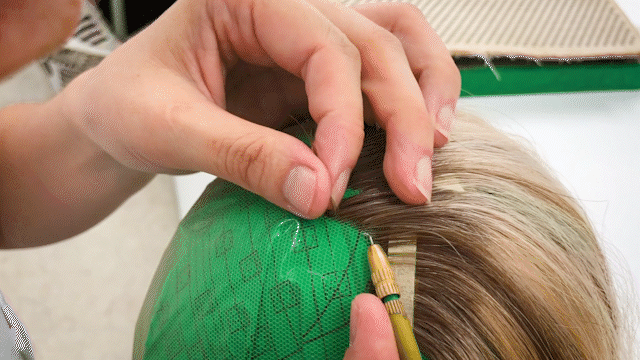 Mass-produced, machine-made wigs lack the desirable bounce and movement of premium wigs. Even with quality materials and human hair, wigs aren't premium unless they're hand-tied.
Did you know it could take weeks to hand-tie the knots on one wig? Not surprising, considering the wig artisan must knot each individual hair strand into the wig cap. A trained, highly-skilled expert is crafting your wig cap, elevating it into a premium category. You'll experience the pinnacle of quality, comfort, and dependability.
Bottom line? Hand-tied wigs are rare. But the extra time and attention devoted to creating premium wigs pay off in unparalleled quality. Just run your fingers through a premium wig, and you'll feel the difference!
We've shared the important features accompanying the world's most premium human hair wigs. Ready to find the wig of your dreams? Allow us to introduce you to Daniel Alain's premium wig collection!
---
DANIEL ALAIN'S PREMIUM HUMAN HAIR WIG COLLECTION
Every wig in our collection features:
100% European human hair, ideally Remy or Virgin; or our premium World Select Hair
Swiss Lace Fronts
Hand-Tied Knots
Let's unravel the richness of each Follea by Daniel Alain wig.
Perhaps you already have an eye for premium wigs and have tried a few already. Which leaves you wondering: Is it possible to surpass premium? You can with the world's most expensive wig, the Grandeur. Luxurious and elegant, this 16 inch/21-inch overall wig is made from the most majestic hair in the world — 100% European human hair from Daniel Alain's most elite private reserve. No one else in the world has this hair; it's that precious.
If you're looking for ultimate luxury, you'll find it in every rare lock of hair flowing from the extravagant Grandeur.
The Chic wig lives up to the definition of chic itself – sophisticated, stylish, and elegant. Imagine infusing all that into your trusty everyday look! This wig combines elegance with versatility, ready for any outing or event, from work to grocery runs to museum galas to nights out.
The wig's length options further that versatility, offering you a range from 8 to 14 layered inches. Not to mention the ten shades available, including soft browns, honeyed blondes, and highlighted shades. Our advice? Take a sip of the chardonnay Chic – a gorgeous, blonde shade that will channel your inner Sarah Paxton!
Is premium and affordable an attainable match? Absolutely! Daniel Alain's Style wig is one of our bestsellers, fulfilling two critical client needs: luxury and affordability. Run your fingers through and feel its superbly soft texture, dancing with movement as it moves, bounces, and sways with every confident step you take.
Looking to dip your toes into the wig world? Make a big splash with our stunning René wig. World Select Hair is a premium blend offering versatility, movement, supple texture, and radiant hues. An affordable human hair wig that doesn't sacrifice quality? Yep! That's René! No wonder it continues to be one of our bestsellers.
Long locks aren't for every woman. For the Edie Sedgwicks and Zoë Kravitz' of the world, a pixie cut emulates your flair and zest for life.
Daniel Alain's Pixie wig will flawlessly complement your cheek and neck contours while presenting you with a world of style possibilities. Craving a bold spike? A supple, fringed middle part? You can even rock a banged shag with the Pixie in countless shades, from black to red! Don't let the short length fool you — you can pull off 100 different looks with the Pixie.
Do you have alopecia totalis? Finding a wig that offers confidence and support might feel scary, but it won't be with a secure wig you can trust. Check out our client Ashley rocking the Style wig in Cappuccino.
Need even more coverage? Let's explore the Gripper wigs.
Daniel Alain offers two Gripper wigs: the Gripper Lite and Gripper Actif. Both Grippers are meant for women with hairless scalps, made with a medical-grade silicone cap to provide maximum security and comfort.
The Gripper Lite wig combines maximum grip with ultimate comfort, hugging your scalp while ensuring this wig won't fall off. A 100% Swiss lace cap and premium European human hair make it one of the most secure premium wigs in the world/
The Gripper Lite is meant for ladies with a laid-back lifestyle. If you're more active, you might prefer the next wig on our list.
You don't have time to let hair loss slow you down. The epitome of reliability and luxury is the Gripper Actif. Are you a busy mom constantly cleaning and organizing the home? An avid runner? You're always on the move, so you don't have time to worry about your wig staying on. Working long hours and need your wig to go the distance?
Then you need ultimate security from a wig with a medical-grade silicone perimeter, promising maximum hold even on your busiest days. Never miss a beat with the Gripper Actif.
---
Don't Settle. Choose
Premium Wigs
From Daniel Alain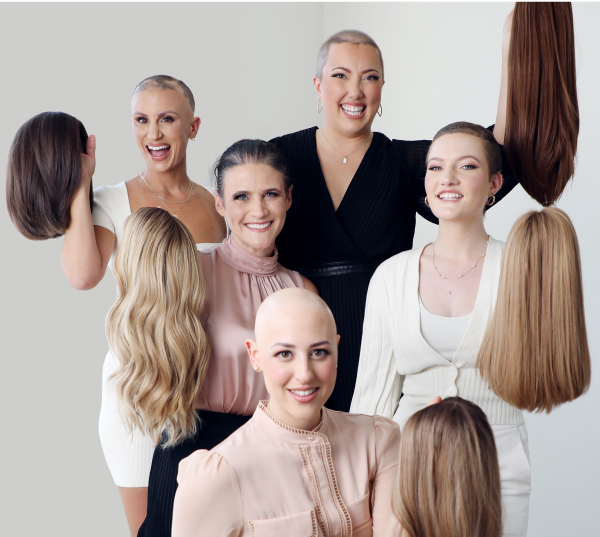 Premium wigs are the solution, offering you luscious locks that wow and give you peace of mind. You'll come across countless wig sellers claiming premium in your hair loss journey, which is overwhelming. But now? You know precisely what to look for: directly sourced European human hair, hand-tied construction, and quality lace fronts. Where will you find the perfect blend of all three?
Daniel Alain exclusively offers the world's finest premium human hair wigs. We've listened to countless testimonials of hair loss from our loyal customers. Over the years, we've learned that the best way to help women reclaim their confidence is to listen first and then offer trusted solutions tailored to their needs.
We don't rush anything—from our elite manufacturing to listening to your needs in a consultation. Ready to step into your best hair ever?
Get in touch today for a private consultation!
---
Frequently Asked Questions About
Premium Wigs
What are the Highest Quality Wigs?
The highest-quality wigs are premium human hair lace front wigs that are hand-tied. This combination of features ensures a natural look, maximum hold, and luxurious texture.
How Can You Tell if a Wig is Good Quality?
Upon first glance, the wig should look genuine. When you put it on, the hairline should integrate seamlessly with your scalp and make you wonder whether it's actually a wig after all! After that, you'll need to look at its construction and materials: lace front caps, European human hair, and hand-tied construction all make wigs good quality. Also, pay close attention to the natural sheen. If you take the wig outside in natural sunlight, a high-quality wig will have a nice, natural sheen versus a high shine finish. If it looks too shiny it will indicate the use of excessive silicones that eventually will wash off and expose inferior hair as compared to high-quality human hair.
How Much Does a Good Wig Really Cost?
Premium wigs cost between $2,000 - $11,000+. Why the high price range? Good-quality, genuine human hair, craftsmanship, and lace materials cost more than the average wig.
What is the Most Expensive Wig?
Daniel Alain's Grandeur is the most expensive wig costing $10,849 - $11,934, depending on the color. You won't find a wig with comparable shine, volume, body, or quality as it's made from Daniel Alain's private reserve of precious, 100% European human hair.
Are Expensive Wigs Worth it?
Absolutely, as long as they embody everything that makes a wig premium – quality hair, construction, and materials. The value comes in the comfort and confidence you emulate every time you put on your wig.
What Kind of Wig Looks Most Natural?
Wigs with lace front caps offer the most natural-looking hairline. Premium human hair wigs also offer unparalleled body, texture, and bounce to genuine hair.
What is a Hand-Tied Wig?
A hand-tied wig is hand-constructed using high-quality lace by a skilled artisan. The craftsman hand-ties each hair strand individually to the wig's cap, creating a seamless, breathable cap. It is common to tie 4-5 strands at once whereas Daniel Alain artisans tie 1-2 hairs at once for a more natural look and movement to the hair.
Are Human Hair Wigs Better than Synthetic?
For the most part, yes. Human hair wigs are less detectable than synthetic wigs and offer a superior, more natural look. However, synthetic wigs are lighter than human hair, which some may find more comfortable. They are also more affordable, making for great introductory wigs.
What are the Different Types of Human Hair Wigs?
European Hair
European hair is the most coveted for its quality and feel, mainly coming from Eastern Europe. What makes the quality so great? Most European hair is Remy hair, also referred to as ponytail hair. It embodies superior quality due to direct sourcing, unparalleled, natural shine, and soft texture.
Indian Hair
Indian women are known for rapunzel-length locks that showcase a striking shine. Unfortunately, Indian hair in the wig market is often low-quality due to its sourcing methods. Most wigs made with Indian hair are made with "waste hair," often damaged without the cuticle intact.
Asian Hair
Asian hair is known for its thick, ultra-shiny, flourishing strands. Unfortunately, these striking signature features often lose their luster and texture along the production pipeline. Most Asian hair wigs use hair sourced from "Waste hair" — hair collected from brushes, drains, and floors. Then, it's often mass-produced and results in lower quality wigs. Look for Asian hair wigs made with premium production processes and transparent sourcing methods.
Virgin Hair
Virgin hair is pure hair that's never been chemically treated or dyed. It is often cut from ponytails known as Remy hair and never touches processing or dying, keeping the hair ultra silky.
Remy Hair
Remy hair isn't always virgin, but it always has the cuticle intact since it's cut from ponytails from hair donors. You might also see it referred to as "ponytail hair," indicating a higher quality wig.