Best Products to Help Thinning Hair
Has styling your hair become more challenging lately? Perhaps your hairline is looking sparse, or you lack the volume you once had. What gives? You know your hair is thinning, but aren't sure where to find the best products for thinning hair.
From serums to topicals to hair growth drugs, the list of products seems endless.
Complicating the matter is that some remedies combat hair loss, while others promote more fullness and texture. Which brings up an important point: hair loss and hair thinning are two different issues. Regardless, both conjure feelings of stress and helplessness.
And what about those mysterious ingredients lists? *Sigh*. Then there's the trusty Minoxidil, but it only works for some people. If you're considering using Minoxidil, take our Minoxidil Response Test before investing any money in the FDA-approved hair loss drug.
And if you don't respond to Minoxidil? Keep reading as we outline the very best products to help thinning hair.
---
What are the most effective products for thinning hair?
Hair loss and thinning is a huge industry. By 2028, experts predict that the hair loss prevention market will reach a $31.5 million value. That leaves room for thousands of products for thinning hair, many of which don't work the same for everyone.
We know how frustrating it is to have a revolving door of ineffective products. That's why we're putting all the ones worth trying in this guide. You can explore the best products for thinning hair by category — here's a quick sneak peek:
Fastest-working: Hair Fall Treatment – Daniel Alain's INTACT Anti-Hair Shedding Treatment
Most affordable: Peptide Serums – The Ordinary's Multi-Peptide Serum for Hair Density
Best product for men: FDA-approved hair loss drug – Minoxidil's 5% Solution
Best product for women: FDA-approved hair loss drug – Minoxidil's 2% Solution
Best over-the-counter product:

GRO Hair Serum by Vegamour

Best prescription product: FDA-approved hair loss drug – Finasteride
Best high-end product: Dr. Barbara Sturm — Anti-Hair Fall Shampoo
Best restorative shampoo: Angel Wash — Kevin Murphy
Best volumizing shampoo: Aesop — Volumizing Shampoo
Best strengthening shampoo:

KERASTASE — Bodifying Shampoo

Best subscription option: Minoxidil + Finasteride Mix – Keeps
Best serum:

Nurtifol's Growth Activator Ashwagandha Exosome Hair Serum

Best for fine and thin hair: Shark Cartilage – Viviscal
Best oral supplement: Vitamins — Zinc
Best topical treatment: Hair Fall Treatment — Daniel Alain's INTACT
Fastest Working Product
There's a reason why they call it a hair loss journey. Depending on your hair loss cause and treatment, you could wait months before seeing results. But if you're looking for a quick fix for hair thinning, INTACT is your best bet.
Daniel Alain developed hair fall treatment over the course of five years in a state-of-the-art laboratory. Physicians, experts, and dermatologists all weighed in to create the famous root-securing technology that locks in strands at the root to prevent hair fall and thinning. Additionally, the product has a patented Pililock® Sevilla Orange Complex clinically proven to reduce hair shedding by 77%!
The best part? You only need 30 minutes and one use for INTACT to work its magic. At only $27.00 a bottle, it's one of the more affordable hair thinning products available.
Pros:
Works quickly
Clinically proven
Proven results
Affordable
Ingredients you can trust
Cons:
Can it get more affordable? Perhaps, but the affordability may come at the cost of time spent waiting for results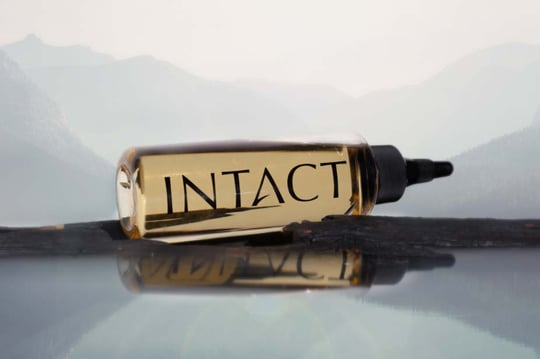 Most Affordable Product
At only $19.50 a bottle, the Ordinary's Multi-Peptide Serum for Hair Density is the most affordable hair thinning product on our list. The product contains no alcohol or silicones, and it's certified vegan. The formula has ingredients known to stimulate hair growth, like caffeine, peptides, and Redensyl.
The Ordinary prides itself on using whole ingredients and testing all its products for efficacy. But does the product work?
The product has a 3.9 rating on Sephora, with reviews spanning from "works amazing on my thinning hair" to "just didn't do anything for me." At $19.50 per bottle, it may be worth trying as it's not a substantial investment compared to others on our list.
Pros:
Affordable
Whole ingredients
Free of chemicals and hair-harmful ingredients
Cons:
Mixed reviews on efficacy
Needs 6-8 weeks for results
Best Product for Men
You might recognize Minoxidil under the common brand name Rogaine® — one of two FDA-approved drugs for hair loss. Studies show improved hair density for both the 2% and 5% solution — but experts agree the 5% solution is notably more effective.
The only problem is that it sometimes results in hypertrichosis (excess body and facial hair), a side effect more uncomfortable for women than men. Thus, men see the greatest results with Minoxidil's highly potent 5% solution.
Our advice? Take the Minoxidil Response Test for Men before investing in Minoxidil. Within just one week, you'll know whether your scalp will respond to Minoxidil and save months of waiting time.
Pros:
Clinically proven to regrow hair and improve hair density for many men
Readily available from brands like Rogaine

®,

Hims, and Keeps
One of only two FDA-approved hair regrowth drugs
Cons:
Side effects like depression and sexual dysfunction
Can take 6-9 months to show results
Doesn't work unless you're a responder
More expensive than other products for thinning hair
Although the 5% solution might be strong for most women, Minoxidil's 2% solution could be a better match.
Best Product for Women
Many women have experienced significant hair regrowth and improved density after using Minoxidil. The 2% solution seems to be potent enough to show results without resulting in as many uncomfortable hypertrichosis side effects.
Studies demonstrate positive results when comparing the 2% solution with placebo, though the 5% solution shows greater results for increased density. The 5% solution's increased hair density might not be worth it if you also have to manage hypertrichosis.
Remember, Minoxidil only works if you have the necessary scalp enzyme activity. Be sure to take the Minoxidil Response Test for Women before starting treatment.
Pros:
Limited side effects compared to 5% solution
Proven efficacy for responders
Proven to be more effective than other hair thinning remedies
Cons:
Takes 6-9 months to show results
More expensive and higher risk for not seeing results
You can eliminate the risk by taking the MRT, so that should be your first step when considering Minoxidil.
Best Over-the-Counter Product
GRO Hair Serum by Vegamour is a plant-based over-the-counter serum that uses vegan phyto-actives to address hair thinning within the follicles. It's free of toxins and promises filler-looking hair within 90 days. The product costs $58 per fluid ounce, which is applied to the scalp once daily.
Pros:
Plant-based and cruelty free
Has an overall 4.4 star rating from over 3,000 reviews.
Claims to reduce signs of shedding by 76%
Cons:
It's as expensive as Minoxidil without the FDA-approval
Peak results take around four months
Best Prescription Strength Product
Finasteride is an FDA-approved drug known to treat hair loss in men and certain prostate conditions. You must obtain a doctor's prescription to use Finasteride, and you'll often see it under the common brand name Propecia.
Experts find the drug reduces DHT levels by 70-90%, a hormone linked to hair loss in men and women.
Pros:
Clinically proven effective
Cons:
Best High-End Product
Could you have a high-end product without paying an exorbitant amount? Yes, with Dr. Barbara Sturm's Anti-Hair Fall Shampoo. The vegan formula has camellia and larch extracts, which are known to strengthen hair follicles. A healthy dash of Vitamin B5 helps combat split hairs as well!
The company founder is a German doctor with experience in anti-aging, inflammatory conditions, and hair health. Sturm tests all her products in a lab before bringing them to market, standing by a performative approach to skincare products.
Pro: The shampoo has a 4.7 star overall rating.
Con: At $60 for 250 mL, the product is considered high-end for a reason.
Best Restorative Shampoo
Is your hair damaged from coloring or heating tools? Nothing feels nicer than a soft, fluffy blowout, but too much heat can damage your hair.
Kevin Murphy's Angel Wash is the ultimate spa treatment for damaged hair.
Pro: It's rich in antioxidants, and customers praise the shampoo's lightweight feel and delicious smell.
Con: The only downside is a few reviews citing dryness after using the product, but they're the minority.
Best Volumizing Shampoo
Craving a little boost? Aesop's Volumizing Shampoo rises to the task. The product has Polyquaternium 67, a synthetic yet non-toxic agent that separates your hair strands to pump up the volume.
Pro: People with fine hair report quick results and love the shampoo's minty-fresh scent.
Con: At about $100 a bottle, the price is steep.
Best Strengthening Shampoo
Some hair thinning products are more expensive, but countless women swear by the bodifying shampoo by KERASTASE. The shampoo features hydrating wheat protein, peptides, and ceramides that pump muscle into fragile hair strands.
This might be the best product for thinning hair for weakened hair cuticles. With over 3,000 reviews and an average 4.5-star rating on Amazon, people consistently noticed results after only a week of use.
The only downside? The hefty price tag. At $75.00 per 500mL bottle, this strengthening shampoo will weaken your wallet. But if it helps your hair thinning, it's well worth it.
Pros:
Easy to use
Positive reviews for efficacy
One week to show results
Cons:
Best Subscription Option
Could hair thinning products be as convenient as a magazine subscription? Keeps makes it possible with:
Subscriptions for Minoxidil, Finasteride, or a mix of the two

Telehealth consultation with hair experts and physicians

Progress tracking
Interested users fill out a questionnaire to narrow down the most suitable product. While the brand's combination Minoxidil and Finasteride products are the most popular, you can also choose from various shampoos and supplements.
Pros:
More affordable overall than purchasing Minoxidil or Finasteride from other providers

Convenient subscription model

Access to doctors
Cons:
Issues with canceling subscriptions and refunds

Poor customer service when it comes to billing issues
Best Serum
Nurtifol's Growth Activator Ashwagandha Exosome Hair Serum is a patent-pending scalp supporter offering stronger hair in 90 days. At $69 per 1.7 fluid ounces, this hair thinning serum uses Ashwagandha exomes (RNA, Lipids, and Protein) which the follicles absorb to boost cell renewal.
Additional plant-based ingredients include pea sprouts, green tea, and Sea Buckthorn and Moringa.
Pros:
Clinical results say 87% of participants saw healthier hair after 30 days

Physician-formulated

Free of drugs and harsh chemicals
Cons:
It has a higher price point

There aren't any reviews from real customers on the product page
Best for Fine & Thin Hair
Did you know fine and thin hair mean two different things? Fine hair is diameter-thin hair down to each hair strand, while thin hair refers to sparse hair density. Unfortunately, some of us are cursed with BOTH fine & thin hair.
Viviscal is a dietary supplement that's clinically proven to prolong the hair growth cycle's anagen phase. The product features a host of hair-growing vitamins, like niacin, biotin, iron, and zinc, but the most unique puzzle piece is shark cartilage, which is packed with calcium.
Studies found that shark cartilage significantly reduced hair thinning in women, but specified that the ingredient isn't proven to actually regrow hair.
Pros:
Natural ingredients
Clinically proven
Cons:
Expensive
Hypertrichosis side effect (according to some reviews)
Best Oral Supplement
Tons of vitamins reduce hair thinning, but zinc is something special, a superstar mineral that supports tissue repair, cell growth, DNA creation, and hair health.
Studies show that many hair loss patients with alopecia areata have a zinc deficiency. Experts describe zinc's power to "accelerate hair follicle recovery" and inhibit follicle regression — good news for hair regrowth, bad news for hair thinning!
Pros:
Natural mineral proven to support hair health
Immune system booster
Cons:
Easy to take too much — doctor's consultation recommended
Side effects include diarrhea and stomach aches
Best Topical Treatment
INTACT is the best topical treatment for hair thinning. Out of every hair thinning product on our list, none are as convenient and fast as INTACT. The treatment only requires 30 minutes to work its magic, and you'll notice results after just one use. We'll elaborate a bit more on INTACT's benefits shortly. In the meantime…
---
what else you can do for hair thinning
The search for relief amidst all the products for thinning hair can be intimidating. Breaking products into specified categories based on the reason for your thinning hair (breakage, thin hair, diet, etc.), will help you narrow down your search.
What if you've tried all of the best products for thinning hair loss and still need some support?
Pump Up the Volume with a Hair Topper
What if all you need is a little lift? A hair topper is like a mini-wig designed to add volume to thinning hair. It's the ultimate pick-me-up — the best hair product for thinning hair that infuses volume whenever you need it.
Of course, quality always makes a difference, and you'll get the best of the best with a 100% European human hair wig topper that's hand-crafted to perfection.
Daniel Alain's premium human hair toppers come in various base sizes, lengths, and colors for ultimate customization. Seamlessly integrate toppers into your natural hair for a flawless volume lift every day.
Turn Heads in a Human Hair Wig
Thinning hair is a spectrum. Of course, hair thinning is hard to deal with even on the lighter end. But some women experience thinning so severe you can see most of their scalp through the strands. Or, hair thinning might be accompanied by hair loss patches.
No matter the thinning stage, it's natural to want complete coverage. The highest-quality human hair wigs deliver that, along with:
Soft, satiny silkiness to the touch
Breathe-easy comfort
Unparalleled glamor

Daniel Alain spent years curating the most exclusive, private reserve of European human hair to craft the most luxurious, natural wigs in the world. So whether you want to try a new color or cover a widening hair part, you have options!
---
why intact is a guaranteed & immediate solution
Here's what matters when it comes to the best products for thinning hair: speed, quality, and effectiveness.
INTACT offers all three tenfold, with deliciously hydrating ingredients and a no-nonsense, easy process. Let's explore why INTACT is guaranteed to bring your luscious locks back to life!
Clinically Proven
INTACT isn't the best product to use for thinning hair by accident. We didn't rush the process or use cheap, chemical ingredients. Our unique treatment is the best product to stop hair thinning because we knew it worked 100% before we brought it to market.
How?
5 years of testing with an elite team of dermatologists in a state-of-the-art lab.
Daniel Alain's scientists created the unique Pililock® Sevilla Orange Complex and tested it on women's thinning hair over the course of a few years. Only after countless hours of examining, testing, and perfecting did we release the product — because we believe in reliable, clinically proven hair loss solutions.
Works in 30 Minutes
Unfortunately, some of the best products for thinning hair loss only work after an immense amount of time. Nine months for Minoxidil; six months for Finasteride. You need results fast.
Speed was a priority in crafting INTACT, and our team achieved the best product to stop hair thinning in record time: 30 minutes.
Delivers Impressive Results after Just One Use
INTACT starts working its magic the minute you apply it. The complex works tirelessly to lock your hair strands in place right then and there. We recommend you use the product every time you wash your hair, but you'll notice results after the first use.
If you have a dry scalp, you might look for a nourishing hair cream to accompany INTACt, right? The thing is: you don't have to.
Nourishes & Hydrates the Scalp
Have you heard of the coconut oil trend for shiny hair? If you apply it to your scalp and hair, you'll notice immediate moisture. However, coconut oil sometimes feels heavy on your hair.
So, how else can you moisturize and hydrate your scalp? Use INTACT, which is packed with juicy coconut fatty acids—without weighing your hair down.
We also included emollients — meaning more hydration to soothe and nourish your scalp and hair follicles.
Volumizes Hair
So, we know it's vital to take care of your scalp. Well, you can start by treating your scalp to INTACT — an uplifting superfood for your hair follicles.
And by uplifting, we mean volumizing. The constriction on each hair strand translates to a boost in volume. Strand by strand, your hair will look invigorated, full of voluminous life.
Contains Ingredients You Can Trust
INTACT's ingredient list is a breath of fresh air from the common chemicals rampant in everyday products to help thinning hair.
The formula doesn't include parabens, sulfates, or SD-alcohol — nothing that'll weaken your shine or weigh on your mane. Instead, we use hair-healthy vitamins, humectants, and emollients to satisfy every hair strand's dream: to live glossily every after.
---
SHOP THE BEST PRODUCT for THINNING HAIR AT DANIEL ALAIN
Maybe you're noticing gradual thinning, or you're a year into consistent hair loss. Whichever stage you're at with thinning hair, Daniel Alain has a solution for you.
Eager to try Minoxidil? We take the risk out with our MRT, telling you with trusted accuracy whether your scalp will respond to treatments. Longing to tousle voluminous hair? INTACT is ready to pour its moisturizing, awakening ingredients into your follicles to secure hair in place and pump up the volume.
Looking to conceal thinning? A 100% human hair wig is an undetectable, premium choice for hair-flipping fabulous tresses.

Thick, voluminous hair awaits you. Schedule a consultation with one of our expert stylists today!
book a free consultation
Our stylists will help you find the right hair loss treatment for you
---
Frequently Asked Questions
Is Intact a Real Solution for Hair Fall?
Absolutely. INTACT is clinically proven to stop hair fall within just one use. Its root-securing technology locks in your strands even during high-shedding activities.
Is Intact Safe to Use on My Hair?
Yes, INTACT is completely safe to use on your hair. The physicians and dermatologists who developed the formula tested both efficacy and safety. INTACT also doesn't contain any hair-harmful ingredients like SD alcohol or parabens.
How Do I Properly Apply Intact?
Use the applicator to squeeze the solution into your dry scalp, separating your hair into different sections. Make sure you brush beforehand to avoid tangles blocking the treatment. After massaging INTACT into your hair for a few minutes, let it sit for 30 minutes, then wash your hair as usual.
Should I Use Intact Every Day?
While some products for thinning hair interact with your hair growth cycle, INTACT does not. So, it cannot regrow hair. Instead, it focuses on retention to reduce thinning and shedding.
What Happens If I Wash Intact Out of My Hair in Less Than 30 Minutes?
If you don't wait the recommended 30-minute wait period, INTACT might not work as effectively.
What is Hair Thinning?
Hair thinning occurs when your hair density becomes more sparse, or your hair strand diameter becomes smaller.
What is the Difference Between Hair Thinning & Hair Loss?
Hair thinning means your hair density is becoming more sparse. It might also mean the diameter of the hair strand itself could be getting thinner, though that's referred more accurately as fine versus thin hair. Hair loss is when you lose hair follicles, sometimes resulting in a widening hair part, patches, and thinning hair density.
How Can I Tell If My Hair is Thinning?
Hair thinning occurs for various reasons, such as diet, hairstyles, genetics, and medical conditions. For a full review of hair loss causes, check out our ebook.
Can You Grow Hair Back After Thinning?
It's possible to grow hair back after thinning. FDA-approved treatments like Minoxidil and Finasteride have demonstrated hair regrowth in certain patients. Moreover, lifestyle changes and stress management could help you regrow your hair.
However, hair might not regrow after thinning if your condition is genetic, severe, or you don't respond to hair loss drugs like Minoxidil.
Can Thin Hair Become Thick Again?
Yes, thin hair can become thick again with treatments, such as Minoxidil, stress management, diet changes, and Finasteride.
Do Thinning Hair Products Work?
Yes, thinning hair products work, but the best hair product for thinning hair might differ from person to person.
What Hair Products Should I Use if My Hair is Thinning?
Check out our list of categorized products to help thinning hair to find a good match. You might consider INTACT, Minoxidil, and others.
What Products Should I Avoid if My Hair is Thinning?
You should avoid products with harsh chemicals like parabens and alcohol, which might dry out your scalp and exacerbate hair thinning.
Do Men & Women's Hair Thin the Same Way?
Men and women's hair thinning occurs slightly differently. Men's first symptom is a receding hairline, while women's is a widening hair part.
Do Hair Thinning Products Work the Same for Men & Women?
Not always. Individuals react differently depending on their hair loss cause. One notable example is Minoxidil's side effects for men and women. Men might suffer from sexual dysfunction, while women might experience hypertrichosis.
What Vitamins Should I Take for Thinning Hair?
Some vitamins that help with thinning hair include zinc, iron, vitamin K, vitamin D, and biotin.
Does Biotin Help with Thinning Hair?
Biotin (vitamin B7) helps your body use carbs, amino acids, and fats to function properly. While biotin supplements are a trendy hair thinning treatment, experts can't find any direct links between hair density improvement and taking biotin.
What is the Best Shampoo to Use for Thinning Hair?
The best shampoos have hair-healthy ingredients like emollients and humectants, and ditch harsh chemicals like alcohol and sulfates.
Can I Instantly Stop Hair Thinning?
The best way to instantly stop hair thinning is with Daniel Alain's INTACT hair fall treatment. Within just 30 minutes, it locks in hairs at the root to prevent shedding and mitigate hair thinning.