Best Real Hair Wigs for Women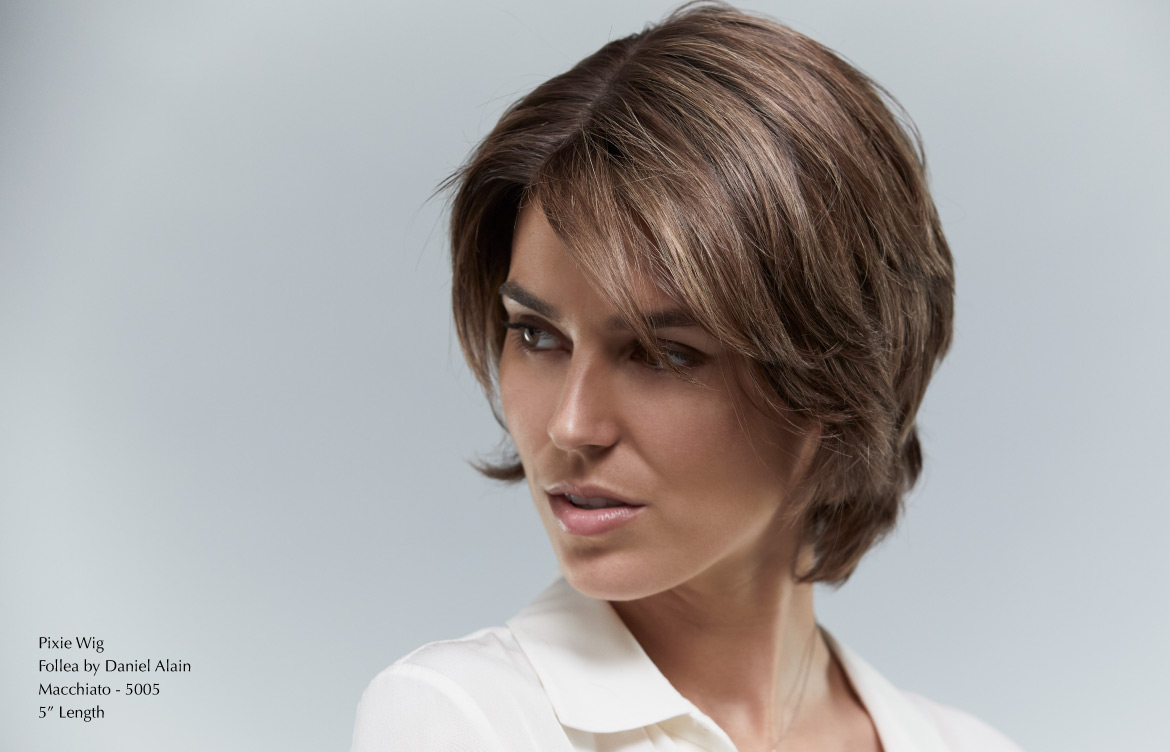 When dealing with hair loss, it's natural to feel lost and upset. All you want is to reclaim the hair you once had. But hey — if Jada and Zendaya can rock wigs on the red carpet, why can't you? So you embark on a quest, searching for the perfect wig and wonder: where are all the real human hair wigs?
A sweep through online catalogs and wig shops reveals a hodgepodge of synthetics that look anything like the real thing. Nowhere near authentic. What gives? There are two factors that mean the difference between an authentic wig and an imposter: cheap hair and poor construction.
The sheer magnitude of mass-produced wigs saturates the market with poor-quality hair. Your best bet is to find wigs made with real hair — ideally 100% European human hair, which is the rarest in the world.
Fortunately, Daniel Alain has the world's largest private reserve of 100% European hair used exclusively to hand craft our luxurious, real human hair wigs. Keep reading to learn the premium qualities that procure the most natural wigs you'll ever run your fingers through.
---
FOLLEA'S 100% REAL HUMAN HAIR WIG COLLECTION
Consider the no-makeup look — slight touches of mascara, neutral eyeshadows, and quick foundation touch-ups to highlight your best features. Many women want to flaunt their beauty au naturel, and that rings true for wigs.
After all, who wants to feel insecure about a fake-looking hairline or unrealistic volume boost? Wearing real human hair wigs is just another way to channel an effortless, gorgeous look.
Daniel Alain's 100% real human hair wigs offer you undetectable, luxurious hair. We use the top 10% of the world's finest hair and hand-tie each wig to create a genuine look with flawless bounce. The Follea collection doesn't sacrifice quality or time for convenience — our skilled artisans take months to fashion each wig to perfection.
When wearing a Follea, you'll experience absolute luxury through every divine piece of Swiss lace, European human hair strand, and hand-tied knot, working together to form an exquisite mane.
Walk with us through the most opulent, real human hair wigs. Let's start with the world's quintessential masterpiece of luxurious hair:
GRANDEUR WIG
Our Grandeur wig features the longest locks and silkiest hair in our premium Follea collection.
Made with Daniel Alain's private reserve, top 10% of the best European hair in the world, every one of Grandeur's 16 inches is the pinnacle of luxury. Pick from five deliciously upscale shades, from rich-brown Empress to honey-blonde Royalty.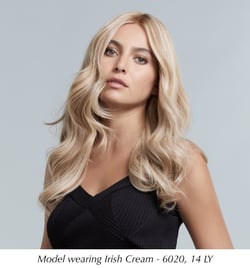 CHIC WIG
Craving a sleek yet effortless look? Chic delivers with her smooth texture and flawless bounce — tie her up in a top knot or let her 14-inch layered version flow gracefully down your shoulders.
Chic's premium European human hair and 100% hand-tied construction offer sophistication to your everyday look. Channel warmth with our rich Cinnamon shade, darken the look with a striking Espresso.

STYLE WIG
True to its name, our Style wig features endless style possibilities, from double-braids and up-dos to high and low ponies. Lightweight and breathable, Style infuses volume to your refined look through its baby hairs. You can pick from a whopping 16 different shades, but here's our advice: go for a rooted look if you want extra volume. Hair expert Luis Faria describes how darker color tones offer a voluminous illusion — chai latte's medium-brown lowlights perfect the look.
PIXIE WIG
Our Pixie wig seals that assurance with its five layered inches of natural movement and oh-so luscious, 100% European human hair. Channel confidence and poise in nine shades, from Vanilla Crème to Espresso brown.
The best part? Endless customization possibilities — rock a layered shag, blunt bangs, or edgy short layers. Watch how our stylist Ashley showcases Pixie's endless style possibilities in this Instagram live!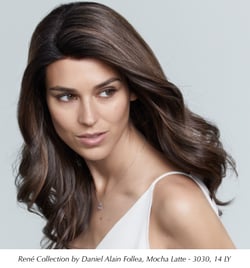 RENÉ WIG
Voluminous hair is high on many women's wishlists — but what if you could achieve it without crunchy hair sprays or endless teasing? René gives your hair the oomph you deserve, with ultra-thick World Select hair and maximum volume.
With René, volume accompanies your look at any length, from a cropped shoulder-length cut to a rapunzel-long 16-inch layered look.
Check out what our happy Follea friend Nikki had to say about René:
"I feel like a new woman, so confident and beautiful again. This wig has given me a bounce in my step again. It's so soft, silky, doesn't get matted like my other wigs and feels like it is coming right out of my own head."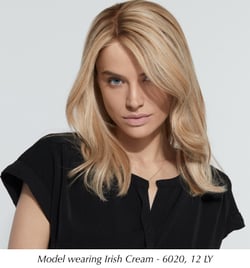 GRIPPER ACTIF WIG
The Gripper Actif wig is the most secure, undetectable wig that will snugly hug a bald scalp with silicone along the back and perimeter.
If you have complete hair loss (alopecia totalis), we know you need extra security from a wig. The fear of slipping paralyzes some women from buying wigs. That's why Daniel Alain created the Gripper series.
Volume? Check. 100% European human hair? Check. 24/7 security? CHECK!
Feel tight and taut with Gripper Actif!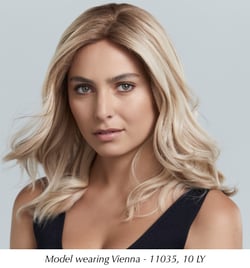 GRIPPER LITE WIG
The second in Daniel Alain's Gripper Series, Gripper Lite is a best-seller that fuses 100% hand-tied construction with extra silicone security. It's slightly more lightweight than the Gripper Actif, but the silicone feels a bit heavy on the head.
But for premium coverage, our clients find the extra weight well worth it.
Here's what our Follea friend Marie had to say about her Gripper Lite:
"I found the hair that makes me smile when I look in the mirror. The fit is amazing, the confidence I feel knowing it isn't going to slide around on my head and the comfort is life-changing for me."
Hush your worries with Gripper Lite!
---
SHOP FOR REAL HAIR WIGS at daniel Alain
Bottom line? Real human hair wigs with hand-tied construction and premium materials give you the most natural, coveted look. We've heard it from all our clients — when seeking hair loss solutions, you crave something as close to the real thing as possible!
Don't settle for mediocrity when it comes to your personal style. You deserve to feel confident with splendidly genuine and luscious locks every day. Rise above your hair loss by flaunting one of Daniel Alain's 100% real human hair wigs — made with the top 10% of the world's human hair.
We want you to love your wig as much as we do, that's why we offer a free Fit Kit to let you try on a few of our styles in the comfort of your own home before making a purchase.
Need help picking the perfect style or color? Talk to one of our beauty stylists today!
---
Your best real hair Wig Awaits at Daniel Alain
Book a Free Consultation with One of Our Wig Stylists
---
Frequently Asked Questions
What is a Real Hair Wig?
A real hair wig is made with 100% authentic human hair, rather than synthetic hair (made with acrylic or nylon).
What are the Best Real Hair Wigs?
The best real hair wigs are made with Remy hair, which is minimally processed and sourced directly (ponytail hair). Going further, hand-tied construction and premium Swiss lace fronts characterize some of the best women's wigs.
How Much Does a Real Hair Wig Cost?
Real hair wig costs vary, depending on the quality of hair. European Remy and virgin hair wigs with quality construction will cost you between $2,000 to $10,000, while Asian hair wigs might run cheaper, between $400-$1,000. Synthetic hair wigs run much cheaper, but don't compare a real human hair wig's quality and undetectability.
Can You Wear a Real Hair Wig Everyday?
Absolutely. You can wear a real hair wig every day as long as you practice proper wig maintenance and hygiene. For example, avoid swimming and sleeping with your wig on, and always use a heat protectant before styling. We also recommend combing and washing your real human hair wig while setting it on a mannequin.
How Can You Tell if a Wig is Good Quality?
Good quality wigs have three things in common:
100% real human hair (ideally Remy hair, not waste hair)
Hand-tied construction
Premium Swiss lace fronts
The most natural real hair wigs demonstrate attention to detail in every part of the process, from high-quality materials to impeccable construction.
What Kind of Wig Looks Most Natural?
The most natural wigs are wigs made with real hair, to start. On top of that, you should ensure the real hair is of the highest quality, ideally Remy and European hair. Additionally, hand-tied wigs channel the most authenticity because of the seamlessly natural hairline.
Some women prefer real human hair wigs with baby hairs that imitate their natural hair. But you can still have undetectable luxury real hair wigs without baby hairs, too.
Are Human Hair Wigs Better than Synthetic?
The answer is yes, 90% of the time. Real human hair wigs usually look more authentic than synthetic wigs, as long as the wig has high-quality human hair — Remy and European, usually.
In some cases, synthetic wigs look better, though. Real human hair wigs made with waste hair — often collected from bathroom floors and sinks — could look worse than a higher-quality synthetic wig.
What are the Different Types of Human Hair Wigs?
The hair in real human hair wigs varies in a few ways like location, sourcing method, and hair history (dyes, treatments, etc.). Here are all the different types of hair you might find in real human hair wigs.
European Hair
If you're after natural shine and a silky-smooth feel, European hair is your best bet. Often sourced from Eastern European countries, European hair is the most coveted in the wig industry for its smooth texture and ultra-fineness.
Colors range from brunette and light brown to golden and ashy blonde, and most European hair is either straight or wavy.
Indian Hair
Indian hair is notoriously thick and strong — one dermatologist describes Indian hair as the world's most dense (most hairs per follicle). If you're after a rich, thick look, real human hair wigs made with Indian hair certainly deliver.
But buyer beware — much of the wig market's Indian hair is lower quality than European hair due to its poor sourcing methods. Read the fine print, and don't be afraid to ask the wig seller questions about how they sourced their hair.
Asian Hair
Asian hair usually refers to hair from China, Malaysia, Thailand, Vietnam, Laos, and Korea.
People love Asian hair for its density, but not the same way as Indian hair. While Indian hair has higher hairs per follicle, Asian hair features an overall greater diameter for each hair strand compared to hair from other parts of the world. Night-black, laser-straight hair is common for Asian hair wigs.
Unfortunately, Asian hair in the wig market is often sourced with "waste hair," collected from hairbrushes, sinks, and floors rather than directly from a woman's head.
Virgin Hair
Virgin hair is the ultimate dream for real human hair wigs from any part of the world. Why? Because it's untouched by heavy processing, dyes, or treatments — an anomaly in the wig industry.
If you manage to find virgin hair, be prepared to spend a pretty penny. But we recommend verifying the source before making a purchase. It's not uncommon for some wig manufacturers to exaggerate wigs with the "virgin" classifier.
Remy Hair
Remy hair is the next best thing to virgin hair because of its pure sourcing method. Remy real human hair wigs have their hair sourced directly from a woman's head, sometimes called "ponytail hair," with the cuticle still intact.
If you want a Remy wig, your best bet is to buy real hair wigs online on Daniel Alain's website. Why? Because Daniel Alain spent years sourcing Remy hair in Europe over the past few decades. He keeps it in a private reserve and uses it to source his renowned Follea collection's luxury real hair wigs.
---
Download our wig buying guide