The Best Realistic Human Hair Wigs for Women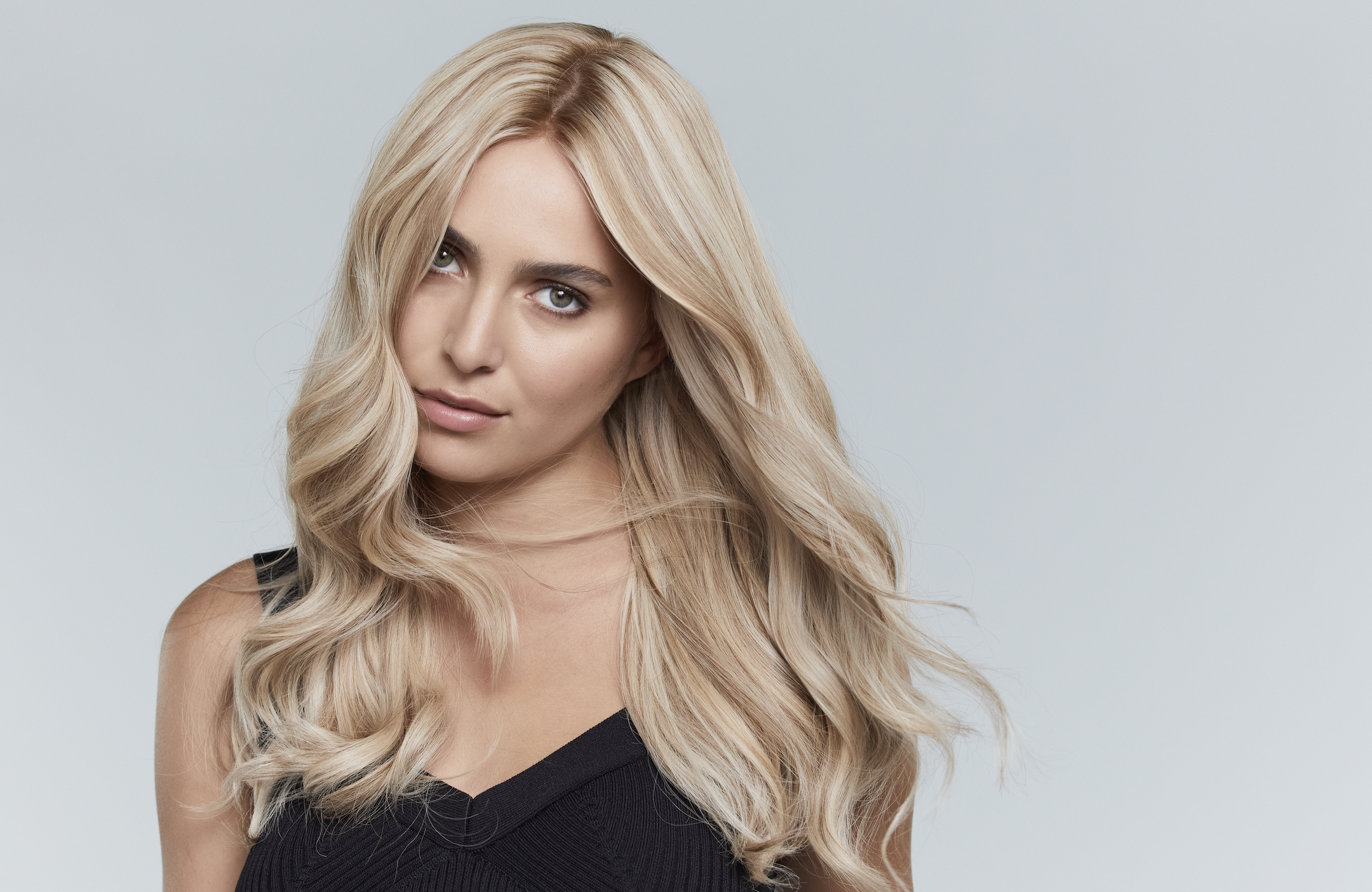 Subtly is the top priority when it comes to finding realistic wigs. You want to feel like the most confident version of yourself, and that comes from wearing hair that seamlessly blends with your features—and your personality.
While many brands will promote their wigs as realistic, it takes a certain caliber of high-quality construction to deliver on that promise. Pieces designed with undetectable lace fronts, silky smooth European strands, and breathable hand-tied caps are the hallmarks of the most realistic wigs. And that's exactly what you'll find at Daniel Alain.
We believe that the little details make all the difference. Our pieces are second to none and made with 100% real European hair sourced from the only private reserve in the world to create a perfectly believable illusion.
Whether your hair has just started thinning, your head is bald, or you're on the hunt for a new style, we have a realistic wig for you. Check out our collection of human hair wigs to find your perfect match.
With Daniel Alain, looking like yourself has never been so easy.
---
Daniel Alain's Most Realistic Human Hair Wigs
High-quality realistic wigs can be hard to come by, but at Daniel Alain, we pride ourselves on our ability to create beautiful and believable pieces.
What makes our wigs so realistic? For starters, they're made with 100% real European hair, which is widely considered to be the finest in the world. We only source our hair from a single private reserve, ensuring that every strand meets our high standards.
In addition to using the best hair available, our realistic wigs are also constructed with care. Each one features a lace front that expertly mimics your natural hairline, as well as a hand-tied cap that you can comfortably wear all day long. The result is a wig so realistic-looking, it's virtually indistinguishable from your own hair.
Ready to find your new favorite wig? Meet the pieces that will have you turning heads.
GRANDEUR WIG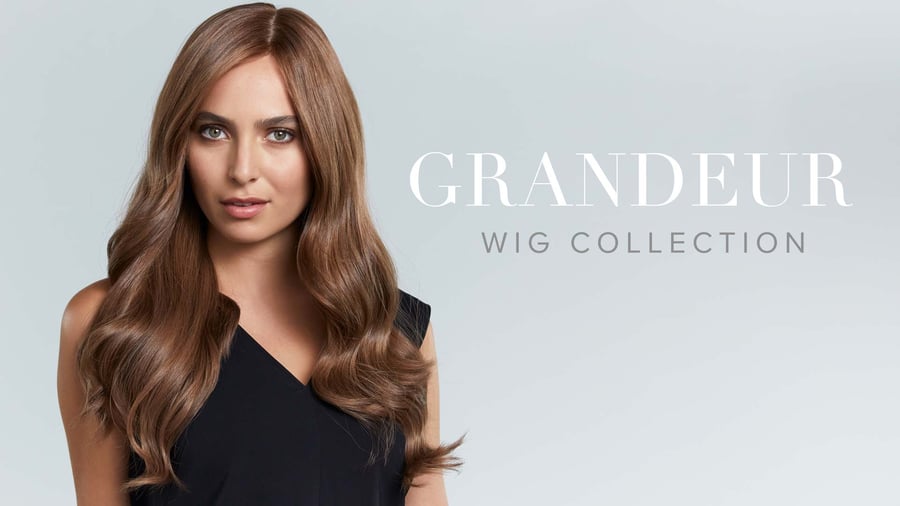 The epitome of realistic wigs, Grandeur has it all—a lace front for an ultra-convincing hairline, hand-tied construction for a comfy fit, and 100% private reserve premium European hair for unbelievable softness and shine.
Grandeur's strands are the rarest of the rare, making it our most luxurious wig yet. When you run your fingers through this velvety piece, you'll understand why European hair is so highly sought-after. Between its eye-catching sheen and bouncy moment, this wig looks and feels like the real deal.
Experience true opulence with Grandeur.
CHIC WIG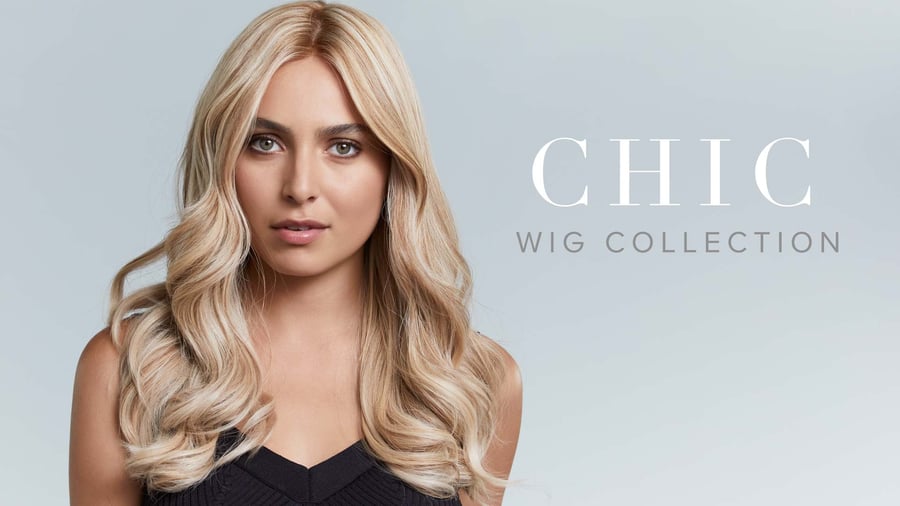 With its temple-to-temple lace front and hand-tied cap, Chic looks like your own hair, only better.
This wig is designed with a French part, which means its gorgeous European strands are carefully arranged to create a sleeker, envy-worthy look. Because there are no baby hairs on this piece, you don't have to worry about height when styling your wig. Throw these smooth locks up into top knots and high ponytails. You'll love how easy it is to achieve a polished finish.
Rock a realistic, fuss-free style with Chic.
STYLE WIG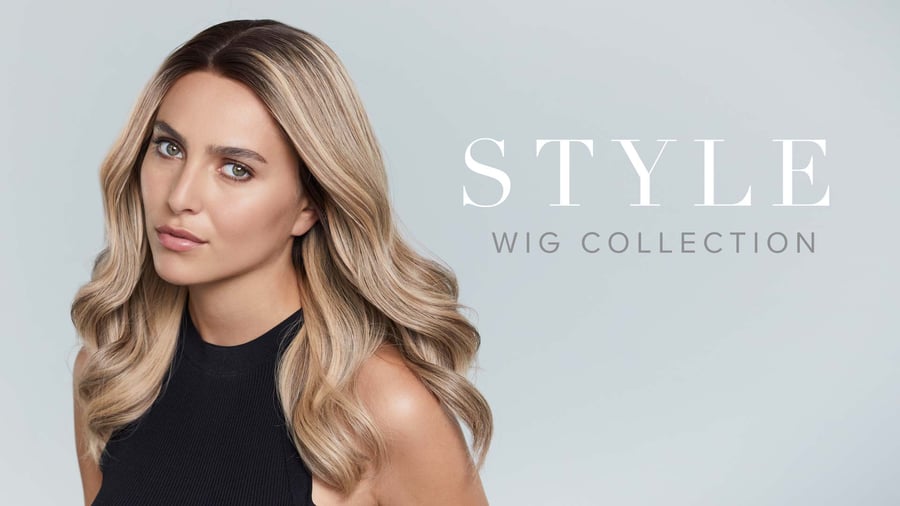 Light, airy, and unthinkably realistic, Style's silhouette is ideal for those who love a little volume—and a lot of versatility.
Easily one of our most customizable realistic wigs, Style comes in six lengths and 15 colors. Whether you want warm brown locks that dance down your shoulders or a sleek blonde bob that grazes your chin, this 100% European wig can be tailored to your unique taste. No matter how you like it, every Style piece is designed with baby hairs for moderate volume at the root of the wig and mega movement.
Rediscover your magic with Style.
PIXIE WIG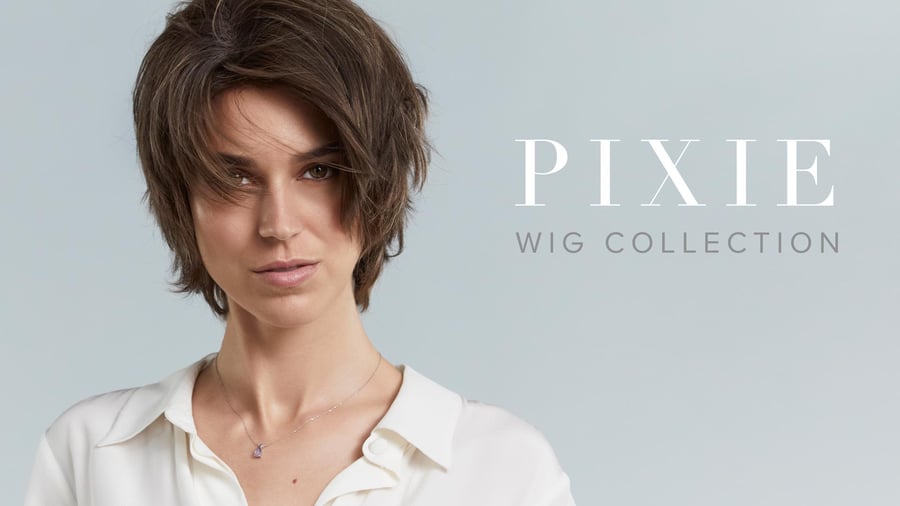 Realistic lace front wigs don't have to have Rapunzel-like length to look believable. Case in point: Pixie.
This shorter style hits just below the jawline and can be worn slicked back, shaggy, or anywhere in between. We love how the moderate volume at the crown of this wig gives way to natural-looking baby hairs, resulting in that effortlessly tousled look that says, "I woke up like this." If low-maintenance locks are your jam, you'll adore this carefree piece.
Strike your best pose with Pixie.
RENÉ WIG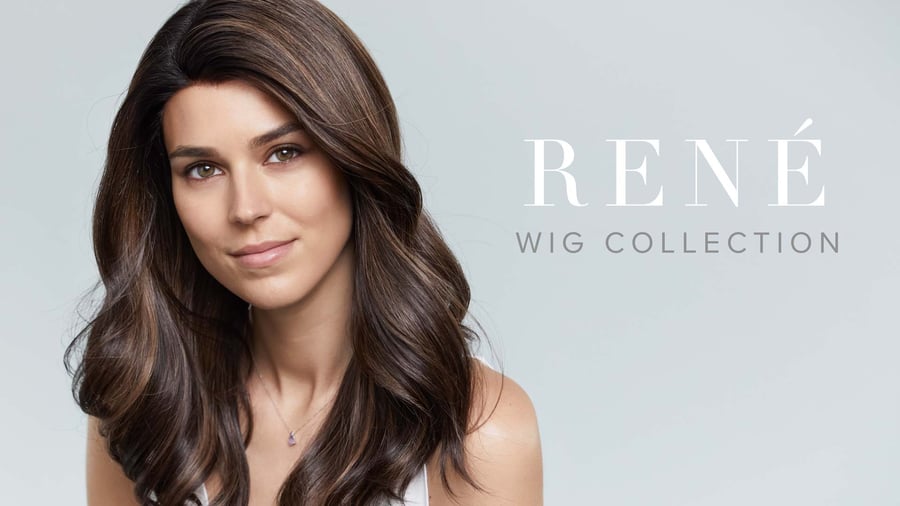 René hits all the right notes—affordability, sky-high volume, and unmatched natural movement.
Unlike other so-called realistic wigs that use artificial fibers to achieve fullness, René is designed with our World Select Hair. This combination of high-quality Indian and Chinese strands creates a coarse, textured look that makes getting voluminous hair easier than ever. While it may be a slightly heavier piece due to its machine-wefted back, its strength and volume let you rock even the curliest styles without worrying that your mane will fall flat.
Flaunt full, fabulous locks with René.
GRIPPER ACTIF WIG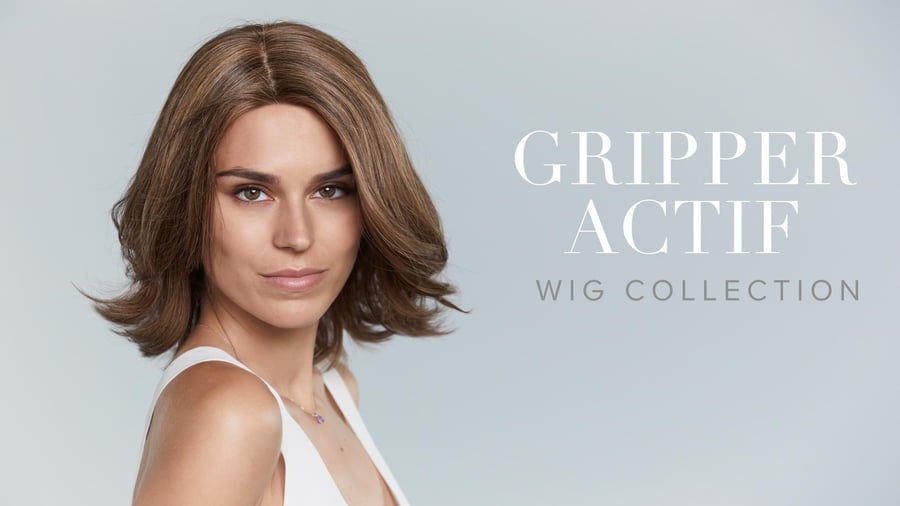 When you're a high-powered woman juggling multiple responsibilities, you don't want anything to slow you down—especially not your wig.
You'll love how busy schedules are no match for Gripper Actif's dependable medical-grade silicone perimeter. Designed for women experiencing total hair loss, this realistic wig will stay put no matter how much you move. Whether you're sweating it out at the gym or running to catch your Uber Black, Gripper Actif has got your back.
Move at your own speed with Gripper Actif.
GRIPPER LITE WIG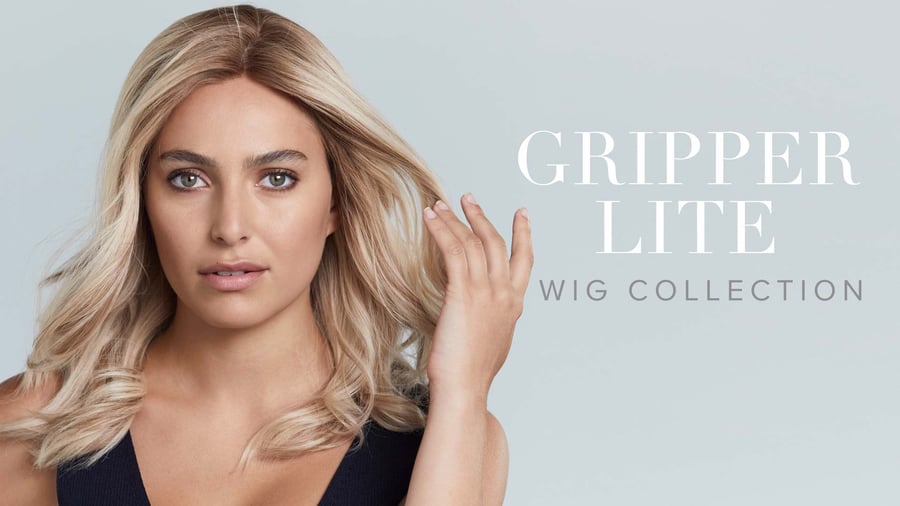 With so many things on your plate, the last thing you want to worry about is your wig. With Gripper Lite, you can put your hair concerns on the back burner and focus on what really matters (while still looking good).
Also from our line of realistic wigs designed with medical-grade silicone, this piece provides a secure fit for women with little-to-no hair. However, the cap on our Lite model is hand-tied for a more lightweight feel. If you want a realistic wig that won't weigh you down, Gripper Lite is your best bet.
Seize the day (every day) with Gripper Lite.
---
Shop Realistic Wigs at daniel alain
Ready to take your style up a notch? With realistic wigs from Daniel Alain, you can enjoy the best of both worlds—the natural look of real hair and the versatility of high-quality human hair wigs.
Our realistic human hair wigs are made with 100% European strands for a soft, touchable texture that's convincing enough to fool even your closest friends. And because of our unsurpassed craftsmanship and nearly-invisible lace front, you can wear your hair however you want without sacrificing believability.
Investing in high-quality realistic wigs is an investment in yourself. Our show-stopping pieces will give you the confidence to take on the world—one fabulous hair day at a time.
Not sure where to start? Read our Wig Buying Guide, reach out to one of our experts for a consultation, or order a free Fit Kit to try on our wigs in the comfort of your own home.
With realistic wigs from Daniel Alain, you'll look and feel your best—guaranteed.
book a free consultation
---
Frequently Asked Questions
What is the Most Realistic Wig?
The most realistic wigs are made with high-quality materials and construction to ensure that they look as natural as possible. That includes:
Human hair, preferably 100% European

A temple-to-temple lace front

A hand-tied cap
When combined, those factors create a realistic wig that's practically indistinguishable from your own hair. You can part it any which way and even style it with heat-based tools. Realistic wigs—like the ones at Daniel Alain—are the closest thing you'll find to your own hair.
Maximum styling and parting versatility with an undetectable hairline—what's not to love?
How Much Does a Realistic Wig Cost?
Prices for realistic lace front wigs will vary depending on the construction and where the hair was sourced from. However, you can expect to spend anywhere from $2,391 to $10,849 for a high-quality wig from Daniel Alain. Our pricing reflects the quality of our materials and workmanship as well as the rarity of our 100% European hair.
When you buy a realistic wig from us, you're getting a piece that's built to last. With proper care, your wig will last for years to come, giving you an exceptional value for your investment.
However, we also offer monthly payment plans to make our realistic wigs more accessible. You can spread the cost of your wig over 3, 9, and 12 months so you can get the wig of your dreams without breaking the bank.
How Long Do Realistic Wigs Last?
How long a wig lasts ultimately depends on how well it's cared for and how often it's worn. Some of our customers have had their natural wigs for over nine years—which is significantly longer than the typical wig lifespan of 1-3 years.
Maintaining high-quality human hair wigs is all about consistency. We recommend that you:
Wash your wig at least every week if you wear it daily

Use a wide-tooth comb or your fingers to detangle the strands

Avoid holding realistic wigs by their lace front and instead grab the ear tabs, which are more durable

Store your wig on a wig stand or mannequin head when you're not wearing it

Keep your wig away from heat sources, like hairdryers, curling irons, and straighteners

Use wig-specific products to maintain the health of the strands
By following those tips, you can keep your realistic wig looking luscious for years to come.
What are Realistic Looking Wigs Made Out Of?
The most realistic wigs are made out of human hair, preferably sourced from European countries as their strands are silkier and have a more natural luster. The hair is then tied by hand to a lace front cap to create a believable hairline.
The more detail that goes into the construction of the wig, the more realistic it will look. That's why Daniel Alain wigs are some of the most realistic on the market—we take care to use only the finest materials and craft each piece by hand.
Can You Tell if Someone Wears a Wig?
If you purchase a high-quality piece, then no. The best realistic wigs are designed to look and feel like your own hair. That means they should lay flat on your head, move naturally, and be virtually indistinguishable from your real hair.
One way to tell if someone is wearing a wig is if the wig cap is visible. A good wig will lay flush against your head, so you shouldn't be able to see the cap. If you can see the edge of the wig or some of the wefts, then it's likely not a realistic wig.
Another telltale sign is if the hairline looks fake. A realistic wig will have a believable hairline that looks just like your own. If the hairline looks unnatural or too perfect, then it's likely a wig. Lace fronts can be cut or trimmed to better match your hairline and create an even more realistic look.
The best way to avoid giving away that you're wearing a wig is to purchase a realistic wig from a reputable brand like Daniel Alain. We only use the highest quality materials and craft each piece by hand to ensure a realistic look that's undetectable.
Are Human Hair Wigs Better than Synthetic?
Without a shred of doubt, the most realistic human hair wigs are far superior to synthetic strands. Real human hair wigs can be styled with heat tools, dyed, and cut just like your own hair. They're fluid and move naturally, making them harder to detect.
On the other hand, synthetic wigs are made out of plastic fibers that can't stand up to heat styling or dyeing. They're also less durable than human hair wigs and more likely to tangle. And because they're not as breathable as human hair wigs, they can cause your head to sweat—which is never a good look.
If you're looking for a realistic wig that will give you the most natural look, then human hair is the way to go. Daniel Alain's 100% real European hair wigs create a perfectly natural look.
How Realistic are Synthetic Wigs?
Synthetic wigs have come a long way in recent years, but they still can't compare to the realistic look of human hair wigs. The biggest issue still is that they always look like wigs.
The strands' fibers easily reflect light, so they often have a shiny, fake-looking sheen. And because they're made out of plastic, they don't move or behave like real hair—they're stiff and unnatural.
If you want a realistic wig that looks and feels like your own hair, then human hair is the way to go.
What is the Most Realistic Wig Brand?
Because we primarily use a lace front, hand-tied construction and 100% real European hair (which, by the way, is sourced from the top 10% of hair in the world) Daniel Alain is the most realistic wig brand on the market.
Where is the Best Place to Buy Realistic Wigs?
Buying a wig online is no easy feat. There are so many choices, colors and styles to choose from. And with all of the different brands and materials out there, it's hard to know where to start.
But if you're looking for the most realistic wigs on the market, then Daniel Alain is the place to shop. We only use the highest quality materials and craft each piece by hand to ensure a realistic look that's undetectable.
Our experts are always on hand to answer questions and help you determine the right piece for you. Plus, our free Fit Kit lets you play and experiment with different lengths and colors before you make your final purchase.
What are the Different Types of Human Hair Wigs?
Every woman's hair is unique, and human hair wigs are no different. Here's a quick rundown on the types of human hair you'll find and the pros and cons of each.
European Hair
The best of the best, European hair is sourced from the top 10% of hair in the world, which is usually small villages in Russia and Ukraine. It's soft, silky, and has a natural sheen that looks realistic and beautiful.
Pros:
Better match for those of European descent

Unmatched silky and smooth texture

Vibrant colors

Highest quality hair available

Collected directly from a woman's head

Longer lifespan
Cons:
Rare and hard to find

Most expensive hair type

Does not hold curls and styles as well as other types
Indian Hair
Indian hair is a popular choice for wigs because it's plentiful and relatively inexpensive. The hair is usually sourced from temples, where it's donated as part of a religious ceremony in which women shave their heads.
Pros:
Easy to find

Silky and lightweight, so long as the strands have remained untouched

Versatile and easy to style

Affordable
Cons:
Original texture is often damaged and chemically treated during wig making

More coarse

Typically only comes in darker shades

Won't last as long as European hair
Asian Hair
Asian hair is sourced predominantly from Hong Kong, but can also be traced to Myanmar, Japan, Laos, and Mongolia. Many people prefer Asian hair wigs because they're known for being thick, lustrous, and strong. However, unsavory manufacturing methods can potentially influence the quality of the hair you get.
Pros:
Easy to find (it's the most common kind of hair you'll find on wigs today)

More volume and styling versatility

Texture is silky and smooth

Affordable
Cons:
The collection process results in a lot of waste hair (i.e. hair found in drains and floors) being sold to manufacturers

Won't last as long as European hair

Typically only comes in darker shades
Virgin Hair
Virgin hair is exactly what it sounds like—hair that's never been processed, colored, or treated in any way. It's the closest you can get to your own natural hair and because of that, it's become a coveted commodity in the wig industry.
However, you can't get true virgin hair anymore. Dying and chemical treatments are all too common, making it nearly impossible to find hair that's completely unaltered.
Pros:
More natural look and feel

Hair is healthy and strong

Can be styled and colored as desired
Cons:
Extremely rare and hard to find

Very expensive
Remy Hair
Remy hair is the gold standard in the wig industry. It's collected from a single donor and all of the strands are facing in the same direction to prevent tangling. This type of hair is often used in high-end wigs because it results in a realistic, natural look.
Pros:
Long lasting

Tangle free

Soft, silky texture
Cons:
More expensive than other types

Can be difficult to find due to most wigs being mass-produced
Now that you know a little more about the different types of human hair wigs on the market, it's time to start shopping for your perfect wig. Visit our website today to view our collection of realistic human hair wigs.
download our wig buying guide