What are the Best Short Wigs for Women?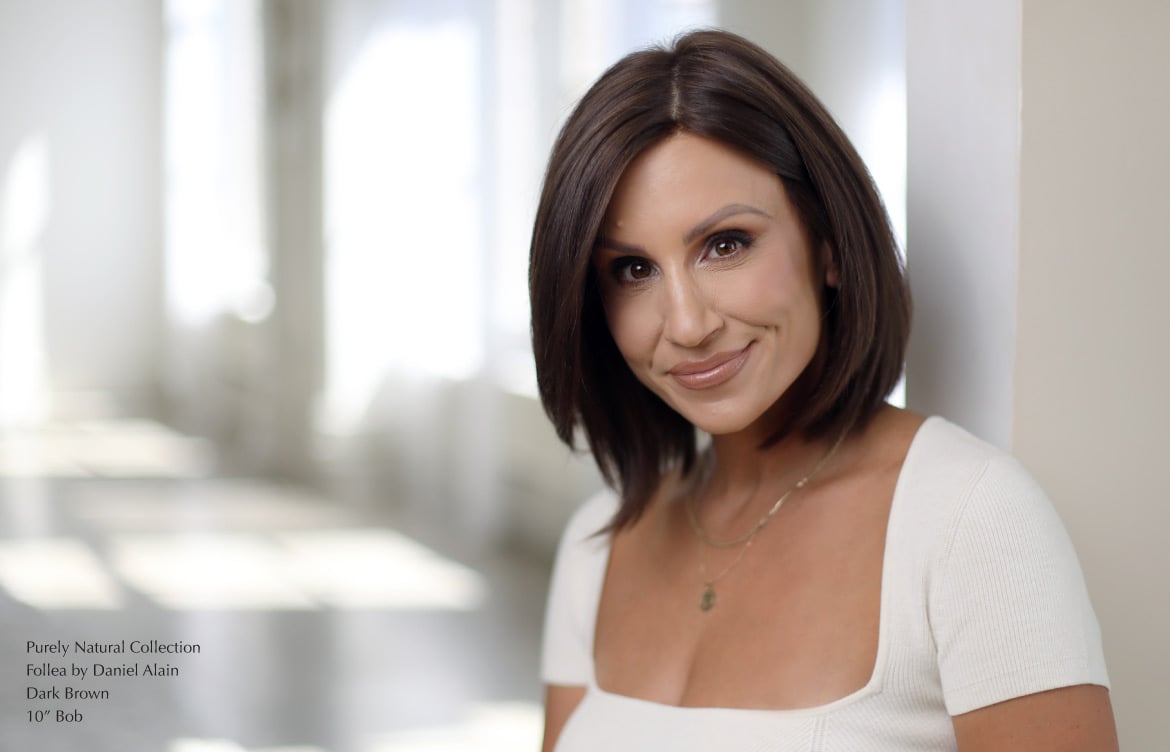 If you're tired of sweaty necks, uncomfy ponytails, and the upkeep that comes with long tresses, then short wigs are about to become your new BFF. From the ever-popular pixie cut to trendy tousled bobs, wearing a wig gives you the freedom to try any style without the commitment of a major mane change. Short hair wigs give you an instantaneous hair upgrade—even if you're secretly battling bald spots underneath that cap.
It's not just the effortlessness that makes short wigs so popular. Stars like Scarlett Johansson and Halle Berry have rocked this look to major acclaim. But before you start shopping for the best short wigs around, know that not all pieces are created equal. Only those with a lace front, human hair, and a 100% hand-tied cap will give you a natural-looking mane that rivals those A-list celebs.
And that's exactly what you'll get when you shop Daniel Alain's luxury collection of short wigs for women.
---
DANIEL ALAIN'S HIGH-QUALITY HUMAN HAIR WIG COLLECTION
As the world's leading provider of top-quality hair loss solutions, Daniel Alain is your go-to destination for the best short wigs on the market. Our collection of beautiful short lace front wigs are made with 100% European hair that's sourced from the world's only (and largest) private reserve. These touchably soft strands will feel like butter when you run your fingers through them, and their natural bounce will fool even the sharpest eye.
After our strands are collected, our skilled artisans hand-tie each and every one to a comfortable, lightweight cap with a Swiss lace front using one to two hairs per knot. Other companies try to stuff as many strands into each knot as they can to save time (usually four or five) but limiting the number of hairs per knot results in a more durable, long-lasting piece.
This unique construction also allows for more styling options. High ponytails and top knots are no problem with our wigs—but of course, if you're rocking that short-and-sweet cut, you won't have to worry about updos at all. Just let your locks flow freely in all their natural glory.
Our short human hair wigs are not only incredibly realistic, but they're also the most comfortable pieces you'll ever wear. Trust us, after a few minutes, you'll forget you even have one on.
Ready to find your next head-turning style? Read on to learn more about the premium short human hair lace front wigs that Daniel Alain has to offer.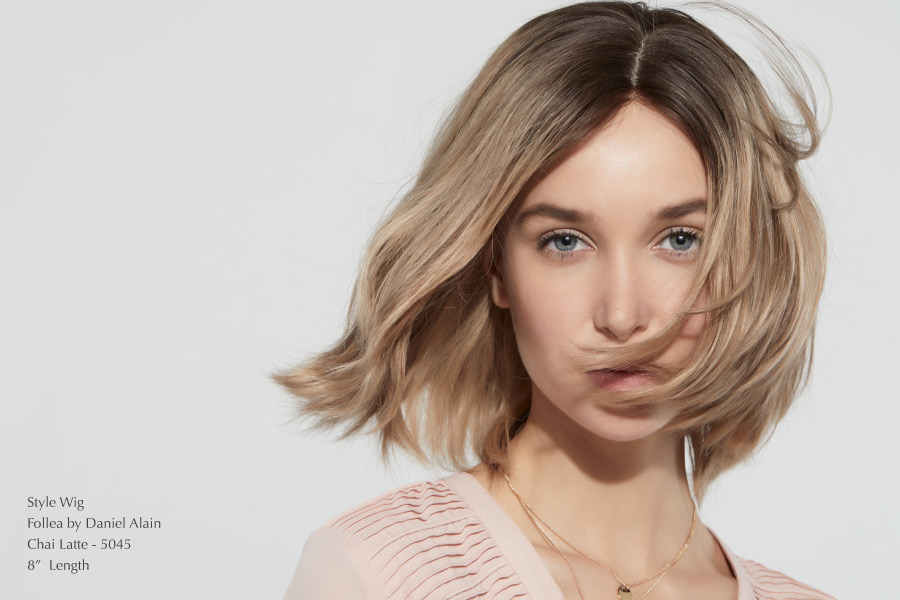 GRANDEUR WIG
This wig is synonymous with both luxury and elegance thanks to its premium 100% European hair that's sourced from the world's only private reserve. While her ravishing 16-inch tresses certainly turn heads, you can easily customize Grandeur with some delicious wispy bangs for an even more dramatic look.
Embrace your inner it Girl with Grandeur
CHIC WIG
Wigs with a fringe are a hot commodity right now—but wigs with fringe and layers? Now that's what we call a must-have. Available in three layered (and unlayered) lengths, Chic's bouncy tresses are practically begging for a set of bangs. Trust us, this style will make you feel like the ultimate fashionista.
STYLE WIG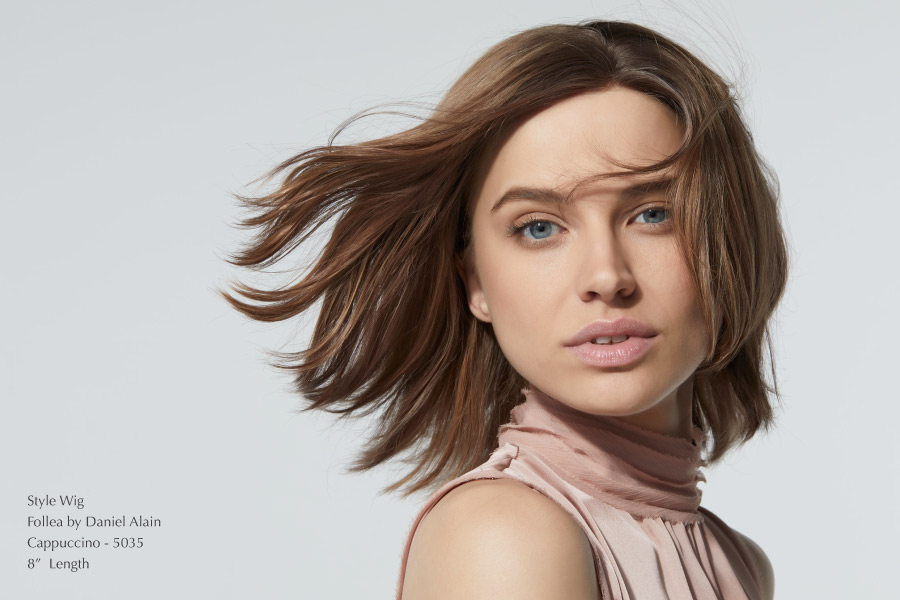 A gal has to have her options, and with Style, you've got plenty. This lace wig with bangs comes in a whopping six different styles (both layered and unlayered) and 16 different colors, so you can cut and curate a look that's all your own. From sultry chocolate brown to fiery red, there's a shade for every single one of your alter egos.
Find you perfect match with Style
PIXIE WIG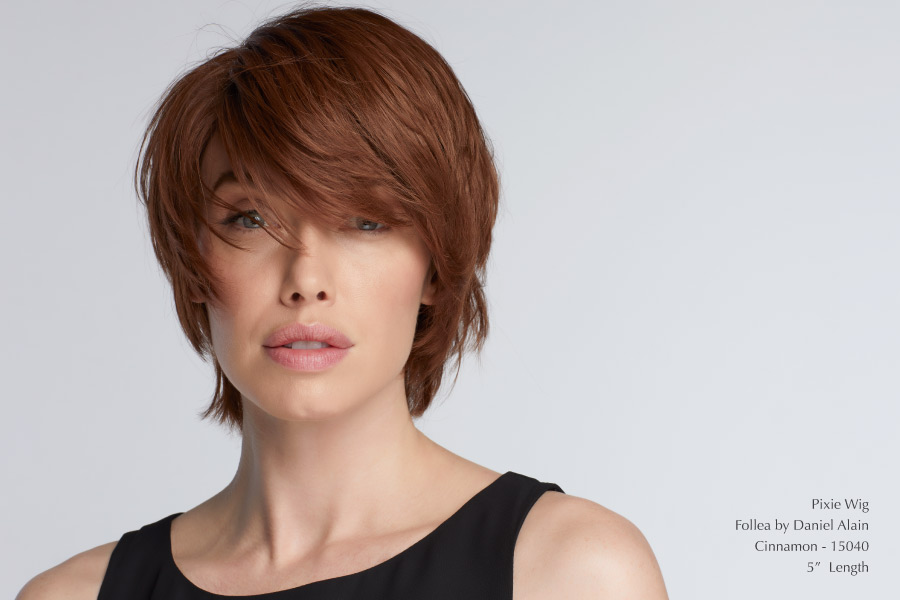 Put the scissors down because Pixie has entered the chat. This sassy style is the one piece in our collection that comes with pre-cut bangs that are so versatile that you can play with pretty much any hairstyle you can think of. Nothing is off limits for this 5-inch cutie—including a bold set of bangs.
Live out your wildest hair fantasies with Pixie
RENÉ WIG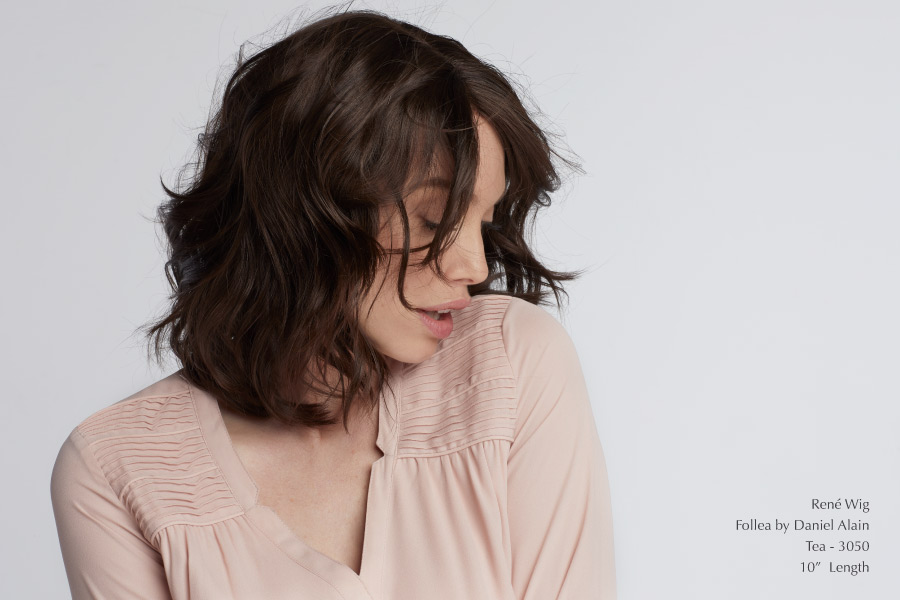 With René, you can have your cake and eat it too—in the form of a luxurious lace wig with bangs that won't break the bank. Made with an enchanting blend of our World Select Hair, this gorgeous piece offers the same level of quality and naturalism as our other wigs but at a more budget-friendly price. And she looks like a stunner with a set of bangs.
Get the best of both worlds with René
GRIPPER ACTIF WIG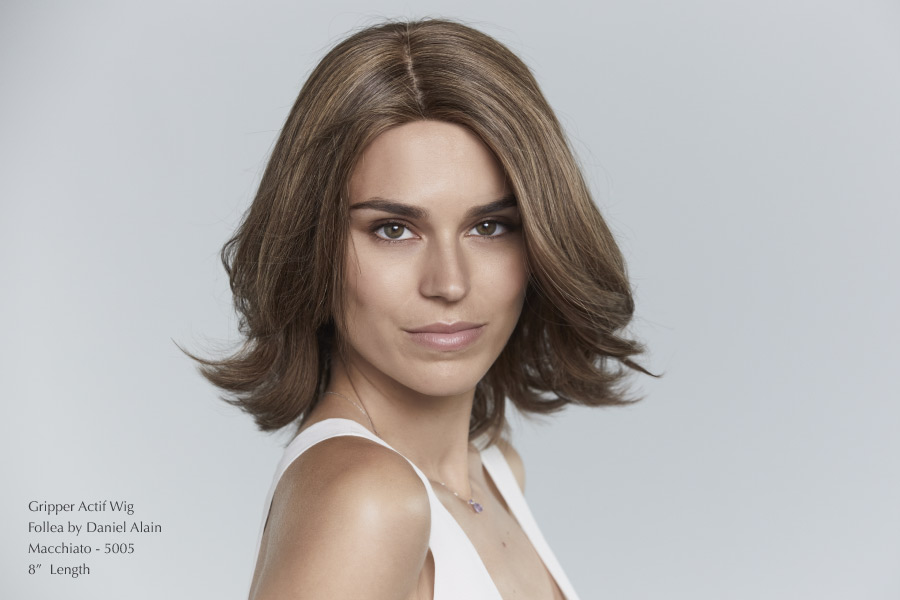 Just because you're battling hair loss doesn't mean you can't experience the pure joy of strutting down the stress in a human hair fringe wig. Gripper Actif is uniquely designed with a silicone liner that adheres to the scalp, providing a secure and comfortable grip that refuses to budge. And yes, it looks fabulous with bangs.
Tell hair loss to get lost wih Gripper Actif
GRIPPER LITE WIG
Love stability but hate the heaviness some hair loss wigs can bring? Gripper Lite is your girl. This lace wig with bangs has an airier design that's 50% lighter than our Gripper wigs but still offers the same level of security, comfort, and standout style. Throw a pair of bangs on this baby, and you'll be stopping traffic in no time.
---
FIND THE BEST SHORT HAIR WIGS AT DANIEL ALAIN!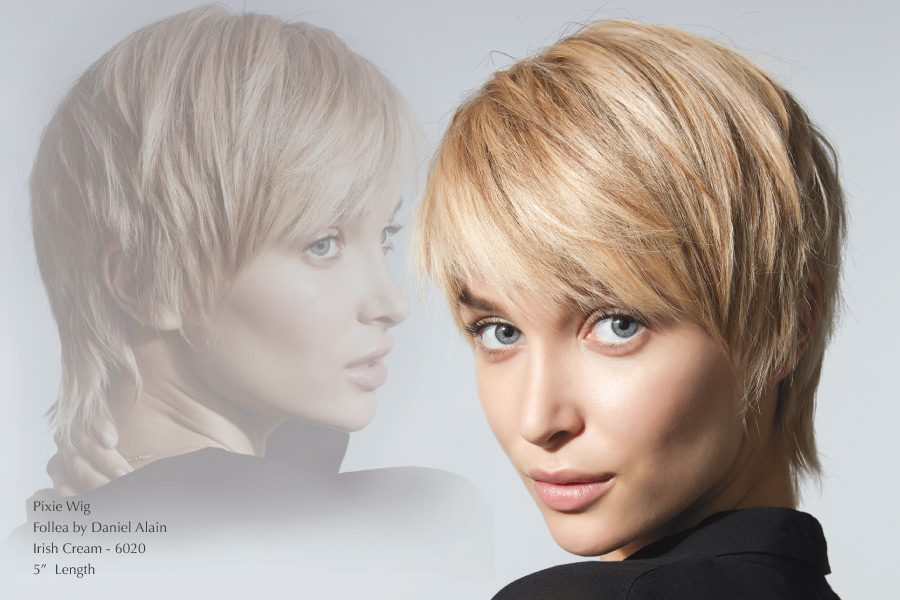 Attempting to buy short wigs online is nothing short of a minefield. Between insincere marketing claims, all-over-the-place reviews and a serious lack of transparency, it's hard to know where to even start.
If you're in the market for short hair wigs for women, look no further than Daniel Alain. Our wigs are made with 100% European human hair—aka the best of the best. Not only is this kind of hair the creme de la creme in terms of quality, but where we source our strands from is even more exclusive and high-quality.
Daniel Alain is the only brand that has access to the world's largest and only private reserve of European hair. We're talking about the top 10% of hair in the world, people. It's this kind of rarity that allows our wigs to be so light, airy, and comfortable—not to mention ultra-realistic.
When you pair that level of exclusivity with our unrivaled wig construction—100% hand-tied lace fronts, monofilament caps, and more—you get short wigs that are not only the best of the best but will also last you years with proper care.
If you're ready to rock your next short wig, set up a free consultation with one of our stylists. We'll guide you through the process and find the perfect style, color, and fit for your unique look. Pretty soon, you'll be strutting your stuff like the confident goddess you are.
Click here to book your complimentary consultation today!
---
Frequently Asked Questions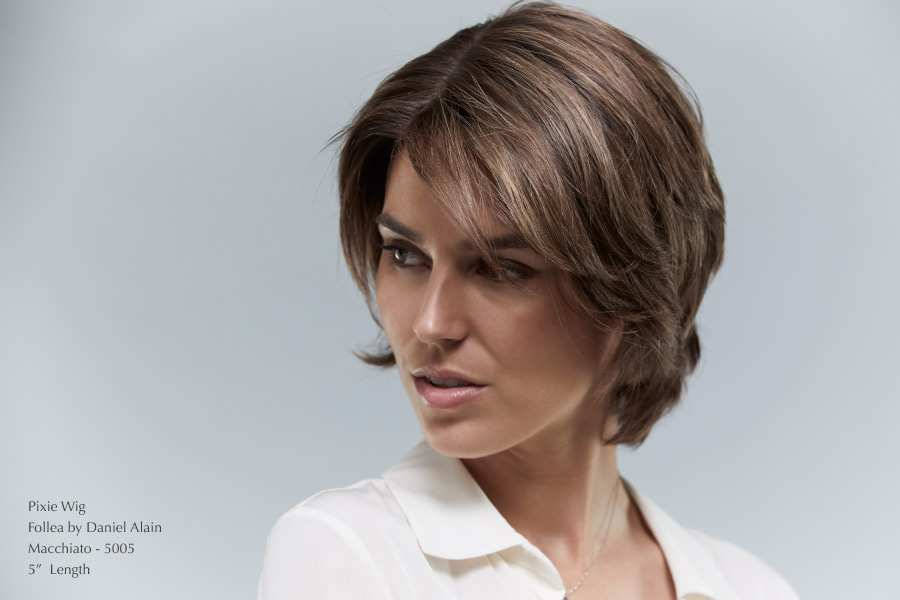 How Much is a Short Hair Wig?
The price of a short hair wig depends on a few factors, including the quality of the hair, the construction of the wig, and the brand. Daniel Alain wigs are made with 100% European human hair and our construction is unrivaled, so our prices start at $2,483 and go up to $4,885 for our short human hair wigs.
However, we also offer monthly payment plans to make our wigs even more accessible. You can break down your total so you're paying as low as $225 a month.
How do You Wear a Wig with Short Hair?
Wearing a wig with short hair is actually a lot easier than you might think. You can use a wig cap to tuck your hair underneath and create a smooth base for the wig to sit on. You can also try a topper instead of a wig if you want to add a little thickness or length to your existing short hair.
How do You Make a Short Wig Look Good?
The key to making a short wig look good is finding a high-quality piece. Cheap wigs will look just that—cheap. But if you invest in a well-made short wig, it will look just as good, if not better, than your real hair.
Regular styling, maintenance, and experimenting with different ways to wear it will also help you get the most out of your short wig.
How do You Wear a Pixie Wig?
Pixie wigs are some of the most popular short wig styles out there—and we think they look good on everyone. The key is to choose one that's made with baby hairs (also called return hairs) so the wig has a little volume and doesn't lay flat on your head. Styling the wig with a little bit of product can also help give it some texture and body.
What Kind of Wig Looks Most Natural?
Human hair, hand-tied wigs with lace front caps look the most natural—especially when it comes to short hair. The human strands bounce and move like your own hair (and can be styled the same way too) and the hand-tied construction allows for realistic parting options. You can even throw it up in a top-knot without anyone catching a glimpse of your tracks.
The lace front also adds to the realism by giving the illusion of a natural hairline and making it seem like the hair is growing right out of your scalp. Those elements combined make for one heck of a natural-looking wig.
What Wig Brand is the Best?
When you factor in quality, construction, and price, Daniel Alain is the best wig brand on the market—hands down. Our wigs are made with exclusive European human hair, our construction is unrivaled, and we offer monthly payment plans so you can rock your new 'do now and pay later.
Not to mention, our team of experts are here to help you find the perfect style, color, and fit for your look. All you have to do is book a complimentary consultation and we'll take it from there.
What is the Easiest Wig to Wear?
Short lace front wigs are some of the easiest wigs to wear because they're so light and airy. They don't weigh down your head or cause any discomfort, and they don't require any complicated adhesive or tape to stay put. Just gather your hair into a low bun, put on your wig cap, and secure the wig using the built-in clips. It's really that easy.
Do Human Hair Wigs Look More Natural?
Absolutely—short human hair wigs look way more natural than synthetic wigs. Synthetic wigs are made out of plastic fibers, so they don't move or behave like real human hair. And since short hair is already pretty close to your scalp, any fake-looking elements are going to be even more noticeable.
Human hair wigs, on the other hand, look and feel just like your own strands. They can be styled the same way too, so you can rock a sleek bob one day and switch it up with some curls the next.
Are Human Hair Wigs Better than Synthetic?
Every kind of wig has its purpose. Synthetic wigs are great for temporary styles or occasions where you're not concerned about someone noticing you're wearing a wig. But because they're more fake-looking and don't last as long, synthetic wigs are not recommended for everyday use.
If you're looking for a wig you can wear on the regular, human hair is definitely the way to go.
What are the Different Types of Human Hair Wigs?
Human hair differs in both where it's sourced, how it's sourced and how it's treated.
The three main types of human hair wigs are Indian, Asian, and European. And beyond that, there are other labels you'll see used, like Virgin and Remy. Understanding what each of these terms means will help you choose the wig that's right for you.
European Hair
European hair is the highest quality human hair on the market. It's sourced from Slavic countries like Russia and Ukraine and is characterized by its silky texture and sleek look. European hair wigs are also some of the most expensive because finding donors is really rare. But if you can afford it, European hair is definitely worth the splurge.
Indian Hair
Indian hair is a close second to European hair in terms of quality. It's sourced from the temples of India, where women donate their hair as part of a religious ceremony. Indian hair is usually more coarse and textured than European hair, but it will give you more volume. These strands can also hold style better than other types of human hair.
Asian Hair
Another common type of human hair is Asian hair, which is similar to Indian hair in that it's usually more coarse and textured. Asian hair wigs are usually less expensive and easier to find, but they're also subject to some unsavory collection practices. Many manufacturers make their wigs out of what's called "waste hair," which is hair that's been brushed off the floor of salons or collected from drains.
So, if you're looking for an Asian hair wig, be sure to do your research and find a reputable manufacturer.
Virgin Hair
Virgin hair is hair that's never been dyed or chemically treated in any way. This is the most natural form of human hair, and it's also the most expensive and hardest to find. Because chemical treatments and changing colors are so popular, finding virgin hair is pretty much impossible. So if someone is selling it at a too-good-to-be-true price, don't fall for it.
Remy Hair
Remy hair refers less to the location of where the hair was sourced and more to how it was collected. Remy hair is collected in a way that keeps all the strands aligned in the same direction, from root to tip. This helps the wig look more natural and prevents the hair from getting tangled. When you can, opt for Remy hair over non-Remy hair, as it will give you a much better result.
download our wig buying guide