The Best Human Hair Wigs for Older Ladies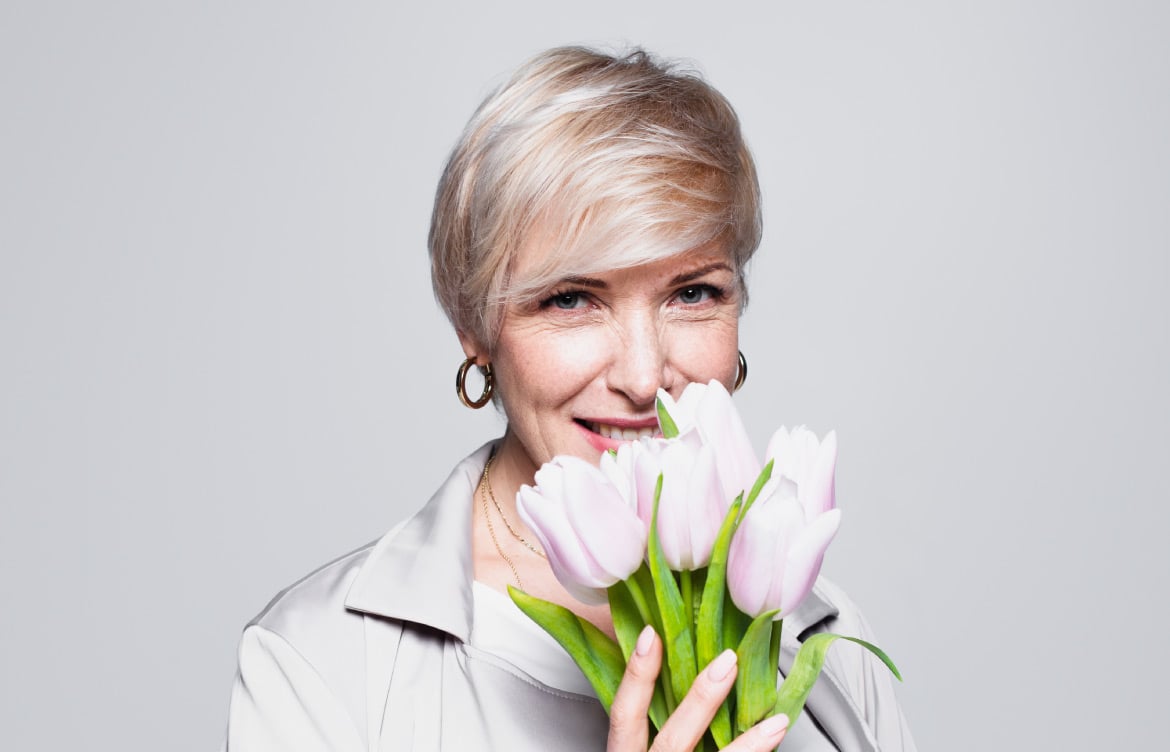 Wigs for older ladies provide comfort and confidence at any age! You deserve to look fabulous at 27, 72, and every year up and in between. But we all know that as we get older, our hair changes. It might thin out, recede, or lose its vibrancy.
We also know that the older you get, the less you want to mess with your mane. Those days of spending hours curling, blow-drying, and flat ironing are behind you. You want a style that is easy to maintain and looks good without much effort. That's where Daniel Alain's collection of the best human hair wigs for ladies comes in.
A wig can give you effortlessly beautiful hair every day without the hassle—especially one that's artisanally crafted with 100% real European hair.
Unlike synthetic wigs, which are difficult to style and more detectable, Daniel Alain's human hair wigs for older ladies move and flow with natural grace. Whether you're losing your locks, done with coloring, or ready to switch up your look, our ladies' wigs will make you feel like the confident and fabulous woman you are.
---
Daniel Alain's Follea Human Hair Wig Collection for Ladies
If you're looking for wigs for older ladies, you've come to the right place. Thanks to our thoughtfully selected European hair and signature lace-front construction, Daniel Alain's wigs are some of the best on the market.
Human hair wigs are far superior in quality and appearance to synthetic ones. But not all human hair is created equal. Only 100% European hair can give you the luster, density, and movement you're after. That's why our most sought-after pieces are constructed with 100% European hair sourced from our private reserve, the largest and only one in the world.
Our wigs are also lace-front, meaning that the cap is made with a thin strip of luxurious lace that runs across your forehead. This gives you a natural-looking hairline and provides ultimate breathability and comfort.
What's more, our wigs come in countless styles and colors to suit any taste. We have a hairdo for everyone, from short and sassy bobs to long, wavy locks. So take a peek at our human hair wigs for older ladies and find your perfect match today!
Grandeur
Your wig should make you feel like a queen, and our Grandeur wig does just that. This show-stopping style features cascading waves of luxurious 100% private reserve premium European hair that will turn heads wherever you go.
Its smooth and sleek strands are hand-tied to a lace-front wig cap that offers unparalleled realism, while the skin top allows you to part your hair in any direction. Fans of this one-of-a-kind wig say that it's "the best hair in the world," and we can't help but agree.
Chic
You'll never go out of style with Chic by your side. This French-part piece is one of our most popular lace front wigs for older ladies, and it's easy to see why. Hand-tied with some of our finest European hair, the Chic offers all the silky softness and luster you desire.
The Chic also features our signature lace-front, skin-top cap, allowing multi-directional parting and a realistic hairline. And because the hair is sourced with the cuticle intact, the strands are less likely to tangle and frizz. So you can strut your stuff with confidence, knowing that your wig looks just as chic as you feel.
Style
Want to add more oomph to your look? Style is here to give you the boost you need. This wig features a voluminous top and return hairs all along the cap that lend extra fullness and body. Plus, the temple-to-temple lace front gives you even more options for cutting and customizing your hairline to your liking.
But Style isn't just about big hair—it's also about healthy hair. That's why we've made this wig with 100% European Remy hair that has the cuticle intact. Rest assured, your wig will stay soft, shiny, and tangle-free for years to come.
Go ahead and give yourself a little extra pep in your step. With Style, looking good has never been so easy.
Step into the spotlight with Style
Pixie
Short hair, don't care? Then Pixie was made for you. This sassy little number is perfect for ladies who want effortless style to be truly effortless. Pixie's no-nonsense, layered design is easy to style in a shag cut, sleek side-part, or even a choppy, textured look. You really can do it all with this versatile wig.
But the best part of Pixie is that it's made with our 100% European human hair, giving you all the natural luster and movement you crave. Not to mention, the lace-front wig cap provides a seamless and comfortable fit. So ditch the fuss, grab your Pixie, and get ready to rock your new look with this bold ladies' wig!
René
Sometimes, a little change is all it takes to make a big impact. With René, that's exactly what you'll get. This wig's volume is second to none, thanks to our show-stopping mix of high-quality Chinese and Indian strands that have been carefully selected for their fullness and unbeatable body.
But we didn't stop there. We even added a lace-front wig cap with baby hairs built into the roots for even more height to your mane. And because the source of our World Select Hair is more diverse, this wig gives you all the luxury of a Daniel Alain piece with an affordable price tag.
Gripper Actif
If you're afraid of your wig sliding down during a windy morning run or an active, meeting-filled workday, then Gripper Actif will soothe your fears. This unique wig grip is lined with an innovative silicone gel that adheres to your skin, providing a gentle but firm hold on your wig all day long.
Our Gripper wigs are specifically designed for bald women to feel secure and confident during any activity.
Another one of our ladies' wigs made with European hair; the Gripper Actif is sure to give you the same softness, luster, and natural movement you've come to love and expect from Daniel Alain. But with the bonus of a worry-free grip, you'll be able to enjoy your wig like never before.
Tackle the day with Gripper Actif
Gripper Lite
When you're out and about, the last thing you want to worry about is your wig slipping. With Gripper Lite, you'll never have to give it a second thought. This piece is constructed with the same strong-holding silicone as its sister wig, the Gripper Actif.
With Gripper Lite, each European strand is hand-tied to give you more airflow and a lighter feel. You'll forget you're even wearing your ladies' wig and focus on more important things—like living your best life.
Stay cool and collected with Gripper Lite
---
Shop Ladies Wigs at Daniel Alain
Imagine having the perfect hair day—every day. No more fighting with your hairbrush or spending hours at the salon. Just wake up and put on your wig, and voila! You're ready to take on the day looking and feeling your best.
At Daniel Alain, we specialize in making wigs for older ladies that look and feel like the real thing. Using the finest strands sourced from the top 10% of hair available on the planet, our expert wigmakers hand-craft each piece to perfection. Our utmost precision and commitment to quality ensure a comfortable and natural-looking wig you can rely on.
Whichever one of our styles you choose to rock, you can be confident knowing that you're getting a high-quality wig made with luxurious locks. All our pieces come in a range of vibrant colors and can be cut and styled to make you feel like a celebrity.
Every season of life is a beautiful opportunity to start fresh. If you're looking for a ladies' wig that will give you the freedom to express yourself, browse our collection or consult one of our stylists today!
Book a free consultation
Our stylist will guide you through finding the perfect wig
---
Frequently Asked Questions
Where is the Best Place to Buy Ladies Wigs?
The internet is awash with wigs of all shapes, sizes, and colors. But when it comes to finding the best human hair wigs for older ladies, you'll want to buy from a reputable source like Daniel Alain.
We've been in the business of creating beautiful and realistic wigs for over 20 years, using the finest hair and comfortable caps to craft our pieces. Our free Fit Kit allows you to try on a range of styles from the comfort of your home to find the perfect one for you.
What Makes a Wig High-Quality?
Many factors make a wig high quality, but the three most important are the type of hair, cap, and construction.
Daniel Alain has been the leading provider of wigs for older ladies for decades, and our founder has more than 30 years of experience in the industry. In all that time, we've learned undoubtedly that 100% European hair lace front wigs for older ladies are the best of the best.
The strands are smoother and shinier than other hair types, making them more realistic and luxurious. In addition, wigs made with European hair are also much easier to style since the strands are less likely to frizz or tangle.
When you add that kind of high-quality hair to a lace front wig cap that's 100% hand-tied, you get a piece that looks and feels so natural that nobody will be able to tell it's not your real hair.
What Kind of Wig Looks Most Natural?
A wig constructed with a lace front cap will always look the most natural. The lace front mimics the hairline, making it undetectable even up close.
Plus, you can trim and cut the lace to perfectly match your existing hairline for an even more seamless look.
What Type of Wig is Most Comfortable?
Hand-tied wigs are always the most comfortable since they allow for more breathability. This design increases airflow and makes the piece more lightweight.
How Much Does a Women's Wig Cost?
Wig prices vary depending on the quality of materials used and the construction. The high-quality wigs we create at Daniel Alain range from $2,391 to $10,849, with monthly payment plans available.
While you can get a wig for less elsewhere, remember you get what you pay for. A cheap wig is likely made with lower-quality materials and won't look or feel as natural as one constructed with premium strands. Everyone has a balance between price and quality that they're comfortable with, and it's up to you to find yours.
How Long Does a Human Hair Wig Last?
Human hair wigs for older ladies sourced from high-demand locations like Europe can last anywhere from 1-10 years. A wig's lifespan depends on how frequently you wear it. Additionally, proper care will preserve the longevity of your wig.
To make your wig last as long as possible, avoid using harsh chemicals or heat styling tools whenever possible. Additionally, always store wigs on a wig stand or mannequin when you're not wearing them to prevent damage.
Proper wig care will ensure you get the most wear out of it and that it looks its best for as long as possible.
How Long Do Lace Front Wigs Last?
Again, how long a wig lasts will depend on how well they're made and maintained. A high-quality lace wig should last around 1 to 3 years so long as it's been regularly washed, conditioned, and stored properly when not in use.
You can extend your wig's life even further by using wig caps or liners to protect the lace when you're not wearing it.
How Do You Maintain a Human Hair Wig?
Maintaining human hair wigs for older ladies is similar to taking care of your own hair. You should regularly wash and condition it using gentle products designed specifically for wigs.
How often you'll wash your wig will depend on how often you wear it. If you're planning on rocking your new 'do every day, wash it at least once a week to keep it looking luxe and lustrous.
Another way to keep your wig in top shape is to use proper brushing and styling tools. We recommend using a wide-tooth comb or wig brush to avoid damaging the strands. While you can use heat-based tools to style your wig, avoid doing it every day to prevent damage.
What Do I Need to Know Before Buying a Wig?
Investing in a high-quality human hair wig is a big decision. And while we're confident you'll love the wigs we have available at Daniel Alain, we understand that it's not a purchase to be taken lightly.
Before you buy a wig, we recommend researching what kind of wig will best suit your needs. Familiarize yourself with cap construction, hair type, and wig care to make an informed decision. Lucky for you, we cover all of that (and more) in our ultimate wig buying guide.
If you have any questions or concerns about wigs for older ladies, our team of experts is here to help.
What are the Different Types of Human Hair Wigs?
Human hair is sourced all across the globe. Every source offers a distinct texture, creating different wigs with different benefits.
European Hair
Probably the most sought-after strands on Earth, European hair is known for being silky, smooth, and fine. They have a soft look and sleek feel, which is why they're so popular—and rare. If you're of European descent, ladies' wigs made with these strands will be a great match for your natural hair.
European hair is hard to come by, and Daniel Alain has the only private reserve in the world. We get our European hair from a single, sustainable source in Eastern Europe that no other wig makers have access to, so our 100% human hair wigs are truly one-of-a-kind.
Indian Hair
Indian hair is coarser than European hair, which gives the wigs more volume. These wigs also have a wavy or curly texture, making them more difficult to style.
While Indian wigs don't have the same sleekness as European wigs, they're much more affordable and easy to find.
Asian Hair
Asian hair wigs have a thick, fine texture, similar to European hair wigs. Smooth and silky, these strands are perfect for creating sleek styles—so long as they're sourced in a quality manner.
Unfortunately, much of Asian hair is "waste hair," hair strands found in drains, hairbrushes, and floors. They are often damaged, and as a result, human hair wigs made with this type of hair won't last as long or look as good as wigs made with higher-quality hair.
Not all Asian hair is waste hair, especially from brands that prioritize superior manufacturing, craftsmanship, and quality control, (like Daniel Alain's René wig). Research wig manufacturers to find out how they're sourcing their Asian hair.
Virgin Hair
Virgin hair is the unicorn of the wig world—it's incredibly rare and practically impossible to find. Virgin hair wigs are made with strands that have never been processed or treated with chemicals, which is a tall order in today's world. If a manufacturer is advertising virgin hair, proceed with caution and be prepared to vet them thoroughly.
Remy Hair
Remy hair wigs are made with strands sourced in a way that keeps the cuticles facing the same direction. This reduces tangling and matting and results in a wig that's much easier to care for. No matter where the strands have been sourced from, most high-quality wigs will be Remy wigs.