Buying a Human Hair Wig or Topper Online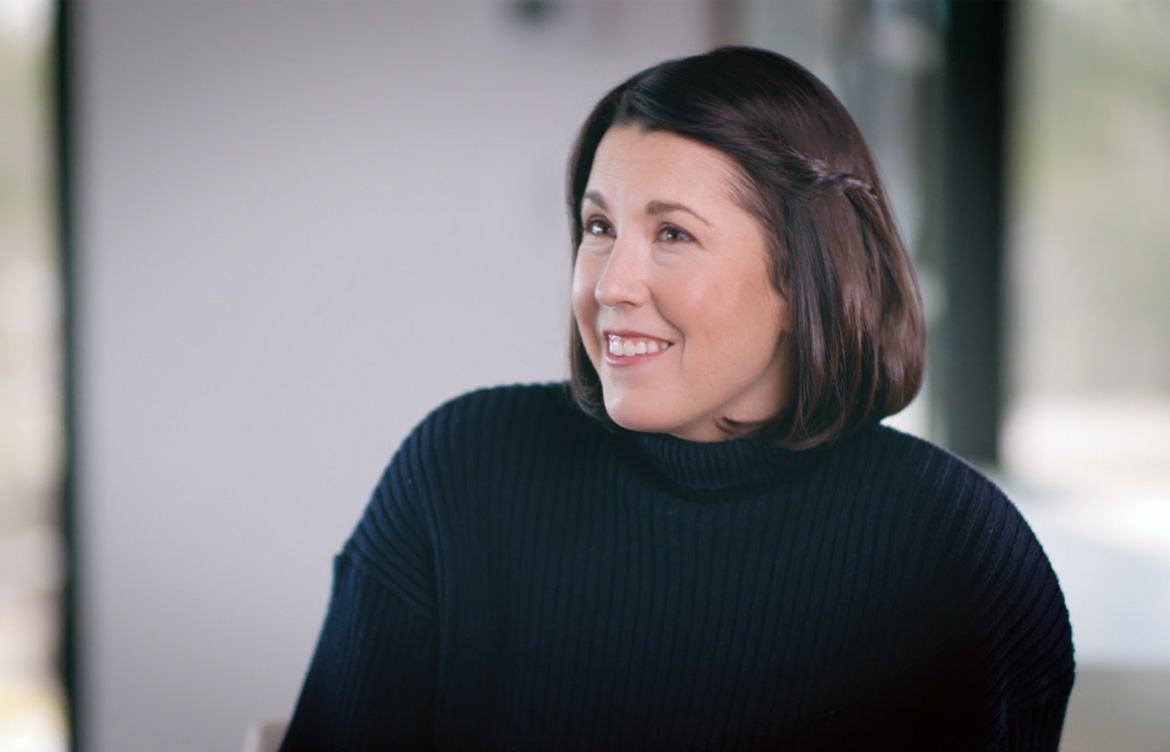 Dealing with hair loss or thinning hair can be a challenge. Bald spots or a thinning crown can leave you feeling isolated, lacking confidence, or cause you to avoid participating in activities you love. Whether you're suffering from hair loss caused by alopecia, stress, or in response to medications such as radiation or chemotherapy, finding the right solution can be just as challenging. It's not uncommon to feel overwhelmed and discouraged during your search for the perfect alternative hair option for you.
We are here to help. As a trusted leader in the hair replacement industry for over two decades, Daniel Alain has helped thousands of women regain their confidence and feel more comfortable by wearing the right hairpiece for them. With years of experience and expertise, we have perfected our craft and offer the highest quality human hair wigs and toppers.
We understand that your needs are unique.
Our dedicated team of experts provides exceptional service and support to ensure each of our customers is confident they have made the right choice.
If you're not sure where to start looking for a human hair wig or topper, we're going to give you some tips about buying one online, and why that can be a great option if you're looking for a convenient solution. We will also discuss the benefits of buying a human hair wig or topper online from a reputable and experienced brand as well as the common pitfalls to look out for.
We hope that with our expert guidance, you will feel confident about making an informed decision and ultimately find the perfect hairpiece for your needs and lifestyle.
---
---
Hair loss and its impact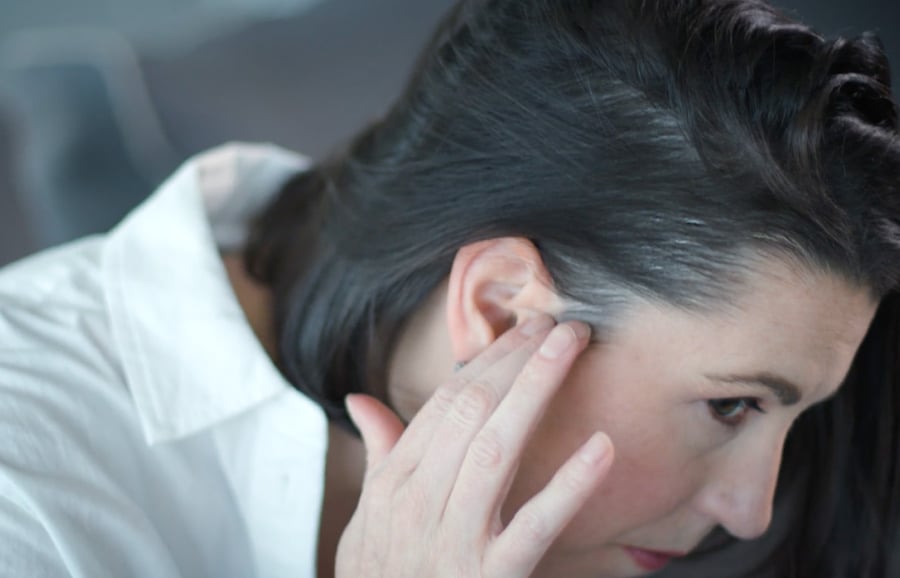 Meet Marlo, a real-life Daniel Alain customer who has been dealing with hair loss caused by COVID and postpartum hormonal changes. Frustrated with her thinning hair, Marlo sought an easy and non-invasive solution to restore her confidence and self-esteem and has been wearing our Follea human hair toppers for two years.
"I have experienced significant shedding around my face," explains Marlo, "to the point where I needed to consider my options. There's some vulnerability around hair loss, especially for women. Knowing that you can achieve the most natural look with a human hair topper is very reassuring."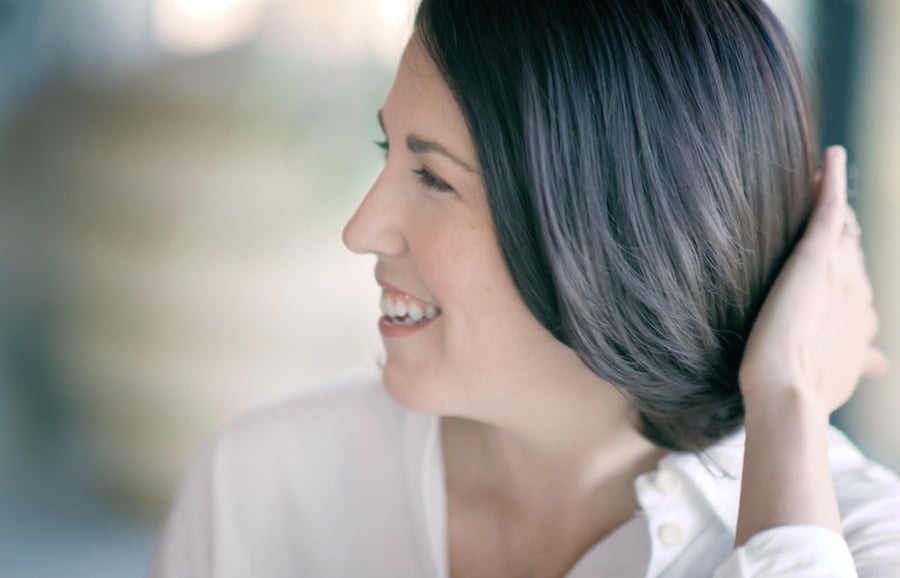 ---
What is a human hair wig or topper?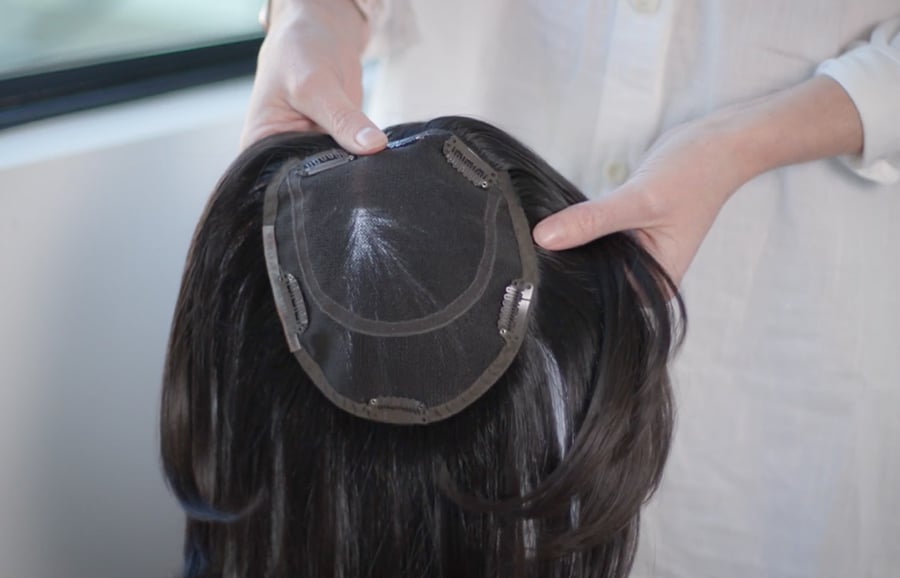 Human hair wigs and toppers are hairpieces made from genuine human hair and used to cover bald spots, thinning hair, or even total hair loss. Unlike synthetic pieces, human hair wigs and toppers look and feel more natural because they are made from real hair harvested from donors. The very best human hair wigs and toppers are made from 100% European hair, known for its natural shine and smoothest texture.
Both hair pieces cover hair loss or thinning but differ in size and coverage. Wigs cover the entire scalp, while toppers cover only a portion of the scalp and add volume or cover specific areas of hair loss.
When it comes to choosing between a wig and a topper, it depends on the severity and location of your hair loss. If you have extensive hair loss, a wig might be the better choice as it provides total coverage. However, if your hair loss is localized to a specific area and your front hairline is intact, a topper could be more appropriate.
It might feel like you have big decisions to make when choosing the right hairpiece. However, it is important to remember that you don't have to make these decisions alone. Consulting with an expert can help you understand your options and make an informed choice based on your unique situation and needs.
"Without talking with someone who is really familiar with human hair pieces, it would be very challenging to find the right piece by yourself," says Marlo.
---
Buying a human hair wig or topper online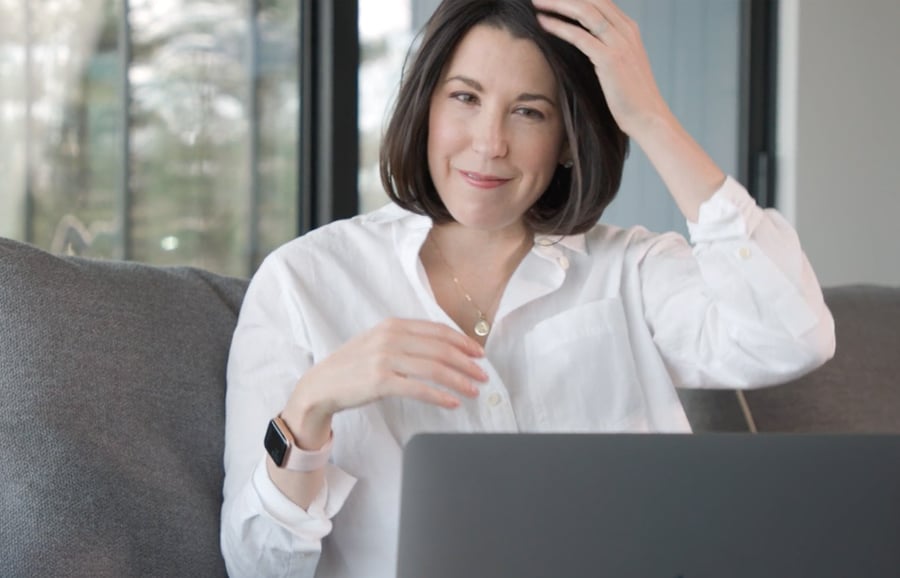 At Daniel Alain, we're proud of the strategies we've developed to help our customers feel confident about purchasing one of our pieces online. However, we know that having a consultation before purchasing an expensive human hair wig or topper is crucial to helping you find the right piece for you.
Choosing a wig or topper based solely on online pictures can be risky; these products are not a one-size-fits-all item and require careful consideration of your unique needs and preferences. Without a consultation, you run the risk of choosing a hairpiece that may not be the right fit.
While Marlo explored her options to find the best wig salon to purchase her human hair topper in person, she wouldn't rule out having an online consultation. "I certainly wouldn't consider just buying something online and having it shipped to my house," she concedes. "You'd really need a one-on-one consultation with an expert to ensure the best possible outcome."
When buying a human hair wig or topper online, we recommend that you do so after having a consultation with an experienced professional. We also strongly advise that you purchase from a company that offers a fitting service, which will ensure an accurate fit, maximum security, and total comfort. And finally, we recommend looking for a brand that offers a generous return policy that has you covered in the event you don't end up with the right piece the first time around. Let's take a deeper look at these recommendations.
Online Consultation for a Human Hair Wig or Topper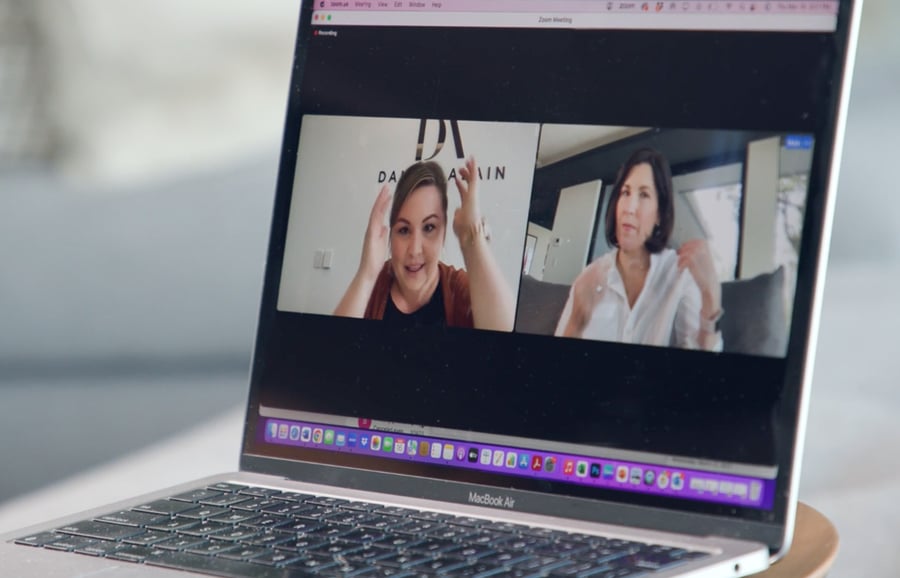 These days, we look to our computers to provide our entertainment and information. They help us to be organized, to keep us in touch with family and friends who live far away, and let us know what the weather will be like next week. In much the same way, having online consultations has become a common way to conduct appointments.
Advancements in technology allow people who may not have access to a provider in their area or prefer the comfort and convenience of their own home, to receive expert advice on their hair loss issues.
Convenience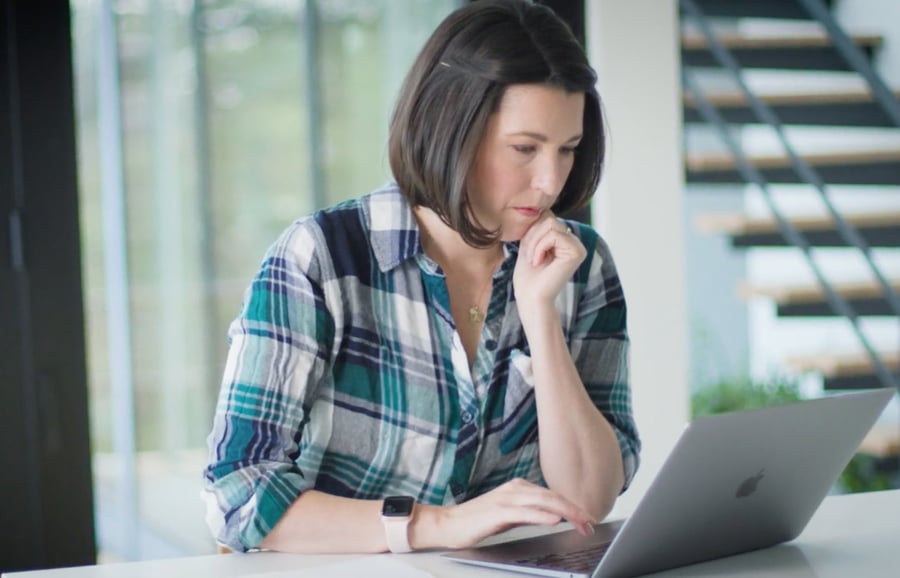 Here at Daniel Alain, you can book an appointment for a consultation with any one of our experienced team members at a time that works best for you. Our appointments are conducted via Facetime or Zoom. You won't need to worry about finding an address, not having the exact change for the parking meter, or not having to wait in a busy waiting area for your turn to come around. An online consultation is designed to fit around your busy schedule. "I love the idea of being able to have this level of convenience at home!" exclaims Marlo.
Comfort
We know that hair loss can be a very sensitive issue that might make you feel uncomfortable, vulnerable, and exposed, especially when you're seeking guidance on potential solutions. Having an online consultation from the security of your own home can be particularly comforting. Being in your safe space, surrounded by familiarity, can help to alleviate some of the stress and anxiety you might feel about discussing such a sensitive topic. Dedicated consultants are highly experienced at helping people with their hair loss issues, and if having a consultation from your living room brings you a sense of privacy and control, a great company will strive to accommodate your needs.
Expertise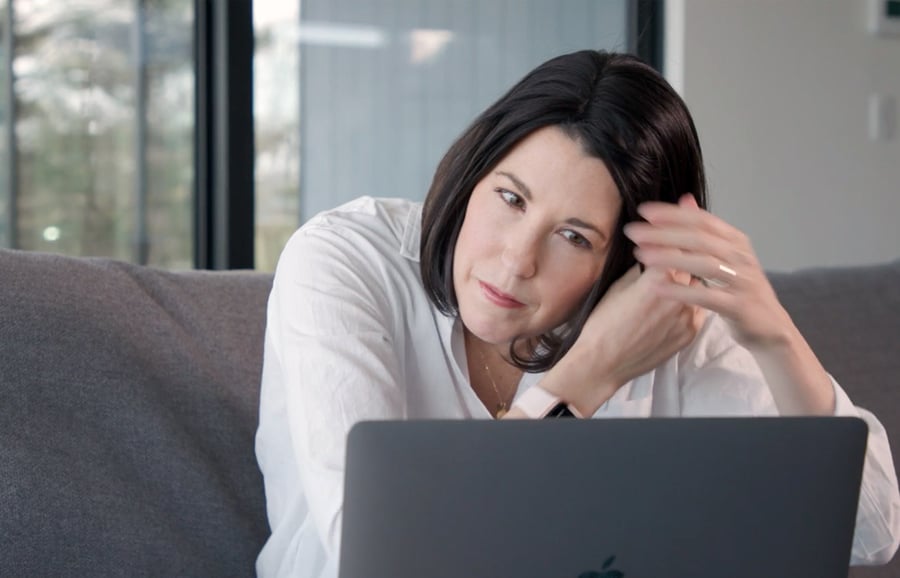 Having an online consultation with an expert consultant gives you access to a wealth of knowledge and expertise that may not be readily available in your area. The best consultants are highly skilled and uniquely qualified in determining which options are right for you based on your specific needs and preferences.
During a consultation, your consultant will be able to assess your hair loss and offer expert advice and recommendations on whether a wig or a topper would be the best choice for you. They will assist you with taking measurements (yes this can be done virtually!) and will advise on hair length, color, and type.
If you're new to wearing a wig or a topper it can be hard to make those decisions alone, so relying on an expert's knowledge, experience, and know-how will give you valuable insights and will help you through the process.
Fitting service for choosing a human hair wig or topper
Choosing a company that offers a fitting service is a wise choice if you're thinking about purchasing a human hair wig or topper online. With a fitting service, you have the opportunity to try on several pieces, see the hair samples in different lights, and ask the opinion of trusted friends and family members.
Here at Daniel Alain, our Fit Kit service can be ordered through your consultation. Your consultant will send you a few different cap sizes for you to try, and hair samples for you to see. You have seven days to try out the cap sizes at home. We recommend wearing them for a few hours or longer, to test out their comfort over time.
Ultimately, the comfort and security of any hairpiece comes down to achieving an accurate fit. Anything you can do before making your purchase to help achieve the best fit will help guarantee you buy the right piece.
Return policy for returning a human hair wig or topper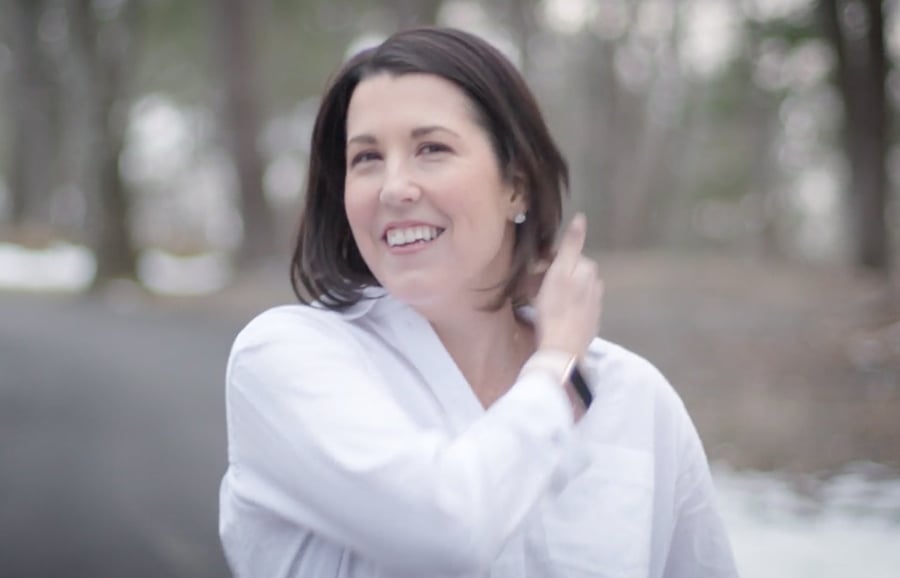 While we know it's possible to find the right piece for you the first time around, we are aware that sometimes you may need to return or replace your purchase for a different piece, even with a consultation and fitting service. Look for a company with a generous return policy that covers you in the event you don't find the right piece so you won't be stuck with a wig or topper that doesn't meet your expectations.
Not only will a generous return policy make you feel confident about your purchase, but it also demonstrates a company's commitment to customer satisfaction. A company that stands behind its products and is willing to offer refunds or exchanges ensures that its customers are happy with their purchases.
---
Is a Daniel Alain consultation right for me?
Losing your hair can take its toll on your self-esteem and emotional well-being, and searching for a solution can feel daunting if you don't know where to turn or who to trust. As you explore your options, you might consider exploring the web to research human hair wigs and toppers.
In this article, we outlined the benefits of making such a significant purchase online. We recommended having a consultation, the opportunity to use a fitting service, and selecting a brand that has a return policy that has your best interests in mind. We also advised against selecting a human hair wig or topper based solely on computer images and without accurate measurements being taken.
If you're wondering whether a human hair wig or topper is the right fit for you, or would like to speak to one of our consultants, you can book an appointment at your convenience. We would love to guide you through the process and help answer any questions you may have about wearing one of our pieces.