Wigs | Toppers | Maintenance&Styling
What Services Does Daniel Alain Offer After I Buy A Wig?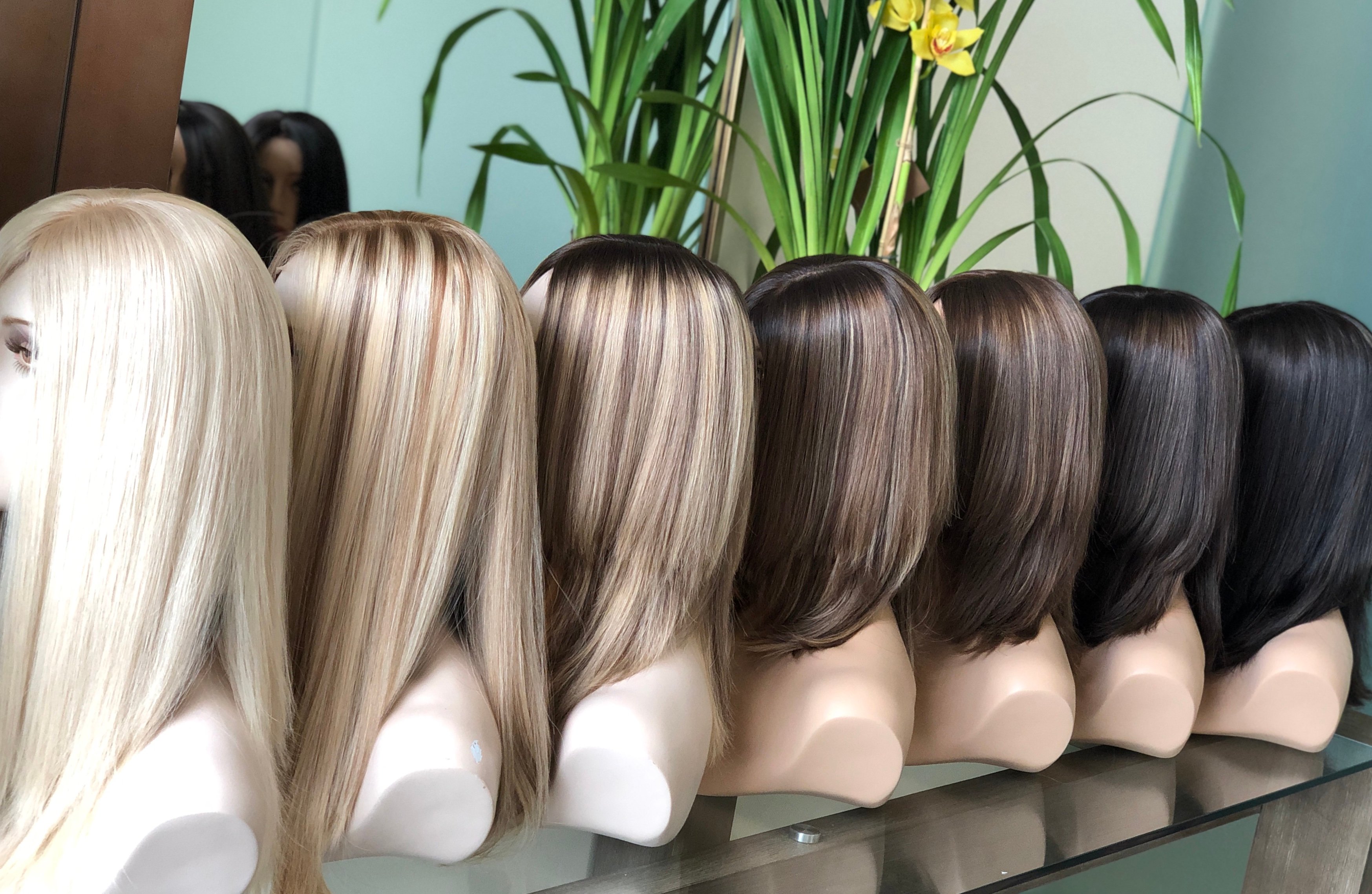 Whether you're getting ready to purchase or just purchased your Daniel Alain wig or hair topper, we are just as excited as you are. Maybe you waited months for a custom order. Maybe this is the first wig you've purchased that made you feel like yourself again. Whatever brought you to Daniel Alain, we are happy you trusted us and invested in yourself. The excitement doesn't stop there. Your Daniel Alain wig will require love and attention to ensure it stays in good condition— and we're here to help.
You might be wondering how Daniel Alain can help if something happens with your wig or is showing signs of wear over time. A high-quality human hair wig is not invincible to wear and tear over time, although with proper care and maintenance it can last 2-4 years. Maybe there's a slight tear in your lace front. Maybe the fit has changed due to losing more bio hair and you need a cap adjustment. Maybe the color is looking dull and needs a touch-up. At Daniel Alain, we stay with you before, during, and after your purchase. Inevitably, as time goes on, especially considering factors like your lifestyle and how you care for your piece, you'll notice some natural wear and tear. At Daniel Alain, we offer services to make sure your wig or topper is in top condition.
Because we own our manufacturing process from start to finish, we can offer services that other wig companies who outsource their manufacturing may not be able to do.
We stand behind our products and want you to be happy with them. We pledge to go above and beyond to ensure you are happy with your pieces not just in the days following your purchase, but for years to come. In this article, we'll highlight the post-purchase services Daniel Alain offers to help you care for your wig or hair topper.
What Post-Purchase Services Does Daniel Alain Offer?
A Risk-Free Trial
Most wig companies, especially ones that make custom wigs do not offer returns or exchanges. Here at Daniel Alain, we want to make sure you love your piece and are proud to wear it. That's why we offer a 7-day risk-free trial. If you're not completely satisfied, you have 7 days to try it out. As long as it is not altered in any way, we will accept it to either be returned or exchanged for a piece that is better suited to your needs.
Wig Cap Resizing
Before purchasing a wig or topper, we offer a fit kit to help you make sure you're buying the correct cap or base size if you are interested in a hair topper. The correct cap or base size is a key part of enjoying your hairpiece. When it comes to wigs, the perfect fit will make you forget you're wearing one. Over time, your cap may lose its tautness. Like a bra, the cap will stretch a little from frequent wearing. While you have adjustable tabs that can make your cap tighter, the cap may become too loose for a variety of reasons.
If you feel your cap has loosened or feels too tight you can send in your wig for resizing. When you send it in, make sure you attach a note or reach out beforehand to let us know whether you'd like to size your wig up or down. Once we receive your wig, it will be sent to our factory for a quote. While it's at the factory, your wig will be inspected for any other issues. Additional services may be recommended and will be included in your quote. Once you give us the approval to move forward with the resizing, the factory will work on your piece. The average time for this repair is about twelve weeks. If the factory is experiencing any delays, we will communicate that information to you.
Tip: You'll want to buy a mannequin head to help your wig cap maintain its shape and to have something to style it on. Having the right size mannequin head can lower the chances of your wig stretching out!
Wig Repairs
Accidents happen. So does life and natural wear and tear. We offer services, such as replacing clips, fixing torn lace, and silicone replacement to help repair your wig or bring it back to near new condition. We can also add hair if you notice a loss of density on your wig. Shedding is natural over the course of a wig's life and adding density can help restore your piece.
If you desire any of the above repairs, you simply send in your wig or hair topper. Contact your consultant or Daniel Alain customer service beforehand or attach a note letting us know what you would like to have done for repairs. We will send the request to the factory, get a quote, and communicate the cost to you. Once we get your approval, the turnaround time for general wig repairs is about sixteen weeks.
Fixing Color
If your wig is exposed to the sun for prolonged periods, its color will fade. Because Daniel Alain wigs and toppers are made from 100% human hair, the hair lightens over time, just as biological hair does, especially when exposed to lots of UV light.
If you find your color isn't as vibrant as it used to be, send in your wig or hair topper. We do not send hair pieces back to the factory to be re-colored, rather we handle the color refresh in-house with a skilled colorist who has the expertise in coloring Daniel Alain wigs and hair toppers. The cost of the re-coloring will depend on what you'd like done to your piece. You can have the color adjusted back to its original hue or even try a new shade, add highlights or go for a root smudge. We'll get an estimate from our colorist, communicate this to you, then wait for your approval. The price may adjust after the coloring is complete if our colorist has to do more or less work than anticipated.
Depending on the availability of our colorist, the turnaround time is about two weeks.
A Wig Spa
Just like you could use a spa treatment to feel rejuvenated, so can your hairpiece when it needs to be brought back to life. A wig spa is a way to keep your wig in top condition. Our wig spa flat rate is $120. Our topper spa flat rate is $60. The cost covers shipping.
You can send in your piece for a wide variety of reasons. If you're experiencing build-up on the hair, we'll use a special clarifying shampoo treatment. If your wig is dry, we provide a deep conditioning treatment formulated by our R&D lab for our premium hair. The services needed will depend on the condition of your piece. It's recommended to send your wig 3-4 times a year for some pro-level TLC to keep it in top condition. Your wig or topper will be returned to you styled and refreshed from root to tip. The wig spa service can also be used to freshen and style your piece before special occasions.
If you send in multiple pieces at the same time, your second piece will be $90 for wigs and $40 for toppers. The turnaround time depends on what service is needed and when we receive it. On average, the turnaround time is about 2-3 weeks.
Customizing Your Hair Cut
After you purchase your wig or topper, you may want to change how it looks. It's important you entrust your piece to someone who knows how to work with alternative hair. You can also send your wig or topper to us for styling services. If you're looking to add bangs, we might request a consultation with you to get the measurements of where you'd like the bangs to fall. If you don't have time to connect for a consultation, it is best to measure where you'd like your hair to fall based on your face shape. We have a menu of styling services we offer that include bangs ($80), baby hairs ($80), a trim ($100), and an all-over haircut ($130).
Styling Tips and Tricks
If you ever run into trouble styling your wig or topper, feel free to reach out to our consultants for tips and tricks. We're happy to hop on a styling consultation call or to send you how-to videos for different hairdos. We are here to help you gain confidence in wearing your hair and feeling beautiful.
Why Do These Services Matter?
After reading this article, you're now familiar with the services Daniel Alain offers after your purchase to ensure you are happy with your wig or topper for years to come. One thing that sets us apart is that we own the entire manufacturing process. This means we're able to offer services other companies simply cannot. We go above and beyond to make sure your wig can have the longest life possible and continue to meet your needs long after it is purchased.
Once you buy a Daniel Alain piece, we want you to feel supported even after you've fallen in love with your new hair. Whether you have questions that come up or need a solution to a problem, we are here for you every step of your wig buying journey, even after we are out of the picture. With the knowledge that we will be here to support you if you need anything to help maintain your wig or hair topper, you can confidently book a consultation to take another step closer toward achieving your dream hair and your new self.