Why Are Daniel Alain Wigs So Expensive?
Before you could buy almost anything online, it was easier to understand why a product was priced a certain way. Unfortunately, in the digital marketplace, the proliferation of fake products and scams make it hard to trust a product. Many companies want you to trust their product without explaining why you should trust it. It can be frustrating to see an expensive product and have no understanding of why it costs as much as it does. A big financial commitment should not be quick, careless, or blind.
At Daniel Alain, we understand our hairpieces are a big financial commitment. The goal of this article isn't to tell you why you should buy a Daniel Alain wig. We understand our pieces may not be for everyone. Instead, we want to shed light on what goes into the process of making one of our wigs and how that impacts their price point.
By the end of this article, you will understand why Daniel Alain wigs are priced how they are and have more information to proceed in your wig buying journey.
What Makes a Daniel Alain Wig Expensive?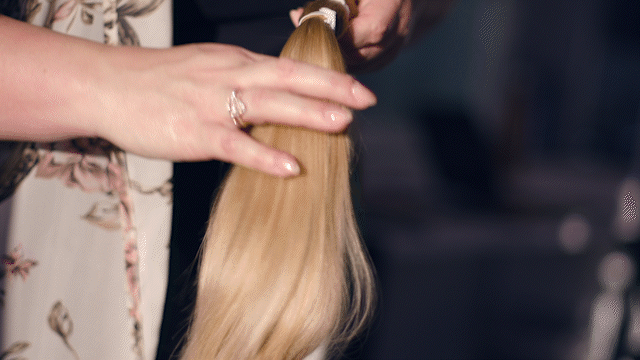 Put concisely, a combination of craftsmanship, quality control, materials, and longevity contribute to Daniel Alain's price point. For our founder, Daniel Alain Hafid, wig making is a family affair. After learning the craft from his father and seeing his mother wear synthetic wigs, Daniel decided to explore human hair wigs.
Daniel understood how uncomfortable the wrong wig could be for someone experiencing hair loss. Not only could the materials feel itchy and the hair feels stiff, but someone's pride and self-image could be damaged. No one wants to walk out of the house feeling self-conscious about how they look.
After ten years of perfecting the craft, he established Follea by Daniel Alain. Over the years, this process has been refined and perfected, ensuring that each wig that leaves our factory is pristine and ready for you to wear.
What Sets Daniel Alain
'
s Craftsmanship Apart?
Daniel Alain's dedication to craftsmanship prioritizes a high-quality product over mass production. Each wig receives individual, special attention from highly skilled artisans over a 30-day process.
Step One: The Hair Arrives
Daniel Alain owns the most expansive collection of premium 100% European human hair in the world. To protect the investment, it is stored off-site in a bonded, temperature-controlled facility. As needed, the ponytail hair is delivered to the factory where the hair is sorted by color, texture, quality, and fineness.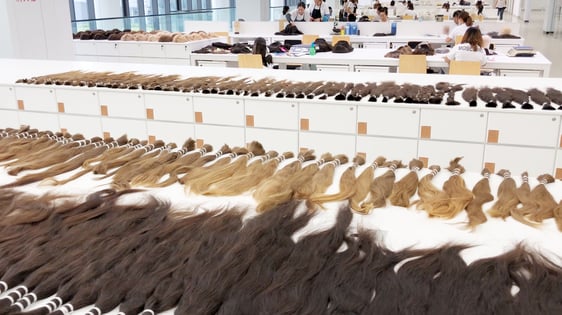 Step Two: The Hair Is Sorted
In this initial sorting, about 25% of the hair is discarded as lower-quality hair. About 25% of the raw ponytail hair is good quality, 45% is considered great, and only 5-6% of the hair is the "best." The "best" hair is reserved for our top piece: the Grandeur. The"great" hair is found on the Chic wig.
Step Three: The Hair is Cleaned
The hair is cleaned, rinsed, then inspected for inverted hairs. All of the hair must face the same direction to ensure there is no tangling. The hair is then left in a heated room to dry overnight.
After the hair dries, it is separated once again based on its quality. Hair is analyzed and inspected to separate the best hair from the very good hair.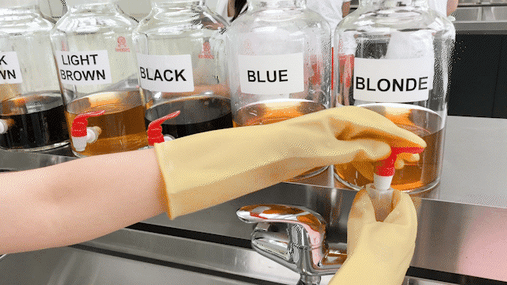 Following this, the hair is blended, sized by length, separated, and organized by length.
Step Four: The Hair is Colored
Once sorted, a ponytail of hair is sewn together so when it goes through the coloring process, each hair gets colored equally. There isn't one dye used for every ponytail. Because each ponytail may have hairs with different base colors, each batch requires a unique dye formula to be mixed and applied by a color expert who has at least 4-5 years of training.
In factories that mass-produce wigs, hair is put into large machines, often unseparated, to color it. This hair is not separated by type or texture. Because the hairs are in one big mixer, the color is not evenly applied and can lead to quicker fading over time.
Step Five: The Wig Cap is Made and Hair is Sewn On
The next step in the wig-making process is hand-tying hairs to the Swiss lace cap. This is referred to as ventilation. Each cap has multiple pieces that are then sewn together to make the whole cap. Hand-tying is the process of attaching hairs to the cap. Four or five hairs can be pulled through one minuscule hole to expedite the process. However, this can lead to looser knots, which causes shedding. Daniel Alain prides itself on a hand-tying process where only 1-2 hairs are pulled through each hole. Though this increases the time it takes to complete the wig, it ensures a tighter knot, which will last longer and create natural movement that mimics biological hair. It takes approximately eight days to complete this process for the whole cap.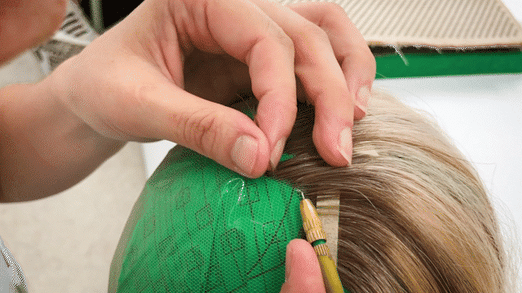 The René wig has a slightly different cap construction. The entire cap is not hand-tied; rather, the back of the René wig features machine wefting. Wefting is when hair is sewn together on the material in a strip. These strips, also called tracks, are then sewn onto material the back of the cap. Since the entire cap is not hand-tied, this lowers the price point of the René
Step Six: The Wig is Ready for Inspection
After the pieces of the cap are sewn together, the wig is washed in temperature-controlled water, shampooed, and conditioned. When the wig dries, it is inspected for quality control.
How Does Daniel Alain Perform Quality Control?
When a wig is completed, multiple employees inspect the wig to make sure there are no issues. The wig is inspected to check the density and ensure a balanced, even color. The inside of the wig is checked to ensure there are no broken stitches. Another employee will check the measurements of the wig to ensure it meets all standards and specifications. Each person who owned a part of the quality control process uses a checklist to note any issues. Each wig has a unique serial number to verify its authenticity.
This intense process leads to very few quality control issues. Daniel Alain is committed to providing a high-quality wig to anyone who buys one of our pieces to ensure they feel empowered to wear it anywhere at any time.
What Types of Materials Are Used on a Daniel Alain Piece?
Daniel Alain's pieces are made with two types of hair: fine, European hair or our coarser World Select blend. We are known for our European hair wigs. Our World Select blend is a blend of the finest Chinese and Indian hair, that has been inspected and vetted. Not all of the hair that is brought into the Daniel Alain factory is used on a hairpiece. Approximately 50% of the hair from one box is discarded as unusable. Other companies may use floor hair, which does not undergo the same level of vetting as any hair that comes into the Daniel Alain factory does.
Our caps all use lace from Switzerland that is the same lace found on the luxury lingerie created by La Perla.
How Long Can I Expect a Daniel Alain Wig to Last?
A Daniel Alain wig's lifespan is very dependent on the care it receives. If the piece is well cared for and sent in for conditioning treatments every so often, you will have a high-quality hairpiece for at least two or three years. Some have reported their wigs lasting as long as five years with excellent care. Daniel Alain's commitment to creating a high-quality piece with the highest-quality materials and a meticulous, thorough construction process gives it a longer lifespan.
Is a Daniel Alain Wig Right for Me?
After reading this article, you should have a better understanding of the craftsmanship that goes into a Daniel Alain wig and how this affects the price of a piece. When it comes to wigs, you do get what you pay for. A high-quality, 100% human hair wig that takes 30 days to create will cost more than a mass-produced piece.
An investment into a high-quality human hair wig is not simply an investment into how you look, externally. It's an investment into how you feel. Losing your hair can be a jarring experience. Finding a wig that makes you feel like yourself allows you to connect with yourself, and have the confidence to do anything and go anywhere, not constrained by your hair loss.
The best way to get a feel for what a Daniel Alain hairpiece is like is to order a fit kit. With a fit kit, you'll be able to try on caps and compare colors from the comfort of your home. You'll connect with one of our specialists who will walk you through every step of the journey, listen to your story, and help you make the best decision for yourself. All you pay for is the shipping fee. An investment in a Daniel Alain wig is an investment in yourself. You are worth it.
Download the Ultimate Wig Buying Guide