Hair Shedding | Hair Loss | Toppers
2023 Guide to Hair Toppers for Women's Thinning Crown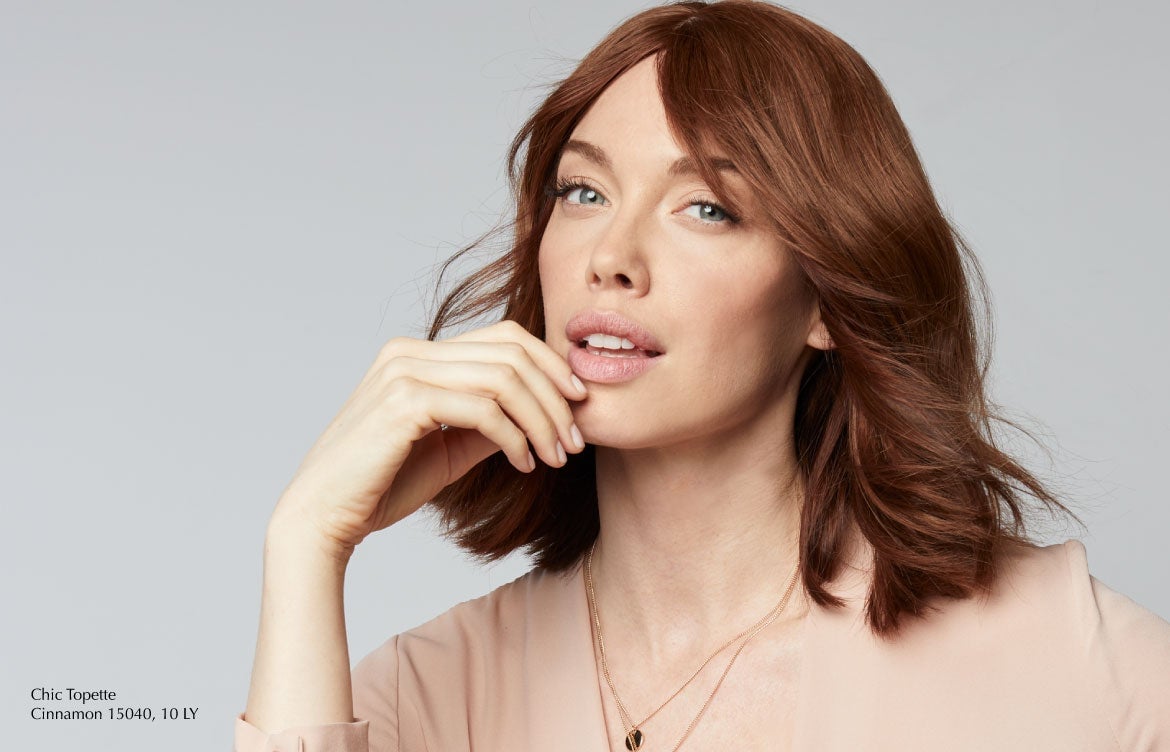 2023 Guide to Women's Hair Toppers
Are you thinking of adding a hair topper to your styling routine? It's a great idea — especially if you're looking for a boost in volume and added dimension. Whether you're dealing with hair thinning, bald spots, breakage, or want a voluminous lift, hair toppers help you conceal troublesome areas and give you styling diversity.
Considering that the crown of the head is a common spot for thinning hair, women's hair toppers offer an instant, natural-looking fix!
Luckily, there are ample options for topper hair pieces available to you. But how will you know which one meets your needs? And on that subject: how do hair toppers for women work?
If you came for answers to all your hair topper questions, we're ready to help! Read on for a complete guide to women's hair toppers — from how to wear a topper hair piece to how to determine which material is right for you, and more!
Ladies: let's lift!
---
WHAT IS A HAIR TOPPER?
Don't know what a hair topper is? You may have previously heard of them referred to as a wiglet, topper, hairpiece, toupee, top extension, or postiche. Regardless of the various names, these different hair pieces all serve the same purpose: to disguise thinning hair or partial hair loss and give your hair a volume-lift.
Whether you've got thinning hair or not, toppers give you styling flexibility and confidence to try new looks.
We'll take one (or two) please! Ok, so what are they exactly?
Hair toppers are small pieces of alternative hair covering only the crown of the head, whereas wigs provide coverage of the entire scalp. Hair toppers vary in size, depending on the amount of coverage you need.
The best women's hair toppers have built-in clips that secure the added hair to your existing natural strands. And don't forget about hair color! Finding the right color-match to your natural hair helps a topper hair piece integrate seamlessly. No awkward blending or texture variances here!
Speaking of texture: are hair toppers made with synthetic fibers or natural human hair? Excellent question.
We'll cover that in-depth in a bit. First, let's talk a little more about why you might choose a hair topper instead of a wig.
Hair Topper vs. Wig
Ok, so we know hair pieces can seriously transform your life and give you a pep in your step, but what's the difference between a hair topper vs. a wig?
Ultimately, they each offer different levels of coverage. So, while one woman might want a little lift on the top of a crown, another woman may seek to conceal overall thinning or bald spots.
Hair toppers for thinning crown areas have clips and pins to fasten the piece as close to the scalp as possible.
Wigs have hair strands sewn into a cap and offer complete coverage.
Are you looking for a comprehensive guide to choosing a wig? Start Here. For our topper ladies, stick around as walk through the pertinent details of choosing a hair topper.
---
IS A HAIR TOPPER RIGHT FOR ME?
Women's hair toppers are a flexible, flawless solution for adding texture, volume, dimension, and styling flexibility. Plus, hair toppers for thinning hair are relatively easy to maintain over time.
Sounds great, right? But how do you know if a women's hair topper is the right solution for you?
Despite an overall lack of awareness about women's hair loss, the issue is more prevalent than you might think. If you ever feel alone as you combat your fleeting strands, remember that we're in this together, and you absolutely will love your hair again.
It's all about finding the right solution for where you're at right now. So, if you're not sure whether your current hair loss is normal or indicates an underlying issue, consider the facts:
Women typically lose 50-100 hairs every day. But if you're noticing hairs scattering en masse — sticking to your clothes, accumulating on the bathroom floor, swirling your sink — your hair may be telling you something.
It's important to stay calm because hair loss is dynamic, and it doesn't necessarily mean you're losing your hair. There are many reasons why you could be shedding in excess, including seasonal shedding, alopecia, a recent dietary shift, or an underlying medical condition.
With that in mind...
Consider the stage of hair loss you've experiencing:
Beginning Stage: If you're noticing diffusing on the crown of your head, this is considered minimal hair loss, and a topper with a small base will be an excellent choice.
Progressive: If you're noticing prominent bald spots or patches, it's best to stick with a medium or large base for optimal coverage.
Advanced Hair Loss: If you scalp is bald or noticeably, a large base will offer the most concealment, or you may want to consider a full wig for complete coverage. If needed, you can even wear multiple hair pieces as an alternative to wearing a full wig.


---
Need help finding a hair topper?
Schedule a Free Consultation with One of Our Stylists
---
HOW CAN HAIR TOPPERS HELP
Women's hair toppers are a flexible, flawless solution for adding texture, volume, dimension, and styling flexibility. Plus, hair toppers for thinning hair are relatively easy to maintain over time.
While you seek treatment and solutions for hair thinning, hair toppers help to conceal thinning areas on the scalp. Whether your hair is just beginning to shed at the crown of your head or you find yourself with a few different bare spots, a hair topper gives you the confidence to retain your look and dimension.
However, not everyone who wants a hair topper is experiencing hair loss. Some women desire added fullness or wear hair toppers to balance long extensions.
So if you ever feel out of options, remember that a hair topper can help you say hello to fullness and volume!
Hair toppers can work wonders for your hair's volume by concealing hair loss and giving you the fullness you crave.
If you've decided a hair topper is the solution for you, then keep reading for our industry tips on how to choose the right piece. But first, hug yourself because you're reclaiming control over a frustrating issue, and we support you 100%.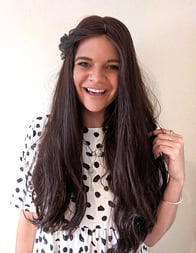 "Toppers give me the freedom I've never had before to wear my hair however I like, and I'm still getting used to all the choices they give me!"
HOW TO CHOOSE A HAIR TOPPER
Shopping for a hair topper is sort of like shopping for that perfect "special occasion" dress. You know the scene: you get invited to an event, and the hunt for that perfect dress is on! However, like any shopping experience, you have to try a few on before finding that ideal match.
Well, finding your hair topper can be equally as exciting!
Before committing to a specific topper hairpiece, there are a few things to consider first:
The best base for your particular hair loss
The quality and type of hair (synthetic vs. human hair)
Length
Color
Now, let's expand on each of these choices to help you find the one. In other words, let's get to the fun part!
Monofilament or Classic Base?
Your first big decision is to choose the hair topper base. How will you know which one's right? It'll ultimately boil down to the hair loss you're experiencing. A monofilament base is a fabulous choice if your thinning is most visible at the part.
A monofilament base has an ultra-fine mesh in which individual hairs are hand-tied. This achieves a natural-looking finish and the illusion of hairs growing straight from the scalp!
If you have a larger surface area of thinning at the crown, then a classic base will be a great option. A classic base has rows (wefts) of hairs that can be intermixed with your existing hair for a more natural effect.
Once you have the base figured out, what type of hair should you choose?
Human or Synthetic Hair?
In the hair world, we talk a lot about synthetic vs. human hair, and for a good reason: these are the two options you'll encounter the most, so it's helpful to understand what each type offers.
Both options have their benefits, but human hair toppers by and large are the most natural-looking choice.
Considering you're going to blend a hair topper into your natural hair, a human hair topper will flawlessly flow from your hair to the piece. You can also style human hair toppers with ultimate flexibility because you're working with natural hair. So really, you have no limitations when it comes to customizing your topper to match your personal style.
How do synthetic hair toppers stack up?
Synthetic hairs are acrylic, nylon, or polyester fibers which are a budget-friendly choice. However, the affordability comes with a caveat because you won't have the same styling diversity.
Over time, synthetics will wear down and need replacement. However, there are tons of styles — from wavy to curly to straight, so you can find a few options and play around with your looks.
Which is better for your needs? Ultimately, 100% premium human hair is the superior choice for its natural-looking appearance, styling variations, and longevity. You can style a human hair topper differently every day, meaning you'll have no limits to how you present yourself to the world!
Hair Length
Now, let's talk about length! Choosing a topper length boils down to your preference for the cut and style you want. Dreaming of a shag? Then select a shorter topper and have your stylist blend the fringe into your natural hair.
Of course, you should base the length of your hair topper on where the ends of your natural hair fall. If you have a pixie-cut, then don't reach for a lengthy hairdo – as beautiful and tempting as it may be! Alternatively, a long hair topper can fill in volume if you have long hair right now.
The beauty of a human hair topper is that you can cut and style it to seamlessly flow to any length.
Hair Color
Choosing the correct shade of hair is key to making your hair topper look natural. However, color-matching can be tricky. There are so many hair colors, after all, and each brand has their own color wheel.
Luckily, you'll often find a diverse selection of color options and digital color swatches to pursue when shopping for hair toppers. If you're stuck between a few similar shades but aren't sure what will look best with your natural hair, book a consultation with an expert.
At Daniel Alain, we offer virtual or in-person consultations with a professional hair adviser, so you can get a professional opinion on finding your perfect match!
---
HOW TO WEAR A HAIR TOPPER
Ok, we've covered all the basics of choosing a women's hair topper; now what? Once you've found the perfect piece, follow these steps for flawless application and styling. Trust us; the process is easy as 1, 2, 3!
Align the topper hair piece into position. Gently tease your hair in the thinning area to create volume for attaching the hair piece. Make sure to place the topper hair over the thinning area, adjusting it as needed. Align the front of the topper with your hairline and move it back to where you need coverage.
Secure the clips. Use the light pressure of your fingers to snap the clips in place.
Blend, style, and strut your stuff! Lightly comb through the strands with your own hair to make the hair topper look as natural as possible. Style your hair as you please, then head out the door feeling like your best self!
Ready for a hair topper that goes the distance?
---
VIEW FOLLEA BY DANIEL ALAIN'S PREMIUM HUMAN HAIR PIECES
If you're looking for the best women's hair toppers, then it's time to try Follea by Daniel Alain. Our hair toppers and wigs are made from 100% European human hair. We're devoted to providing women solutions that emulate the look, body, and feel of natural hair.
Daniel Alain hair pieces come in various lengths, colors, and hair textures, so you can find one that matches your natural beauty and enhances your overall look. You deserve the best in hair, and it doesn't get better than Daniel Alain; just ask our happy customers:
"So thankful for my Follea and for helping me feel pretty again." – Follea Reviewer
Ready to Feel Fabulous and Own Your Look?
View Daniel Alain's exclusive line of Follea hair toppers for thinning crowns today!