Hair Shedding | Customer Journeys | Hair Loss | Maintenance&Styling
2021 Guide to the Best Protection Products and Tips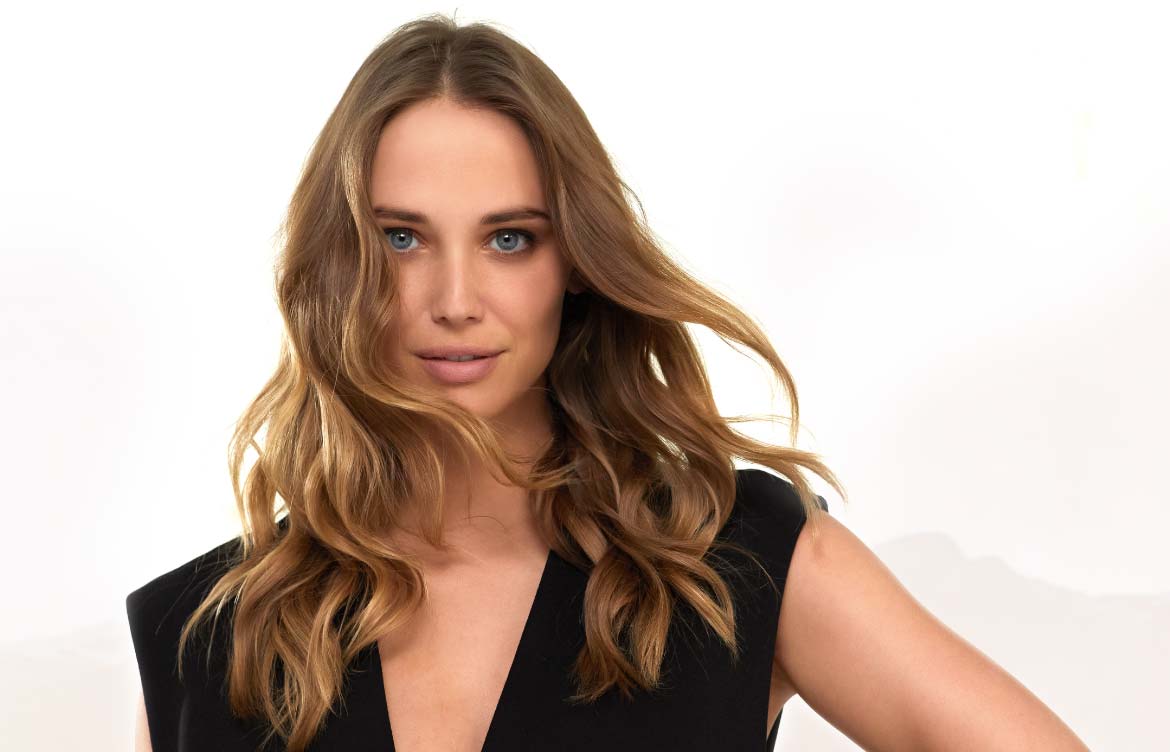 With split ends, frizz, and dryness threatening your locks, it's important to learn how to protect your hair. Let's be real: many of us overlook hair health and often forgo hair protectants, but eventually, our hair becomes weak and damaged if we don't practice routine care.
But what stresses your strands out, anyway?
Daily rituals like brushing, heat styling, and washing your hair are common culprits, and if you don't take measures for protecting hair, these routines can damage your hair in the long run, and we don't want that!
What can you do?
When it comes to putting healthy hair practices into action, it can be challenging to know where to start. That's why we've rounded up the best hair protection products and tips in this guide!
Keep reading to learn tips to help you have your best hair day, every day.
---
How to Protect Your Hair
Don't worry; we won't ask you to stop coloring, styling, and expressing your amazing hair-image. The goal is to retain a strong sense of individuality while prioritizing hair health. Because sadly, if your hair goes neglected, it can cause irreversible damage.
One study from the International Journal of Trichology examined how hair morphology and hair care methods influence scalp health. The findings? Modern styling and care techniques contribute to hair damage, and ultimately, hair loss.
So, now that you grasp how vital it is to protect your hair and scalp, what's the best course of action?
A quick google search yields overwhelming results for hair protection products and tips, but unfortunately, most fall flat when put to the test.
And worst of all, many products are simply unattainable due to their luxury price points. Is there a better way?
You bet!
"I have struggled for a very long time with my hair shedding. From hormone changes, having children, being menopausal, but now with the new @Intact_Hair & Scalp Primer, I no longer have to carry a lint brush with me!"—Intact Reviewer
To help you protect your hair long term without the hefty price tag, we've curated custom tips for using INTACT Anti Hair Shedding Treatment, your all-in-one hair protection product.
We won't ask you to give up your lifestyle or routines because we know how important they are to your confidence and self-care!
Use INTACT When Washing

Use INTACT When Styling

Use INTACT to Protect From Pulling

Use INTACT When Coloring

Nourish Your Scalp With INTACT
Keep reading to learn how our hair protection tips can turn your scalp into a day-spa that promotes shiny, luxurious, bouncy, and hair-flipping locks!
1. Use INTACT When Washing
Nobody likes a greasy head of hair, but overwashing it can be counterproductive to the health of your strands. As we age, our scalp produces less lubricating oils, so you don't need to shampoo as frequently to protect your hair.
Insert mind-blown emoji here! Seriously, skipping the shampoo a few days a week can save you time and protect your hair? Sign us up!
When you do wash your hair, apply INTACT 30 minutes before washing to secure your hair at the roots and experience less hair loss while shampooing and conditioning.
When shampooing your hair, resist roughly rubbing your head, and instead gently massage the product into a soft lather. When rinsing out the product, let those suds slide out naturally with the water through the length of your hair.
"Thank you for making a seriously amazing product that had this momma crying tears of joy when she saw that there was not a huge clump of hair in the shower drain!" — Intact Reviewer
2. Use INTACT When Styling
Blow dryers, curling irons, and all the typical styling tools on your counter can wreak serious havoc on your hair. Yes, they make your hair look fabulous, but what about after repeated exposure over time? Is it worth it?
Overheating your locks or pulling them into a tight up-do can lead to damage and, potentially, traction alopecia, a mechanical hair loss issue.
Instead, use nourishing hair protectants that work to adequately protect your hair and give you the bounce and shine you crave.
INTACT is infused with coconut fatty acids to condition the scalp and hydrate hair, prepping it to fight off damage from even the hottest of curling irons.
Not only is INTACT used to protect your hair, but the trusted, vegan-friendly ingredients like hydrating emollients lock in moisture to promote incredible shine and bounce. The result? A lively head of hair that's full of body, volume, and shine. So really, you can use this newfound volume to live out your styling dreams!
Are you craving a bouncy bob? You've now got the hair for it!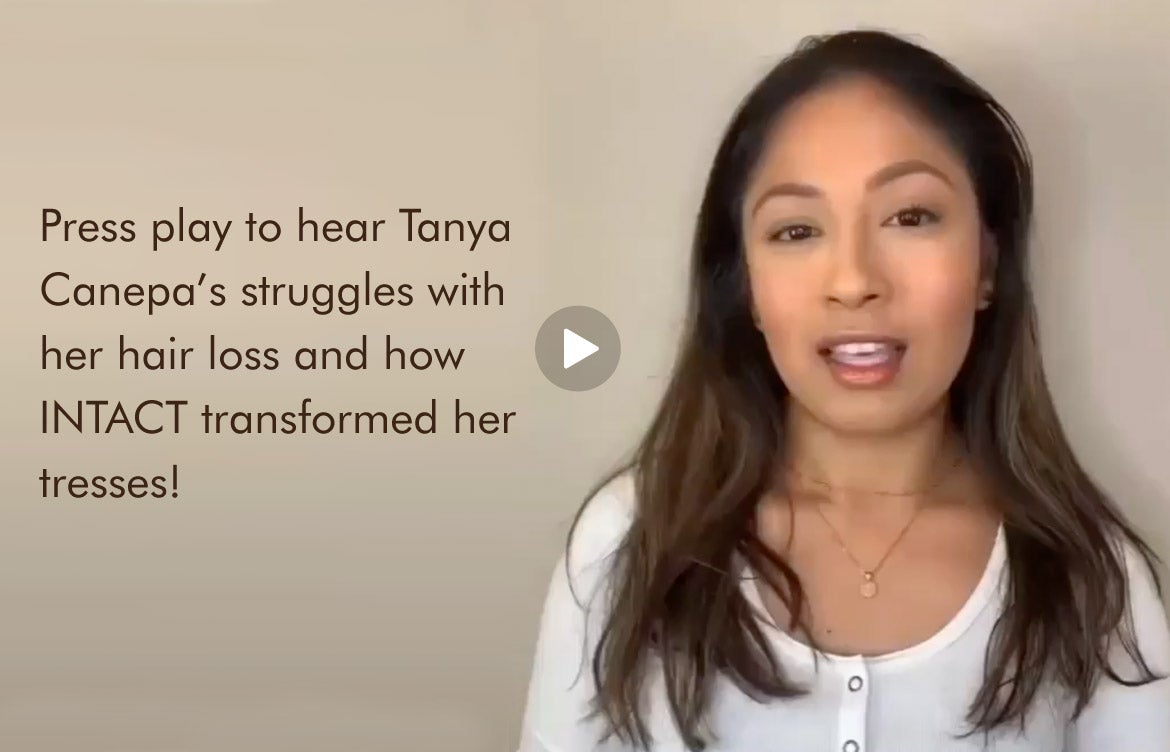 @tanya_canepa
3. Use INTACT to Protect from Pulling
Impossible knots, painful tugging, and large wads of hair left in the bristles of your bush — sound familiar? If so, then you may not be using the best hair protection products. Over-brushing your hair can also cause unnecessary damage, stress, and tension on your scalp and hair.
Because your scalp is a sensory organ (part of the skin, the largest organ in the body!), harsh bristles can cause irritation and friction. The repeated impact can send the follicles into panic mode, and they'll start to shrink over time, choking off the growth phase of the hair cycle.
And down comes the shedding. But it doesn't have to be so!
Before your next shampoo, reach for INTACT Anti Hair Shedding Treatment. This hair protectant creates moisture balance, improves elasticity and strength, and protects cuticles within the hair follicle to reduce breakage. You'll significantly reduce the tension on your scalp because INTACT protects your hair and improves retention when brushing and styling.
Smooth hair, fewer knots, and reduced shedding? Yes, please!
4. Nourish Your Scalp with INTACT
Taking proper care of your scalp goes hand-in-hand with healthy hair. The scalp microbiome is complex. Think of the scalp as an ecosystem. What do healthy habitats need to thrive? An interplay between moisture, nutrients, healthy bacterias, and happy organisms. Well, your scalp functions similarly.
Feed it the right nutrients, and the landscape thrives with flourishing strands. But what happens in a drought? The ecosystem dries into an arid, rough climate. For your scalp, this means flaking, dry scalp, and even psoriasis.
And this isn't just a hypothesis: it's clinically proven.
Remember the 2017 study we talked about earlier? Researchers also discovered that hair texture is related to a person's scalp condition. According to the study, skin problems can readily occur in the scalp due to a lack of awareness about scalp care.
There seems to be a body of research about the role food plays in the gut microbiome, but the science on the scalp microbiome is emerging.
Another 2018 research paper examined the optimal scalp conditions to achieve homeostasis. Bottom line: your scalp needs healthy bacterias and nutrients to achieve a thriving atmosphere.
Therefore, it's imperative to implement these hair protection tips to turn your scalp into the equivalent of a flourishing Monet garden painting — lily pads and all.
INTACT is the best hair protector for both improving hair health and nourishing your scalp. Intact soothes and calms the skin, leaving your scalp intensely moisturized. This translates into your hair's body by enhancing hydration, moisture balance, and homeostasis to have silky-soft skin and hair. Win-win!
"My hair immediately felt healthier and looked shinier, but the shedding was reduced tremendously!" — Intact Reviewer
5. Use INTACT When Coloring
Do you regularly color your hair? Whether you opt for highlights, balayage, or a full root-to-tip color transformation, coloring your hair may cause significant damage to the overall health of your hair and scalp.
Of course, with great risk comes reward! It can be hard to resist dying your hair when you look in the mirror and love the beautiful color you see. And we wouldn't think of depriving you of that empowerment.
Instead, use INTACT to protect hair from further distress. INTACT is a clinically-proven and patented formula free of irritants like sulfates, parabens, phthalates, silicones, oils, alcohol, and gluten, so it's safe to use on color-treated hair.
Plus, the shine you'll get will illuminate your gorgeous color further! Okay, so we've learned the role hair routines play in scalp and hair health, let's talk about the ingredients in Intact that make it the best hair protectant.
---
What Is INTACT Made of?
As mentioned above, INTACT is free of harmful toxins and chemicals. So, what nourishing, hydrating, hair-delicious ingredients is it made of? Well, INTACT is the first and only hair protection product designed to improve hair retention, control hair shedding, and provide healthier-looking, more beautiful hair.
How do we know it works? Because our patented technology is dermatologist-developed and clinically-proven to reduce shedding by 77%.
Below, we've broken down the protective ingredients that make Intact a beauty-counter essential.
PiliLock Sevilla Orange Complex
INTACT's patented Complex contains bioactive Seville Orange and Vitamin B3, which activate the root to secure hair follicles in place for improved hair retention.
This zesty ingredient awakens the tiny muscles in your scalp, which grip the follicle around the strand to lock your hair to your scalp.
Your hair will gain strength to resist tension and hair shedding during the coloring, washing, and styling processes.
Hydration Complex
Hydration, hydration, hydration — it doesn't just come from drinking water. Hydration is the best way to protect hair. Intact contains a unique blend of water-soluble emollients and humectants that work together to provide moisture to your hair and scalp.
Made with naturally-derived GMO-free corn sugar, Vitamin B5, and coconut fatty acids, this moisture-cocktail leaves your hair feeling shiny, silky smooth, and full of body after every use.
So, are you ready for a product that stands up against tension, color, and heating? Then it's time to grab INTACT.
---
Protect Your Hair, and it'll Thrive!
It's safe to say that taking care of your hair now will significantly impact the health of your hair over time. With daily washing, styling, and coloring, it's vital to practice these hair protection tips to nourish your scalp, protect your hair, and make everyday styling less strenuous on your strands.
We hope that this article taught you that your hair is more than just strands: your scalp is a living habitat that needs attention to thrive. And when it does? You'll have the healthiest hair ever.
Ready for an effortlessly beautiful head of hair? Start taking meaningful steps to protect your hair with INTACT Anti Hair Shedding Treatment!