How to Wear a Wig: A Complete Guide for Beginners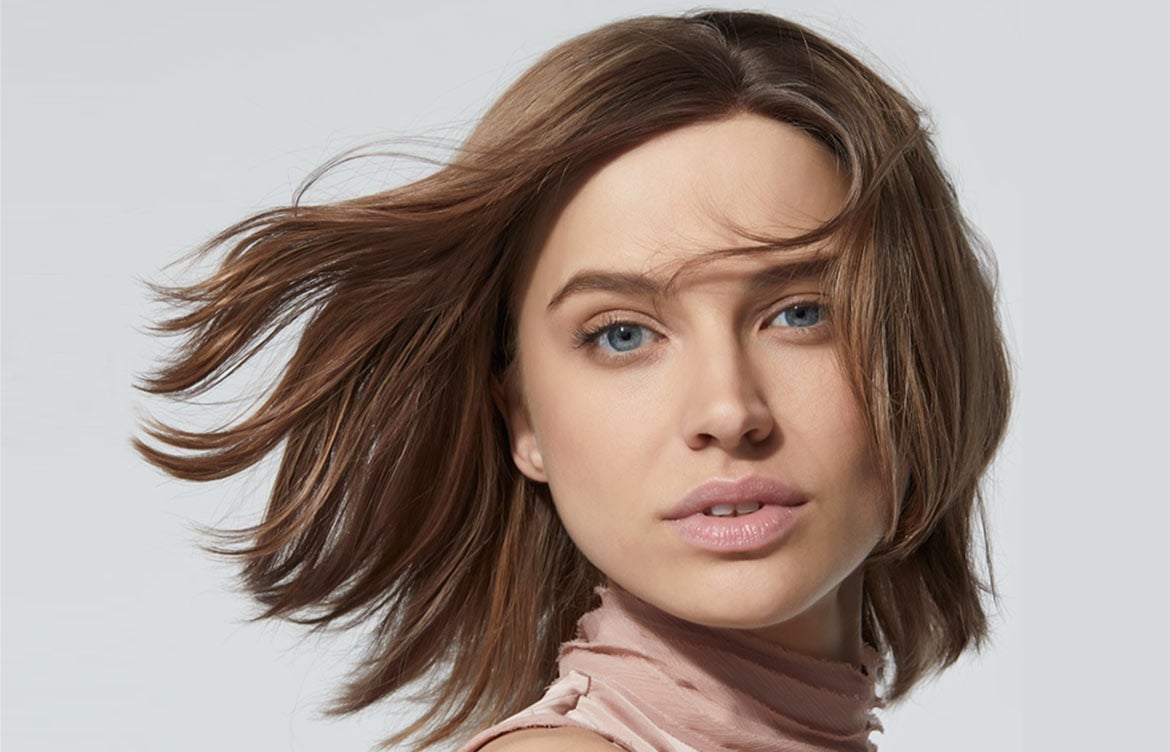 Picture this: you walk into a hip new restaurant to catch up with some girlfriends. You can feel everyone's eyes on you as you navigate your way to your table, where you're greeted with a chorus of "OMGs!" and "your hair looks amazing!"
While your gal pals are convinced you've sold your soul to the hair gods, you know the truth. The secret to a mane that makes you the envy of all your friends isn't a magic potion or a deal with the devil—it's a wig. But not just any wig. A premium, luxurious human hair wig made with the most exquisite European hair.
Learning how to wear a wig that looks unbelievably natural shouldn't be rocket science. With a little practice, you'll achieve a stunningly seamless look that will make everyone do a double-take.
Here, we'll share everything you need to know about how to wear a wig for beginners, courtesy of renowned wig maker Daniel Alain.
---
What's the Proper Way to Put a Wig On?
Figuring out how to properly wear a lace front wig comes down to five basic elements:
Size

Hair prep

Wig cap

Placement

Adhesive
To master this delicate art, be sure to give yourself ample time to get ready. After all, you wouldn't rush and risk ruining your fabulous new 'do. Depending on what the day holds, pour a mug of your favorite tea or grab a glass of wine, and let's finally put an end to the question: how to wear a lace front wig.
Find Your Perfect Fit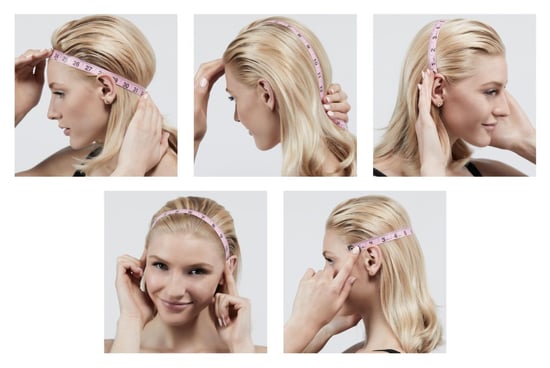 Buying a well-fitting, realistic wig is half the battle. The fit of your wig will ultimately determine if the piece simply slides onto your scalp (much like Cinderella and her glass slipper) or if you'll be left with a headache-inducing hair accessory that feels more like a vise grip.
To avoid the latter, take careful measurements of your head using a soft measuring tape. To get an accurate circumference, place the tape above your ears and around your hairline, making sure not to pull too tight. Once you have your number, add about half an inch to account for any minor adjustments that need to be made.
With your cap size determined, you'll need to select the color and length you want along with the wig type. While there are seemingly endless wigs available, lace front human hair wigs are by far the most realistic-looking and versatile pieces on the market.
Learning how to wear a wig is easy when you invest in one from Daniel Alain's Follea collection. Our wigs are constructed with 100% European hair sourced from our private reserve. Each strand is delicately hand-tied to our comfortable caps designed with a thin, nearly invisible lace that outlines the hairline—giving the illusion that the wig is growing directly from your scalp.
Bought the perfect wig? Check. Ready to put it on? Let's do this.
Prepare Your Hair
The next step in learning how to wear a lace front wig is preparing your hair. Depending on the length and thickness of your natural locks, you'll want to either flat iron or cornrow your hair.
If you have short hair, we recommend using a small amount of gel or pomade to lay your baby hairs down before donning your wig. Not only will this give you a polished look, but it will also help to create a barrier between your natural hair and the wig adhesive.
For those with long hair, things are a little bit more complicated. The key to cornrowing your hair is working in small sections:
Start by parting your hair down the middle of your head and creating two ponytails.

Once you've got your hair pulled back, use a comb to create neat rows that lie flat against your scalp—the flatter, the better.

When you're finished, secure each row with an elastic band.
Is the thought of cornrowing your hair too daunting? Don't worry, there are several alternative hairstyles that will do the trick and keep your wig looking flawless all day long, like a loose bun or braided updo.
Please note that if you suffer from any kind of hair loss or thinning, you'll want to avoid overly tight styles. Friction can further damage already delicate strands and lead to breakage.
Put on the Wig Cap
Also referred to as a wing liner, a wig cap is a stretchy, close-fitting headpiece that helps to keep your wig in place and provides a protective layer for your natural hair and scalp.
While some people go without the cap, we highly recommend using one—especially if you have sensitive skin or are still in the beginning stages of learning how to wear a wig properly. Caps and liners can keep your head cool and dry throughout the day.
To put on the wig cap, start by placing it over your head so that the edges line up with your hairline. Once it's in place, use your fingers to gently push the cap down onto your scalp. Think of it like pulling on tights, except they're on top of your head.
Put on the Wig
Finally, it's the moment you've been waiting for—it's time to put on your wig!
Everyone eventually finds their own rhythm and method for how to put on a wig, but we find the following steps work best:
Tilt your head forward.

Place the front part of the wig on top of your front hairline.

Gently slide the rest of the wig over your head, ensuring that all of your hair is tucked underneath.
Violà! You're now a wig-wearing pro.
Secure the Wig on Your Head
Even with a well-fitting wig, you'll want to take preventive measures to keep things from slipping and sliding around. Here are a few of the most common options for securing your wig in place:
Bobby Pins: Easily the cheapest and most accessible option, bobby pins can be used to secure flyaways and keep your wig from moving. Just make sure to use pins that match your wig color as closely as possible.
Wig Tape: This double-sided tape is specifically designed for wigs and works well to keep lace fronts in place. Wig tape is also hypoallergenic and gentle on sensitive skin.
Wig Glue: As you might expect, wig glue is a powerful adhesive that's designed to keep wigs firmly attached to your head. We recommend using glue sparingly, as it can be difficult to remove and may cause irritation.
Wig Clips: Wig clips are small metal clasps that can be used to attach your wig to your natural hair. They're easily the most comfortable and secure option, which is why Daniel Alain offers various wig clips.
Adjust the Wig Accordingly
Once your wig is in place, take a look in the mirror and make any necessary adjustments. You want the wig to sit flush against your forehead and blend in with your natural hairline as much as possible, so take the time to get it just right.
If you're using a lace front wig, you can use concealer or foundation to camouflage the lace. This will give the illusion of a more seamless look. You can also carefully trim away any excess lace that's peeking out with a pair of tweezers. Just be careful not to go too wild—you don't want to damage the wig in the process.
And that's it! With these tips, you should have no problem learning how to wear a human hair wig like a pro. Just remember to take your time, be gentle with the wig, and experiment until you find what works best for you.
---
Other Tips For Rocking A Flawless Wig
Going through the steps of how to wear a wig for beginners will help you achieve a pretty seamless look. But if you really want to step up your wig game, here are a few extra tips:
Avoid constantly touching it. Wigs can become tangled and matted if you're constantly running your fingers through them. So, try to keep your hands off as much as possible.
Be careful with heat. Just like your natural hair, human hair wigs can be damaged by heat. When styling, use the lowest setting possible and avoid putting the wig directly in the path of the blow dryer.
Take precautions for warmer weather. If temperatures are hot, wear your wig in an updo to keep your tresses off the back of your neck. You can also invest in a sweat-proof wig liner or an anti-humidity spray to keep everything fresh.
Wash it regularly. Depending on how often you wear your wig, you'll need to wash it at least every few weeks. Be sure to use a mild, sulfate-free shampoo and conditioner designed for human hair wigs.
Give your scalp time to breathe. Taking the wig off every night before you go to bed will help keep the piece in good shape and extend its lifespan.
By following these tips, you'll be able to wear your wig with confidence—and without any tell-tale signs that it's not your real hair. Now, go forth and enjoy your fabulous new look!
---
SHOP the Highest Quality Wigs at Daniel Alain
If you're on the hunt for a wig that looks like the real thing, look no further than Daniel Alain. We specialize in creating beautiful, realistic wigs that will have you feeling your absolute best. Whether you need a wig for medical reasons or just want to change up your look, we can help.
Our wigs are made with 100% human European hair sourced from the world's only private reserve, so they're soft, silky, and easy to style. By combining the highest quality hair with our expert craftsmanship, we're able to create wigs that are virtually indistinguishable from real hair.
What's more, we offer a wide range of wig styles, colors, and lengths to choose from, so you can find the right one for you. And if you need any help along the way, our friendly and knowledgeable team of experts is on hand to assist.
Before you can learn how to wear a wig properly, you first need to find the right one. Browse the best human hair beautiful, realistic wigs for women from Daniel Alain!
NEED HELP Finding a human hair wig?
Book a Free Consultation with One of Our Wig Stylists
---
Frequently Asked Questions
Can I Wear a Wig Every Day?
Yes, so long as you give your scalp a nightly break and keep your wig properly maintained with a weekly wash. Daniel Alain human hair wigs are built for everyday wear, so you can feel confident knowing your wig can keep up with your busy lifestyle.
How Do You Wear a Wig with Long Hair?
It's totally possible to wear a wig with long hair. You just have to be careful not to damage your natural hair when putting the wig on or taking it off. We recommend using a cap to help protect your hair and wearing your natural locks in a tight style to keep the wig flat.
How Do You Wear a Wig with Short Hair?
Slick your hair back with a gel or pomade before putting on your wig for extra hold. Be sure to wear a wig cap underneath to help keep everything in place. Short hair makes putting on a wig a lot easier, so you shouldn't have to worry about tucking away any loose strands.
How Should a Wig Fit on Your Head?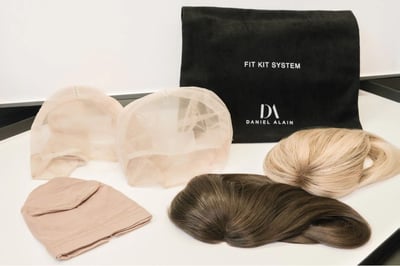 A wig should fit snugly but comfortably on your head. If it's too tight, it will be uncomfortable to wear and can cause headaches. If it's too loose, it may slip around or even fall off. We recommend measuring the circumference of your head to find the right size, and trying on a wig before making a purchase to ensure you get the right fit.
We know what a difference a well-fitting cap makes when you're learning how to wear a wig. That's why we offer free Fit Kits that let you play with not only cap sizes but hair colors and lengths to help you determine the look that's right for you.
Do You Need a Wig Cap To Wear a Wig?
While you don't technically need a wig cap, we highly recommend wearing one to help keep your wig in place and prevent it from slipping. Wig caps also help protect your natural hair and can even extend the lifespan of your wig.
If you're new to wearing wigs and still learning how to wear a human hair wig properly, a wig cap is a must-have accessory. It will help you get a better fit and keep your wig staying put all day long.
Does Wearing a Wig Stop Hair Growth?
No, wearing a wig will not stop your hair from growing. In fact, it can actually help to protect your hair and scalp from damage, which may even promote healthy hair growth.
How to Protect Your Hair While Wearing a Wig
One of the best things you can do to protect your hair while wearing a wig is to use a wig cap, as it will keep your natural hair healthy and prevent damage due to friction.
Also, be sure to give your scalp a nightly break by taking off your wig before you go to bed. This will allow your scalp to breathe and can help to prevent irritation.
How Do You Stop a Wig From Slipping?
There are a couple of things you can do to keep your wig securely in place:
Wear a wig cap

Avoid touching your wig too much

Use wig clips, bobby pins, or tape to create a stronger hold
How Do You Wear a Wig & Make it Look Natural?
No one wants to look like they're wearing a wig. By opting for wigs that are constructed with a lace front and premium human hair (preferably European), you can create a beautiful and natural-looking hairline that will fool even your closest friends and family.
To further blend your wig with your skin, we recommend using a foundation or concealer that matches your skin tone to cover up the lace. This will help create an invisible barrier between your skin and the wig for a seamless look.
It's all in the details, so be sure to take your time when putting on your wig and make any necessary adjustments to ensure it looks as natural as possible. Once you've got the hang of it, understanding how to wear a wig will be second nature.
How Do You Hide Hair Under a Wig?
If you're worried about your hair showing through your wig, we recommend using a wig cap. This will help to keep your hair in place and prevent any stray strands from poking out. Styling your existing tresses into a slicked-back style will also help to keep everything in place and minimize the risk of flyaways.
Can You Wear a Wig to Sleep?
We recommend taking off your wig every night before you go to bed to give your scalp a chance to breathe. Sleeping in a wig can cause irritation as well as tangling and matting. You don't want to wake up to a tangled mess, so be sure to take off your wig before hitting the hay.
Can You Wear a Wig in the Pool?
No, we don't recommend wearing your wig in the pool as chlorine can cause damage to both human hair and synthetic wigs. If you must go swimming while wearing a wig, we recommend using a swim cap to protect your tresses.
What Should You Avoid Doing When Wearing a Wig?
Human hair wigs are a significant investment, so you'll want to take care of them to ensure they last. To keep your wig looking its best, avoid doing the following:
Swimming

Sleeping

Showering

Overusing heat-based tools

Using products that are not designed specifically for human hair wigs
Should I Wash My Wig Before Wearing it?
You don't have to wash your wig every time you wear it, but keeping a regular cleaning schedule will help to extend its lifespan. We recommend washing your wig every 7-10 wearings, or whenever it starts to look dull or feel dirty.
How Do You Keep Your Head Cool While Wearing a Wig?
If you're worried about staying cool while wearing your new wig, don't be. When you choose a high-quality wig, it will actually help to keep your head cool as it's made with breathable materials. Opt for a piece that's hand-tied as those caps tend to have more airflow and won't trap heat.
How to Wear a Wig in Hot Weather
In hot weather, it's important to keep your wig clean and dry to prevent damage. An anti-humidity spray can help keep your wig frizz-free, and a wig liner can help absorb sweat and keep your head cool. You can also pull your wig up into a bun or ponytail to cool your neck.
How to Wear a Lace Front Wig in a Ponytail?
Learning how to wear a lace front wig is just one piece of the puzzle - you also need to know how to style it. One of the most popular styles is the ponytail, which is perfect for hot summer days.
One of the big perks of rocking a human hair wig from Daniel Alain is that you can style it the same way you would your own hair. Simply throw your hair into a pony just as you normally would—just check the back of your head in a mirror before you leave to make sure your cap isn't showing through.
How to Get Used to Wearing a Wig
If you're new to wearing wigs, it can take some time to get used to the feeling of having something on your head. The good news is that it gets easier with time.
Start by wearing your wig around the house for a few hours so you can get used to the sensation. Once you're comfortable, start wearing it out in public for short periods of time. Eventually, you'll be able to wear your wig all day without even thinking about it.
How to Wear a Wig with Confidence
No one feels confident in their wig right off the bat. It takes time to get used to the feel of wearing a wig and to find styles that suit you. The best way to build confidence is to take things slow and give yourself time to adjust.
Just know that you're not alone—millions of women wear wigs every day and it's nothing to be ashamed of. In fact, once you learn how to wear a wig, you might even find that you enjoy the freedom and flexibility it gives you.
Should I Wear a Wig or Hair Topper?
Whether you should choose a wig or a hair topper comes down to what hair goals you're trying to achieve. If you have thinning or early signs of hair loss, a topper for women's thinning crown topper can help to cover those areas and give you the appearance of fuller, thicker hair. They're also a more affordable way to add extra volume and length to your hair.
On the other hand, Wigs are ideal if you're looking for a complete transformational look or if you have advanced hair loss. If you're not sure which one is right for you, book a free consultation with one of our experts and they'll help you find the perfect solution.
What are the Best Human Hair Wigs to Wear?
From our experience, we believe that the highest-quality best human hair wigs are ones that are made with 100% European hair. These are the most sought-after strands on the market, and it's what we use to hand-tie all of our wigs at Daniel Alain.
Not only is European hair more durable and long-lasting than other types of human hair, but it also has a natural luster and shine that can't be replicated. If you're looking for a wig that looks and feels like your own hair, European hair is the way to go.
Click here to browse our collection of European human hair wigs.
Where Can I Buy Human Hair Wigs?
Gone are the days of cheap, synthetic wigs that look fake and feel even worse. You can now find high-quality human hair wigs in a range of styles—and you don't even have to leave your house to do it.
At Daniel Alain, we offer free Fit Kits to help you find the perfect wig size and style. We also have monthly payment plans to make buying a wig more affordable.

Finding a wig doesn't have to be a stressful experience. With Daniel Alain, you can find the perfect wig from the comfort of your couch.
---
Download our wig buying guide