Lace Front or Closed Lace Front, which one is for me?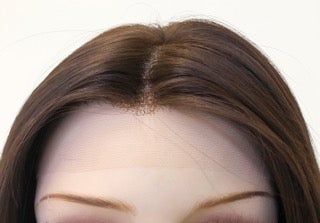 You may have been thinking about it for awhile and perhaps it may feel a bit overwhelming. It's time to buy your first human hair lace front wig or maybe it's time to upgrade to the next level of wigs, but now what? FOLLEA is here to be your guide and stay right by your side throughout your hair loss journey.
Let's Dive in...
There are two main human hair wig hairline opportunities: lace and closed frontal. Now it's time to help you navigate towards the hair and scalp comfort of your dreams.
WHAT IS A LACE FRONT WIG?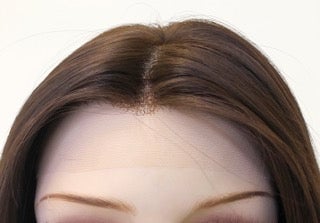 Follea Lace Front Wig
Craving a natural hairline? Then lace front wigs are the perfect choice for a nearly invisible hairline. These premium wigs are best for anyone with premature balding, hair thinning or hair loss due to alopecia, chemotherapy, stress and genetics. The frontal lace is generally sheer and attached to the front of the wig, hence the word "frontal". Sheer lace creates a comfortable feel with a lean hairline and a natural growth appearance. Lace fronts allow for versatility with off-the-face parting, yet gentle look. Normally, lace frontals are 13 inches long from ear to ear and up to 4 inches wide, making it ideal for a seamless parting space. At FOLLEA, the Collection is a softly woven Swiss lace front positioned from temple to temple, with hidden knots on darker colored hair for the most precise, natural looking scalp. Oh, and did we mention the hair is 100% hand tied and 100% human hair wigs?
How to Wear a Closed Lace Front Wig?
The straight answer is, any way you want! Lace fronts are designed to mimic the way hair grows out of the scalp for women who do not have a hairline. Because the lace is delicate, thin, and sheer it blends in with your skin giving the appearance of a natural hairline. This allows you to create the hairstyle of your dreams. In fact, some ladies might choose to wear a lace frontal wig to be fashion-forward allowing them to change out styles and hair color trends with ease.
---
WHAT IS A CLOSED LACE FRONT WIG?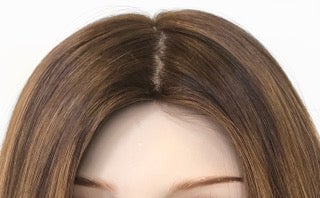 Follea Closed Lace Front Wig
Closed Lace Front Wig are great for women who have multiple types of alopecia, including alopecia areata, thinning edges or someone who wants to wear their natural fringe. This wig or hair topper option may be cost-effective for someone with a low hairline, measuring in at 13 inches long and optional width. Follea's Chic Collection is available with a removable clip or comb to attach for additional security.
How to Wear a Closed Lace Front Wig?
Closed front wigs are meant to be worn with an existing hairline. Your natural hairline will integrate with the front and give you a seamless look. Place the wig an inch or two back on your head and pull out as much natural hair from under the front hairline, attach with clip or comp, and blend the two together. Voila! Be sure to pick the color that best matches your natural color. Fun fact: Did you know Closed Lace Front wigs naturally fall forward towards the face to blend nicely with your own hair.
What we Know For Sure
No matter which hairline you choose Lace Front or Closed Lace Front, remember your beauty comes from within. Go ahead, let your personal style mimic your personal glow.
Just remember, Lace Front Wigs are labor intensive and are generally higher priced then Closed Lace Front Wigs and hair toppers. Fun fact: Did you know it takes an average of 10 days to make just one FOLLEA lace front wig?
Don't forget to follow us on Instagram and Facebook @Follea and be part of the community, along with other beauties experiencing the journey of hair loss.
To learn more about FOLLEA wigs and hair enhancements, click HERE.
---
Download the Ultimate Wig Buying Guide eBook