Meet My New Best Friend, My FOLLEA Topette™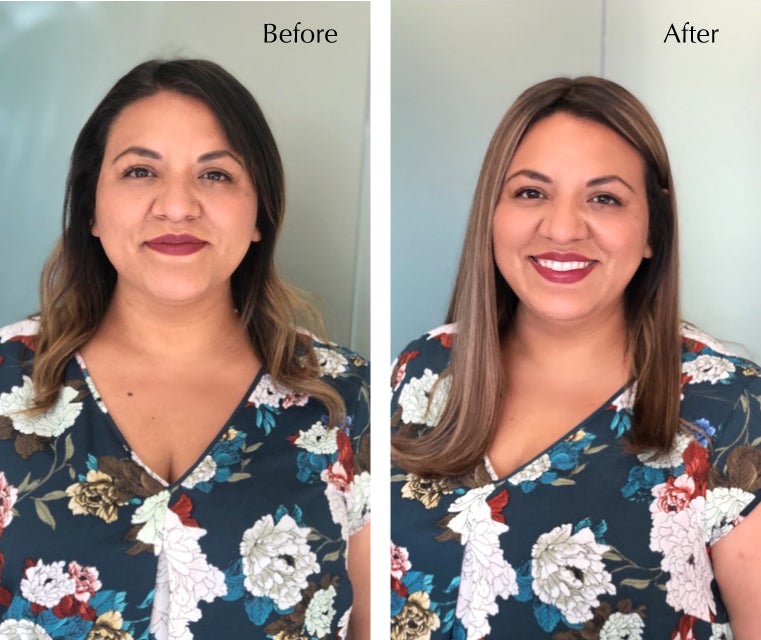 Cynthia Baker's Story
One lucky day, I accompanied my friend to her FOLLEA consultation, where she would be trying on full lace front wigs. She was nervous and anxious, and I was there for support. While watching her try on the different wig styles, I saw a light shine through her face that I hadn't seen in years. She was more confident and joyful, and no one in that room could dim her radiance. I'm not going to lie; I was a bit jealous.
Over the last few years, I've struggled with thinning hair. After three babies, weight loss roller coasters, and everyday entrepreneur stress, my hair just didn't look or feel the same as it used to. It was lifeless and thin, with parts of my scalp showing through no matter how much I teased it or how much product I put in it. It was exhausting! I decided that very moment to ask Starr Fox, FOLLEA National Director if I might be able to try on a piece or two and she happily suggested a Topette. Have you ever heard the phrase, "You don't know what you don't know?" In my case, it's incredibly true! FOLLEA has changed my life forever. That's when it happened. That's the moment my life changed. Starr helped place the Topette, also known as a "hair topper," on the crown of my head and clipped it in.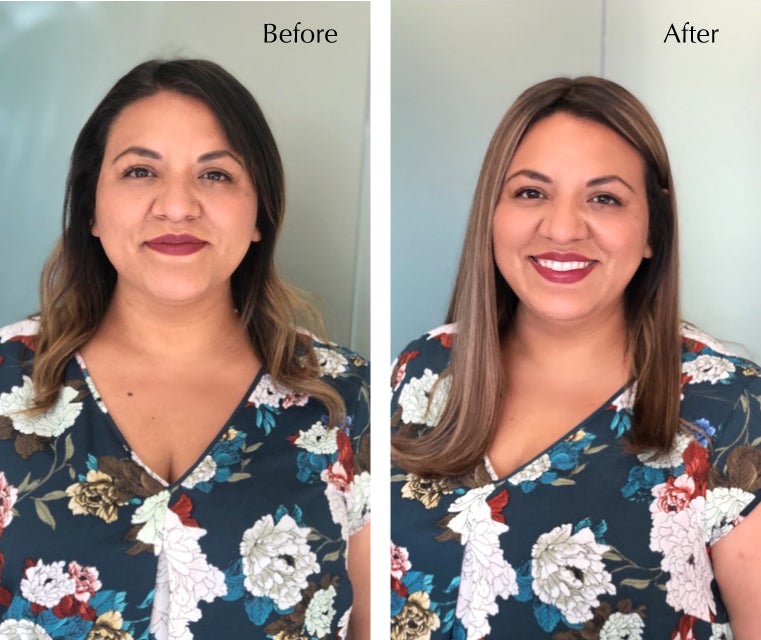 After - Wearing Style Topette
I looked in the mirror and couldn't believe my eyes; I wanted to cry. Right there, in one quick second, I had my inner Beyonce back.
I had my dream hair! I was smiling from ear to ear. I couldn't stop touching my hair. Needless-to-say, I bought my FOLLEA Style Topette that day.The next step was to set up a haircut and style appointment with an expert human hair wig stylist. I quickly rang Sophie Hafner, based in Beverly Hills, to customize my FOLLEA haircut to my ideal look. The night before my appointment with Sophie, I couldn't sleep as I scrolled through millions of photos trying to select the perfect haircut and style for my face shape. Sophie's haircutting skills went well beyond my expectations; she listened to my needs and shaped my hair to mimic my vision and let me tell you, I have NEVER received as many compliments about my hair as I have now. (Get this, I ran into my hairstylist on a business trip, and she complimented my hair and how perfect the color was and had NO IDEA it was a hairpiece!! I was beaming inside.)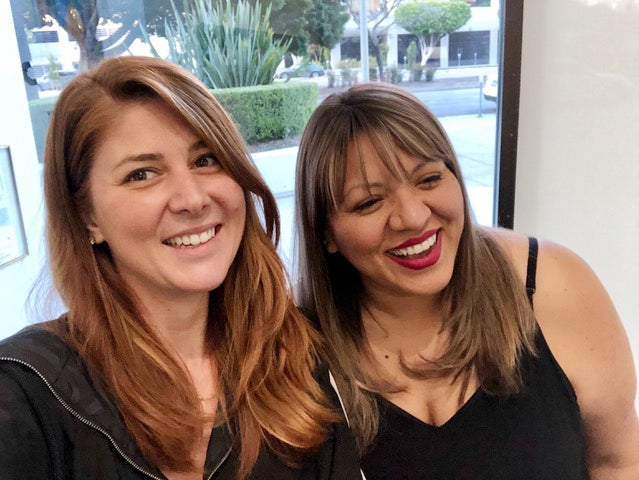 Sophie, FOLLEA Stylist, was there to customize my new Topette
WHO'S PERFECT FOR A FOLLEA TOPETTE?
Anybody & everybody! If you have experienced hair loss, hair shedding or hair thinning, you will benefit from having thicker hair, additional scalp coverage, and endless hairstyle opportunities. You see, our hair changes due to age, health, illness, stress, medications, childbirth, our environment, genetics, and more. Thus, making Topettes the perfect solution for beginning stages of hair loss. Not suffering from hair loss but desire thicker, fuller, and longer hair? Don't be hesitant to try on a FOLLEA Topette. Oh, and by the way, completely change your look by going from drab to blonde or dull to velvety chocolate.
WHAT EXACTLY IS A FOLLEA TOPETTE?
It's a clip-in hairpiece that works with your existing hair to add extra coverage on the top of the scalp where thinning is most likely to occur. Tailored to the individual, each piece is breathable, comfortable, and available in a wide range of colors, lengths, and styles. The application is seamless and straightforward, and the results are natural, beautiful, and virtually undetectable.
---
Here's the skinny on how you select a FOLLEA Topette's:
CHIC TOPETTE
The highest quality hair in our Topette collection designed for both early and later stage diffused hair loss. The Chic is ideal for fringe-wearers. It features a silky, soft, natural sheen and a very fine smooth texture.
Key Features: 100% Premium European hair, 100% Handmade and hand-tied Swiss lace, 6" x 6.5" base, French top for true-to-skin appearance, Sleek human hair with the cuticle intact, Six pressure sensitive clips, Variety of lengths, colors, and sizes available. LEARN MORE
STYLE TOPETTE
Our most popular Topette is ideal for women who want more dimension and added volume to their hair. It exposes a natural-skin part for a true-to-skin appearance. It is perfect for blending with the existing hairline or fringe-wearers. It features the same length hair from scalp to ends for a natural, long, layered look.
Key Features:100% European hair,100% handmade and hand-tied Swiss lace, 6" x 6.5" base, Voluminous French top for true-to-skin appearance, Return hairs for a fuller hair appearance, Six pressure sensitive clips, Variety of lengths, colors, and sizes available. LEARN MORE
TREND TOPETTE
Perfect for women experiencing minimal hair loss. It is both lightweight & flexible, making it our most versatile Topette. The Trend allows for variable positioning and delivers volume and coverage exactly where it might be needed.
Key Features: 100% European hair, 100% Handmade and hand-tied Swiss lace, 5" x 6" base, Return hairs for a fuller hair appearance, Five pressure sensitive clips, Variety of lengths, colors, and sizes available. LEARN MORE
---
What are the benefits of rocking your new FOLLEA Topette - the best topper for thinning hair?
Have beautiful tresses 24/7, that's right, you'll always be ready! - Your hair color will always be , kiss your gray hair goodbye. Jett-setter or trendsetter? No problem, it takes one minute to snap in your Topette, brush it through and look fabulous. It's THAT simple! Most importantly, your confidence level will skyrocket. Hands down, FOLLEA has the best hair in the world. Their Topettes give you back the hair you've always wanted. Why dream about the hair you envision when you can have it every day? It's honestly easier than doing your own hair, and I promise you that. Jealous? And there's more…
Introducing the NEW! PETITE TOPETTE by FOLLEA launching in September 2019:
PETITE TOPETTE
This 100% European hair Petite Topette is made with all lace material and can be placed strategically on the head. It is both lightweight and flexible, and is perfect for women experiencing initial hair loss.
Key Features:100% European hair, 100% hand-tied, Signature return hair technique for added fullness, Hair cuticle partially intact, Customizable to your desired style, 2.5" x 5.25", Variety of lengths & colors available. LEARN MORE
---
Follow FOLLEA on social for the latest custom wig styles, #FolleaFriend features & behind-the-scenes access! @Follea #follea