Learn Why or How to Style Your Follea 100% Human Hair Wigs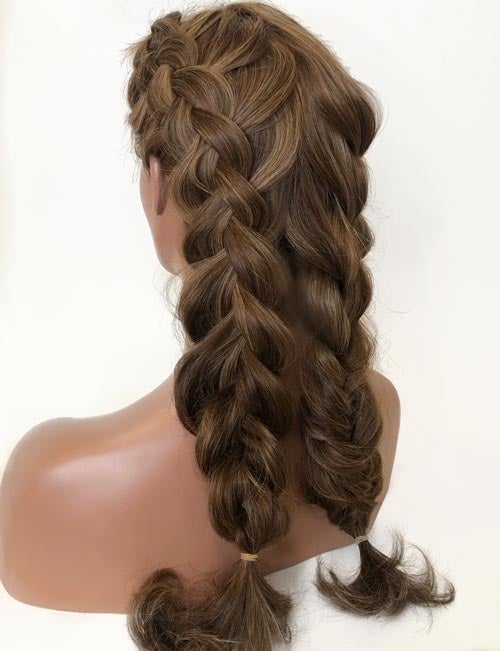 Ashley Kaplan is wearing FOLLEA® wig, new color Macchiato 5005.
You've no doubt pampered your own hair for years, showered it with love and affection, treating it to regular blowouts, experimenting with up-dos and the latest sleek ponytail trends. Giving it a weekly deep conditioning treatment while multi-tasking with a face mask. Perhaps even accessorizing with the latest hair trends for bows and bands, scrunchies and scarves. We have it on good authority that scrunchies are most definitely making a comeback. We're not talking 1980's throwback style either. Missoni and Marc Jacobs have both added a hair tie to their range so you could say that haute-hair is about to become a thing.
Just because you are now the very proud wearer of a wig, it really doesn't mean that your fun has to stop. Far from it ladies. At FOLLEA, we positively encourage you to own your new human hair piece and to wear it with so much love and pride, just like it really were your own crowning glory and an extension of your personality. You want to rock the latest haute hair accessories, just go for it. Our top tip is not to be afraid. This is real human hair, after all, so do with it exactly as you would your own hair. It's designed to be playful, just like you!
We probably all watched the Oscars with one eye on the celebrity's dresses and another very firmly on their hair! From sleek and stylish ponytails to long braided fishtails, natural blonde cascading curls to bouncy blow dries and some of the cutest pixie cuts and sharpest bobs around. The one thing we can definitely say about this year's Oscars is that the hair was every bit as show-stopping and diverse as the outfits were. Think all those A-list celebrities are naturally blessed with a full and thick head of hair? Think again! There's a lot of help that goes into making the female stars look red carpet ready. You can bet there were also a few bedraggled looking locks the next morning too.
Lucky for you then, our FOLLEA range of premium wigs has been exclusively designed to offer unrivaled longevity, exquisitely crafted to the highest quality and artistry. So much so, that really, only you will ever know that you're wearing one. Let this be your secret, and ours too! We promise we won't tell, but we do want you to have fun and freedom wearing it, whatever personal and challenging circumstances you might be experiencing. Please don't be daunted by the fact that you have to wear a wig, instead, embrace it wholeheartedly as a wonderful experience to show the world how much you shine.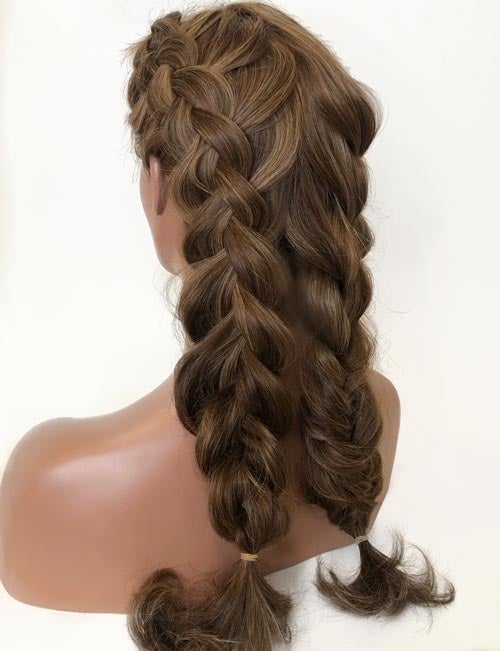 Follea Gripper Wig 18" Wig - Caramel Latte 5030
We've created our range to look effortlessly beautiful and natural, so if you're having a bad day, you don't also need to have a bad hair day! In fact, think of it like this, from now on, you can always be assured of having a distinctly good hair day! How about that for a revelation! We're here to ensure you have your own red-carpet moment, even if that is just popping out to do the groceries or meeting your girlfriend for brunch and a much-needed gossip!
With natural volume and shine and superb comfort and hold, your Follea hair is always going to look , even when maybe the ladies around you are having one of those distantly "meh" hair days. See, there are some definite fringe benefits ladies to wearing a 100% human hair wig, and at FOLLEA we truly understand just how important it is to be able to slick that hair back into a power pony and go in and own that board meeting. Or pick out your favorite hairpiece for a special occasion, secure it confidently in place, and head out for cocktails or dinner looking and feeling like a million dollars. Your head held higher than those new heels you've slipped into for the occasion.
We'd love you to share with us just how you've accessorized your own FOLLEA wig. What works and what doesn't for you? We're sure our global community of FOLLEA followers would love to see just how you've taken your wig and made it an essential part of YOU.
Please message us and share all your photos and styling ideas so that we can pass those on to all the ladies out there wearing a wig. You don't need to be a celebrity to rock the best hair. To us, you are all superstars and deserve to shine.
Don't forget to follow us on Instagram and Facebook @Follea and be an integral part of our community. A beautiful bunch of like-minded ladies, all with their unique stories to tell and personal journeys of hair loss. Together we can thrive. Together we can all have our very own red-carpet moment, every day.
To learn more about FOLLEA wigs and hair enhancements, click HERE.