Seven Tips for Wearing Wigs in the Summer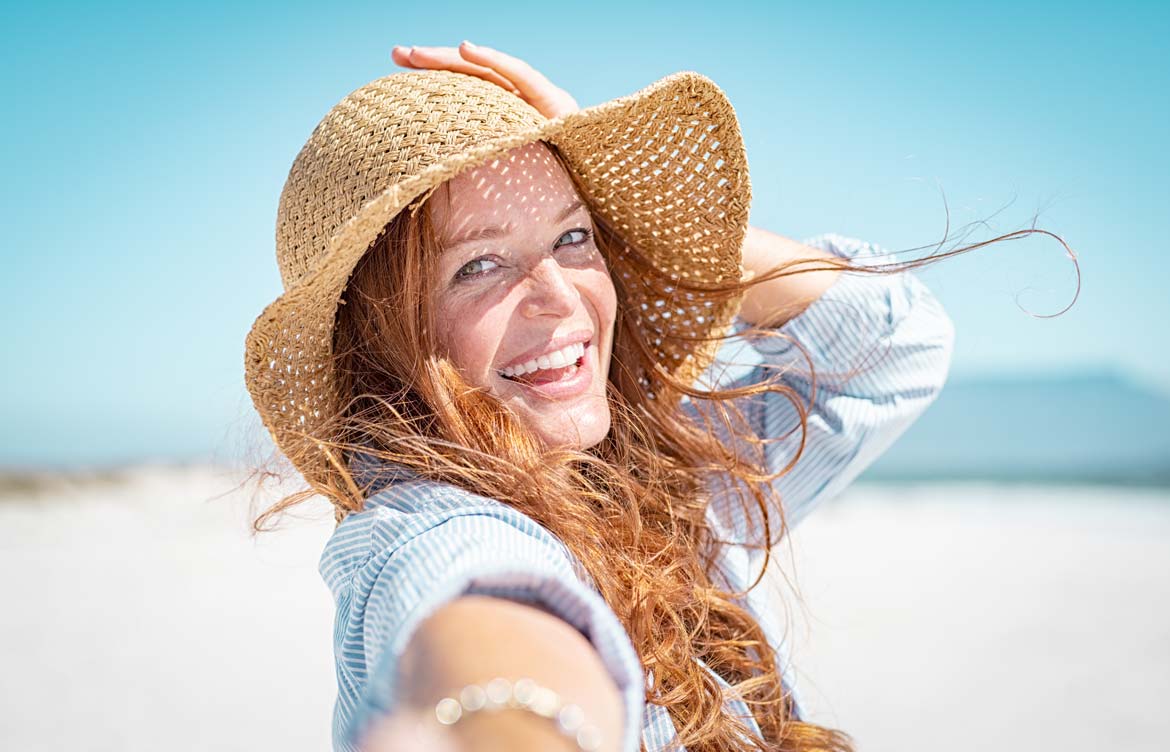 With summer comes bright sun and long, warm days. You may find yourself outside more, or constantly on the go, trying to enjoy the summer before huddling up indoors for the winter. Just as you might change skincare routines depending on the weather to keep up with the changes in temperature, you may have to adjust the way you wear your wig to make sure you're comfortable all summer long. Whether you're new to wearing wigs or a veteran wig wearer, the change in seasons brings changes in what styles will work best.
At Daniel Alain, we know that summer is an exciting and fun time. Many of our customers ask us for tips to keep cool while wearing a wig in the summer. Aside from keeping cool, there are other tricks you can follow to make sure that you're taking care of your wig as best as your can as temperatures rise.
In this article, we're going to walk you through seven tips for getting the most out of your wig during the summer. By the end of this article, you'll know some best practices for wearing a wig in the summer.
---
Tip 1: Wear Your Bio Hair Up
Some wig wearers who have biological hair may choose to wear their hair down while they wear their wig. In the summer, however, wearing your bio hair down, underneath a full head of hair, can get hot on your neck. To alleviate any extra heat on your neck, we suggest pinning any bio hair up under your wig. There are a couple of ways to do this if you're not used to pinning your hair up.
Flat Bun Method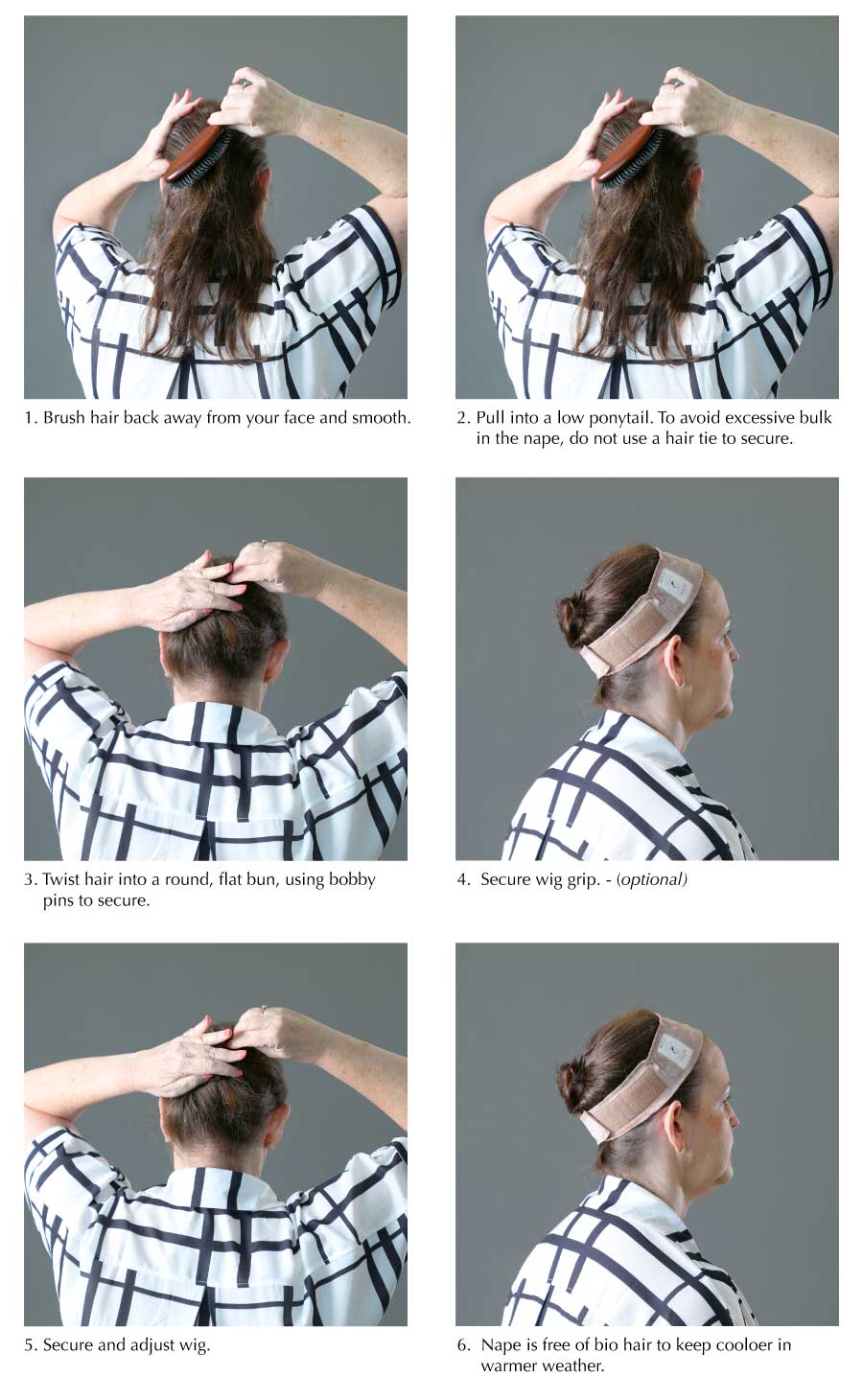 ---
Tip 2: Pick a Hairstyle That Pulls Hair Off the Neck
Whether it's a loose ponytail, bun, or even braids, wearing your hair off your neck in the summer will feel cooler. You'll be able to feel a nice breeze on your neck and may also notice a reduction in tangling if your hair is up.
---
Tip 3: Be Careful of Sun Exposure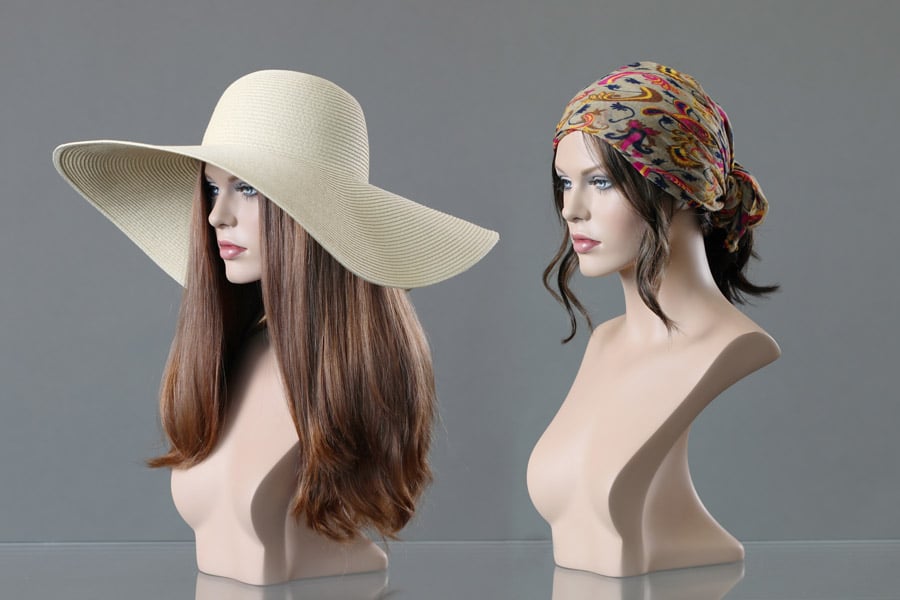 Wearing a sun hat or scarf can help minimize exposure to UV rays that can fade color or cause dryness to hair.
Just as we want to be conscious about spending too much time in the sun to protect our skin from harmful UV rays, spending too much time in the sun can be bad for your wig. If you spend prolonged periods of time in the sun, you increase the oxidation potential. This means that the more time you spend exposing your wig to the sun, the faster its color will fade.
Of course, this doesn't mean that you cannot go outside in your wig. Rather, be conscious of how much time you're spending outside without your wig covered. A hat is an excellent, easy way to keep your wig covered from sun exposure. It's also a good idea to be aware of what time of day the UV index is higher so you know either to cover your wig or to avoid being in the sun without protection.
---
Tip 4: Don't Swim in Your Wig
Wigs, especially ones made from 100% human hair are durable, yet delicate pieces. We highly discourage swimming in saltwater, freshwater, chlorine, or generally submerging the wig completely. This will damage the integrity of the wig and decrease its lifespan more rapidly.
---
Tip 5: Consider More Frequent Washes
The summer brings heat. Heat invites the potential of sweat. If you're sweating more while wearing your wig, you should be washing your wig more often. Continue to wash gently. While washing is necessary to keep your wig in top condition, overwashing can present an issue.
---
Tip 6: Consider a Wig Cap or Another Wig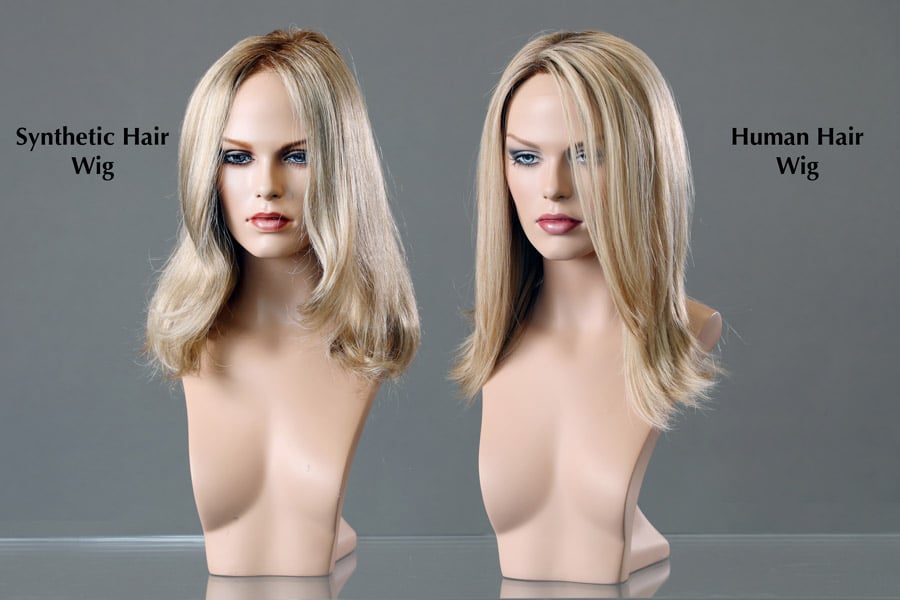 Swapping out a less expensive synthetic piece for your human hair wig can help minimize damage and exposure during summer months, beach days and pool outings.
If you own multiple wigs, alternating between them can cut down on the amount you have to wash your wigs. You may consider investing in a cheaper wig to wear in the summer. You may also consider using a lightweight wig cap to serve as a barrier between your scalp and the wig. This may produce a cooler sensation and cut down on excessive sweating.
---
Tip 7: Style Your Wig Less Frequently
While we all want our hair to look beautiful at all times, in the summer, we recommend cutting back on using heated styling tools. Styling your wig with hot tools before placing it on your head may lead to more heat on your head. Additionally, since the weather is warmer, overheating the wig can dry it out. Therefore, we recommend styles that do not require the use of heated tools.
---
Staying Cool While You Wear a Wig
After reading this article, you now have a better idea of how to not only keep yourself cool while wearing your wig but hot to preserve the integrity of your wig.
Wigs are a fun way to change up your look. Summer brings the opportunity for new styles. In the summer, you may consider investing in a new wig; perhaps one of a shorter length or with a hand-tied cap for extra breathability. If you're interested in exploring your summer options, book a consultation with one of our consultants to explore options or get expert styling tips for summer styles for your new wig.
Book a consultation