What Types of Wigs Does Daniel Alain Offer?

When you start looking for a wig, you might notice that there are many types of wigs available. No two wigs are identical. From different caps to different ways of being constructed to different types of hair, there seems to be an endless array of wigs to choose from. While having so many options means you can truly find the wig that is best for you, it can be overwhelming when trying to decide what you really want from a wig.
At Daniel Alain, we've been in the wig industry for over 20 years. Our founder grew up in a family of wig makers and wearers, giving our company as a whole, a deep understanding of the different wig types. After studying both synthetic and human hair wigs, we are proud to offer a selection of beautiful human hair wigs. But what types of wigs does Daniel Alain offer? And how do you know which is best for your needs?
In this article, we're going to walk through the different types of wigs in Daniel Alain's wig collection. By the end of this article, you'll know more about our selection of wigs and be able to decide if we have the wig of your dreams.
---
What Type of Wig Construction Does Daniel Alain Use?

A wig's construction is the foundation of a wig. How a wig is constructed will determine how comfortable and breathable a wig will be.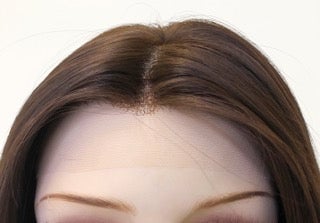 At Daniel Alain, all of our wigs have a lace front. The amount of lace on the front depends on which collection the wig is part of. Our temple-to-temple lace front wigs include the Style, Chic, Grandeur, Gripper Lite, and Gripper Actif. A temple-to-temple lace front creates the most natural look. Our other wigs, the Rene and the Pixie feature a smaller lace front.
The way in which hair is attached to a wig makes a difference in its appearance and feel. Some wigs feature machine-wefting which is when a strip that has hair tied to it is sewn onto the wig cap. A hand-tied construction means that the hairs on the wig are individually sewn onto the cap by hand. While all Daniel Alain wigs feature some degree of hand-tying, not all of our wigs are hand-tied.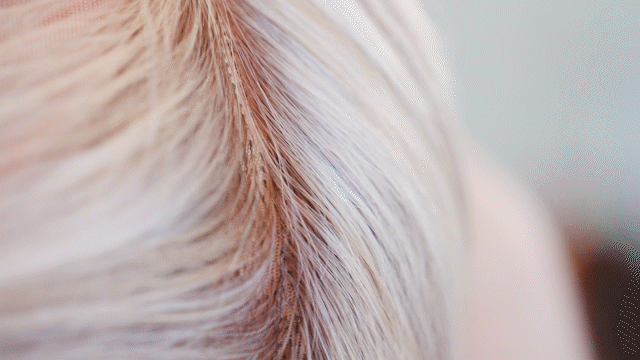 Our wigs that feature both hand-tying and wefting include the René, the Pixie, and the Gripper Actif. Our wigs that are 100% hand-tied include the Style, the Chic, the Grandeur, and the Gripper Lite.
---
What Type of Hair Does Daniel Alain Use?
Daniel Alain is proud to use 100% human hair in all of our pieces. We are known for our premium European human hair wigs. Our Grandeur collection features 100% premium European hair from a private reserve and is unavailable anywhere else. All of our pieces feature European hair except for the René, which features our signature World Select blend of Chinese and Indian hair.
---
What Type of Tops Does Daniel Alain Caps Have?
While at first glance, you may not think that the top of a wig makes a big difference in the wig's overall look and feel, a top can separate a good wig from a great wig. Some caps feature a lace top that will blend with any biological hair and does allow for styling versatility. However, our caps that feature a monofilament skin top mimic the appearance of a scalp and allow for the most authentic look.
The René and the Pixie feature a lace top. The Style, the Gripper Lite, and the Gripper Actif all feature a voluminous skin top, which has the look of a scalp while offering volume at the root. The Chic and the Grandeur feature a French top that also has a faux scalp but creates a sleeker, rather than a voluminous look.
---
Deciding Which Wig is Right for You
After reading this article, you now have a better idea of what type of wigs Daniel Alain has to offer. To summarize, here is a table that describes the features of each wig.
| | | | | |
| --- | --- | --- | --- | --- |
| Wig Collection | Type of Hair | Type of Lace Front | Construction | Top of Cap |
| | World Select Blend | Small lace front | Machine-wefted back, hand-tied top | Lace |
| | 100% European | Temple-to-temple | 100% hand-tied | Voluminous skin |
| | 100% Premium European | Temple-to-temple | 100% hand-tied | French |
| | 100% Premium European from a Private Reserve | Temple-to-temple | 100% hand-tied | French |
| | 100% European | Temple-to-temple | 100% hand-tied | Voluminous skin |
| | 100% European | Temple-to-temple | 100% hand-tied | Voluminous skin |
| | 100% European | Small lace front | Machine-wefted back, hand-tied top | Lace |
Here at Daniel Alain, we know buying a wig can feel overwhelming. You may have questions or you may not even know where to begin. We offer private consultations with expert stylists who are ready to answer all your wig buying questions. Even if you do not decide to check out our collection, we have a list of important questions to ask when going into any wig consultation. If you're ready to learn more about what Daniel Alain offers and to begin your wig buying journey, book a consultation with one of our consultants to take one step closer to the hair of your dreams.