Men's Minoxidil | Women's Minoxidil
Does Minoxidil Regrow Hair?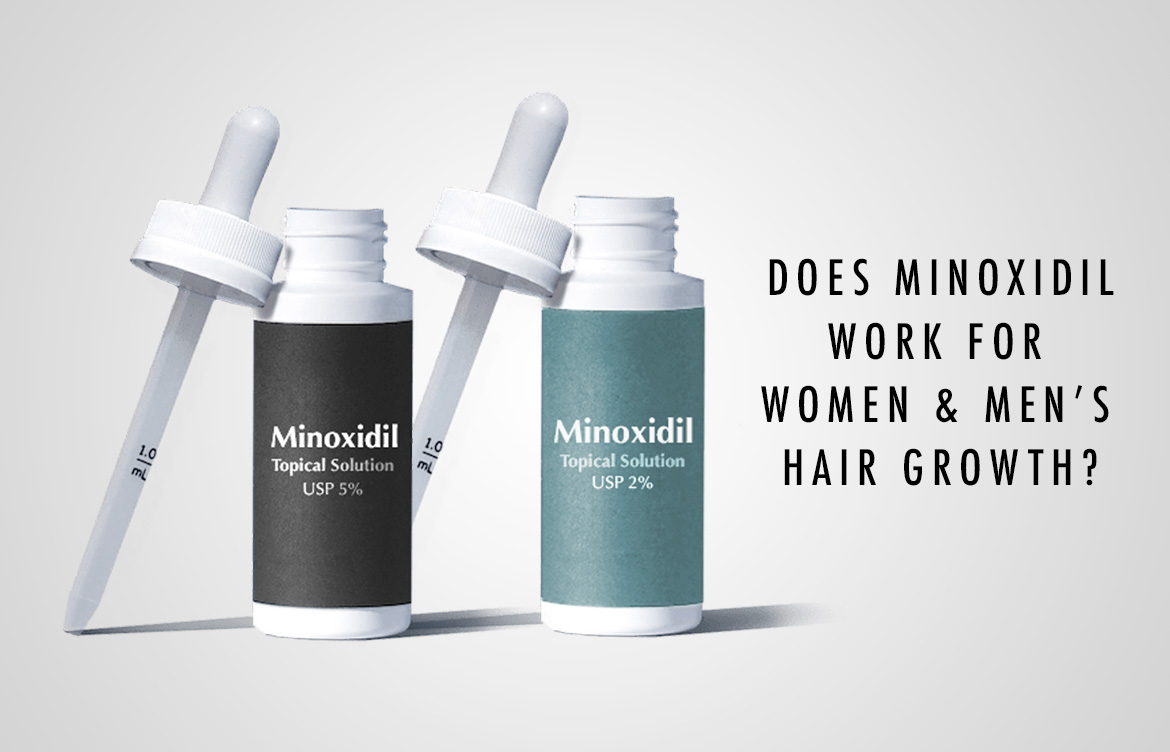 Is your hair thinning or falling out? You're part of a large community of people battling the same issues. About 30 million women and 50 million in the US experience genetic hair loss (androgenetic alopecia), while others deal with stress, diet, or medically related hair loss. Many people turn to hair loss treatments like the FDA-approved Minoxidil from brands like Rogaine®, Keeps, Hims®, and Nioxin®. But after months of using the product, people report mixed results. Which leads to the question: Does Minoxidil work for women and men?
After trying so many treatments with no signs of improvement, you might feel reluctant to try Minoxidil. Hair loss is enough of a struggle, and spending your time and money on ineffective products only compounds the stress of hair loss.
As the leading authority on hair loss, we've spoken with people from all walks of life about their hair loss struggles. And that's why we've offered proven solutions for hair loss for over 20 years, equipping people with the confidence to choose real solutions tailored to their specific needs.
So, is Minoxidil the solution to help you at this stage of your hair loss journey? And most importantly: does Minoxidil actually work?
For some, Minoxidil promotes hair regrowth and increases hair density, making their hair appear thicker. But for others, Minoxidil leaves much to be desired.
Today, we'll uncover if Minoxidil works for hair regrowth and whether it's the right treatment for you.
---
does Minoxidil really work for hair loss?
Minoxidil's efficacy is a hot topic, with proponents of the treatment claiming life-changing results and others experiencing no regrowth after months of using it. The fact is, Minoxidil doesn't work for everyone. And until recently, when we discovered the SULT1A1 enzyme required to activate Minoxidil, no one knew precisely why it only worked for some people.
How can you avoid investing time and money on Minoxidil if it won't work for you? There is only one way, and it's to take the Minoxidil Response Test for women or for men, which will tell you if Minoxidil will work for you in as little as one week.
On the packaging, the results look promising. Brand names claim results for 90% of men and 80% of women. Sounds ideal, right? Unfortunately, clinical trials say otherwise, as results showed that Minoxidil worked minimally to moderately for 50-60% of men and 30-40% of women.
Download Our Guide to Learn Everything about Minoxidil to Regrow Your Hair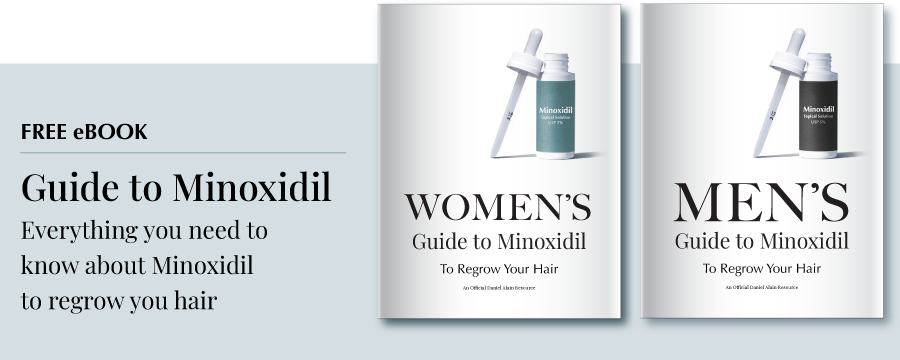 ---
HOW MINOXIDIL WORKS TO REGROW HAIR
Minoxidil was originally a medication for hypertension in the 70s. But when doctors noticed an offshoot side effect where some patients grew hair on their head and body, and after many years of clinical studies and FDA approval, Rogaine took the treatment to the men's hair loss market. Minoxidil's 2% solution has been on the market since 1986, and its more robust 5% solution since 1993.
How does Minoxidil work to regrow hair for some people?
For most of the drug's over-30-year market presence, dermatology experts agreed that the precise function of Minoxidil's hair growth effects was unclear.
Minoxidil is a topical formula applied to the scalp with a dropper. The treatment is thought to accelerate the hair growth cycle to the anagen (growth) phase and then prolong it. After applying it, the solution dilates the scalp's blood vessels to accept more oxygen and nutrients, and in turn, stimulates hair growth.
But Minoxidil doesn't work for everyone. Through meticulous research, Daniel Alain's research team demystified the exact reason why Minoxidil only works for some people.
Without the SULT1A1 enzyme, the scalp lacks the necessary enzyme activity to convert and activate Minoxidil.
It takes about 3-9 months for Minoxidil responders to show progress, making the process grueling even if it ends up working. But for non-responders? The waiting game is that much more brutal.
---
can minoxidil regrow hair for anyone?
No, Minoxidil doesn't work for everyone. The treatment hasn't worked that well on responders in clinical trials and consumer reports, often promoting only minimal to moderate hair regrowth.
One study showed that male patients with moderate androgenetic alopecia taking the 5% solution saw increased hair density and width on the sides of the head and top of the scalp.
The FDA medical review for the same solution showed that after 32 weeks, 14% of male participants experienced no hair growth, and another 14% had the same result with the 2% solution. The rest of the participants reported either moderate, minimal, or dense hair regrowth. However, the majority reported moderate hair regrowth after 32 weeks.
Does Minoxidil work for women and men in the same way?
According to the clinical study mentioned in the FDA drug label review for 2% Minoxidil, 19% of women with alopecia experienced moderate hair growth, and 40% saw minimal hair growth after eight months.
This research illuminates the fact that Minoxidil works for some and not others. Why are results so inconsistent? Because only some people have the necessary enzyme activity in their scalp to respond to Minoxidil.
With the Minoxidil Response Test, you'll have answers quicker and gain confidence in proceeding with treatment or seeking alternative treatment options for your type of hair loss.
---
How can i tell if minoxidil will work for me?
A chance at moderate hair regrowth sounds pretty good, but you still might wonder if Minoxidil will work for you.
To find out, you first need to determine if you have the SULT1A1 scalp enzyme activity. The only product on the market today that can answer this question for you is Daniel Alain's Minoxidil Response Test.
The test is convenient, discreet, and fast. Here's how it works:
First, you register your kit.
Then, you'll collect hair samples and send them to our CLIA-certified lab.
We'll analyze your hair to see if your scalp has the necessary enzyme activity.
We'll deliver your results within 7-10 days, saving you 6-9 months of using Minoxidil and hoping it'll work.

Taking the MRT test is your essential first step before exploring Minoxidil as a hair loss treatment. A positive result will give you the green light to use Minoxidil, knowing that the product will work for you. A negative result will encourage you to explore other hair loss solutions confidently.
""I've personally experienced hair loss and I know it's really tough. I wish I had these products and resources back when I first started losing my hair. That's why I developed them.
My advice? Learn from me. Be proactive, take the test, and get ahead of your hair loss before it's too late." ~ Daniel Alain Hafid, Founder & CEO of Daniel Alain
whAT ELSE I CAN DO TO TREAT HAIR LOSS
Minoxidil isn't for everyone, and you may want to pursue other hair fall treatments. Here, we'll recommend a few proven effective solutions to help you take control of your hair loss today.
Try an Anti-Hair Shedding Treatment to Retain Your Hair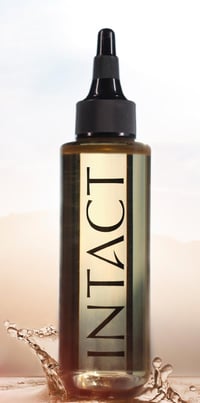 Hair loss affects men and women. Anyone who's watched hair amass on a brush or bathroom sink knows how nerve-wracking it can feel. What can you do?
You can strengthen your hair and minimize hair loss with an anti-shedding treatment.
Daniel Alain's research and development team spent five years developing our INTACT Anti Hair Shedding Treatment. INTACT's patented PiliLock® Sevilla Orange Complex constricts tiny muscles in your hair follicles during activities like washing, brushing, and styling, when hair is most vulnerable to shedding.
The formula's Panthenol (Vitamin B5) and coconut fatty acids moisturize your hair, giving you ultra-softness and volume. It works after just one use! All you need to do is massage the formula into your hair before washing and let it sit for 30 minutes.
Buy INTACT for Women - Starts at $27
Buy INTACT for Men - Starts at $27
Load Up on Nutrient-Rich Foods to Promote Hair Growth
Food dictates many aspects of your health, but can food influence hair growth? Absolutely! Rich nutrients like biotin, omega-3 fatty acids, and vitamins B5 and A are hair growth powerhouses. You can find these juicy hair-growing nutrients in foods like eggs, fatty fish, greek yogurt, and spinach.
Still not seeing results? Avoid foods that disrupt hair growth like refined sugars, alcohol, grains, and processed foods. A few dietary switches can give your hair the density, shine, and volume it deserves.
Conceal Thinning and Hair Loss with a Wig or a Topper
High-quality European human hair wigs and toppers are a great solution to hair loss. Not only will you avoid the waiting game with certain hair loss treatments, but you'll also save yourself hours in styling, coloring, and maintaining your hair. Wigs are a convenient and elegant way to switch up your style, too!
Just look at all the ways @being_mrs_brown styles her gorgeous wigs!
But perhaps you're not 100% sold on a wig. It feels like a big commitment, so you want to start somewhere more approachable. A wig topper is a lightweight hairpiece offering you the touch of added volume, thickness, and texture you crave. No bad hair days from here on out!
---
Daniel Alain: Your trusted resource for all hair loss solutions!
We tackled a big question today: Does Minoxidil work? While it may promote hair growth and increased thickness for some people after 6-9 months, it doesn't work for all women and men. For many, using Minoxidil is a painstaking waiting game if you don't have the necessary scalp enzymes to activate the treatment.
Hair loss is a stressful burden, and many people see it as a taboo topic. The worst part? It can hinder you from engaging in activities you love, but it doesn't have to be that way anymore. You have the power to take back your confidence with the right hair loss solutions.
If you decide to try Minoxidil, take advantage of Daniel Alain's Minoxidil Response Test for women or for men to get the results you need fast! And if Minoxidil isn't for you, then anti-shedding treatments, wigs, toppers, and dietary changes can help.
At Daniel Alain, we're devoted to unparalleled quality and innovation in all of our hair solutions. From 100% European human hair wigs to our groundbreaking MRT and enzyme booster, our mission is to make your life easier with effective, trusted hair loss solutions.
Have more questions? We have answers!
---
FREQUENTLY ASKED QUESTIONS ABOUT MINOXIDIL
What is Minoxidil?
Minoxidil is an FDA-approved topical hair loss treatment sold under brand names like Rogaine® and Hims. It's a foam or dropper formula applied to the scalp twice daily to promote greater hair density and improve hair growth in people with genetic hair loss.
How Long Does Minoxidil Take to Work?
Minoxidil takes between 3-9 months to work for people that respond to it. While some people see results within three months, others may take up to one year if the hair loss treatment works for them.
Does Minoxidil Work for Beard?
Some studies are starting to explore Minoxidil's specific effects on facial hair. One study found that Minoxidil effectively promoted beard growth for adolescent males after three months of consistent application.
Does Minoxidil Work for Hairline?
Yes. Minoxidil can improve hair growth across the entire scalp, including increasing hair density at the hairline. However, Minoxidil only works for people with androgenetic alopecia who have the necessary enzyme activity to activate Minoxidil.
Does Minoxidil Work
for Eyebrows?
While the product isn't marketed to regrow eyebrow hair, Minoxidil has stimulated hair growth in the eyebrow area for some people. One study found that 2% Minoxidil was a safe treatment for eyebrow hypotrichosis (eyebrow hair loss).
Does Minoxidil Work
on Eyelashes?
Though some forums online cite greater eyelash density after using Minoxidil, there aren't any solid claims for the treatment to work for eyelashes. In fact, some doctors advise against it as it could cause irritation and rashes to the delicate skin around the eyelids.
Does Minoxidil Work
for Alopecia?
Yes, Minoxidil is an effective hair loss treatment for some men and women with alopecia. However, it is most effective at treating androgenetic alopecia, also known as genetic hair loss, a hereditary type of alopecia.
How Often Does Minoxidil Work?
Brand Name versions of Minoxidil like Rogaine® and Hims report Minoxidil works 80-90% of the time. However, various clinical studies bring that number to approximately 50-60% for men and 30-40% for women.
How Well

Does Minoxidil Work

?

The effectiveness of Minoxidil works differently for everyone. Clinical studies suggest that most Minoxidil responders experience minimal to moderate hair regrowth after a year of twice daily application of the 5% solution.

Does Minoxidil Stop Working Over Time?
Minoxidil results vary from person to person. Usually, peak hair regrowth occurs after one year. If you find that the treatment stops working over time, consult with your doctor to find out if there are any new developments in your health or condition. If you stop using Minoxidil, your hair will revert to the state it was in before you started using the treatment.
Does Minoxidil Work
the Same for Men & Women?
Minoxidil is a more effective hair loss treatment for men than for women. The treatment works for 50-60% of men and 30-40% of women.
How Much Does Minoxidil Testing Cost?
The Minoxidil MRT is the only Minoxidil test available, and it costs $139.00. You will send in a few samples of your hair, and a certified lab will analyze it to see if your scalp has the necessary enzymes to convert and activate Minoxidil.
Where Can I Get a Minoxidil Response Test?
You can only order a Minoxidil Response Test from Daniel Alain's website. You can find the MRT for women here and men here.