What Are the Advantages and Disadvantages of Human Hair Wigs?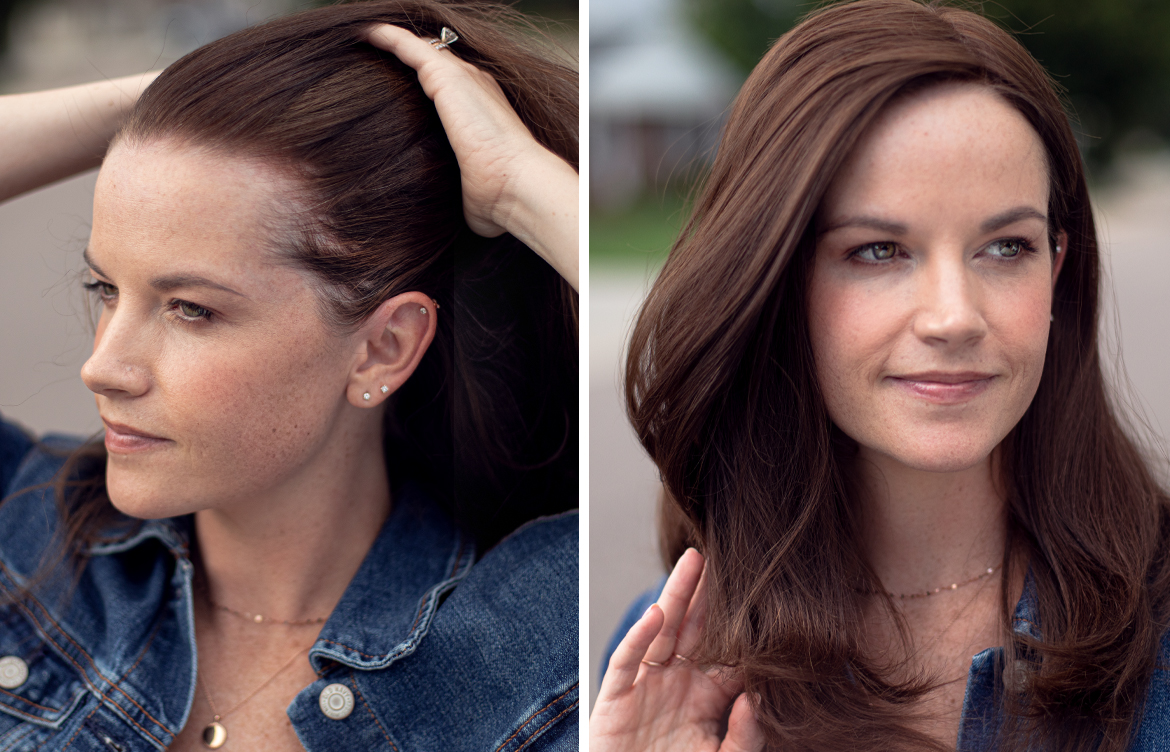 Hair loss can be an emotionally challenging experience, whether it's due to genetics, alopecia, chemotherapy, or other factors such as radiation. Dealing with a changing appearance may unfortunately affect your sense of identity or self-confidence. If you've been suffering from a thinning crown, loss of density, or bald spots, you may be considering a human hair wig as a viable solution. And if you're in the initial stages of researching your wig options, you might be confused by conflicting information. Finding straightforward, reliable advice in the midst of the noise can be a breath of fresh air.
That's where Daniel Alain steps in. We can speak to the advantages and disadvantages of human hair wigs because we've been creating them for over 20 years. There's not much we don't know about all things human hair, and while we're passionate about helping women find their perfect piece, we are equally committed to providing unbiased information so that anyone looking for a wig can find the right piece for them, regardless of where they purchase from.
In this article, you can expect a comprehensive outline of the advantages and disadvantages of human hair wigs. We aim to empower you to make the best decision for your unique situation and hair loss experience.
---
---
The advantages of human hair wigs
Advantage #1: Human hair wigs have the most natural appearance
Compared to synthetic wigs which are manufactured from man-made fibers that have been chemically processed to resemble real human hair. Human hair wigs are known for their natural look, bounce, and movement. As convincing as synthetic wigs may appear to be, they simply aren't able to replicate the natural sheen and texture of human hair. Just run your fingers through the two and you'll notice the difference right away. Or examine synthetic hair in the sunlight. It will appear plasticky and shiny. We will also hazard a guess that if you've ever noticed someone was wearing a wig, it was likely to be a synthetic or low-quality human hair piece. You've probably walked past many people wearing a high-quality, well-fitted human hair wig and didn't even notice!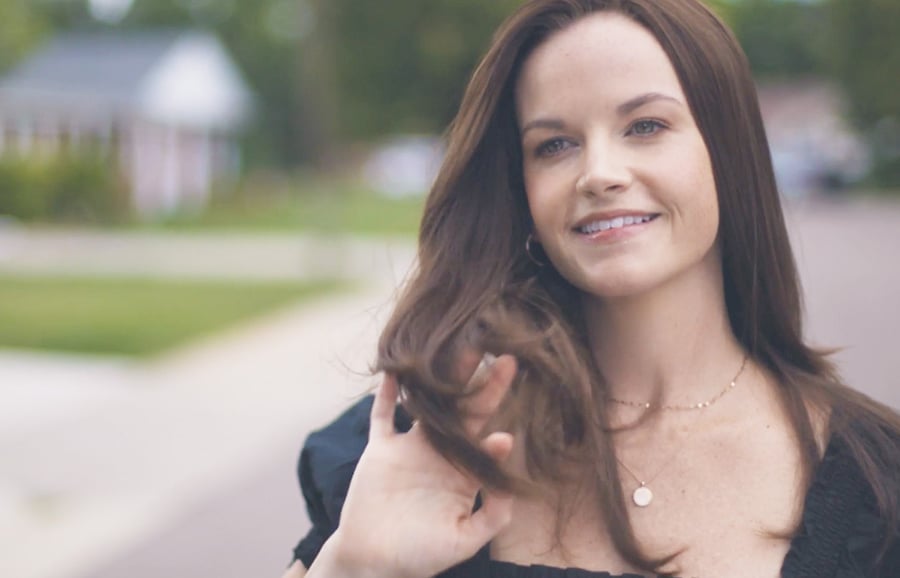 Real-life Daniel Alain customer, Kelly, lost much of the density of her bio hair after suffering from androgenetic alopecia. After wearing toppers for two years, she started wearing our wigs four years ago. "After researching many different wigs online, I found that a human hair wig flows the most naturally," she recalls.
Human hair wigs have, justifiably, earned a reputation for their soft texture, and completely natural look. Of course, within the 'human hair wig' category, there are varying degrees of quality, with some being higher than others. While we can't speak for all brands, at Daniel Alain, all of our human hair wigs are made from ponytail hair which means that every strand of hair in the resulting wig is flowing in the same direction. The use of ponytail hair, with the cuticles intact, minimizes shedding, tangling , and matting and looks the most natural.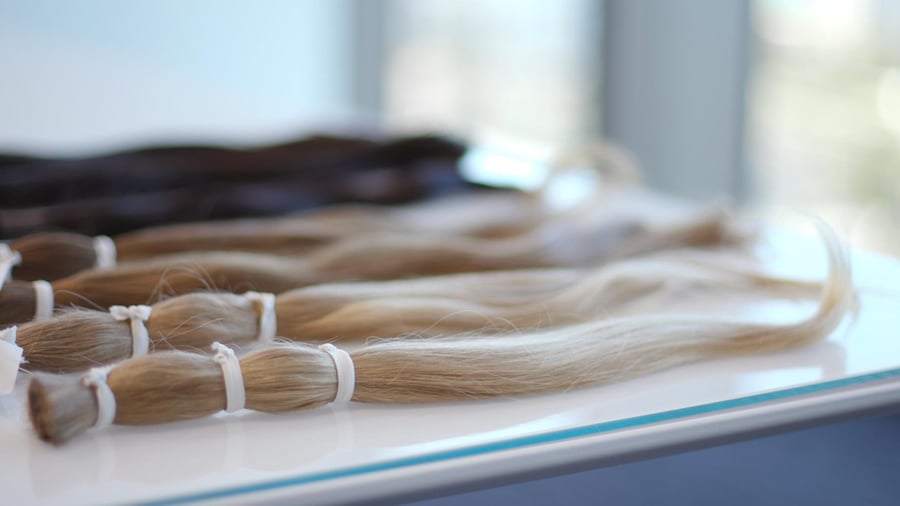 "I find that most people are very shocked when I tell them that I'm wearing a wig," admits Kelly.
Admittedly, our human hair wigs cost more than others but that's because less expensive human hair wigs with lower price tags, primarily use 'floor hair' to make their pieces. 'Floor hair' is an industry term used to describe hair that has been swept from the floor of barbershops and salons, collected from sinks and shower drains, and even pulled from hairbrushes, then sold for money. Floor hair is low-quality human hair that must be heavily chemically processed before being made into wigs.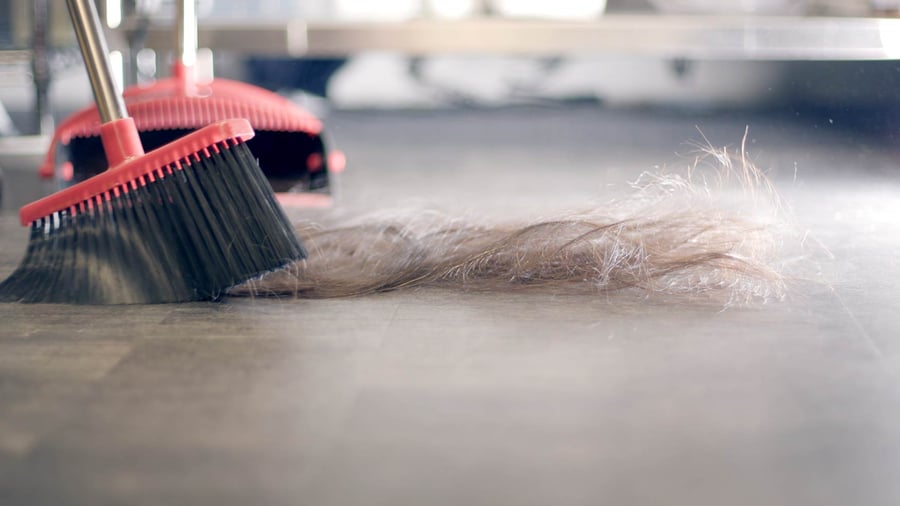 So while human hair wigs have a more natural appearance than synthetic wigs, we urge you to use caution when choosing a human hair piece as some will look more realistic than others. While high ticket items may have you wondering whether expensive wigs are worth the cost, cheaper alternatives are unlikely to provide the natural look most people are searching for.
Advantage #2: Human hair wigs have a long lifespan
When it comes to longevity, human hair wigs will outshine synthetic wigs on every front. A good synthetic wig that costs around $500 is likely to last a maximum of 4-6 months before it will need to be replaced with a new piece. Human hair wigs, on the other hand, will last much longer.
We've already pointed out that there are varying qualities of human hair wigs. A lower-quality human hair wig that costs under $2,000 may last up to a year, but you will notice deterioration with the hair almost immediately. Because low-quality human hair, or floor hair, is heavily chemically treated, the manufacturers often coat the strands with silicone to give the hair a deceptively smooth, silky feel. After the first wash that removes this silicone layer, you'll start to notice the hair is dry, unhealthy, and prone to tangling. After just a few months, a low-quality human hair wig will be at the end of its natural lifespan because the materials are simply less durable and ultimately less comfortable than higher-quality alternatives.
High-quality human hair wigs will surpass all expectations for a long lifespan. At Daniel Alain, we tell our customers that their Follea wig will last between 2 - 4 years, and often even longer with appropriate wig care and maintenance. One of our other customers has had their piece for over 15 years, though it has, in full transparency, undergone repairs to restore density and to replace the lace front over the years.
"I've had my first wig for four years, and it still looks as good as new," explains Kelly. "My consultant tells me that I'm taking very good care of it, and that if I continue, I should be able to wear it for a decade!"
Which brings us to another point. At Daniel Alain, each wig we make is created in our own, state-of-the-art factory where we control every stage of the manufacturing process, including our repair services. We've invested in training our skilled craftsmen in every aspect of wig-making and we're proud to have the ability to extend the (already quite long) life of our wigs.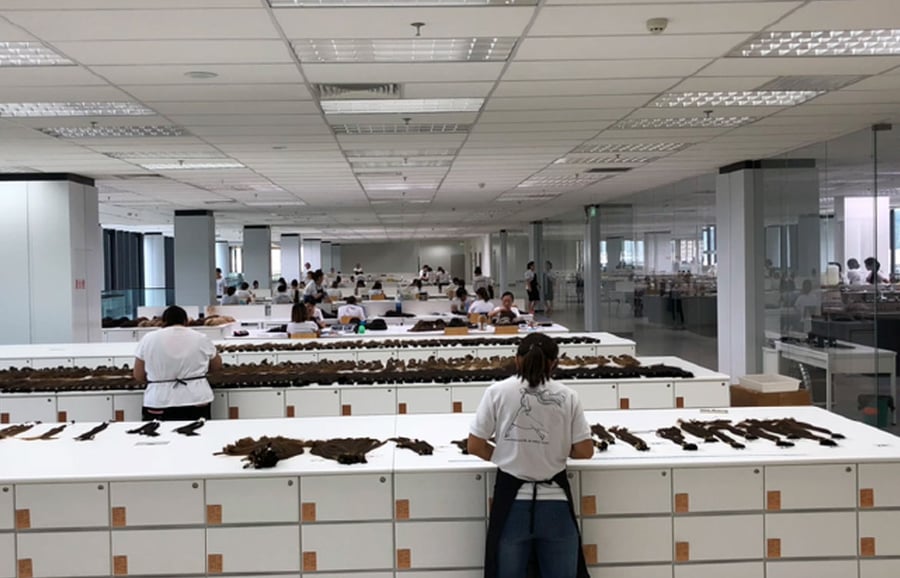 Our range of repair services include density restoration, lace front replacement, ear tab wire replacement, and lace cap repairs. If you own one of our pieces already and have any questions about our repair services, please reach out to our consultants and they will be happy to advise you.
Advantage #3: Human hair wigs have styling flexibility
If you're looking for a wig that lets you enjoy the benefits of a full head of hair, and to go to town with a curling wand, you may want to consider a human hair wig. Thanks to modern technology, heat resistant synthetic wigs can be styled with moderate heat (typically below 280 degrees) without damaging the fibers, but they're limited compared to human hair wigs that can be styled in exactly the same way as bio hair.
With a human hair wig, you're really not stuck to one look forever. Curl it up, straighten it out, or give it the beachy waves everyone seems to be enjoying this year - just like you would with your own hair. If you're going to be using hot tools on your human hair wig, please remember to protect your investment and follow best practices by using a high heat protectant and keeping the temperature below 350 degrees.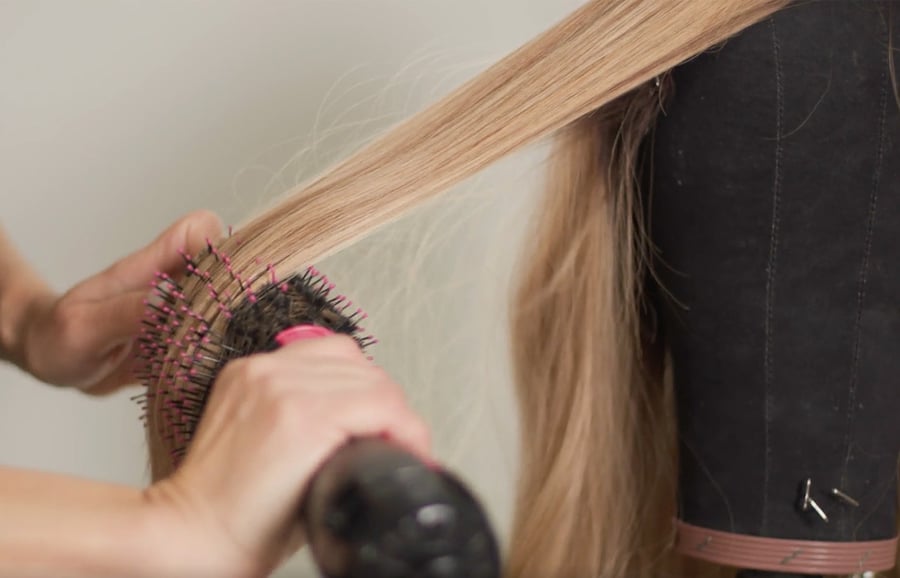 "I like to style my pieces differently depending on how I feel," says Kelly. "It makes me feel like my old self."
For anyone new to wearing a wig and worrying about how to make it feel more natural, we recommend playing around with different updos and learning to own your piece. It's perfectly normal to feel a bit intimidated at the amount of hair you'll have to get used to dealing with (especially if you're not used to having a lot of hair), but spending some time practicing in front of the mirror or with the wig pinned to a mannequin head, will help you feel more in control of this new head of hair. A human hair wig can be pinned back, put in high ponytails and top knots, braided or complemented with accessories. Find what feels right for you.
In addition to playing around with the style of your wig, a human hair wig can be cut and colored, just like regular hair. Many of our customers choose to have bangs, face-framing pieces, or layers. You may opt for a color refresh (yes, human hair wigs can be colored!), to have money pieces put in around the face, or to have a dark root put in. Because the hair wont grow back, we recommend consulting with an expert before diving into a major change. You'll want to work with someone who is experienced with cutting wigs.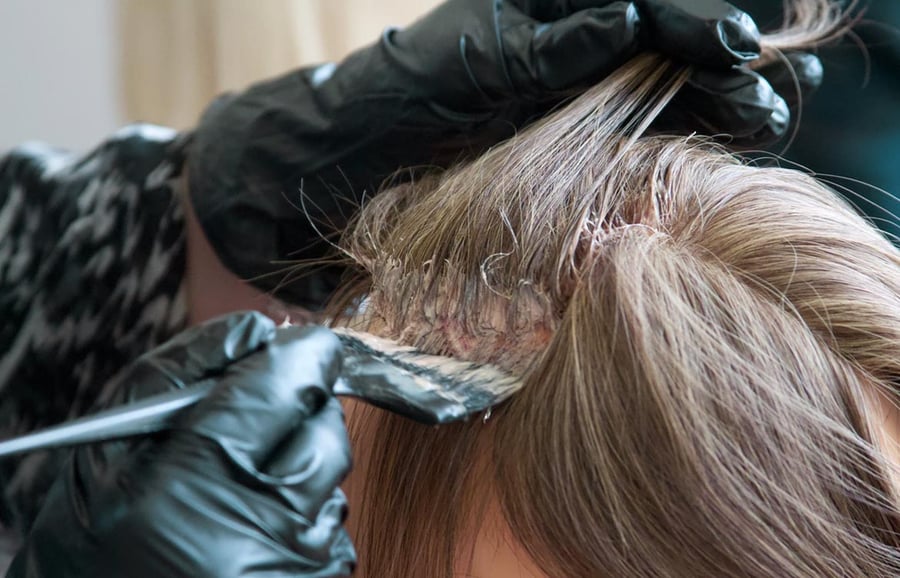 ---
Disadvantages of human hair wigs
Disadvantage #1: Human hair wigs are expensive
Let's talk about budget. We've already outlined the ways human hair wigs bring more than a touch of luxury, but we'll admit that the best human hair wigs come with a hefty price tag compared to lower-quality options. We won't sugarcoat it - at Daniel Alain our Follea wigs are considered the best in the world and we have prices that range from $2391 for the shortest length and darkest color, to over $11,000 for our most prestigious, exclusive, and luxurious collection.
"Human hair wigs are a bigger investment upfront," Kelly admits. "However, because of the longevity, I would bet that over time, it would even out given the cost of regularly replacing a less-expensive piece."
Wondering what drives the cost of a human hair wig up and down? Well, the price depends on the length, color, origin, and quality of the hair and the construction of the wig cap. In general, the darkest color and shortest lengths cost less because short hair is quicker to grow and more readily available. Darker hair is easier to color than blonder shades and this also makes it less expensive.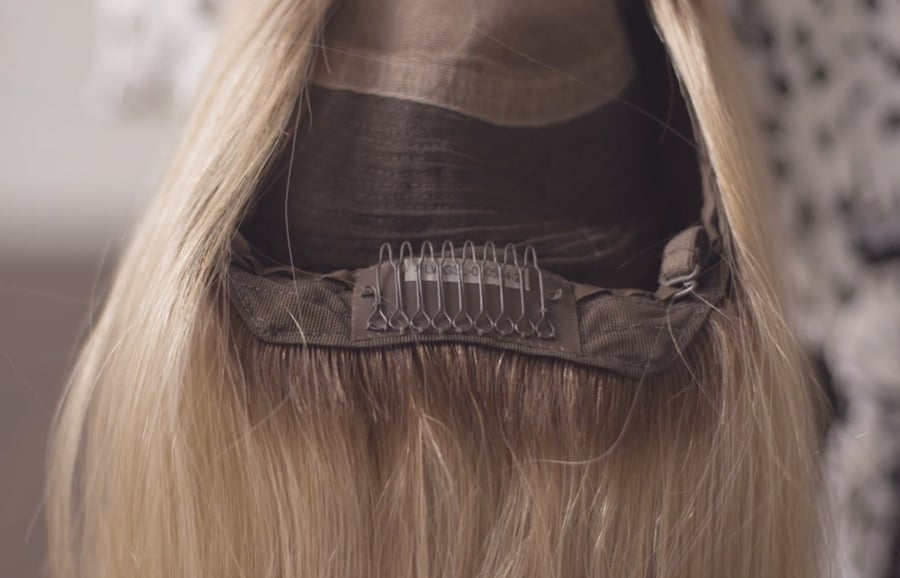 The origin of the hair used to make a human hair wig also affects the ultimate price. Chinese and Indian hair is easily sourced and is the most common hair type for making wigs. Our René collection, for example, uses a hand-selected blend of Chinese and Indian hair and these wigs have natural volume and texture. European hair on the other hand, is very rare, highly coveted, and extremely sought-after. Our Style, Chic, and Grandeur collections feature 100% European hair and these wigs are smoother and more sleek than the René.
Whatever brand you choose to purchase from, we suggest finding out about financing options, military discounts for service members and their families, and referral programs, as a way of making a high priced item more affordable.
---
Is a human hair wig right for me?
If your hair loss journey has left you feeling like you're navigating a maze without a map, it can be very frustrating to not find straightforward advice and answers. Unfortunately, we've all been there.
Now that you have some insight into the advantages and disadvantages of human hair wigs, we hope you're feeling better informed and more confident at making the right decision for you.
If you're ready, Daniel Alain is here to guide you through our collection of human hair wigs and we invite you to reach out to our team of experts who are more than happy to provide personalized advice based on your needs.