Best Human Hair Wigs to Buy Online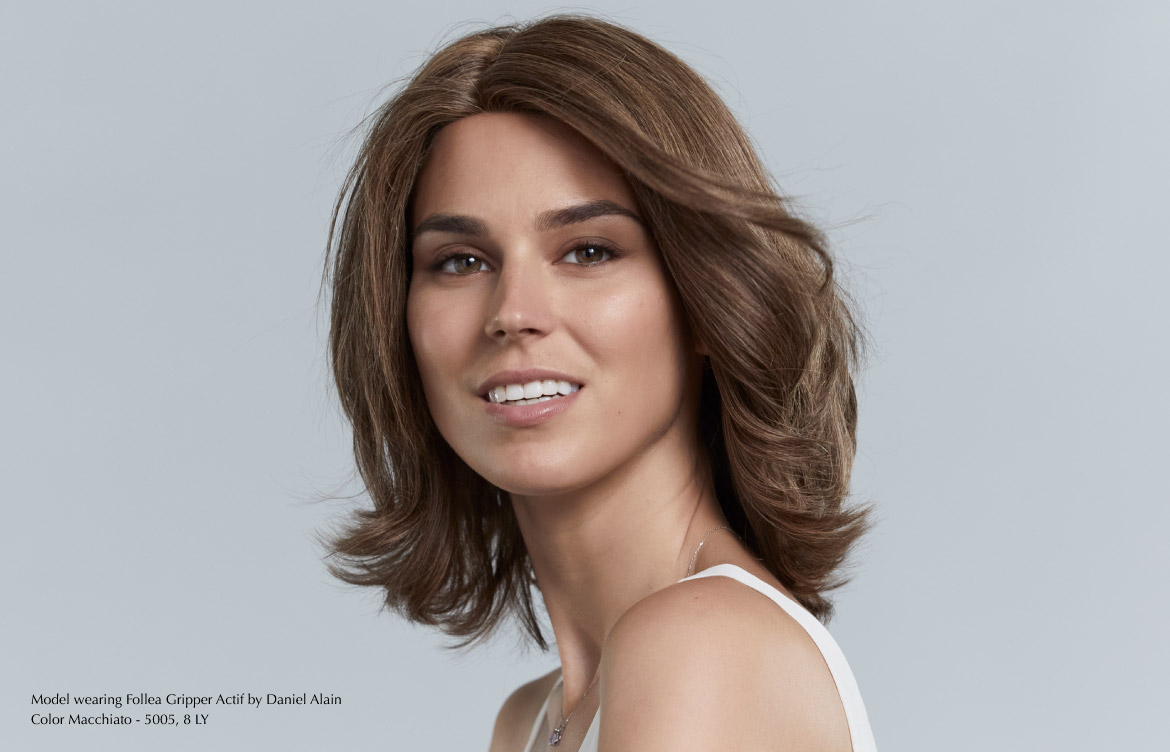 When you buy online wigs, you open yourself up to a smorgasbord of decisions. Synthetic or human hair? Lace front or full lace? Hand-tied or machine wefted? And that's all before you even think about color, length, and style.
If you're at a loss for choices—and had to Google what machine-wefted actually means—you're not alone. Wigs have come a long way since their humble beginnings in ancient civilizations, and with all of the advancements in wig technology, they can be quite overwhelming for first-time buyers.
That's why Daniel Alain strives to make the virtual wig shopping experience seamless by offering the best online lace front wigs made with human hair and the best customer service to match.
From the private reserve where we source our premium European strands to our free Fit Kits, we take the guesswork out of finding your perfect wig so you can focus on what really matters: feeling confident and fabulous.
Wearing a wig is an intimate experience. Not only are you trusting someone else with your hair, but you're also entrusting them with your confidence. That's why we believe that the best lace-front wigs are those that are hand-tied and made with 100% human hair. Our wigs are designed to look and feel like your own natural hair, giving you the confidence to take on the world.
So what are you waiting for? Browse our collection of the best lace front human hair wigs so you can find your perfect match. Or, keep reading to learn more about each piece we offer.
---
why human hair?
So, what separates Daniel Alain from the rest? For starters, our luxury online wigs for sale are made from 100% premium, high-quality human hair.

Synthetic wigs might be a cheaper option up-front, but they lack the natural luster, movement, and overall lifespan of human hair wigs. Not to mention, they can be quite uncomfortable to wear for extended periods of time due to the heat-resistant synthetic fibers that are often used in their construction. You can't style synthetic wigs with heat tools like you can human hair wigs, so if you're looking for a wig that will allow you to curl, flat iron, or otherwise style it to your heart's content, these artificial strands are not for you.

Human hair wigs online offer a more natural look and feel, as they are constructed with real hair strands. This allows for greater flexibility in styling—ponytails, anyone?—and a wider range of colors to choose from. Daniel Alain's online lace front wigs can be styled with heat tools, color-treated, and worn for extended periods of time without damaging the wig or experiencing any discomfort.

Plus, human hair wigs just look more realistic than synthetic ones. These strands offer sheen and smoothness that can't be replicated with man-made fibers. If you want your wig to fool even your closest friends and family, human hair is the way to go.
---
why Lace Front?
Lace front wigs have a lace base that extends either from ear to ear or from temple to temple across the front of the wig. This allows for a more natural-looking hairline and gives the illusion that the hair is growing directly out of your scalp. The lace is usually trimmed away once it's placed on the head and the wig is secured, but some people prefer to leave a small strip of lace to mimic their natural hairline.
Unlike other wig construction methods, online lace front wigs allow for greater styling versatility as the hair can be styled away from the face. Plus, they don't require as much pasting or adhesive to stay in place, which makes it easier to take the wig on and off.
Full-lace wigs are similar to lace-front wigs, but as the name suggests, they have a full lace base that covers the entire head. This kind of construction is more for women who plan to take off their wig very infrequently as applying it is a more labor-intensive method that often requires a professional stylist's guidance.
Lace front wigs are a more popular option as they are easier to put on and take off and can be styled in a variety of ways. By choosing a lace-front wig from Daniel Alain, you're getting the best of both worlds: a natural-looking hairline and the ability to wear your wig however you please.
---
why Hand-Tied?
Hair is attached to a wig cap using one of two methods: hand-tied or machine-wefted. Wefts are sections of hair that are sewn onto a wig cap, much like the wefts you would find in a sew-in weave. Machine-wefted wigs are less expensive because they're mass-produced with synthetic fibers. While they may look like real hair at first glance, they lack the natural movement and luster of human hair.
In a hand-tied wig, each individual hair strand is knotted by hand onto the wig cap. This results in a more expensive wig, but it's worth the investment as hand-tied wigs offer a much more natural look and feel. The hair is able to move freely and can be styled in any direction, just like your own hair.
---
daniel alain's 100% real human hair wigs
Now that you understand the details of why lace front, human hair wigs are the best wigs to buy online, let's get to the fun part: finding your wig! Daniel Alain offers a variety of styles, lengths, and colors to choose from so you can find the perfect wig to match your unique personality and look good doing it.
All of our luxury wigs are made with high-quality European hair that flows naturally and feels soft to the touch. The hair is hand-picked and hand-tied to a lace front cap where it's then arranged on the lace front in a way that best mimics natural hair growth, giving you a wig that looks incredibly realistic.
What's more, our wigs come in a variety of gorgeous colors, including dark roots, highlights, lowlights, and more, so you're sure to find the perfect shade to complement your skin tone. And with lengths ranging from 6 inches to 16 inches, you can find the perfect wig to frame your face no matter what your preference may be.
Not sure where to start? Just take a peek at our collection and meet some of our superstar human hair wigs online.


Grandeur
Because it's made of our finest private reserve European strands, luxury is synonymous with our Grandeur wig. Smooth and sleek with unbeatable movement, this style is perfect for the modern woman who wants only the best for herself.
Easily our most luxurious wig yet, this piece features a lace front cap for a natural-looking hairline and an undetectable weft that virtually disappears when worn. The result is a style that's not only beautiful but also incredibly comfortable to wear all day long.
Be warned—you might start getting used to all of the attention.
Chic
With a name like Chic, you know this wig means business. It's one of our finest human hair wigs online for a reason—it's sophisticated, timeless, and flattering on a variety of face shapes. The slightly curved front lace provides an effortless frame for your features, while the premium European hair can be styled in any way you please.
This stunning, versatile piece comes in multiple shades and tones, all made with our premium European strands. The hand-tied lace front creates a natural-looking hairline, while the wefted cap construction ensures breathability and comfort. Go ahead and show off your best self in this flawless wig.

Style
For those who prefer a little more volume when they buy lace front wigs online, Style might be more your speed. Made with 100% European strands, this piece features our signature return hairs to add a little extra oomph to your hair height. The lace front offers a natural-looking hairline, while the hand-tied cap provides durability and breathability.
Without a doubt, Style provides the most options in terms of colors, lengths, and drop-dead-gorgeous shades. You can also style this wig in any way you please—the only limit is your imagination. Trust us, this wig will have you feeling like a whole new person.

Pixie
With a shorter length and unlimited ways to style, Pixie is ideal for ladies who want to make a statement without saying a word. The blunt fringe of this 100% European hair wig adds just the right amount of edge while the soft waves give off an effortlessly sexy vibe.
Pixie is also one of our lightest human hair wigs online, so you'll forget you're even wearing it. Between the short tresses and the cap's hand-tied top, this piece is practically weightless. The lace front offers a natural-looking hairline, while the machine-wefted back ensures that this piece will stay put no matter where the night takes you.

René
As our most popular style of online lace front wigs, René offers ample length and fullness with a natural-looking lace front that will make even the most seasoned wig-wearers do a double-take. If you're looking for a high-quality human hair wig that won't break the bank, this is the one for you.
Made a show-stopping blend of our World Select Hair, René is soft, silky, and oh-so-touchable. You'll love the way it moves and flows with every step you take. The small lace front offers a natural-looking hairline, while the cap's hand-tied top and machine-wefted back ensure breathability and comfort (not to mention fabulous).

Gripper Actif
Sometimes, you need a little extra security. Gripper Actif is all about giving you the peace of mind that comes with knowing your wig will stay put no matter what. You can run, jump and dance the night away without a worry in the world.
Thanks to its comfortable grip and 100% European strands, this wig is perfect for those who have active lifestyles and are experiencing total hair loss. The cap's silicone perimeter ensures a secure and comfortable fit, while the 50% hand-tied construction allows for breathability and natural movement. No matter what your day throws at you, Gripper Actif will be there to keep your wig in place.

Gripper Lite
Total hair loss can be devastating—but it doesn't have to be the end of the world. With Daniel Alain's Gripper Lite wig, you can get all of the benefits of our best online wigs with none of the headaches thanks to its lightweight cap.
This piece is designed for those with complete hair loss, alopecia, or chemotherapy patients. It features a comfortable grip that stays in place all day and 100% European hair that flows and moves like it's your own. Because every strand is hand-tied, your scalp will stay cool, dry, and in place.

Download the Ultimate Wig Buying Guide


---
Ready to find your Match? Schedule a consultation today!
When you buy human hair wigs online, you want to be sure you're getting the best quality product available. With Daniel Alain, you can rest easy knowing that you're getting a top-of-the-line wig made with the most premium human hair sourced from the top 10% of hair on the planet.
Each one of our luxury online lace front wigs is made with 100% European hair sourced from the world's only private reserve, making it easily the softest, lustrous, and most durable hair you'll find. Every strand is hand-tied to a breathable lace front cap, giving you an undetectable finish and an unbelievably natural hairline. Our high-end cap construction is designed for everyday comfort and wear, so you'll never have to worry about your wig slipping or sliding out of place.
What's more, our lace-front wigs come in a variety of colors, lengths, and styles—so you're sure to find the perfect one for you. And if you need any help along the way, our team of experts is always just a phone call away. We offer complimentary one-on-one consultations to help you choose the right style, color, and length to suit your needs and preferences.
We understand that buying a wig online can be a daunting task. But with Daniel Alain, you're getting the best quality wig available—one that will give you the confidence and self-assurance you need to take on the world.
If you're looking for the best wigs to buy online that offer unmatched quality, style, and comfort, look no further than Daniel Alain. Fill out the form below to schedule a personal one-on-one consultation today!


Book a free virtual or in-person consultation
Our Stylists will help you find the perfect wig