European, Chinese, and Indian Hair: A Complete Comparison of Human Hair Wigs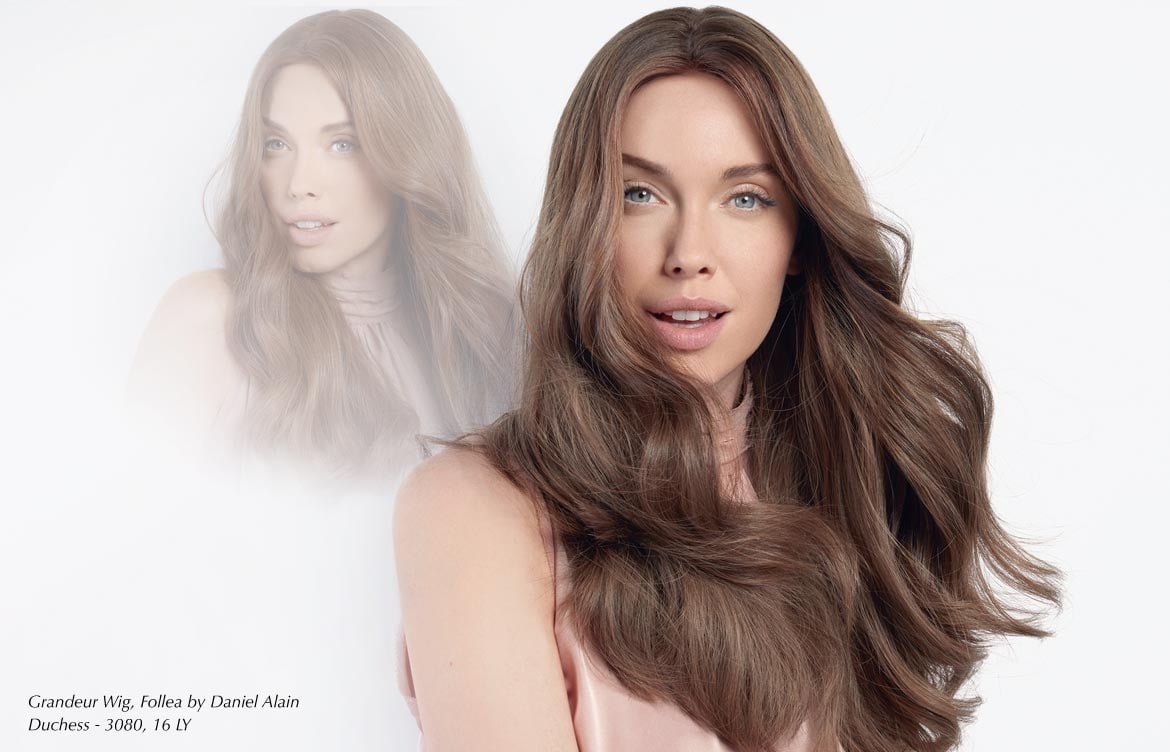 When choosing a wig, which type of hair is best? Amidst the thousands of human hair wigs available, you'll encounter two main options: European and Asian hair. But how can you tell which one is right for you? Without running your fingers through the strands of each hair type, it's challenging to know which hair to choose.
Here at Daniel Alain, we craft luxury, 100% European human hair wigs. We individually process and hand-tie each wig to offer you the most natural-looking, beautiful hair in the world. We have the only private reserve of genuine European hair, giving you effortless beauty with the most natural-looking and flawless hair.
We've helped countless women like yourself find gorgeous wig solutions that are durable, high-quality, and luxurious enough to overcome insecurity and embrace newfound confidence.
In this guide, we'll help you understand the various hair types so that you can make an informed purchase. Is European hair better than other hair types, and if so: why? To answer these questions, we'll focus on the differences between European and Asian hair — more specifically, Russian, Chinese, and Indian hair. Armed with the right information, you'll have the knowledge to help you pick the perfect wig for your needs and budget.
---
European hair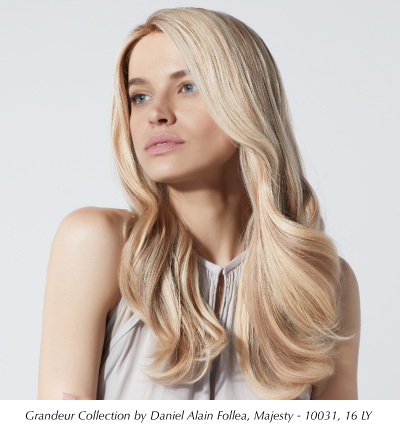 European human hair mainly comes from Russia and Ukraine. The term "European human hair" usually refers to hair from Caucasian women in Europe. However, anyone experiencing hair loss or thinning can benefit from a European wig's silky texture and natural look.
Many wig-wearers contribute to the high demand for European human hair wigs. Why? Because they're typically the highest quality wigs available, offering luscious, soft locks to wig-wearers across the world. If you are of European decent, you may be specifically shopping for a European human hair wig to match your biological hair most closely. Authentic, high quality, European human hair will move, bounce and look like your natural hair, helping you feel more like yourself.
The Grandeur Collection by Daniel Alain Follea is the most exclusive of human hair wigs, providing an ideal choice for the woman who values luxury at any cost. Grandeur wig starts at $10,849.
---
asian and indian hair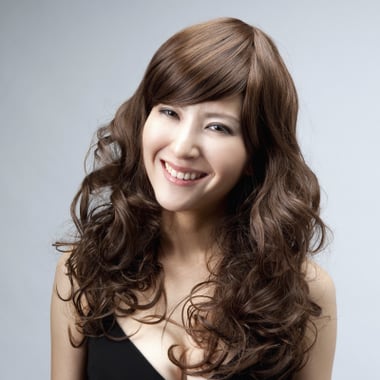 Asian hair is the majority of hair used for most of the wigs you see on the market. The hair comes predominantly from women in Hong Kong and India. Other sources of Asian hair include Myanmar and Japan, and most recently, Laos, Mongolia, and Indonesia — though the output from those countries is minuscule compared to Hong Kong and India.
Wigs made with Asian and Indian hair will feel more coarse as compared to European hair. Due to the thicker texture Asian and Indian hair wigs can hold more volume and style due to the nature of the hair.
---
European hair vs. other hair types: similarities and differences
Quality
European hair quality is often much higher than Asian hair quality used in wigs and hairpieces. Hair from Europe that makes it to your wig usually passes through fewer hands, leaving the hair silkier and healthier. The collection method used for European human hair also affects its quality — in a good way! Wig manufacturers collected European human hair by purchasing it directly from the women in Eastern European villages — the hair came directly from the woman's head (a chopped-off ponytail) and then went straight to the manufacturer.
Craftsmanship for a European human hair wig also maintains a high standard of quality since skilled artisans often craft and tie the wigs by hand. What does high quality translate to? A longer lifespan. A European human hair wig will go the distance with proper care and maintenance.
While Asian hair can be just as beautiful as European hair, the quality of the hair lowers throughout the collection process. Women in Hong Kong and India commonly sell waste hair to wig manufacturers. A clean, chopped ponytail is far less common in Asia. Waste hair includes fallen hair found in sinks and showers, pulled out from hairbrushes, or swept up from floors. The hair has already taken a significant beating from the collection point, causing damage before it even makes it to the industrial factories that turn them into wigs.
Is all Asian hair waste hair? No, but most of it is. Sometimes, Asian hair comes directly from an Indian woman that shaves her head at a temple for religious reasons. This collection method would make this Asian hair much higher in quality, but it's rare. Typically, Asian human hair wigs won't last you as long as a European hair wig due to the manufacturing differences.
Texture
The human hair used in high-quality European hair wigs is dreamy with a natural luster. Russian women, in particular, are renowned for their luscious locks. Just look at this Russian woman nicknamed the Russian Rapunzel — even at five feet long, her hair still looks shiny and healthy. European hair is usually silky, shiny, supple, and soft — with a pronounced and vibrant color, whether it's a dark or light shade.
Fortunately, this lovely texture usually continues from the donor to the wig, as European human hair wigs aren't processed or mass-produced as much as Asian hair wigs.
The texture for Asian hair isn't one-size-fits-all. We're talking mainly about Chinese and Indian hair here. In China, women have thicker hair follicles, and they're known for their straight, dark, silky, healthy hair. A rural secret — rice water helps Chinese women keep their hair silky smooth and strong.
Indian women are known for their light, wavy, and bouncy hair. The hair's texture is silky and lightweight, making it versatile and easy to style. Untouched, Indian hair texture is quite comparable to European hair.
However, the lovely textures of Chinese and Indian hair aren't often retained when they finally make it to a wig. Mass production and chemical treatments often damage Asian hair to the point where it loses its natural silkiness and soft texture.
Cost
Have you ever seen a wig that cost $2,000 or more? If the wig manufacturer is reputable, you were likely looking at an authentic European hair wig. You can expect to pay between $2,000 to $10,000 for premium European human hair wigs, sometimes even more if the quality is top-notch and the production process infuses proprietary craftsmanship.
The rarity, production process, and hair quality of European human hair drive the prices up — unfortunately, though, these prices aren't realistic for some consumers.
Put off by the cost? Look for any referral bonuses or payment plans to help manage the burden. For example, Daniel Alain offers a monthly payment plan to help you manage the cost of a European human hair wig, as well as discounts for referrals and military personnel.
Asian human hair wigs fall at much lower price points than European hair wigs, mainly because of the hair's abundance, accessibility, lower quality, and production processes. However, some Asian human hair wigs are manufactured with skilled manufacturing, making them higher quality and more expensive.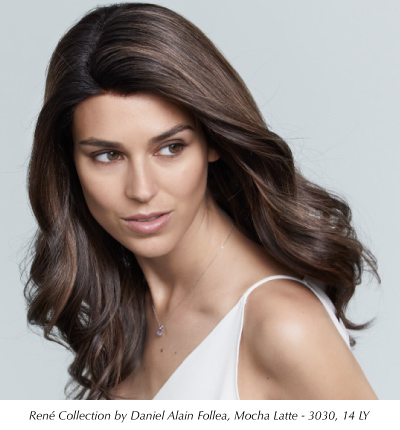 At Daniel Alain, our René wig is made of our World Select Hair from India and China and crafted with the same meticulous attention to detail and quality control given to every wig in our collection. Price starts at $2,391.
Availability
European hair is rare — wig manufacturers can't find it or source it at a large scale, making it more sought-after and expensive. While thousands of Eastern European women used to sell their ponytails in the 90s and early 2000s, the practice dwindled as the Eastern European economy improved. If a wig manufacturer doesn't already have a large stockpile of true European hair, there is no chance of sourcing this rare, gorgeous hair anymore.
Asian hair, on the other hand, is widely available. In Asia, many women in impoverished communities sell bags of their hair to peddlers visiting their villages — similar to what happened in Eastern Europe. However, most Asian hair isn't sold as neatly as Eastern European hair was.
Meaning, it's not Remy hair (ponytail hair) collected from one donor with each cuticle intact.
Most Asian hair used in human hair wigs is accumulated over time. Women spend years collecting strands from their combs, showers, or otherwise fallen hairs. So, there's plenty of hair to go around — but quality Asian hair isn't so widely available because it's not freshly cut from donors.
The COVID-19 pandemic made Asian hair less available due to the periodic border closures of China and India. Closures made it harder for peddlers to get their hair to factories, blocking access to Asian hair and disrupting the supply chain.
---
Which hair is better: European or asian?
Women around the world have gorgeous, healthy, and silky hair. European and Asian women have unique hair qualities that offer women dealing with hair loss and thinning many viable options.
Unfortunately, the methods of collecting and handling the hair lower the quality of most Asian hair wigs and hairpieces. That said, Asian hair is more affordable and widely available, offering women thousands of options for style, texture, color, and versatility.
European hair has superior quality due to its unmatched texture, direct collection method, rarity, natural movement, body, shine, and less-processed production practices. However, all of these benefits come at a steep cost.
At Daniel Alain, we provide our customers with many wig options. While our collection consists of the highest quality 100% European human hair, we also offer gorgeous World Select Hair wigs at a more affordable price. We also take ownership of our entire production, hand-tying each wig to perfection over a meticulous month-long process.
Now that you know the difference between European, Chinese , and Indian hair, you're all set to embark on your wig quest and buy the right hairpiece with confidence. Whether you crave luxurious European hair or stunning Indian hair, you'll find an array of beautiful choices in our premium human hair wig collection. Ready to book an appointment with an expert advisor to help you find your dream hair? Book a Consultation here.
---
Download the ultimate wig buying guide
Not sure if wearing a wig is right for you? Explore our wig buying guide to learn all the basics so you can make the best choice for you.