Five Tips for Getting the Most From Your Daniel Alain Fit Kit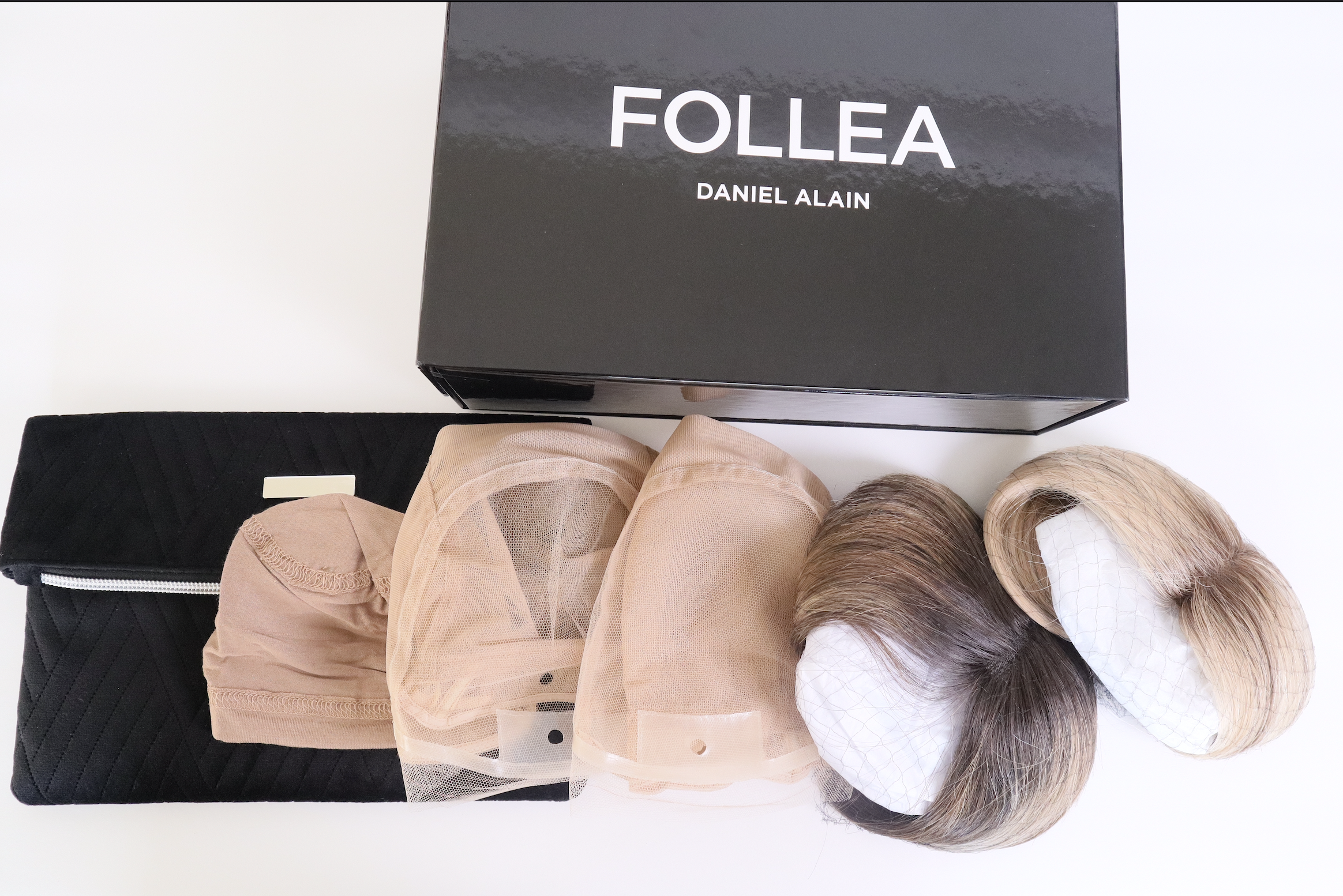 Receiving a Daniel Alain fit kit is an exciting step toward finding your dream hair. Maybe you've been looking for a wig that's perfect for you for a long time. Maybe this isn't your first time purchasing a wig. Either way, a Daniel Alain wig fit kit will help you better conceptualize what your new piece will look like.
Since you only have the kit for seven days, we want to make sure you get the most out of it. We've compiled a list of tips to keep in mind while you have your fit kit. By the end of this article, you'll know exactly how to maximize the time you have with your fit kit to help you make a confident and empowered decision.
Tip 1: Wear your cap(s) for a couple of hours.
When you receive your caps, you'll want to make sure you wear each for a couple of hours to truly see how the cap feels on your head. Taking it off after a few minutes will not give you an accurate idea of how wearing a cap (or wig) all day will feel. After making sure your cap is in the correct position [link to fit kit video], go about your day around the house. Shake your head, maybe do a few jumping jacks.
If you notice any slipping or feel like you constantly need to adjust the cap, the cap may be too big. If your head starts hurting after a bit, the cap is too tight. By wearing the cap for a couple of hours, you'll get an idea of how you'll feel when you have the wig. You want to be as comfortable as possible.
Topper Tip:
If you ordered a topper fit kit, this will look a little different. When you try the base on, make sure that it provides the coverage you desire. Take note of how the clips feel on your hair and scalp. Keep the base on for a bit and ask yourself if you feel the weight and pull of the clips. If you are wearing a topper all day, you want to make sure the biological hair around the topper is strong enough to support the clips.
Tip 2: Look at your color swatches in the sunlight
We recommend trying your color swatches in different lights to ensure you're happy with how the color complements your skin tone in all lights. However, the best way to see the true color of your color swatches is to look at them in sunlight. This shows the nuances of the color and gives you the most accurate idea of what the color will look like on your wig.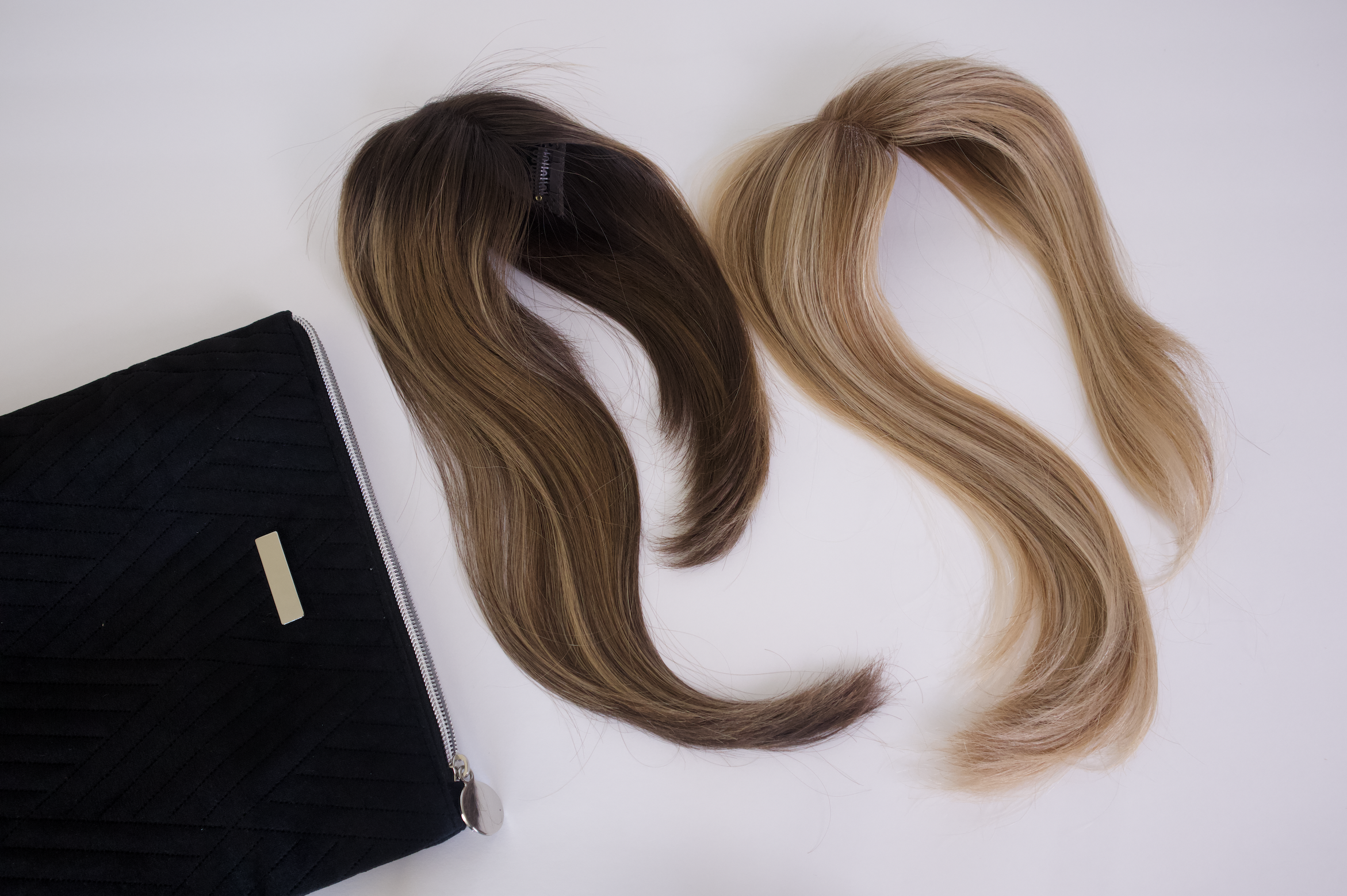 Tip 3: Brush the hair when it arrives and note where it falls
When your hair samples arrive, brush the hair out. This will ensure that you can see the true length of the hair samples.
When you place the samples on your head, make sure that you take note of where the hair falls. Ensure that the hair is oriented correctly, as shown in the image below. On one side, the sample will be at 8 inches. On the other, it will be at 12. If you are considering a 14-inch wig, you will know that the wig would fall two inches past the longer side. If you are considering a 10-inch wig, you'll note that the hair would fall two inches past the shorter side.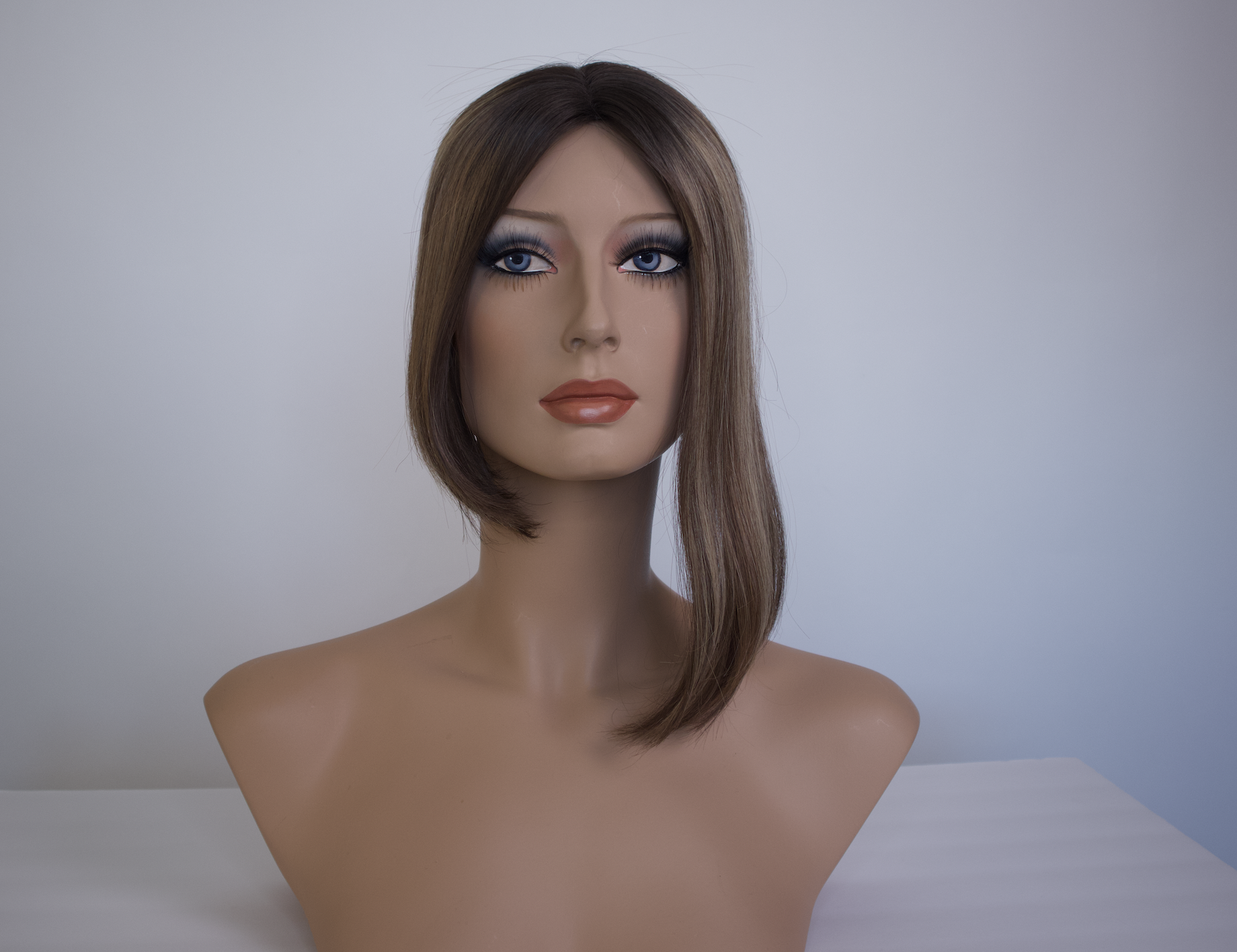 Tip 4: Ask your friends and family for opinions
Oftentimes, we are our harshest critics. It's always a good idea to consult any friends or family members whose opinions you trust to give their input. While this decision is yours, having an outside, objective opinion could help you arrive at the best decision for you.
Tip 5: Get guidance and advice from an expert
One of the most important steps to take while having your fit kit is to follow up with your consultant. Not only can you get an expert opinion, but you can also make sure you are wearing the cap correctly. You can also ask any questions that may come up while you have your fit kit. If you feel ready to purchase after receiving your fit kit, your consultant can assist you with this process.
Schedule a follow-up with your consultant
After reading this article, you will be able to make the most out of the time you have with your fit kit. Buying a wig online can be a stressful experience. Here at Daniel Alain, we want to take some of the stress out of that decision by giving you a chance to experience the cap fit, colors, and length options from the comfort of your home. Following these tips will help you feel more confident in your investment into a Daniel Alain wig.
If you haven't already, be sure to schedule a follow-up with your consultant. If you're still wondering whether to order a fit kit, schedule a consultation and read more about how a fit kit works to learn how it can help bring you closer to your best self, with amazing hair.