How to Style a Wig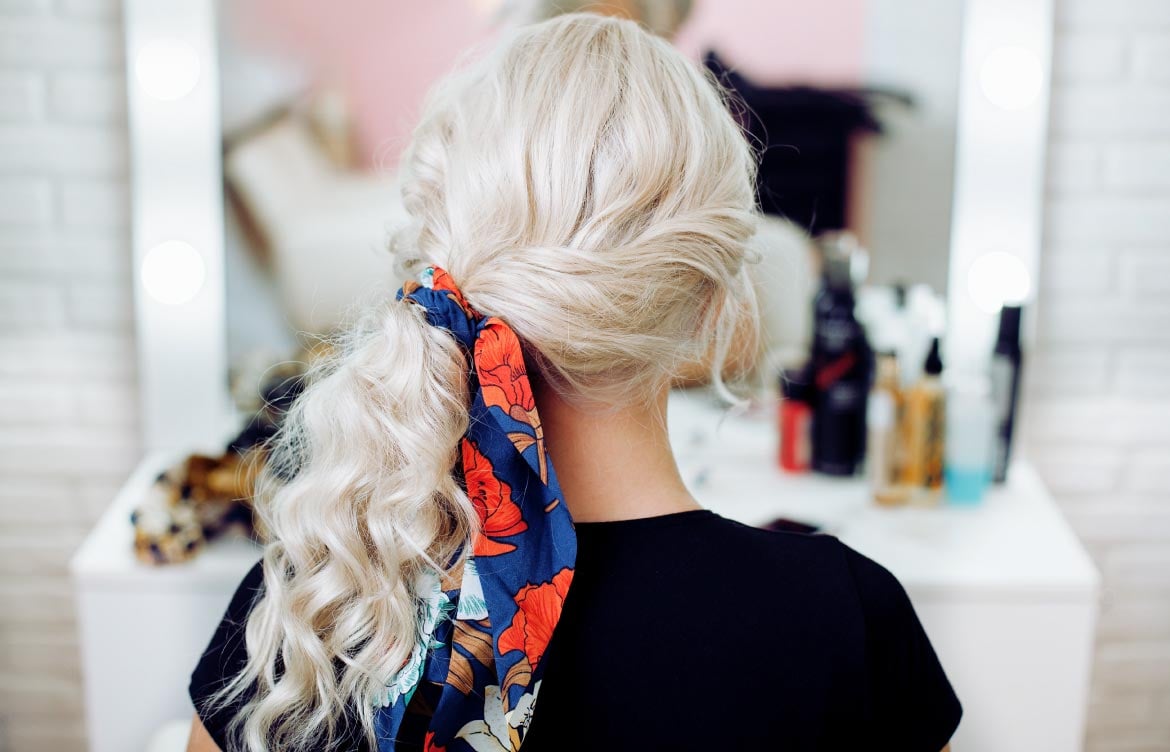 Putting on a luxury, buttery soft wig instantly transforms your appearance. You can have long, luscious locks or a short and sassy cropped style in seconds. Knowing how to style a wig to your desires creates a customized, gorgeous look every day.
Wearing your wig as-is is just the tip of the iceberg. With a bit of styling, you can create an infinite number of looks.
Styling a wig may seem daunting, but it's pretty easy once you get the hang of it. Implement some of our tips for how to style a lace front wig, and you'll be turning heads in no time.
---
BEST TIPS FOR STYLE A HUMAN HAIR WIG
So - how do you style a wig in a way that looks natural, effortless, and chic? We're glad that you asked.
Use a Mannequin Head
The best way to style a wig is on a mannequin head. This will allow you to see all angles of the wig as you brush it, straighten it or curl it. It also helps the wig retain its style after you take it off.
While you can also use a wig stand, mannequin heads have the added benefit of holding bobby pins and styling tools, which comes in handy when creating an updo or other complicated style. They also help you avoid tangles and matting.
Use a Wide-Tooth Comb
Listen up: but the hairbrushes down. Wide-tooth combs are your new best friend in learning how to style a lace front wig, as they help you avoid tangles and won't pull or damage your wig fibers.
Start at the bottom of your wig and slowly work your way up, being careful not to yank or pull at the hair. When detangling knots, be extra cautious and use a gentle touch.
If you don't yet have a wide-tooth comb at your disposal, opt for your fingers instead.
Make Sure Your Wig is Washed
Before styling a wig, make sure it's squeaky clean. Washing your wig will help remove any dirt, oil, or styling products that may be building up on the hair fibers. This will give you a clean slate to work with and help your styling products better adhere to the hair.
Properly Dry Your Wig
After washing your wig, you'll need to ensure it's completely dry before styling. Damp hair is more susceptible to damage and won't hold a style as firmly as dry hair will.
Air Drying your wig is ideal, but if you're pressed for time, you can use a hair dryer. Just make sure to stick to the low, cool setting only. Exposing your wig to too much heat can damage the hair fibers.
Use a Heat Protectant
Before styling a wig with heat, always apply a heat protectant to the strands first. This will help shield your wig from damage and keep it looking healthy. Make sure you only use a product designed specifically for wigs, not just natural hair.
Don't Use Heat Treatment Too Often
As fun as it is to curl and whirl your ends, too much heat styling can dry out your wig strands and cause split ends. When styling a wig with heat, try to limit it to no more than once per week.
If you must style a wig more often than that, ensure you're using a good quality heat protectant product and keeping the temperature as low as possible.
---
How to Straighten Your Wig
Now that you've got the basics down, it's time to learn how to style a human hair wig and get those new strands of your sleek and polished.
Separate the Hair into Sections
Start by separating your wig into sections to make it easier to work with. Use either your fingers or a wide-tooth comb to do this.
Start at the bottom of your wig and work your way up. Create between 4-6 sections depending on the thickness of your wig. Once you've got all your sections, use a hair tie or clip to keep them in place.
Start an Inch Away from the Root
You don't need to get too close to the root when straightening your wig. In fact, it's best to keep the heat from your straightener about an inch away from your scalp. This will help avoid any damage to the lace or cap underneath.
Go down each section of your wig slowly, moving the straightener evenly from the roots to the ends. Don't keep the straightener on each section of hair for too long, and make sure you're not pulling or tugging at the hair as you go.
Add Hairspray
Once you're done straightening your wig, add a light layer of hairspray to help keep your style in place. Make sure you don't go overboard, as too much hairspray can make your wig look stiff and unnatural. Use a wig-friendly hairspray to keep your strands looking healthy and glossy.
---
How to curl your wig
If you're looking for something a little more fun and flirty, why not try curling your wig? Curls are a great way to add volume and texture to your hair, and they can make even the simplest styles look glamorous.
Divide the Hair Into Sections
Just like when you're straightening your wig, you'll want to start by dividing your hair into sections. To make it easier to curl the underneath layers, clip each section to the top of your head. This will help keep your hair out of the way as you work.
The number of sections you do will depend on how big or small you want your curls to be. For tighter, more uniform curls, start with smaller sections. You can use larger sections if you want looser, more beachy waves.
Keep the Temperature Low
When curling your wig, it's important to keep the temperature on your curling iron low to avoid damaging the hair fibers. Don't go above 300 degrees Fahrenheit, and try to stay closer to 250 if you can.
Wrap Each Section Around the Barrel
Once your sections are ready, it's time to start curling! Take each section of hair and wrap it tightly around the barrel of your curling iron. Make sure you hold the ends in place so they don't get caught under the clamp.
Depending on how tight or loose you want your curls, you'll need to leave them in for different amounts of time. For tighter ringlets, leave them in for 10-15 seconds. If you want looser waves, you can leave them in for 5-7 seconds.
Once you've curled a section, hold it in your hand to let the curl cool for a few minutes before styling. This will help the curls set and hold better.
Finish With Hairspray
To keep your curls looking their best, finish with a light layer of wig-friendly hairspray. You can also use a curl-defining product to help give your curls some extra hold and definition—just make sure you wash your wig regularly to avoid build-up.
---
How to add waves to your wig
You can embrace your inner mermaid with some beautiful, beachy waves. This style is perfect for summer weather or for adding a bit of romance to your look.
Divide the Hair Into Two Sections
To start, you'll want to divide your wig into two sections, one on each side of the wig's part. Waves are much looser and more casual than curls, so you don't need as many sections. However, you can split it into four sections if your wig has a lot of hair.
Start at the Bottom
Wrap your curling iron around the ends, going up only to about halfway. This will give you soft, romantic waves that start at the bottom and gradually loosen as they go up. The closer you are to the roots, the tighter the waves will be.
Hold each curl for no more than five seconds before you release. Any longer and you'll start to get curls instead of waves.
Curl In Both Directions
You'll want to curl your hair in both directions to get beachy, effortless-looking waves. Start by curling each section away from your face, then switch and curl them and hold them for a few seconds before release. This will result in that tousled, windswept look that's so popular in the summertime.
Run Your Fingers Through The Hair
Break up the curls even further by running your fingers through your hair after you've finished curling it. This will help to loosen the curls and make them appear even more natural.
Finish With Hairspray
As always, finish with a light layer of wig-friendly hairspray to help keep your style in place. You can also use a bit of sea salt spray to give your waves some extra texture and hold.
---
Hairstyles for lace front human Hair wigs
Rocking a lace front human hair wig allows you to try out virtually any hairstyle you want.
Human hair—especially the 100% European hair used in Daniel Alain's luxury pieces—has a natural body and movement that will make every hairdo you wear envy all your friends. Plus, the small lace front cap ensures a natural-looking hairline that will make even the most intricate styles look like they were your own.
Here are some of our favorite hairstyles to try with your lace front wig.
Braids
Braids are always a popular choice, and they're incredibly versatile. You can wear them loose and romantic or pulled back and sleek, depending on the occasion.
To get started, divide your hair into three equal sections and begin braiding each one from the roots to the ends. Secure each braid with an elastic, then tuck them under or pin them back however you like.
Top Knot
The top knot is a classic style that looks good on everyone. It's perfect for days when you don't have time to style a wig or when you want to keep your hair out of your face.
To get started, gather all your hair into a high ponytail and secure it with an elastic. Then, twist your hair into a rope and wrap it around the base of the ponytail, tucking the ends under. Secure the bun with bobby pins, and you're all set!
Half-Up, Half-Down
Ready to rock a little bit of romance? This half-up, half-down style is perfect for date nights or any time you want to feel extra special. It's a breezy way to look put together without having your hair in your face.
Start by dividing your hair into two sections, one on each side of your head. Gather the top section into a ponytail and secure it with an elastic. Then take the bottom section and curl it with a curling iron. Finish by spraying your hair with wig-friendly hairspray.
Ponytail
Whether you go Ariana Grande-high or keep it low and sleek, a ponytail is always a good idea. It's a simple style that can be dressed up or down.
To get started, gather all your hair into a high or low ponytail and secure it with an elastic. If you want a little volume at the roots, use a teasing brush to backcomb the hair before pulling it into the ponytail. You can also add a cute scarf or ribbon for an extra-special touch.
---
HOW TO COLOR YOUR WIG
One of the great things about human hair wigs is that you can color them just like your own hair. This means that you can experiment with different shades and colors without damaging your hair.
Some women opt to take their wig to a professional colorist to get the perfect shade, but you can also color your wig at home using the same kind of hair dye that you would for your natural hair.
When you're out grabbing your color, make sure you also have these supplies on hand:
Gloves
Dye brush
A glass or ceramic mixing bowl
A wide-tooth comb
A wig stand
A spatula
A towel
Once your tools are ready, you can start the coloring process by following the steps below.
Mix the Dye
First, mix your hair dye according to the instructions on the box. The great thing about human hair wigs is that you can use any hair dye, whether permanent, semi-permanent, or temporary.
Apply the Dye
Once your dye is mixed, it's time to apply it to your wig. Use your gloves to avoid staining your hands, and use the dye brush to apply the color evenly from root to tip.
Start by applying the color to the roots, then work your way down to the ends of the hair. Make sure you saturate each strand completely to avoid any patchy spots.
Dyeing your wig by hand is probably the most popular method, but it's also the most time-consuming. Some people opt to use the bowl method, which involves dipping your wig into a concentrated hair dye and hot water. It's much faster, but there's a great risk of damaging the lace front cap.
Wait for the Dye to Process
After you've applied the dye, it's time to let it sit and process. Follow the instructions on your hair dye box to find out how long you should leave the color in your wig.
Rinse Out the Dye
Once the processing time is up, it's time to rinse the dye out of your wig. Start by rinsing with cool water until the water runs clear. Then, shampoo and condition your wig as you normally would using wig-friendly products.
Drying and Styling Your Wig
After rinsing out the dye, it's time to dry your wig. We recommend air drying your wig after you dye it to avoid damaging the hair with too much heat. Simply put your wig on a stand and let it air dry overnight.
And violá! You're ready to strut your stuff in your brand-new shade.
---
SHOP ONLY THE BEST LUXURY HUMAN HAIR WIGS AT DANIEL ALAIN
Book A Consultation with One of Our Stylists
Wigs give you tons of options for wearing your hair—but only if you invest in a piece that's high quality. That's why Daniel Alain produces only the best luxury human hair wigs on the market, using only the finest European hair sourced from the top 10% of hair found on the planet.
Our skilled, in-house artisans craft our wigs using a hand-tied lace front cap construction. Each strand of hair is individually tied to the lace, creating artificial tresses that flow and bounce just like the real thing.
Plus, our wigs come in various styles, colors, and lengths to suit any taste. And because they're made with human hair, you can style them any way you want—curling, straightening, braiding, and more.
If you're ready to invest in a quality human hair wig that will give you endless styling options, browse our selection at Daniel Alain today. You're sure to find the perfect piece to complement your unique flair.
---
Frequently Asked Questions
Can You Style a Synthetic Wig?
You can put a synthetic wig into certain styles like a low ponytail and a loose braid, but depending on the quality of the wig, certain updos might expose the wig's wefting. Synthetic hair wigs are not heat resistant, so you should avoid styling them with any hot tool.
Can You Dye a Human Hair Wig?
Yes, human hair wigs can be dyed just like natural hair. Box dyes and professional coloring treatments will both work on human hair wigs.
Can You Trim a Human Hair Wig?
Yes, you can trim a human hair wig just like you would trim your hair. We recommend taking it to a professional stylist to ensure it's done correctly and evenly.
How Do You Wear a Wig & Make it Look Good?
Making a wig look good is about choosing the right style for your face shape and features. It's also essential that the wig is of good quality to look natural and flow well.
Learning how to style a lace front wig for beginners can take time, but the more you play around and experiment with styling a wig, the better you'll get at it.
Can You Put Gel on a Human Hair Wig?
You can, but use it lightly. Applying too much gel can weigh down the hair and make it look greasy. If you use gel to slick back your new strands, wash it out thoroughly afterward so that the gel doesn't build up and damage the hair
Which Oil is Best for Human Hair Wigs?
Moroccan and coconut oil are both great for human hair wigs. Apply a small amount of either oil to your palms and then run your hands through the ends of your wig to moisturize the hair and return it to its ultra-soft state.
How Do You Moisturize a Human Hair Wig?
Oil is by far the best way to moisturize a human hair wig. Simply apply a small amount of oil to your palms and then run your hands through the ends of your wig, avoiding the roots. This will help to keep the hair hydrated, soft, and shiny.
How Often Should You Wash Your Human Hair Wig?
Wigs constructed with a lace front are the best option for hiding your hairline. The lace mimics your natural hairline, providing a more seamless and realistic look.
How Do You Make Your Wig Look Natural?
A natural-looking wig is a high-quality wig. Hand-tied European hair wigs with lace front caps by far offer the most realism. The silky strands are individually knotted onto a Swiss lace base, which ensures each wig feels incredibly natural.
Choosing a wig that will last also comes down to learning how to style a wig to look natural. Practice some tips and tricks in this article to continually improve your skills.
How Do I Choose a Wig?
Whether you're choosing your first wig, or your fifth, it's always an intimate process. You want to select a piece that complements your natural beauty as well as your personal style. No matter your reasons for wanting to wear a wig—balding, thinning hair, or just for fun—there's a wig out there that's perfect for you. Here are a few factors to keep in mind when wig shopping:
How frequently you'll wear it
Your ideal color, cut, and length
Whether you want volume or sleekness
If you have any

hair loss

or thinning
Your budget
How Do I Pick a Wig Style?
The best part about realistic human hair wigs is that you can style them any way you want. If you're feeling sassy, put on a wig with some big curls or go for a sleek and straight bob. The sky's the limit! It's all about what you feel your best in—and how much you're willing to learn how to style a human hair wig.
What Do I Need to Style a Wig?
To style a wig, you'll need a few tools and products. Here's what we recommend:
A wide-toothed comb
Wig-friendly mousse or hairspray
A wig-friendly heat protectant spray (if you're using heat styling tools)
A mannequin head
What Should I Know Before Buying a Human Hair Wig?
Lace front human hair wigs are an investment—but one that is oh-so-worth it. Not only do they look and feel incredibly natural, but they also give you the ultimate styling versatility. You can curl, straighten, and style them any way you want!
When shopping for a human hair wig, there are a few things to keep in mind:
Where the hair is sourced from
If the cap is lace front or full lace
If the hair is hand-tied or machine wefted
What Are the Different Types of Human Hair Wigs?
The source of the hair will directly affect your wig's overall realism.
European Hair
Considered the gold standard of hair in the wig industry, European hair is ethically sourced from small villages in countries like Russia and Ukraine. The strands are silky, durable, and on the finer side, resulting in a lighter-weight wig.
Indian Hair
Unlike the sleek strands found in European, Indian human hair wigs offer more volume and texture. The hair is collected from small temples in India, where women donate their hair in a ceremonial act. Because it's more readily available, Indian wigs are more affordable.
Asian Hair
Asian human hair wigs are incredibly popular because they offer a happy medium between European and Indian hair. The strands are thick and durable but still have a soft feel. Asian hair is also more affordable than European hair.
However, many Asian hair wigs are sourced in unsavory ways. Manufacturers will collect strands from drains, the floor, and brushes to create these wigs. So when shopping for an Asian hair wig, be sure to look for ethically sourced options.
Virgin Hair
Everyone wants virgin hair—but virtually no one gets it because it's impossible to find nowadays due to the popularity of chemical treatments and hair dye. If someone is promoting virgin hair, proceed with caution because it's likely not the real deal.
Remy Hair
Remy hair refers not to the location but how the hair is collected
For a wig to be considered Remy, the cuticle has to be intact and running in the same direction. This is important because it prevents tangling, matting, and shedding. When the cuticle is damaged or goes in different directions, it's more likely to tangle.
Where Can I Buy a High Quality Human Hair Wig?
There are a million and one places that offer human hair wigs, but Daniel Alian provides only the best of the best.
Our wigs are made with 100% European hair sourced from the world's largest (and only) private reserve. We hand-tie our wigs to ensure a natural look and feel, and we use the most durable lace fronts on the market.
If you're looking for a high-quality human hair wig that will last you for years to come, look no further than Daniel Alain. Click here to browse our collection of luxury wigs today!