The Pros and Cons of the René Wig From Follea by Daniel Alain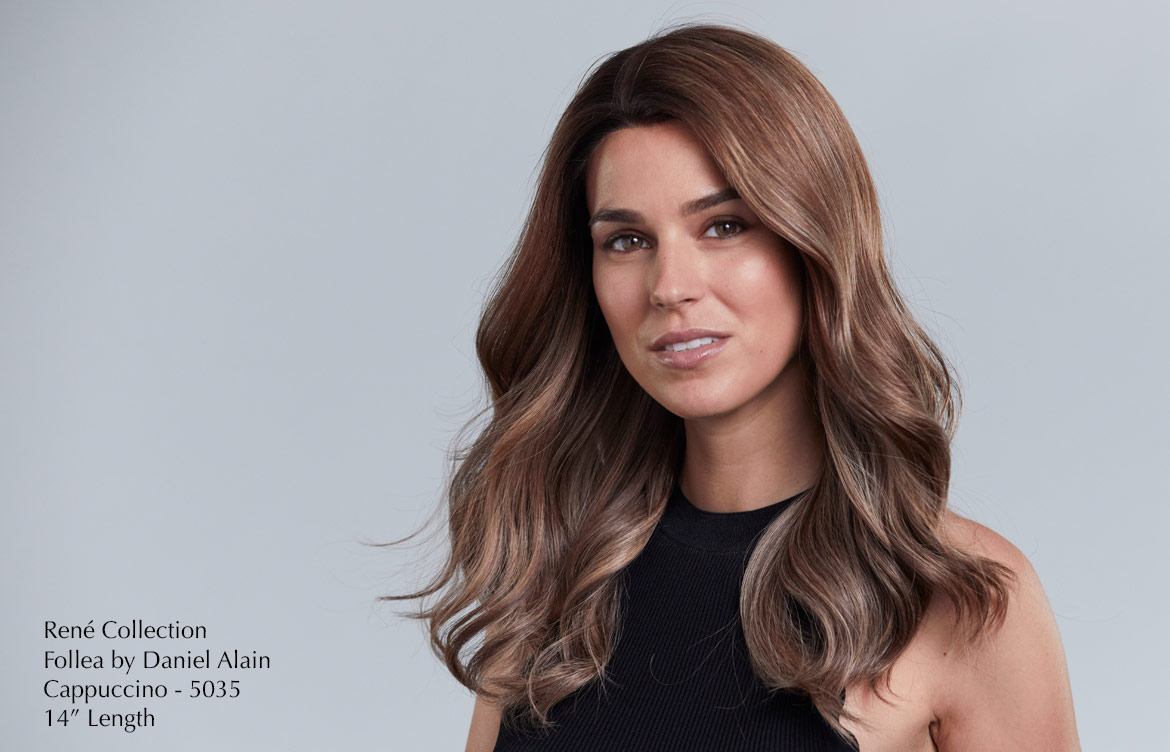 Amidst the emotional turmoil of experiencing hair loss, you may be feeling vulnerable or frustrated, and seeking a solution that truly works for you. If you've tried various treatments that promise hair regrowth, only to be met with disappointment, the idea of exploring human hair wigs may have started to appeal to you. As you begin your research, the vast array of options can be overwhelming, but you have stumbled upon the René collection from Follea by Daniel Alain and you are curious to learn more.
When it comes to creating the most luxurious human hair wigs on the market, Daniel Alain's reputation speaks for itself. With over two decades of experience, we have proudly crafted premium human hair wigs and toppers that consistently exceed the expectations of our valued customers.
Our commitment goes beyond selling wigs: we are dedicated to providing unwavering support and education to anyone seeking a human hair wig, regardless of whether they choose a wig from our range or another brand.
While the René collection boasts numerous advantages, we also acknowledge that it may not be the perfect fit for everyone. We stand by all of our products and create each one with meticulous craftsmanship, but we also understand that different people may have different needs and preferences. Our goal is to provide you with a comprehensive insight, so you can confidently decide for yourself whether the René wig is the right fit for you.
---
---
What is the René wig from Follea by Daniel Alain?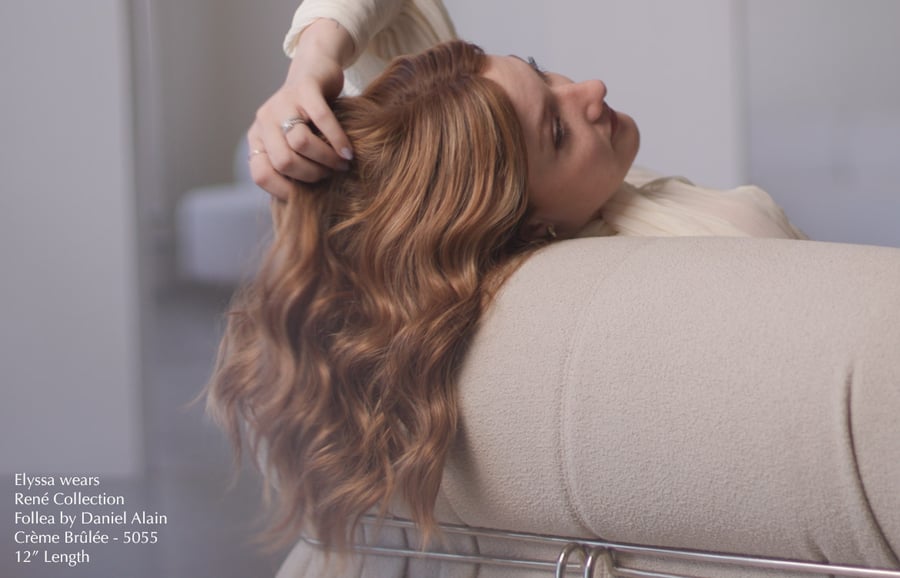 As the lowest-priced collection offered by Daniel Alain, the René wig is the perfect starting point for those venturing into their first wig, or are looking to upgrade their current hairpiece. The René collection combines affordability with quality craftsmanship that offers a natural look and feel. It's available in 16 colors and 4 lengths, 10", 12", 14", and 16".
The René collection features a 100% hand-tied lace top, and machine-wefted sides.
---
Advantage #1: The René wig is our most affordable collection
With prices starting at $2,391 for the shortest length and darkest color, and going up to $3,886 for the longest length and lightest color, the René collection is the most affordable of all our collections.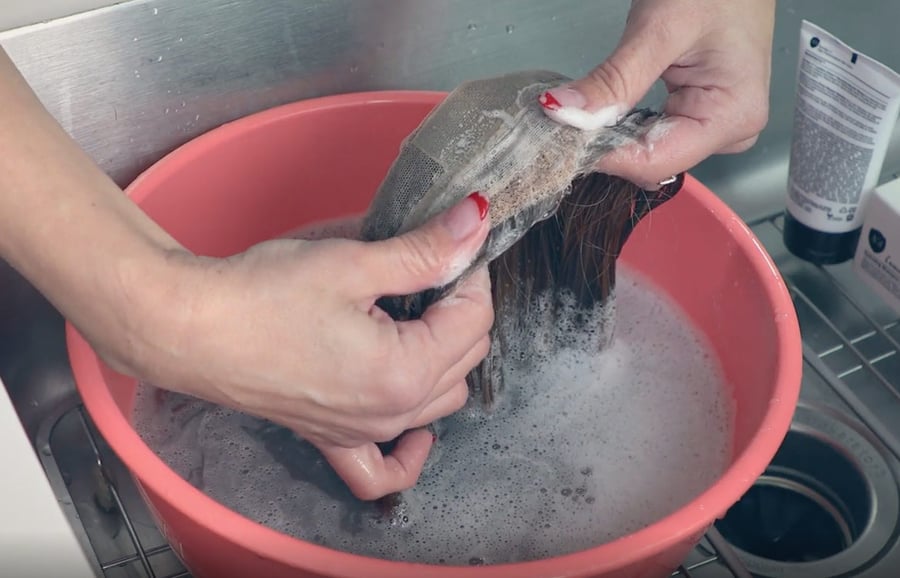 While still a significant price tag, we take pride in the longevity of our René wig. If you've worn synthetic or lower-quality human hair wigs, you will already know that they need to be regularly replaced, with associated costs that can quickly add up. On average the René wigs will last between two and four years with proper care and maintenance, and often even longer, making them a durable and worthwhile investment.
---
Advantage #2: The René wig provides choice
With 16 colors and 4 lengths to choose from, the René collection caters to a diverse range of preferences and styles. Whether you're a newcomer or experienced veterans in the world of wigs, we are sure the René collection has something for everyone.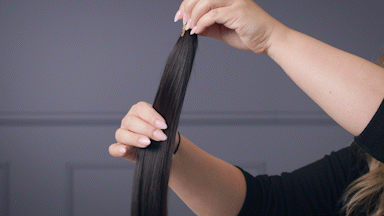 We use World Select Hair, which is a hand-selected blend of Chinese and Indian ponytail hair, for customers who prefer the natural bounce and volume of this coarser hair type. Our high quality hair can be endlessly customized, colored, cut, and styled in the same way as bio hair, which allows you to create a look that suits your personal style.
---
Advantage #3: The René provides styling versatility
Thanks to its 100% hand-tied lace top construction, this wig provides the ability to be parted in any direction you choose. Whether you want a center part or prefer one off to the side, you can wet the hair and use a rat tail comb to define the part line any way you choose.
For people looking to heat style their wig, the René offers the same flexibility as bio hair. You're able to use a curling wand and straightening iron on the hair, but we recommend always using a high heat protectant and keeping the temperature below 350 degrees.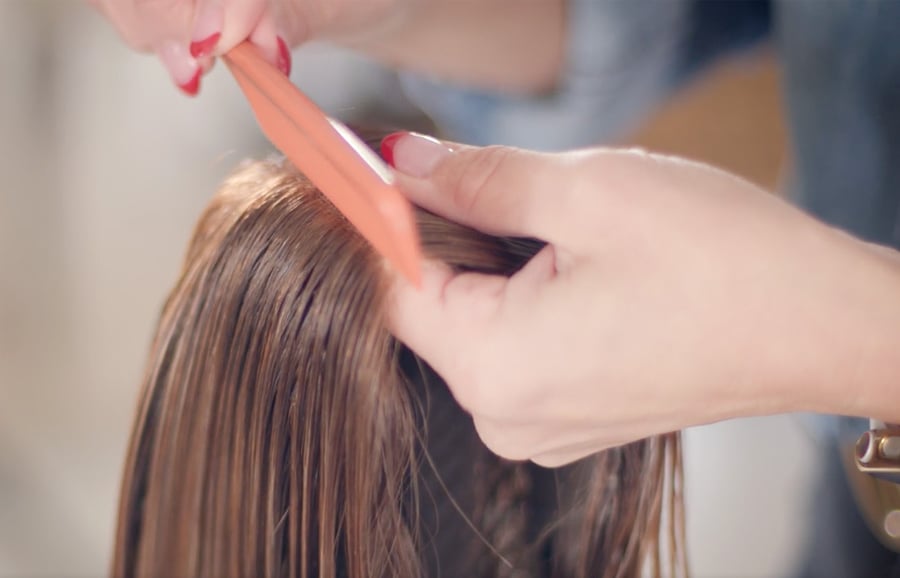 When it comes to styling up-do's, the René is best suited to being worn loose about the shoulders, half-up, half-down looks, low ponytails and braids. The machine-wefted sides make high ponytails and top knots a little more challenging, but certainly not impossible. We recommend practicing in the mirror or with the wig on a mannequin head, to find the best techniques for you.
---
Advantage #4: The René wig can be repaired
Every Follea wig or topper is made in our own, state-of-the-art, modern factory. We control every part of the production process and don't subcontract out any stage of manufacturing. This means we are able to stand behind the quality and integrity of every piece we create and are able to offer repairs if you notice some wear and tear after a couple of years.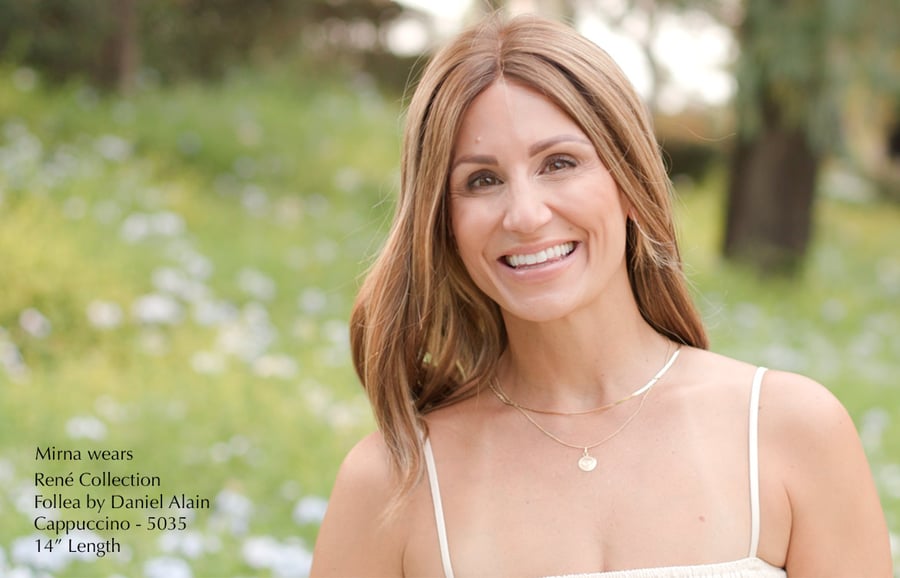 Our range of repair services include density restoration, lace front replacement, ear tab wire replacement, and lace cap repairs. If you have any questions about our repair services, please reach out to our consultants and they will be happy to advise you.
---
Disadvantages of the René from Follea by Daniel Alain
Unbiased information is essential when making decisions, especially when it comes to purchasing the perfect wig. At Daniel Alain, we take pride in the quality of each wig we create. However, we acknowledge that our products may not always be the right fit for everyone. Transparency matters to us, which is why we believe in offering unbiased information to help you make the right choice for you. By discussing both the advantages and disadvantages, we aim to help you make an informed decision. Let's look at the disadvantages of the René wig collection.
---
Disadvantage #1: The René does not have the most realistic scalp appearance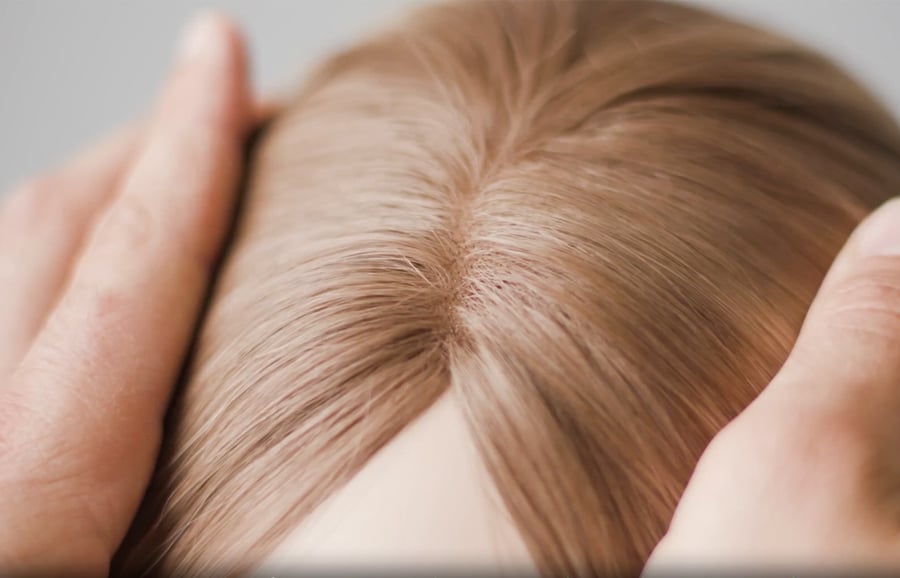 While most of our wig collections feature a silk top that mimics the look of a real scalp, the René collection has a lace top that, upon close inspection, does not have the most realistic scalp appearance. Silk top wigs, such as our Style collection, use multiple layers of material to create the illusion of a real scalp, but lace top wigs are typically lightweight and airy, making them a good choice for people who live in hot climates or overheat easily.
---
Disadvantage #2: Adjusting to the hair density on a René wig may take some time
The density and coarse texture of Chinese and Indian hair can make the René wig feel heavier and it may take some time to get used to. While we hope you instantly love any new wig you purchase, we acknowledge that there's often a learning curve to adjusting to any new look. If you're new to wearing wigs, we recommend asking family or friends whose opinion you trust, taking time to learn to style it in a way that feels natural to you, and seeking advice from professionals if you're unsure.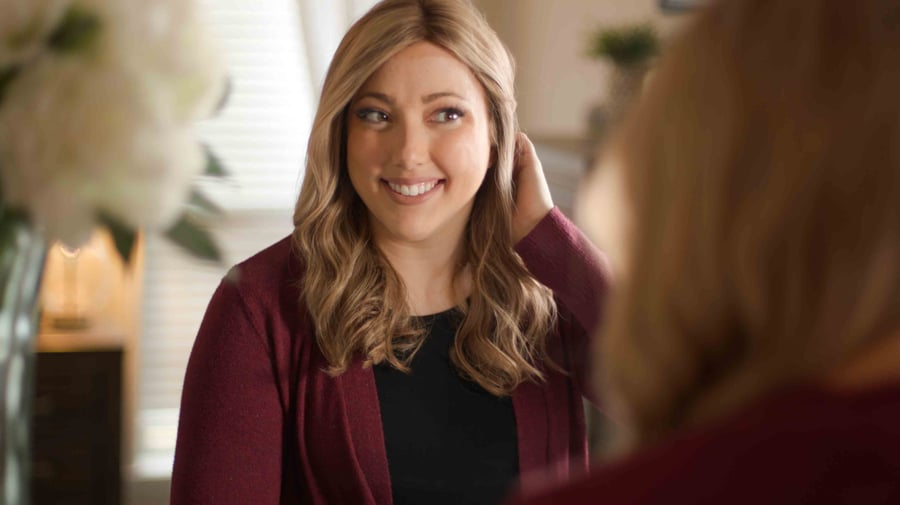 All Follea wigs, regardless of collection, have a seven day return policy. This means you have seven days from the day you receive your order, to return it if you're not completely satisfied. We are committed to helping you find the right wig for you and your unique circumstances, so if you need to return your piece, you may do so as long as it is in its original condition.
---
Is the René wig the right choice for me?
If you're seeking a solution to your hair loss and are fed up with hair regrowth products that don't seem to be helping, you may be considering a human hair wig. You've probably noticed that there's a wide range of wig options with very different price tags, on the market and want to make sure you're making the right choice for you.
While it can be daunting, and you may not know where to start, we hope this list of the advantages and disadvantages of one of our most popular Follea wigs helps you narrow down your options. We also highly recommend reading real-life customer reviews of the René, and checking out what people are saying about them on our social media.
If you still have questions about our René collection, and would like to speak to one of our team, we invite you to book an appointment for a consultation. We are able to offer both in-person consultations in our showroom in Newport Beach, CA, or virtually via Facetime or Zoom. Alternatively, you can check our website to find a certified Daniel Alain retailer in your local area. If you're new to wigs, we know there's a lot to learn. We are happy to help you understand what's right for you.