The Top Three Problems with Synthetic Wigs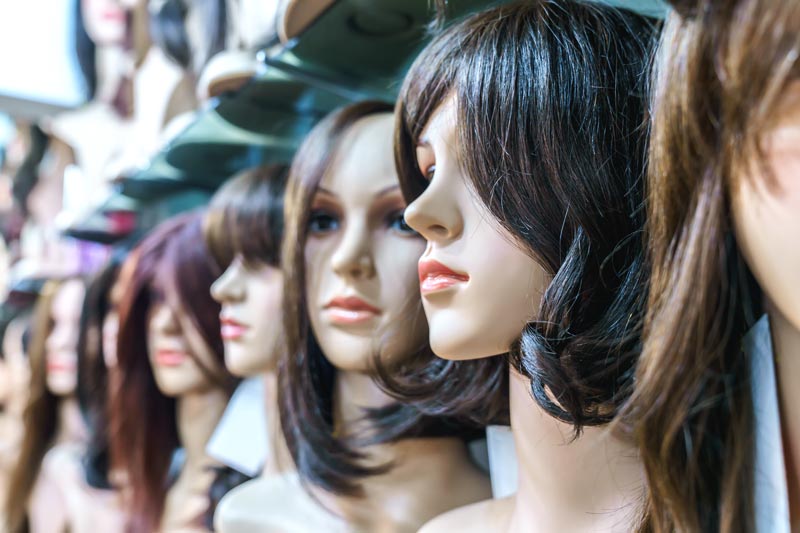 The world of wig-buying is filled with a seemingly endless array of options to choose from. Not only do you need to choose which color, length, or style is best for you, you also need to decide which type of wig to buy. There are two basic types of wigs: human hair wigs and synthetic wigs.
At Daniel Alain, we only sell 100% human hair wigs. Even though we don't sell synthetic wigs, we have a deep understanding of the fundamental differences between synthetic and human hair wigs. Before establishing our company, our founder worked closely with synthetic wigs and his mother wore them throughout her life.
We understand there are times when a synthetic wig is the best solution for you. We want to ensure you are armed with accurate, honest information about synthetic wigs to help you make an informed decision. There are some key differences between human hair wigs and synthetic wigs that may help make your decision easier.
In this article, we'll outline some common problems with synthetic wigs. By the end of this article, you'll know more about the specific characteristics of synthetic wigs to help you decide whether a synthetic wig is a perfect fit for your lifestyle and needs.
Problem 1: Synthetic Hair Materials Look and Feel Unnatural
Instead of being made from natural human hair, synthetic wigs are made of synthetic materials, like nylon or acrylic. These fibers are versatile and found in different objects, from carpets to stockings. The fibers undergo heavy chemical treatments to help them simulate the movement and feel of natural hair. However, most synthetic wigs do not come close to imitating human hair. Even to the touch, synthetic wigs do not achieve the same smooth texture that human hair does.
Lots of synthetic wig caps are open-cap wigs. An open-cap wig is a machine-made cap that features wefting and is very lightweight. These wigs are popular and tend to be very breathable. But without material to line the cap, synthetic hairs sit more directly on the scalp. If your scalp is sensitive, especially after medical treatments like chemotherapy, the materials in synthetic wigs can irritate the scalp.
The "hair" on synthetic wigs tangles quicker than human hair. While wigs, generally, are more prone to tangling because no natural oils are produced from your scalp, human hair wigs are still that: human hair. They can stay untangled longer with proper care because they are the closest thing to naturally growing hair. Synthetic wigs are prone to tangling because of the heavy chemical treatments they undergo which causes dryness and leads to tangling. Routine care can minimize this issue.
Problem 2: Synthetic Wigs Do Not Have a Long Lifespan
Synthetic wigs have a substantially shorter lifespan than human hair wigs. A high-quality synthetic wig can last between four to six months. A heat-friendly synthetic wig's lifespan is even shorter. Toward the end of its life, you'll notice the hair is unable to maintain its shape, frizzes more, or starts to shed hair. Even if you are diligent about caring for your wig, a synthetic wig will not be able to stand the wear and tear of everyday life.
After one synthetic wig is put to rest, you'll need to buy another. If you like the idea of changing up your look every four to six months, a synthetic wig can be a great option for flexibility and versatility. If you're looking for a short-term solution, a synthetic wig is a low-cost investment.
While ideal in the short term, they are not equipped to help a long-term problem. In the time you would buy four or five synthetic wigs, you would have bought only one natural human hair wig.
Problem 3: Synthetic Wigs Look Like Wigs
No one wants to look like they're wearing a wig. The biggest drawback of a synthetic wig is its appearance. Some synthetic wigs look very nice; however, you will be able to tell that the person wearing one is indeed wearing a wig.
The fibers of the wig reflect the light and look plastic-y. Especially in direct sunlight, this can give the wig an unnatural shine. In a darker room, this may not appear to be an issue. When you try on a synthetic wig, be sure to look at it under light to see how shiny it is. You may be surprised to see how unnatural it appears in a well-lighted space.
The synthetic fibers that make the hair strands do not have the same movement as natural hair does. Synthetic wigs can have stiffness to them. If you were to toss naturally growing hair over your shoulder, it would move fluidly, floating and bouncing before descending over your shoulder. A human hair wig can mimic this movement. If you were to toss synthetic hair over your shoulder, it would not have the same flow and bounce as human hair. Since synthetic wigs are prone to tangling, this movement may disrupt your style while you're out.
More than anything, synthetic wigs look synthetic. Even high-quality synthetic wigs do not look natural. If you're struggling with hair loss, the last thing you want to feel is like everyone knows you're wearing a wig.
Deciding to wear a wig may have been an emotional journey. There may have been many moments where you refused to wear a wig. Perhaps you've come to terms with needing a wig. Or perhaps you're looking for different options for wigs.
When Might a Synthetic Wig Be Good for Me?
A synthetic wig is an excellent short-term option for those exploring the world of wig buying and wanting to test out styles to see what they'd like to commit to for the long term.
Synthetic wigs offer versatility in look because you can change them so often. But if you're looking for a long-term solution, a synthetic wig may not offer you the longevity and quality you need to go the distance.
What if a Synthetic Wig Seems to be the Wrong Choice for Me?
You are worth investing in. Your comfort and positive self-image are worth the investment. It's worth investing in a wig that will help you feel like your best self.
You don't have to be ready right now. Maybe you still have some questions about human hair wigs. Maybe you want to be sure this is what you want to do. And that's okay. Here at Daniel Alain, we understand the process of buying a wig takes time and can be filled with questions.
Reading about the pros and cons of human hair wigs can help you gain clarity on what some other options are. It can also help to hear from real women about their human hair wig.
We are here with you every step of your journey. Whether you're ready to begin that journey or you want more information and questions answered, we invite you to connect with a Daniel Alain wig expert for a personal consultation.