Why a Hair Topper Wasn't Right for Me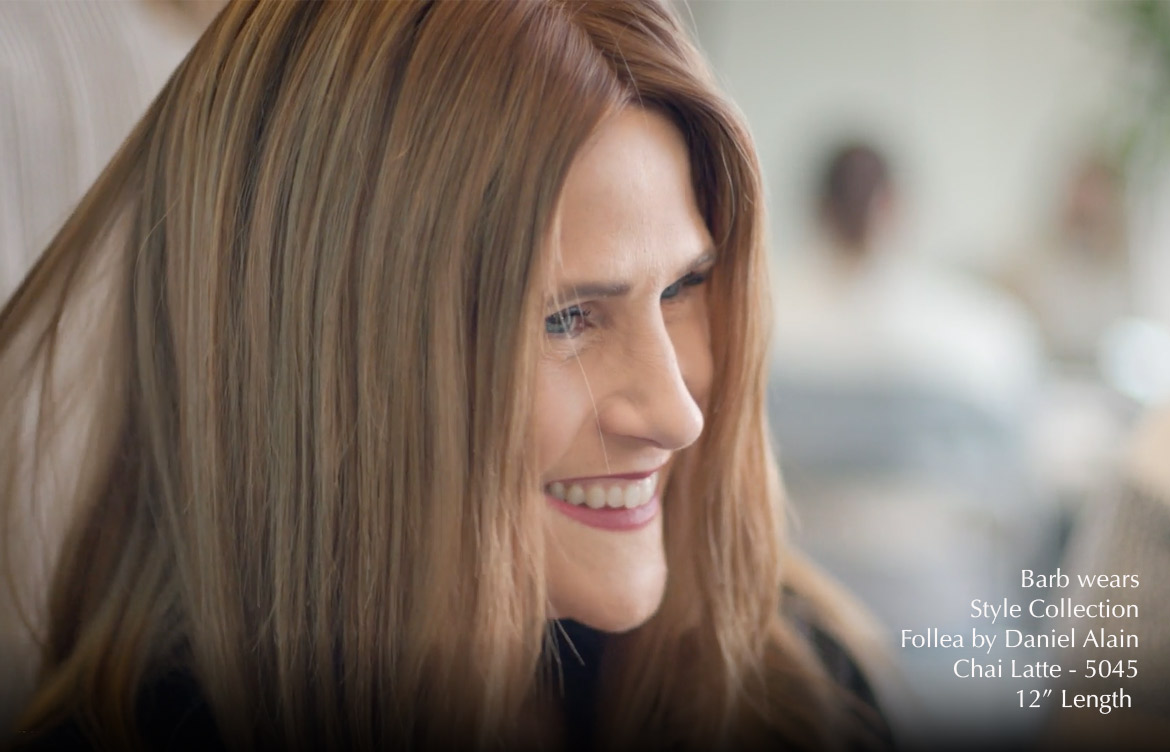 Losing your hair can be an overwhelming and distressing experience. Historically, hair loss in women hasn't been openly discussed, and discerning the facts and information from the rumors, myths, and whispered stigmas can be perplexing. Anyone who has researched hair loss solutions has likely been bombarded with promises of miracle lotions, potions, and cures.
But the truth is, sometimes, nothing works.
Sometimes, the only way to deal with hair loss is to cover it with alternative hair such as wigs or toppers.
Many women have turned to human hair toppers to provide the volume and coverage their bio hair cannot. You may be wondering if a human hair topper is right for you too.
Here at Daniel Alain, we work with women experiencing hair loss daily. We regularly encounter women considering wearing a topper, and we help them decide if it's the right choice for them, or not. We see countless customers who are the perfect candidate for one of our human hair toppers. They have an appropriate amount of hair loss requiring coverage, and their bio hair is strong enough for the topper's clips to attach.
We also sometimes encounter women who put all their hopes into being able to wear a topper, but they don't have the bio hair to support one.
One of our customers, Barb, came to us with her dreams poured into wearing one of our human hair toppers but left wearing one of our wigs.
Barb is going to discuss the three main reasons why her Daniel Alain consultant advised against her wearing a topper. We want you to know that although toppers are often an exceptional choice for many women looking to cover partial hair loss, they're not always an option for people with more extreme balding.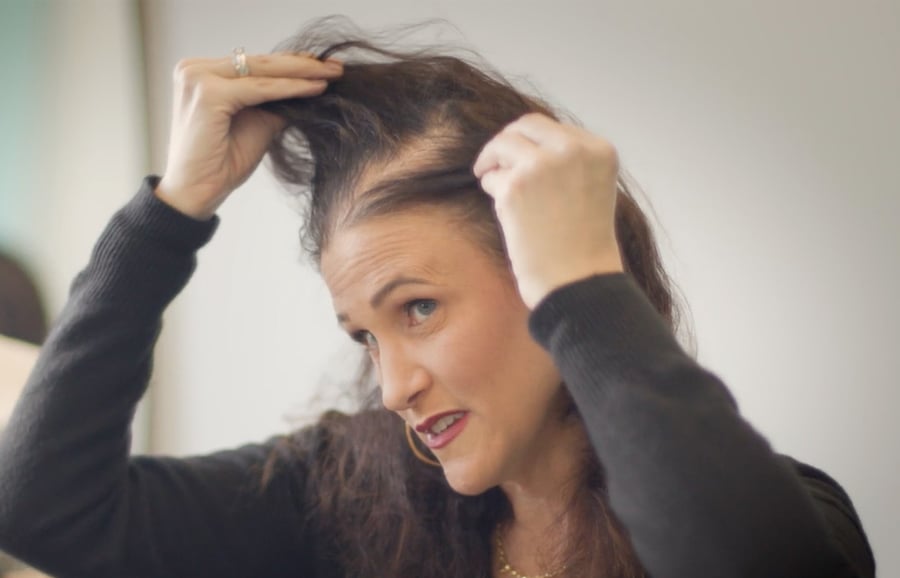 The three main reasons a topper wasn't the right option for Barb are:
Barb didn't have a strong enough hairline to wear a human hair topper

Barb didn't have strong enough bio hair on her crown for a human hair topper

Barb's hair texture wouldn't blend with the human hair topper
---
---
What exactly is a human hair topper?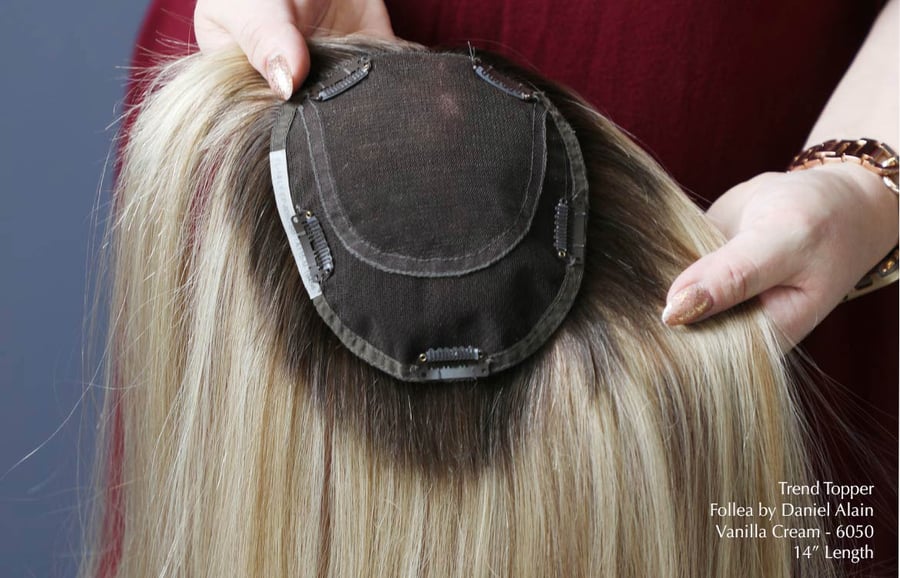 A hair topper is a hair piece designed to provide volume and partial coverage to thinning hair. Unlike wigs that are designed to cover your whole scalp, a topper is attached with clips or adhesives and blends naturally with your bio hair. Toppers come in a range of sizes depending on the area you want to cover, and for the most natural look, you should opt for a topper that closely matches the color and texture of your bio hair.
Having suffered from hair loss her entire adult life, at age 40 Barb found herself considering wearing hair. "The amount of scalp you could see was becoming significantly more noticeable and that made me feel extremely self-conscious," explains Barb.
She booked a free consultation with the team at Daniel Alain and had a determined plan to find the very best human hair topper for her.
Telling a customer that what they want isn't the right thing for them is always tricky. But at Daniel Alain, we believe in having the difficult conversations and always aim to give the best advice, even when it's not what people want to hear.
---
---
3 Factors to consider when deciding if a hair topper is right for you
How strong is your front hairline?
Barb's consultant pointed out that for a hair topper to blend seamlessly, you need a strong front hairline. Barb did not have enough hair around her forehead and temples.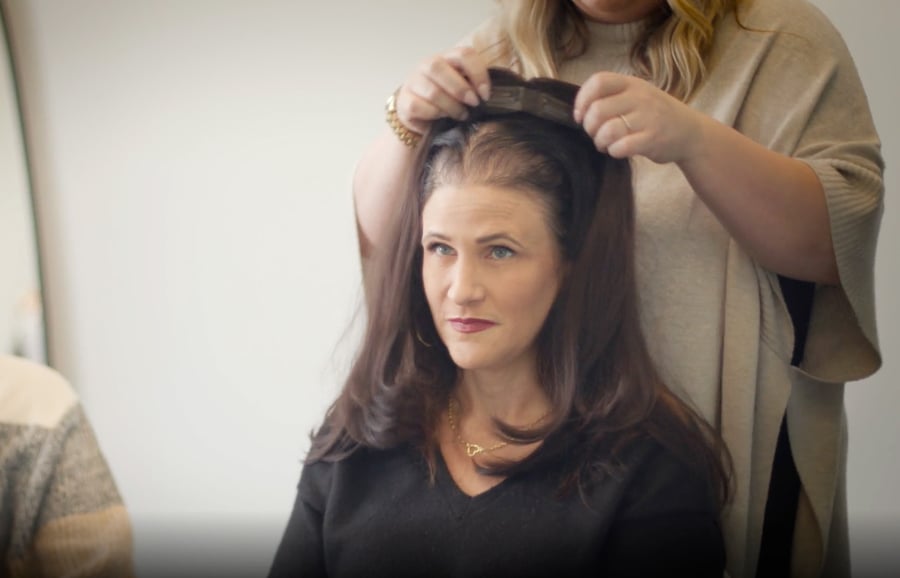 "You need a strong hairline in order for the topper to blend in with your bio hair," says Barb. "You want to pull some pieces of your own hair forward and out from beneath the topper and this gives you the most natural look. I didn't have enough hair to do that."
The very best human hair toppers are completely indistinguishable from your bio hair. For a human hair topper to look natural, pulling out some face-framing pieces of your bio hair will help you achieve the most natural look at the hairline. Barb's hair was too thin around the front of her head, and there wasn't enough hair for the topper to blend in.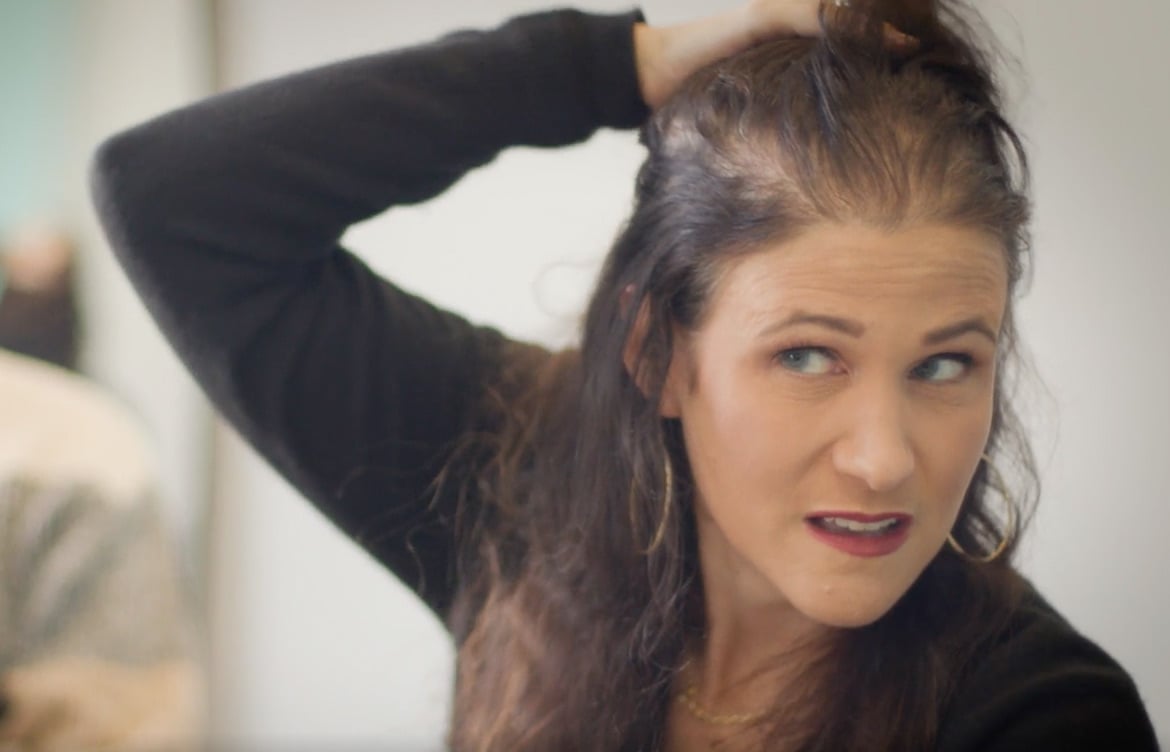 How strong is your hair at the crown of your head?
"Another reason that a topper didn't work for me is that you have to have strong enough bio hair on the crown of your head for the clips to be able to secure to your hair."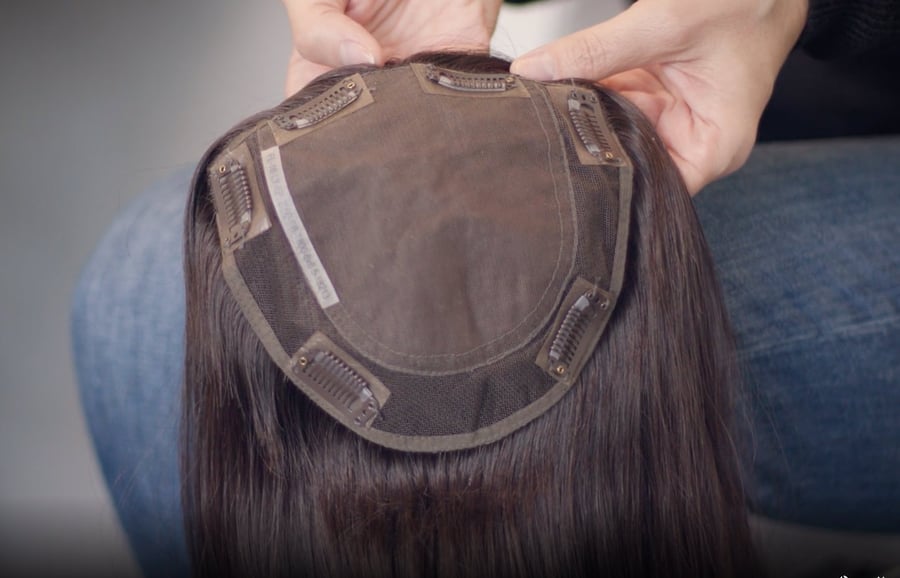 Human hair toppers are attached to the hair with clips, and your bio hair needs to hold them in place. If your hair is weak and very fine at your crown, there may not be enough hair to support the clips and keep the topper in position securely. Using clips in hair that is already very weak and thin can cause further damage and even rip out more strands.
How will a hair topper blend with my bio hair?
"For a topper to look natural, you have to be able to blend the topper into your bio hair. My hair is curly and frizzy and I didn't want to straighten it every day. I'd have to work really hard to make my bio hair blend in with the European hair of the topper."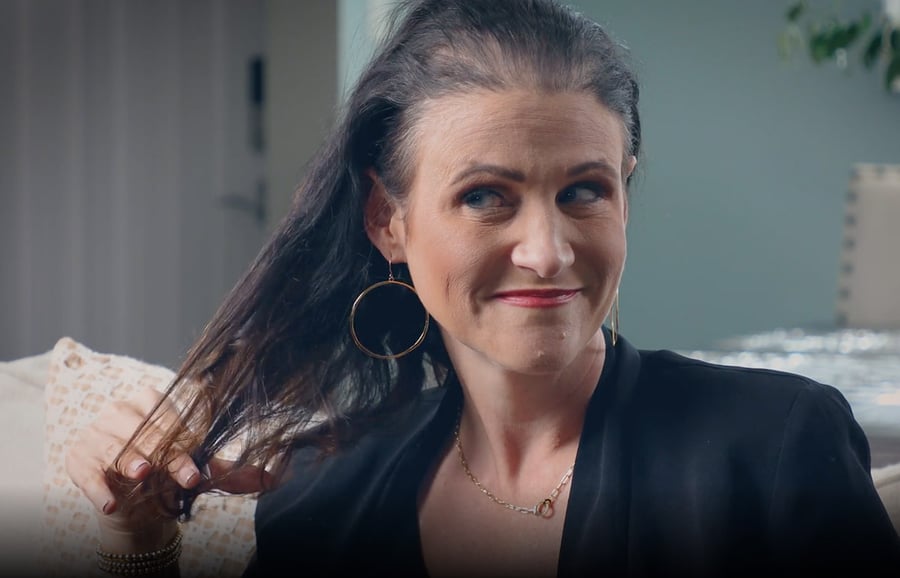 For the most natural look, it's important to find a topper that blends well with your bio hair. It will need to match the color and texture of your own hair.
Barb's bio hair is thin but very textured. While it's possible to wear a topper with a finer hair texture than your own, you'll have to style both your own hair as well as the topper's hair, so that they match. It's hardly a quick option for people looking to throw on a topper and go.
---
Finding the best human hair wig for me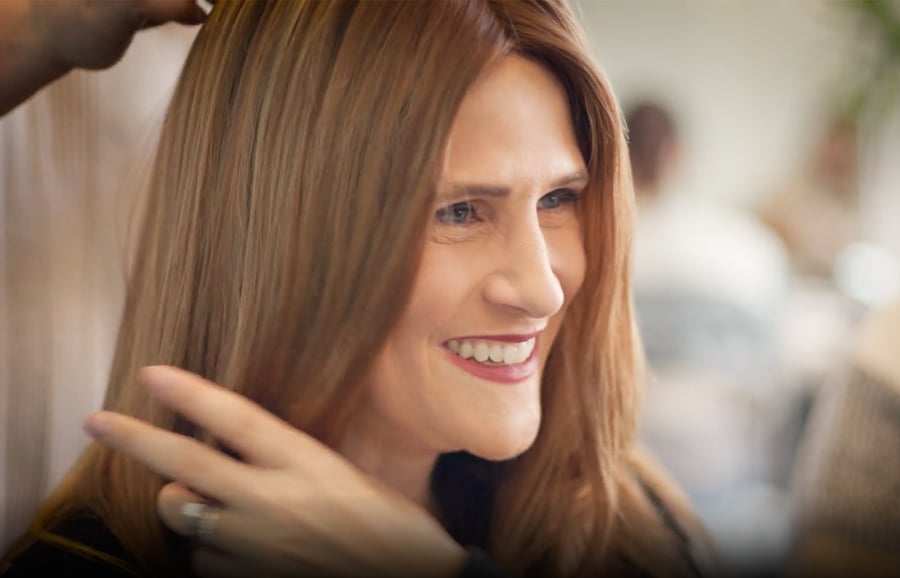 "When my consultant shared with me the reality that toppers weren't going to be a good option for me, I was devastated. I was crushed that my hair loss was so advanced and worse than I had thought."
For Barb, it was catastrophic to learn she wasn't a good candidate for a human hair topper. Not only did it mean her hair loss was more advanced than she had realized, but she also had to rule out toppers as a viable solution.
Realizing her hair loss required the full coverage only a human hair wig could provide was initially an upset that Barb wasn't prepared for. To be told that wigs were her best option for wearing hair, no matter how delicately the information was delivered, was devastating.
With gentle encouragement from her consultant, Barb tried on some human hair wigs from Follea by Daniel Alain. Although she needed support and cheerleading from those around her, Barb eventually warmed to the idea of wearing a wig.
Seeing and feeling the benefits of a full head of natural-looking hair, it didn't take long for Barb's new wig to feel part of her. She began to regain her confidence and shed the insecurities that had been holding her back. These days, she proudly wears and shares her wig-wearing with her online following and carves out her business by authentically sharing her story.
---
Is a human hair topper right for you?
When Barb began her journey towards wearing hair, she assumed a topper was the best way forward. She didn't know what factors would make a topper unsuitable for her, and she didn't realize her hair loss was advanced enough to require a wig.
If you're wondering whether or not a topper is the right option for you, we can help. The best way to determine whether a topper is right for you is via a free consultation with one of our experienced, expert consultants.
We would love to get you feeling confident about your hair, whether it's with a wig or a topper, and we're sure we can help you find the perfect option for you.
---
---