Minoxidil | Men's Minoxidil | Women's Minoxidil
Does Minoxidil Work For Everyone?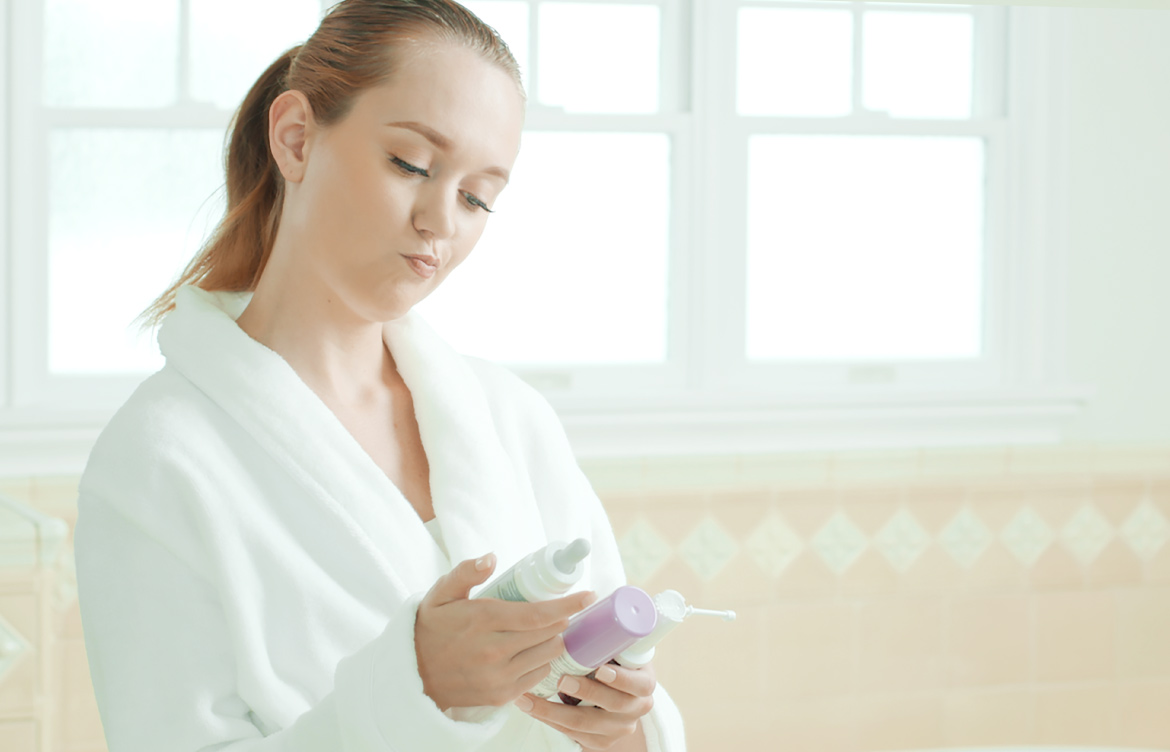 Minoxidil is an FDA-approved hair loss solution that regrows lost hair. Popular brand name versions like Rogaine® tout impressive effectiveness, but a closer look reveals a harsh truth: Minoxidil doesn't always work.
But why doesn't Minoxidil work for everyone?
Daniel Alain embarked to find out in his state-of-the-art lab, employing only the best dermatologists and scientists to explore Minoxidil's effectiveness. Along with 100% European human hair wigs, Daniel Alain offers innovative products to make Minoxidil work for you.
But the question remains: why isn't Minoxidil working for me in the first place? We know you don't have months to squander waiting for results — family events, work meetings, and that much-needed vacation await!
Keep reading. We'll walk through how Minoxidil regrows hair, why it doesn't work for everyone, and how you can optimize the drug if you aren't a responder.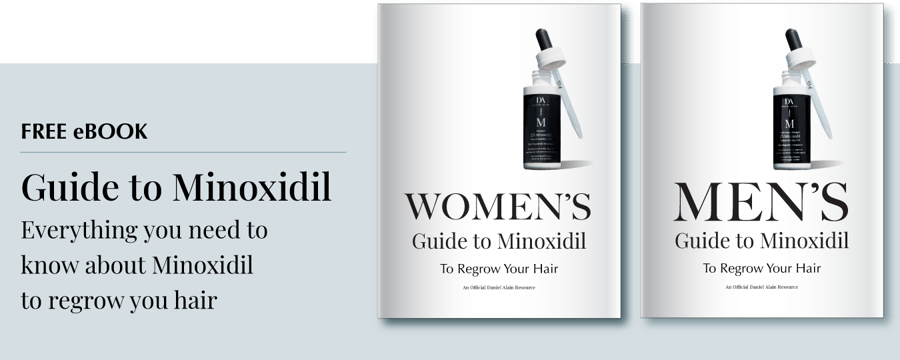 ---
WHY MINOXIDIL MAY NOT WORK FOR YOU
Most hair loss solutions can't regrow your hair. Your average cream or product might contain emollients or other nutrients to promote hair health. Solutions like INTACT focus on retaining existing hair.
Minoxidil was a game changer in the hair loss industry because it showed promising results at regrowing lost hair.
And it didn't need long recovery times for scarring, like hair transplants, or excessive price tags like PRP (Platelet-Rich Plasma).
Minoxidil shortens your hair growth cycle's telogen phase, speeding up its course to the coveted growth phase and extending it (anagen). Originally formulated as a vasodilator, Minoxidil stimulates hair follicle microcirculation and enables better oxygen flow and nutrients. Finally, the drug has been proven to increase hair diameter and length.
But something was missing in countless studies. All the above reasoning didn't explain why Minoxidil only worked for 30-40% of people who tried it.
So, why doesn't Minoxidil work for everyone?
Your hair loss cause could offer some clarity. Minoxidil is an FDA-approved drug for androgenetic alopecia — genetic hair loss. If you have chemotherapy-related hair loss, telogen effluvium, seasonal hair shedding, or hair loss resulting from medication, Minoxidil might not be as effective.
If you're undergoing chemo, the hair loss won't stop until the treatment does. Likewise, telogen effluvium won't subside until you remove the stressor — nutritional elements or life stress, for example. And seasonal hair shedding? That's just a matter of time.
But if you do have genetic hair loss and still don't see results?
It's a common story. Unfortunately, some men and women with androgenetic alopecia still wonder: why isn't Minoxidil working for me?
Nobody knew until Daniel Alain investigated.
Our team of professionals discovered a key factor in Minoxidil's effectiveness: SULT1A1 enzyme activity.
If your scalp naturally produced this enzyme environment, Minoxidil would work for you within a few months. Congratulations — you're a responder. If it didn't? You could go years applying Minoxidil religiously to no avail.
See, SULT1A1 enzyme activity is the only way your scalp can activate Minoxidil's active component: Minoxidil sulfate.
But how do you know if you have it?
---
HOW TO TELL IF MINOXIDIL WILL WORK FOR YOU
Scientists around the world accepted Minoxidil's long waiting period for results. Many hair professionals agree you wouldn't see regrowth for at least four months, but usually between 6-9.
Imagine waiting that long only to see absolutely zero results. Naturally, you're going to wrack your brain to answer the frustrating question: Why isn't minoxidil working?
Maybe you've already been there. We know hundreds of men and women that have given up on Minoxidil after months of minimal results.
Hair loss is so paralyzing when you're uncertain about your specific cause and the right treatment. Awareness doesn't solve the shame and discomfort, but it does soothe some anxiety.
That's what we set out to achieve when we created the Minoxidil Response Test (MRT).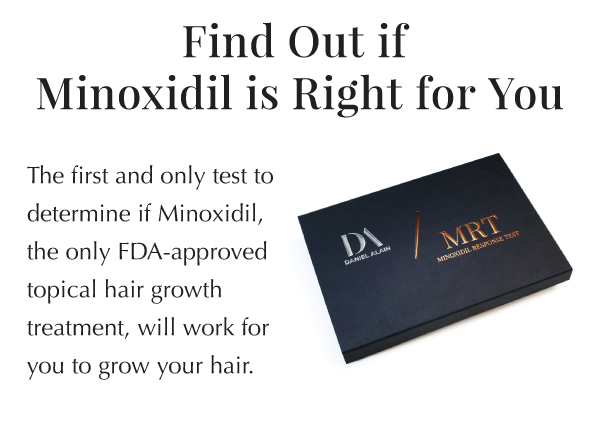 Daniel Alain's MRT is the only sure way to know whether you'll respond to Minoxidil. And it takes between 1-2 weeks to give you answers. Forget taking months-long leaps of faith in your hair loss journey. Our test gives you the certainty you need to embark on a hair loss solution — Minoxidil or other — with confidence.
How Minoxidil Testing Works
Let us bring the same professionalism, accuracy, and certainty we have in our CLIA-certified lab to your home. We've made testing for Minoxidil as non-invasive and seamless as possible with the MRT.
The whole process takes a maximum of two weeks, from start to finish.
Here's how:
Order your MRT kit on Daniel Alain's website. Each kit, whether for men or women, costs $139.00.
Register your kit.
Pluck six hair strands off your head.
Send Daniel Alain your hair strands for testing. We'll test them for SULT1A1 enzyme activity in our CLIA-certified lab, which holds state and federal certifications. Additionally, we submit to regular inspections.
Wait for result. We'll let you know whether Minoxidil will work for you within 7 - 14 days! Beat testing out Minoxidil for months, right?
Worried about confidentiality? We're HIPAA-compliant and use bank-grade encryption to protect customer data. So rest easy, knowing your hair strands and health information are secure, safe, and discreet with Daniel Alain.
But what if you test negative for the SULT1A1 enzyme activity?
You have two options. Perhaps you can explore other hair loss solutions like premium, human hair wigs, or hair retention through INTACT.
If you're intent on regrowing lost hair, you could also try hair transplants or PRP, but those are costly procedures that could leave scarring.
Minoxidil is always an option for you if you allow Daniel Alain to help! But it's not the only hair loss solution.
---
TAKE CONTROL OF YOUR HAIR LOSS WITH DANIEL ALAIN
So, why does Minoxidil not work for everyone? It could be a matter of an incompatible hair loss cause, or a lack of SULT1A1 enzyme activity.
But you can secure your odds with Daniel Alain's MRT.
Of course, you'll still need to wait months to see results — a downer if you're dreaming of va-va-voom volume for next weekend's soirée.
If Minoxidil doesn't meet your needs, our 100% premium European human hair wigs will. We source the top 10% of hair in the world from Eastern Europe and place it in the hands of skilled wig artisans to create our Follea collection.

Whatever your hair loss goals are, get in touch to see how we can help!
book a free consultation
Our stylists will help you find the right hair loss treatment for you
---
Frequently Asked Questions
How Much Does Minoxidil Testing Cost?
Daniel Alain's Minoxidil Response Test (MRT) costs $139.00 for both men and women. You can also make installments of $35.00 per month for four months.
How Do I Apply Minoxidil?
Always follow application instructions closely when applying Minoxidil. You'll find them on the box or inside a pamphlet. Remember, Minoxidil has both a liquid and foam form. We'll walk through instructions for each.
Liquid solution application instructions:
Separate your hair into distinct sections.

Fill the applicator to the instructed amount (1ML).

Drop the liquid with the applicator onto exposed areas of your scalp.

Rub the solution into your scalp with your fingers.

Let rest on your scalp for a minimum of four hours.
The liquid solution is just as effective as the foam solution. However, people who use the liquid solution report more instances of allergic contact dermatitis than with the foam solution.
Foam solution application instructions:
Look for specific thinning areas of your hair.

Separate your hair into sections.

Dispense the required amount of foam onto your fingers.

Beginning with thinning areas at the back of your head, apply the foam solution to your scalp.

Massage the solution with your fingers,

Let rest on your scalp for at least four hours.
How Long Does Minoxidil Take to Work?
Minoxidil can take four months to work for some users, but most experts agree a 6-9 month timeline is more common.
How Do You Know if Minoxidil is Working?
The first sign of Minoxidil's effectiveness is shedding. At the start of treatment, Minoxidil speeds up the telogen phase (resting). Now, this takes your hair growth cycle closer to the anagen (growth phase).
However, you'll end up passing through the exogen phase (shedding) first. If you notice shedding continues for longer than a few weeks, consult a doctor.
Is There a Way to Make Minoxidil More Effective?
Daniel Alain's Enzyme Supplement is a sure way to improve Minoxidil's effectiveness. If you don't have SULT1A1 enzyme scalp activity, the supplement boosts the enzyme to help activate Minoxidil.
Does Minoxidil Thicken Hair?
Yes, Minoxidil is known to increase hair diameter and regrow lost hair, which both increase density and make your hair look thicker. On top of that, it mitigates thinning along a widening hair part, and fills in receding hairlines.
Can Minoxidil Worsen Hair Loss?
Yes, Minoxidil can instigate hair shedding at the start of treatment. However, that's a sign the drug is working. Minoxidil accelerates the hair growth cycle, which passes through a short stint of hair shedding. Just consult a doctor if the shedding doesn't subside within a few weeks.
What Happens if I Use Too Much Minoxidil?
You should always follow application instructions to avoid under or overusing the drug. While extra applications aren't known to cause any serious effects, higher-potency versions of Minoxidil, namely the 5% over the 2% solution, sometimes cause hypertrichosis (excessive hair growth on the body).
What is the Alternative to Minoxidil?
You have plenty of alternatives to Minoxidil. While few can regrow hair, most offer the coverage you need to feel confident about your hair again.
Daniel Alain's premium, 100% European human hair wigs offer unparalleled bounce, sleekness, and security even through your highest-activity days.
And if you want to stop your hair shedding under the wig? INTACT can help with its root-securing technology and hydrating coconut fatty acids.
Do You Need to Use Minoxidil Forever?
Unfortunately, doctors link Minoxidil effectiveness to the length of time you use it. That means ceasing application might result in hair shed returning. Of course, you could try a human hair wig or a topper if you're tired of applying Minoxidil.
Our wigs are hand-tied and made with premium European human hair — two ingredients to an undetectable, voluminous look.
Can You Develop a Tolerance to Minoxidil?
Technically, you can't develop a tolerance to Minoxidil. But if you notice effectiveness dwindling, your genetic hair loss could develop faster than Minoxidil's effectiveness.
When Should I Stop Using Minoxidil?
You should only stop using Minoxidil if you feel comfortable enough with your hair loss situation to accept shedding. Or, you might stop applying Minoxidil if you find another solution that works better for you.
How Often Do You Need to Use Minoxidil?
You should apply Minoxidil twice daily to see best results. If you miss an application, don't worry. Either apply Minoxidil as soon as you remember, or continue your regular schedule if it's close to your next dosage time.
Does Minoxidil Only Work Where Applied?
Yes and no. While instructions guide users to apply Minoxidil on the scalp, some people notice hair growth in other areas. Hypertrichosis is sometimes a side effect, resulting in body hair on the back, face, stomach, arms, and more.
How Often Should I Wash My Hair While Using Minoxidil?
You should wash your hair every couple of days, or as often as recommended by a hair stylist or doctor. Minoxidil shouldn't change your hair hygiene routine. However, you shouldn't wash your hair until after four hours since your last Minoxidil application.

If you take Minoxidil for nine months or more and still don't see results, chances are the drug isn't working. But the best way to know for certain if Minoxidil will work is to take Daniel Alain's MRT.