The Best Natural Human Hair Wigs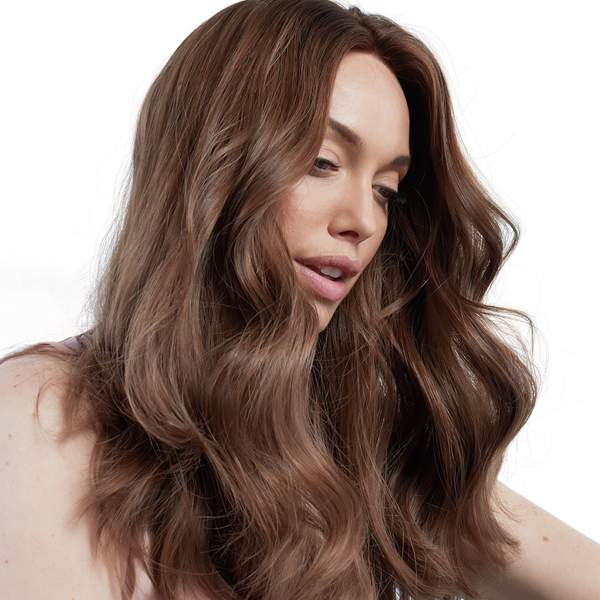 Realism is the ultimate goal when you decide to wear a wig—and natural hair wigs offer the closest approximation to real hair, especially those made with premium human hair.
Unlike synthetic wigs, the highest-quality natural wigs are made of 100% human hair. Because the hair is real, it's virtually undetectable to the naked eye (and to the touch). It can be styled any way you want, and no one will be the wiser.
Daniel Alain's natural hair wigs are made from 100% real European hair, making them the most luxurious and lifelike wigs on the market. Whether you're dealing with hair loss or looking for a new style to rock, Daniel Alain's natural wigs will give you the confidence you need to take on the world. Ready to flip, flaunt, and style your most fabulous hair? Keep on reading.

Daniel Alain Natural Human Hair Wig Collection
Low-quality wigs keep you frozen in place. Afraid to move too quickly or let anyone get too close for fear that they'll spot your wig. That's no way to live.
With Daniel Alain's natural human hair wigs, you can flip your hair, toss your head back in laughter, and dance the night away without a care in the world. Our luxury wigs are designed to move with you and make you feel like a superstar.
Our artisans hand-tie the finest European hair to our secure, well-fitting caps so you can style your locks any way you please. Even a high Ariana Grande-style ponytail is possible. Unless you divulge about your flawless hair—which we love—no one will be able to tell you're wearing a wig—and that's the way we like it.
Grandeur
By far the most precious strands in our collection, the Grandeur wig is constructed with 100% European hair from our exclusive, private reserve. Sourcing hair like this is a rarity in the industry, which is why this piece is known for its unrivaled opulence, comfort, and style.
With a smooth and sleek finish that cascades down the back, the Grandeur wig can be worn in its natural state or styled to your liking. Curl your ends, rock some double braids, or even throw it up into a high ponytail. No matter how you wear it, this wig is sure to turn heads.
All eyes are on you with Grandeur.
Chic
With a name like Chic, you know this wig means business. Crafted with 100% premium European human hair, this wig is soft, bouncy, and full of body. Its volume and luster will have you feeling like a celebrity, even when you're lounging on the couch.
Part of what makes natural wigs so special is their ability to be styled any way you want. Chic's temple-to-temple lace front hairline and hand-tied cap make sky-high updos a breeze—a feat that's difficult to achieve with synthetic wigs. So go ahead and don that high ponytail or half-up, half-down style you've been dying to try. With Chic, the sky's the limit.
Style
Dying to try a new look? With Style, the world is your oyster. This wig's 100% European hair means you can play with the latest trendy styles without worrying about accidentally exposing your cap.
The lace front hairline provides the most realistic look, making it difficult to tell that you're wearing a wig. And the hand-tied cap ensures maximum comfort, so you can wear your wig all day without headaches or irritation. With this wig, you can be as bold or as subtle as you want—the choice is yours.
Pixie
Sometimes, all you need is a little pixie dust. The Pixie wig is made with 100% European hair and offers the same iconic look and gorgeous feel as our other natural human hair wigs. But what sets Pixie apart is its short, sassy cut.
This style is perfect for those who want to make a statement in the most natural way possible. Part your hair in any direction, add a little flair with some curls or waves or just let it hang loose for a casual look. No matter how you style it, this wig will not go unnoticed.
Anything is possible with Pixie.
René
René is a best-seller for a reason. Crafted with an expert blend of World Select hair, this wig gives you all the volume and body you could ever want, without the expense of a European hair wig. It's still so soft to the touch and naturally luscious, that you'll feel like a million bucks every time you put it on.
The René wig is perfect for those who want a little bit of everything. With its chic, voluminous curls and natural sheen, you'll be red-carpet-ready in no time. So go ahead and rock that glamorous look you've always wanted. René has got you covered.
Get the best of both worlds with René.
Gripper Actif
No one likes a slippery wig. Gripper Actif's silicone-lined cap is designed for those with a more active lifestyle as its durable construction can withstand any activity. From intense workouts to long days at the beach, this wig is up for anything.
Plus, the Gripper Actif wig comes equipped with a lace front that replicates your natural hairline perfectly. You'll enjoy its smooth strands and fluid movement, all while knowing that your wig is staying put. And it doesn't hurt that it's totally gorgeous too.
Get up and go with Gripper Actif.
Gripper Lite
And finally, we have Gripper Lite. This wig is the perfect blend of comfort and security, with a silicone-lined cap that's designed to stay in place without being too tight. Part this wig in any direction and style it to your heart's content—Gripper Lite won't let you down.
Plus, its 100% hand-tied cap increases airflow and makes the whole wig lighter and cooler to wear. So go ahead and put your hair up in a tight bun or style it into loose waves. Gripper Lite is here to give you the hold you need without sacrificing comfort. No wonder it's another one of our best sellers.
Secure your style with Gripper Lite.

Experience the Beauty of Natural Hair Wigs at Daniel Alain
Every woman deserves to feel beautiful. And at Daniel Alain, we believe that beauty starts with a strong head of hair.
Our luxury wigs are crafted with the finest 100% European human hair, meaning they're soft to the touch and look and feel completely natural. Sourced from the best suppliers in the world, our hair is of the highest quality and offers a level of luxury that you won't find anywhere else.
But we don't just stop at hair. Our lace front wigs provide the most realistic look possible, with a hairline that's virtually indistinguishable from your own. And our hand-tied cap natural hair wigs are designed to be comfortable and breathable, so you can wear them all day without having to worry about headaches or irritation. No matter which style you choose, you can be confident knowing that you're getting the best of the best.
Ready to find your perfect wig? Experience the difference in superior quality, look, bounce, shine, and feel when you put on a Daniel Alain wig. Browse our collection of natural hair wigs today!
Frequently Asked Questions
Purchasing a wig—whether it's your first or your fifth—is a big decision and we want you to feel as confident as possible with your choice. Read on to learn more about our natural human hair hair wigs and how to pick the right one for you.
What is a "Natural" Wig?
A natural wig is a wig that's made with real human hair. Unlike synthetic wigs, which are made with artificial fibers, natural wigs offer a level of realism and versatility that's unmatched. From their soft, luxurious texture to their natural movement and fluidity, natural wigs are designed to look and feel like your own.
They are, without a doubt, the best way to achieve a realistic wig.
What Kind of Wig Looks Most Natural?
Natural lace front wigs crafted with 100% human hair are the most realistic-looking wigs available.
These pieces are designed with a thin, transparent lace that covers the hairline and blends in with your natural skin tone. This creates the illusion of a flawless, natural hairline—even up close. And a human hair wig offers the ultimate in realism, with each strand moving and flowing just like the real thing.
Always opt for a lace front human hair wig if you can—even better if the hair is 100% European.
How Long Do Natural Wigs Last?
With proper care, a natural wig can last for years. The key is to treat it with the same care and attention that you would your own hair. That means shampooing and conditioning regularly, using only gentle products, and avoiding heat styling whenever possible.
It's also important to store your wig properly when you're not wearing it. The best way to do this is to keep it on a wig stand or mannequin head, covered with a soft cloth. This will help protect it from dust, dirt, and other potential damage.
By following these simple tips, you can extend the life of your wig and enjoy it for years to come.
What are Natural Wigs Made Out Of?
The best natural wigs are made out of real 100% European human hair. And at Daniel Alain, we use the finest 100% European human hair in our wigs as it is the highest quality hair in the world.
Can You Tell if Someone Wears a Wig?
If the wig is made with high-quality human hair and is properly fitted, it's virtually impossible to tell that someone is wearing a wig. However, synthetic wigs are often much easier to spot as they can look fake or "plastic-y."
Natural wigs, on the other hand, are very lifelike—so much so that even people who you see every day might not be able to tell—they're that realistic.
Are Human Hair Wigs Better than Synthetic Hair Wigs?
Human hair wigs are more expensive than synthetic wigs, but they're so worth it. The quality is incomparable, and they offer a realistic feel that synthetic wigs simply can't match.
They're also much easier to style than synthetic wigs, as you can curl, straighten, and style them since the hair is real. And because human hair wigs are made with real hair, they can last for years with proper care.
What is the Best Wig Brand?
Daniel Alain uses the finest 100% European human hair in our collection of natural wigs. We believe that our pieces are some of the best on the market, and we're confident that you'll love them too.
Where is the Best Place to Buy a Natural Wig Online?
Virtual wig shopping can be daunting, but Daniel Alain makes it easy. We have a wide selection of natural wigs to choose from, and our expert stylists are always available to help you find the perfect wig for your needs.
What's more, we offer monthly financing options and a free Fit Kit to ensure that your wig is a perfect match.
What are the Different Types of Human Hair Wigs?
Human hair wigs are as diverse as the people who wear them. Each type comes with its own set of benefits and features, so you can choose the wig that's right for you.
Below are just a few of the different types of human hair wigs available.
European Hair
Hard to source and high in demand, European hair has the well-deserved reputation of being the best human hair for wigs. While it can be sourced from any country in Europe, it's typically cut from the ponytails of Russian and Ukrainian women. Finding European hair is a lengthy and costly process, which is why it's often the most expensive type of human hair on the market.
However, European hair wigs are worth the investment as they offer unmatched quality. The hair is thick, lustrous, and naturally blonde, making it perfect for those shopping in the U.S. and the U.K.
Daniel Alain has access to a private reserve of European Hair, which we use to create our ultimate luxury wig, the Grandeur.
Indian Hair
Indian hair is another popular type of human hair used in wigs. Sourced from the Hindu temples of India, Indian hair is often referred to as "temple hair" as it's donated by women who shave their heads as part of a religious practice.
Unlike European hair, Indian hair is more textured and coarse, making it ideal for those with thicker, curlier hair. It's also more affordable than European hair, so it's great if you have a tighter budget.
Asian Hair
Asian hair is an incredibly silky and smooth type of hair, making it perfect for those with fine hair. However, it only comes in black, making it not the best option for those with lighter hair colors.
While it's easy to find Asian hair, buyers need to be wary of low-quality options as many manufacturers will craft wigs out of hair found in drains, on the floor, or in other unsavory places.
Virgin Hair
Virgin hair is hair that has never been dyed, processed, or chemically treated in any way. It's the most natural type of human hair available—and finding it is basically impossible.
Nowadays, it's very rare to find someone who hasn't dyed or processed their hair in some way. Virgin hair is pretty much a thing of the past, so be cautious if you come across anyone selling it.
Remy Hair
Remy hair is a type of human hair that's been carefully sorted and aligned so that all the hair's cuticles face in the same direction. This ensures that the hair doesn't tangle or mat, even after multiple washes.
While Remy hair and virgin hair are often used interchangeably, Remy doesn't mean that hair hasn't been processed. Most hair used in wigs has been processed or exposed to chemicals in some form or another, so it's basically impossible to find Remy hair that's completely unprocessed.