Is a Synthetic Wig the Best Option For Me?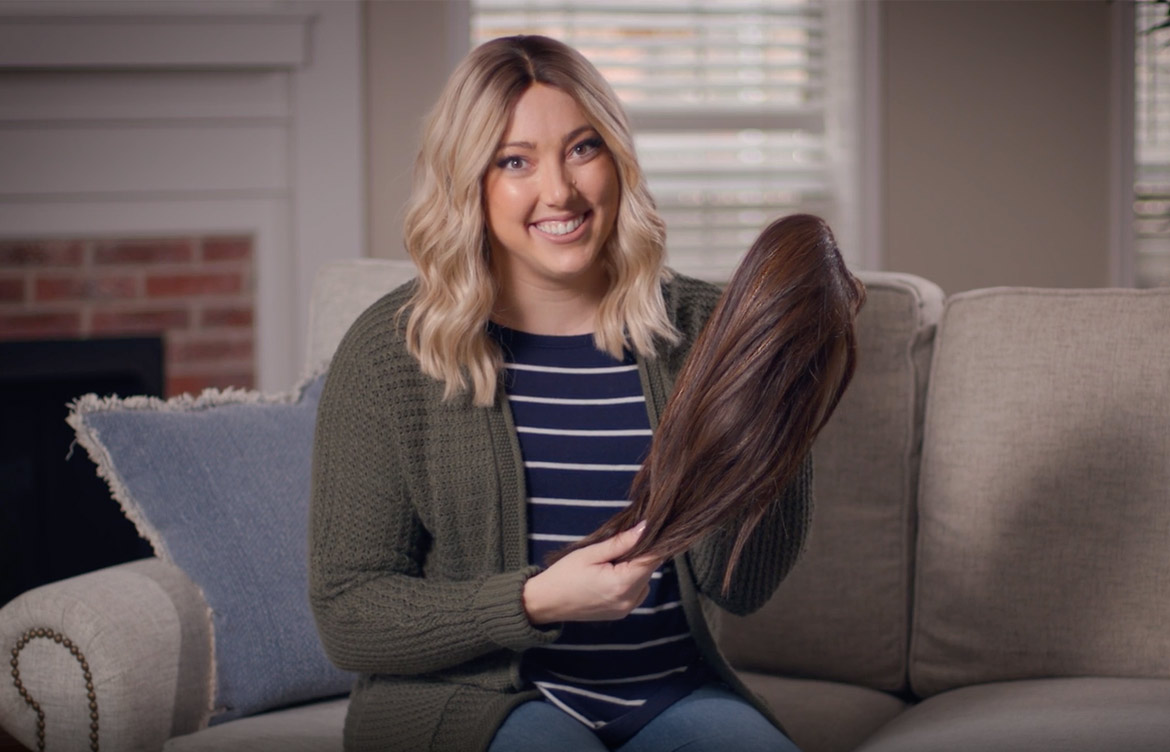 Are you considering wearing a wig and recognize the importance of knowing the differences between synthetic and human hair wigs? Maybe you've been wearing a synthetic wig for a while and it hasn't brought you the fulfillment you expected.
Experiencing hair loss and realizing that a wig is the best option for you is a significant step, but finding the right wig for you can sometimes be an even greater hurdle.
We asked one of our real-life customers, Jenn Brown, to share her experience wearing a synthetic wig for a year before she eventually found human hair wigs from Follea by Daniel Alain. We know that hair loss can be a distressing and embarrassing experience. We want you to know you're not alone. By sharing stories and real-life experiences, we hope anyone suffering from hair loss can learn from those who traveled the path before them.
We aim to make finding your perfect match easy for you. At Daniel Alain, we have worked with countless women, like Jenn, who have transformed their lives by finding their dream hair.
Let's take the next step in finding your dream hair.
---
---
---
Jenn began experiencing significant hair loss in her early 20s due to androgenetic alopecia. Growing up, Jenn had always been a bubbly life and soul of any party. But her hair loss changed that as she became increasingly embarrassed by her balding scalp and consumed with hiding it.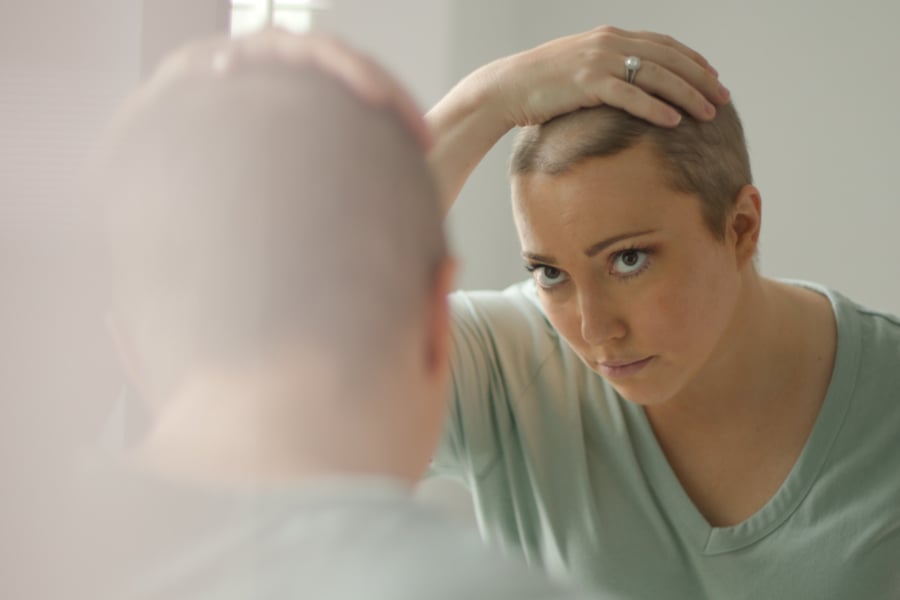 "Piece by piece it took bits of my confidence away from me until I was a shell of a person," recalls Jenn. "It was like I was imprisoned by my hair loss."
Finding the strength to take control of her hair loss, Jenn found herself as a young woman looking to purchase her first wig. Lacking any knowledge about how to buy her first wig, Jenn was unprepared for the experience.
---
Purchasing a synthetic wig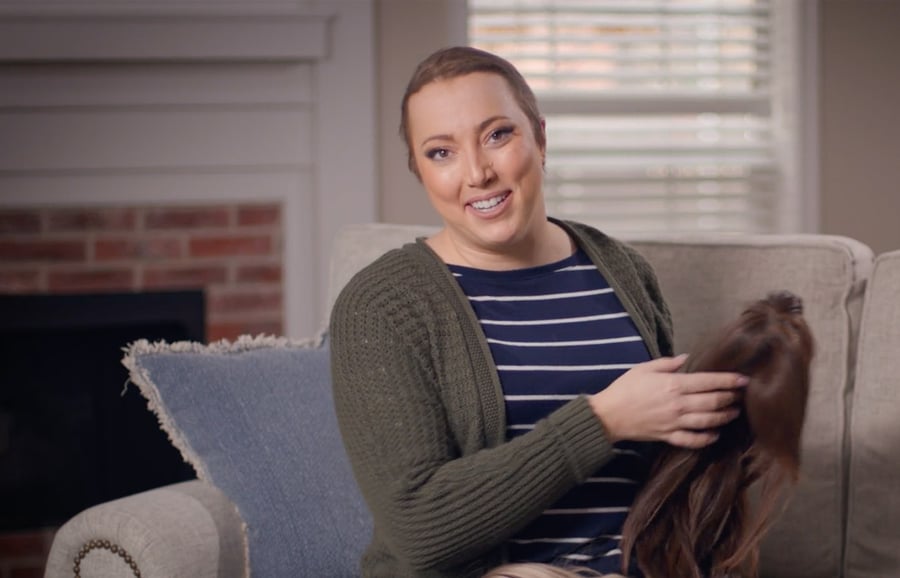 "I visited a local wig shop and I didn't really know what I was looking for," she recalls. "The associate quickly pointed me to the synthetic wigs. I didn't know much about wigs but I thought they would give me the confidence to be able to go out and be amongst my friends."
A synthetic wig is constructed using man-made fibers that are chemically processed to give the appearance of natural human hair. They are a low-cost option and are available in many colors, lengths, and styles. Synthetic wigs are pre-styled and have a shorter lifespan than human hair wigs.
Jenn was looking for a wig that could withstand the demands of everyday wear. She also wanted a wig that would reflect her youthfulness and playful nature. Jenn had previously enjoyed getting dressed up for glam nights out with friends and loved putting on makeup and fixing her hair. She had high hopes and expectations for her new wig.
Unfortunately, Jenn quickly discovered that synthetic wigs weren't the most natural-looking wigs for her, and her new purchase only drew more attention to her head. She didn't know the difference between synthetic and human hair wigs.
"When I first purchased my synthetic wig, I remember being so nervous. I didn't want to share with anybody that I was wearing a wig because honestly, I didn't think it looked very realistic."
---
Wearing a synthetic wig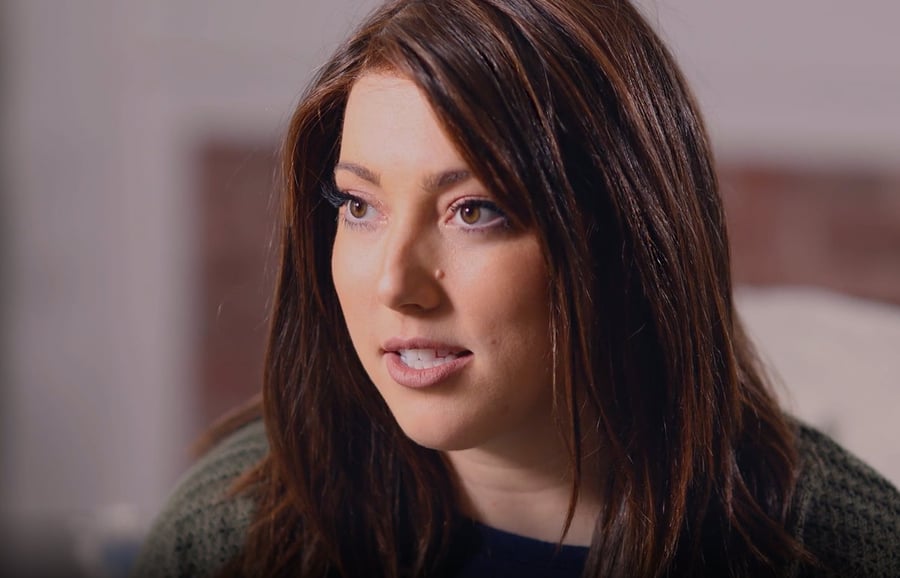 Synthetic wigs are mass-produced by manufacturers looking to turn a quick profit. The low-price point comes at the expense of high-quality materials, comfort and durability. A wig cap made from lower quality materials is not kind to the skin and synthetic hair fibers may look fake and may not move the natural bounce of a real head of hair.
Not aware of more realistic alternatives, Jenn thought her synthetic wig was the only option available to her. She wore her synthetic wig for a year and throughout that time, she never felt confident or comfortable in her hair. Unfortunately, Jenn experienced many of the common problems associated with synthetic wigs.
"The entire time I was just so self-conscious about it. It was really itchy and scratchy. The hair fibers were rough and coarse, and it got worse over time. Overall, it felt really fake and synthetic," Jenn explains.
"I didn't want anyone to know I was wearing a wig, but of course, everyone knew even though they didn't want to mention it. It didn't look realistic at all. Even knowing it looked fake, I wore my synthetic wig for a year.
Throughout that year wearing my synthetic [wig], I never regained my self-confidence."
As a pediatric RN in a busy hospital, Jenn hoped her synthetic wig would at least stand up to the grueling shifts she put in at the hospital, but again, she was met with disappointment.
"I remember I would wear it to work and all of the hair at the back would constantly be matted. I'd wear my stethoscope around my neck and the hair at the nape of my neck would always be a big ball of knots. It was impossible to keep smooth."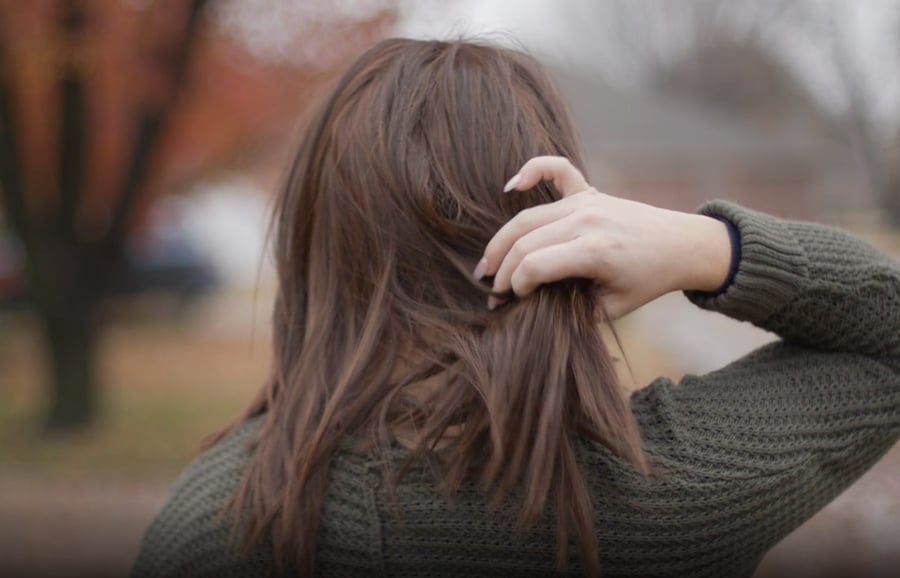 ---
Styling a synthetic wig
Synthetic wigs are made from acrylic or nylon fibers that cannot always be styled with the same ease as human hair. They're a good option for some people, especially if you're looking for a wig that holds its style day after day. But they're limited if you want to apply heat to create curls or straighten or change the color.
Jenn's synthetic wig came in a fixed style that she couldn't change. The part was fixed and couldn't be moved. Her hopes for playing with different hairstyles and switching up her looks were dashed.
"One of the many things I hated about my synthetic wig was that they told me it was a heat friendly wig and that I could apply heat and curl it. But that was not the case. Once I got home, I fried the hair and it looked super plasticky once I did curl it," Jenn laments. "I was pretty much stuck wearing it in a straight style all the time."
Dissatisfied with the lack of versatility, discomfort, and fake appearance of her synthetic wig, Jenn eventually gave up wearing it.
"After a year of wearing my synthetic [wig], I stopped wearing it because I thought my natural, thinning, balding hair was better. I didn't know natural-looking human hair wigs even existed!"
---
Finding human hair wigs from Follea by Daniel Alain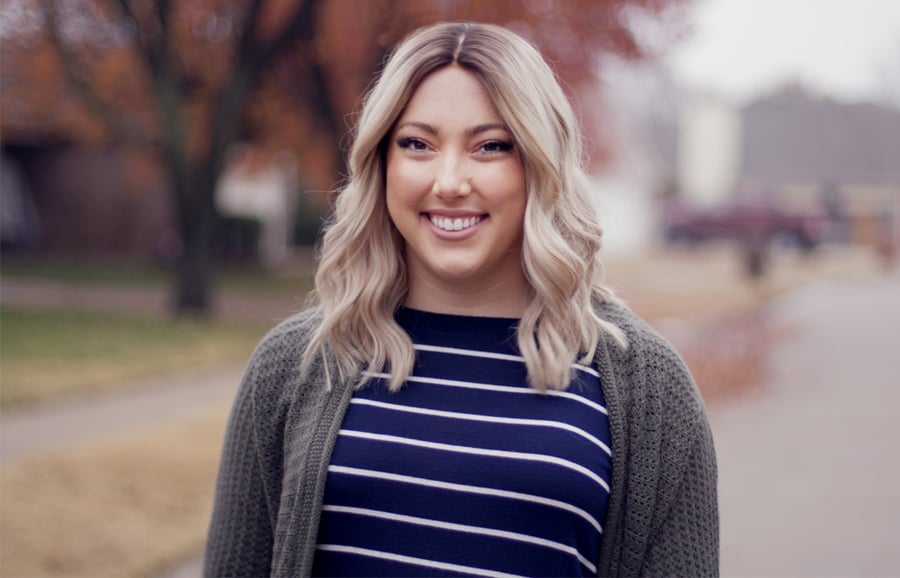 When Jenn ditched her synthetic wig, she went back to wearing her thin bio hair. Her bio hair caused her shame and embarrassment, but she still felt it was a better alternative than the fake-looking synthetic wig.
Resigned to living the rest of her life hiding behind her hair loss, Jenn fell upon human hair wigs unexpectedly.
"I was scrolling through social media one evening and I came across someone who was wearing the most beautiful, natural-looking wig I had ever seen. That's when I learned about human hair wigs from Follea by Daniel Alain. I was shocked by how realistic it looked."
Inspired by what she saw, Jenn went through the consultation process with the team at Daniel Alain. She worked with an experienced consultant who helped her take accurate measurements, choose color swatches and discuss hair lengths. Jenn received a Fit Kit that enabled her to try on caps, check sizing, and see hair samples in person. This was a very different experience from the day she felt out of her depth at the local wig store.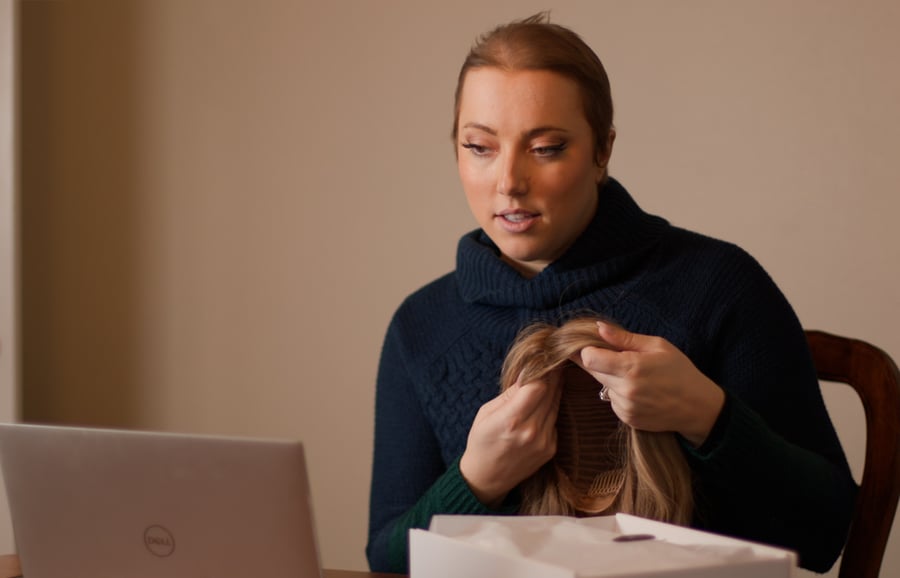 "From the moment I tried on a Follea wig by Daniel Alain, my confidence skyrocketed," Jenn beams. "I felt so beautiful in my wig. It felt like it was an extension of who I was, and it helped me radiate from the inside out."
Jenn felt so confident in her wig that she couldn't wait to share it with the world! It was a stark contrast to the synthetic wig everyone tried to forget was there.
"I didn't want to keep it a secret," she says. "It was like night and day."
Daniel Alain wigs are created with the finest materials that are kind to the skin and comfortable to wear. Accurate measuring and a properly fitting cap ensure that a Follea wig can be worn all day long, even among people with active, demanding lives.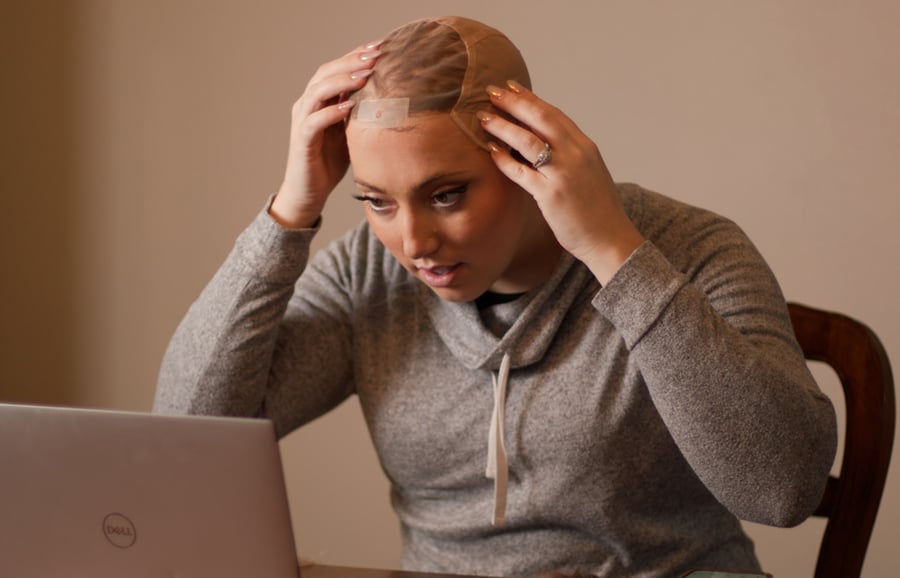 Our wigs are made from 100% human hair that can be styled with heat tools like bio hair. Jenn relishes being able to switch up her looks with her Follea wigs, create curls or change the part; things that her synthetic wig would not allow her to do.
For Jenn, there was no looking back. Human hair wigs opened up her world, and there was no more shying away from the limelight. Jenn embraces life with everything she has.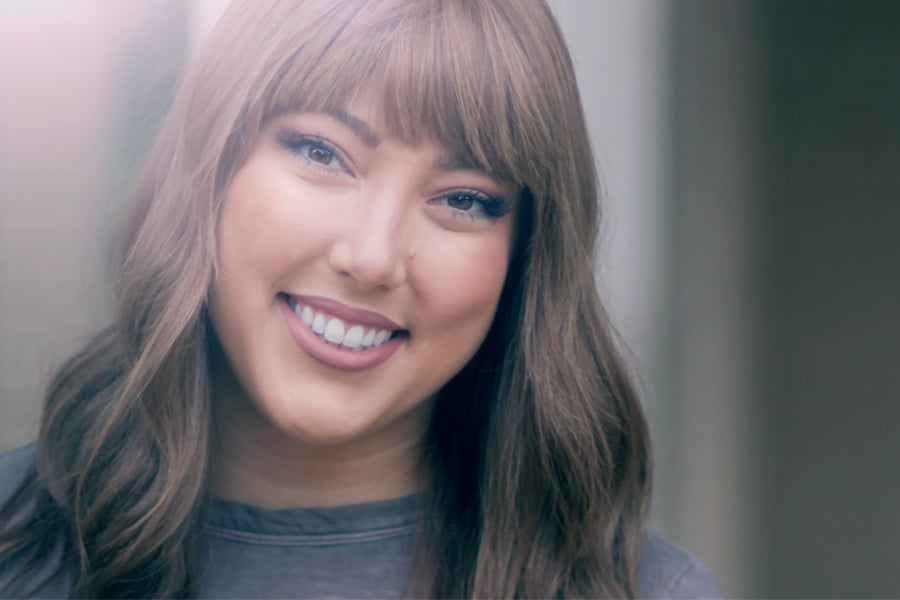 ---
Is it time for your own human hair wig from Follea by Daniel Alain?
In the past, Jenn felt stuck between a rock and a hard place. She felt the only options available were fake-looking, uncomfortable synthetic wigs, or her own balding bio hair. She didn't know natural-looking alternatives existed.
At Daniel Alain, we hear too many stories of women feeling disappointed with their wigs and having poor experiences that make them rule out future wigs altogether. If you're not proud of the hair you wear, we're here to help you change that. We want to assure you that setting high standards for your wigs is judicious. And we are confident that Follea wigs by Daniel Alain will exceed those expectations.

If you feel ready to explore our human hair wigs you can book a consultation with one of our experienced stylists who can talk you through the process of finding your own dream hair. We understand that taking the first steps can be daunting, but we're here to guide you on your journey.