What Makes a Wig The "Best Wig"?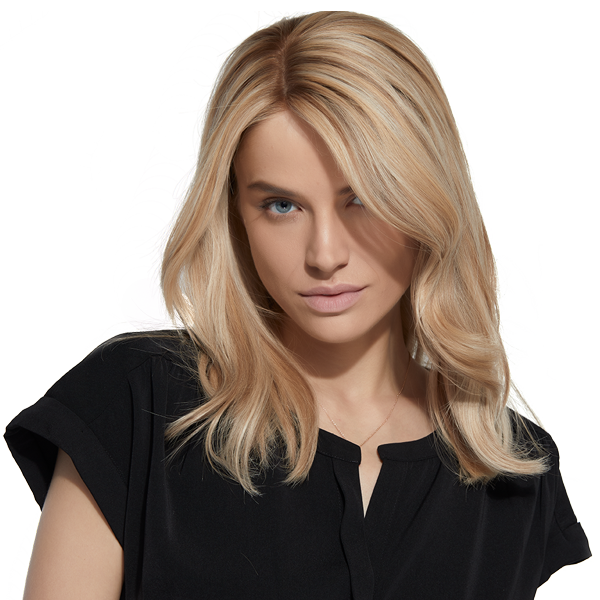 You've browsed countless websites, lost yourself down Instagram rabbit holes, and watched every YouTube review video that exists. The hunt for the best wigs—the ones that are undetectable, mesmerizing, and exquisite in every way—feels a lot like mission impossible. But it doesn't have to.
The wig of your dreams does exist. You just need to know what to look for.
The Best Lace Front Human Hair Wigs
Let's cut right to the chase: the best wigs are made with lace front construction and 100% human hair. Even better if it's premium European hair, the rarest, most sought-after strands in the world.
Lace front wigs have a nearly invisible sheer panel that runs from ear to ear or temple to temple to match your natural hairline perfectly. Most wigs come with the panel pre-cut, but you can always trim it yourself for a more customized look.
The hair is then either hand-tied or machine-wefted to the cap, which allows the wig to take on any desired style—from a sleek ponytail to big, bouncy curls. Whatever you can do with your own hair, you can do with a lace front wig.
As for the human hair part, it's pretty self-explanatory. Wigs made with human hair look and feel the most natural—like your own hair, only better. And because 100% human hair wigs can be styled with heat tools, they give you way more styling options than synthetic wigs.
The best lace front human hair wig is expertly crafted with the finest materials and construction techniques. That's precisely what you'll find in a Daniel Alain Follea wig.
René
Wanna feel like a whole new woman? Then say hello to René.
René's long, layered strands are soft and touchable, with a natural-looking density that will give you dangerous confidence levels. Designed with a unique blend of World Select Hair, this is one of the best wigs with just the right amount of fluidity and movement to make heads turn.
The real showstopper, though, is the lace front. Unlike other lace fronts that can look harsh and artificial, René's lace blends into your skin for a perfectly natural look. And because the hair is hand-tied to the top of the cap, you can rock a sweet low ponytail, stylish top knot, or even a single braid with ease.
Style
Nothing—and we mean nothing—is more irritating than a wig that doesn't fit. But slipping caps and crooked hairlines will be a thing of the past when you put on your new Style wig.
Style is one of the best wigs, thanks to its 100% hand-tied cap and skin top, ensuring a snug, comfortable fit that won't let you down, no matter what the day throws your way. And because the hair is knotted into the cap one by one, it allows for multi-directional styling that looks as incredible as it feels.
That soft-to-the-touch feel is thanks to the Style's 100% European Hair. The finest, most sought-after strands in the world, European Hair is known for its luster, density, and unbelievable softness. You'll just have to feel it to believe it.
Flaunt your hair worry-free with Style.
Chic
Ready to up your style game? Then slip on a Chic wig and watch the compliments roll in.
Chic's 100% Premium European hair is sourced from Daniel Alain's private and exclusive reserve. Hand-selected for its unrivaled quality, this luxurious hair is then meticulously hand-tied for the ultimate sense of effortless beauty.
The temple-to-temple lace front ensures a natural-looking hairline, while the skin-top cap allows for multi-directional styling and gives the illusion of your own natural hair. Wear it down, put it in a ponytail, or style it any way you please—Chic is always ready to give you that red carpet look.
Channel your inner diva with Chic.
The

Best Wigs

for Total Hair Loss
Losing your hair is a turbulent experience riddled with emotions. But it doesn't have to be the end of your confidence or your sense of style.
At Daniel Alain, we specialize in creating custom wigs for those suffering from total hair loss. Using only the finest European hair and skin-top caps, our wigs are designed to give you the most natural-looking and believable hairline possible.
We understand that no two cases of hair loss are alike. We offer a wide range of customization options to ensure your wig is just right for you. From hair color and texture to capsize and style, we work with you to create a hairpiece that's as unique as you are.
The best part? You can try on multiple wigs in the privacy and comfort of your own home with our Fit Kit! It's totally free and comes with everything you need to find your perfect fit.
Ready to find your new look? Take one of these beautiful wigs for a spin today.
Gripper Lite
Hair loss shouldn't hold you back from living your best life. With Gripper Lite, it doesn't have to.
Gripper Lite is our go-to wig for women experiencing total hair loss. Constructed with a silicone perimeter to prevent sliding, wear this wig all day without worrying. One of our customers even does cartwheels in it!
But this wig is more than just a secure piece you can feel confident in. Its 100% European hair looks and feels so natural that no one will suspect it's not your own. The temple-to-temple lace front gives you a believable hairline, while the 100% hand-tied cap provides multi-directional styling for a look as chic as it is comfortable.
Love how you look with Gripper Lite.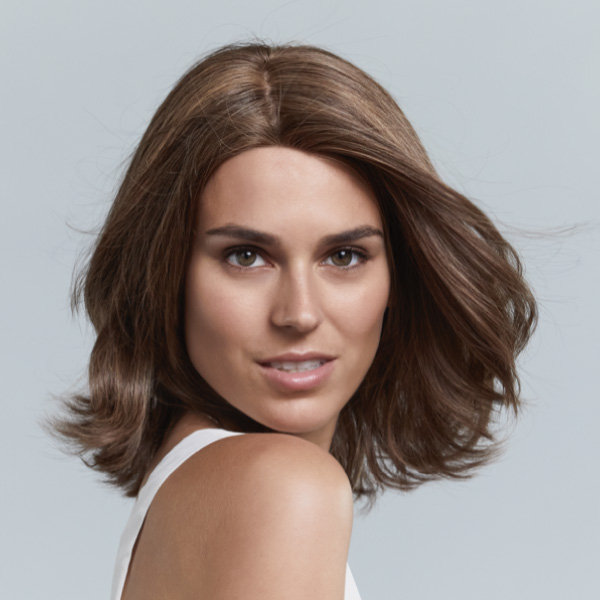 Gripper Actif
We all know the struggle of finding a wig that can keep up with our active lifestyles. Gripper Actif was made for women who want to chase their dreams at full speed—and look good doing it.
Whether you're running to the gym or chasing after your kids, Gripper Actif has got you covered. The wig's silicone perimeter gripper prevents it from sliding, even during strenuous activities.
And because we know you want a wig that's as stylish as it is functional, we've crafted Gripper Actif with only the finest European hair. The temple-to-temple lace front gives you a natural-looking hairline, while the 50% hand-tied cap provides some seriously enviable volume.
Run the world with Gripper Actif.
The Best Short Hair Wigs
Not everyone wants long, flowing locks. Sometimes, a short and sweet style is all you need to make a statement.
The best wigs for short hair have to strike the perfect balance between style and comfort. They should be easy to wear, low-maintenance, and—most importantly—look great on you.
At Daniel Alain, we've designed one of the best short hair wigs on the market to give you all the style of this unique cut without any of the hassle.
Let's meet her, shall we?
Pixie
Pixie is our go-to wig for women who want short hair with little fuss and a whole lot of personality.
This fun and flirty style brings an Audrey Hepburn essence to the modern woman with its cropped cut and choppy layers. The hand-tied cap gives you the freedom to style your hair any way you please, from an old-school hippie fringe cut to a sleek and polished pixie cut.
Pixie is also one of the best wigs for women with sensitive scalps. The cap's stretchy and breathable material provides a comfortable and snug fit that's lightweight and won't irritate your skin. What more could you ask for in a wig?
Make your dream hair a reality with Pixie.
Want to create your own new trend? Choose any of our premium human hair wigs and have a trained wig stylist chop the perfect short cut of your dreams!

The Best Premium European Hair Wigs
Human hair wigs are far more supreme than their synthetic counterparts. But narrowing your choices down to simply the best human hair wigs isn't quite specific enough. What is the best hair wigs can offer you?
Under the umbrella of human hair, you have strands sourced from Asia, India, and —our personal favorite—Europe.
European hair makes for the absolute best wigs. While it technically refers to locks from any Caucasian woman throughout Europe, it's mainly harvested in small villages around Russia and Ukraine.
Sourcing premium European hair is a rarity, which means these are the best wigs to buy on the entire market. Few wig manufacturers have the connections to do it. But at Daniel Alain, we only use the best of the best for our wigs—which is why we source our 100% European hair from our own private reserve, the only of its kind.
High demand and a limited supply make premium European hair the most coveted type of wig hair on the market. But what really sets this luxury hair apart is its unrivaled quality. It's thick, soft, shiny, and luxurious. Every measure is meticulously taken to ensure the utmost quality and craftsmanship—from experts hand tying the knots to artisans treating the hair with the most gorgeous colors and highlights.
It's also incredibly strong and resilient, able to withstand heat styling and chemical processing without sustaining damage.
But the best part about European hair? It's stunning and natural-looking. Whether you choose to wear it straight or curly, the best wigs will have you feeling like a glam goddess.
Grandeur
The best wig deserves the best hair, which is why we crafted our Grandeur wig with the world's rarest, 100% premium European hair. There is no higher quality hair in the world.
This long and luxurious style is fit for a queen—or anyone who wants to feel like one. Silky and smooth, the precious European hair has a natural luster that shines bright no matter what. It's the rarest of the rare, so don't be surprised when you notice people doing a double-take.
But the real beauty of Grandeur lies in its versatility. The lace front gives you the option to wear your hair swept back from your face or down and around your shoulders. And with the bonus of a 100% hand-tied cap, you can style your locks any way you please. Double braids, anyone?
Ready to live like a royal? Shop Grandeur today.
Rule your world with Grandeur.
Discover the

Best Wigs

at Daniel Alain
No matter what style you're looking for, Daniel Alain has the best wigs for you. From short and sassy to long and luxurious, our selection of hand-crafted human hair wigs is a fit for any woman who wants to feel her most fabulous, confident self.
Sourced from the top 10% of hair available in the world, our wigs are made with only the best European manes. So you can rest assured knowing that your wig will be soft, silky, and full of natural luster.
Our unsurpassed craftsmanship makes our wigs some of the most undetectable and mesmerizing on the market. And with 100% hand-tied caps, they're also some of the most comfortable.
Unsure which one is right for you? Schedule a personal consultation with one of our expert wig stylists today. We'll help you find the perfect wig for your unique style, face shape, and budget.
Don't settle for second best. Shop Daniel Alain today!
Frequently Asked Questions
Investing in a wig is a big decision. But it doesn't have to be a daunting one. To help you feel more confident about choosing the best wig for you, we've answered some of our most frequently asked questions about wigs below.
What is the Best Wig Brand?
The best wig brand is the one that uses rare European hair to produce the best wigs. When it comes to quality, no one does it better than Daniel Alain.
Daniel Alain wigs are made with only the finest European hair (widely considered the best hair wigs) sourced from our private reserve. Our expert wig makers then craft each wig by hand, ensuring that each one is truly a work of art.
What is the Best Wig for Beginners?
If you're new to wigs, we recommend starting with a similar style to your natural hair. This will help you get accustomed to wearing and caring for your wig.
Daniel Alain's René wig is the perfect choice for beginners as it's affordable, easy to style, and can be worn in various ways.
Are Human Hair Wigs the Best?
Human hair wigs are often considered to be the best type of wig as they offer a natural look and feel. And because they're made with real human hair, they can be styled just like your own natural locks.
Synthetic wigs, on the other hand, are typically made with nylon or other fibers. While they're more affordable than human hair wigs, they don't offer the same natural look and feel.
Which Type of Human Hair Wig is the Best?
European hair is by far the best type of human hair for wigs. Sourced from the top 10% of all hair available, it's the rarest and most coveted type of hair in the world.
With a silky sheen that's smooth to the touch, European hair has a natural luster that cannot be replicated. It's also the most versatile type of hair, as it can be styled in any way you please—even with heat-based tools.
What is the Most Natural Looking Wig?
A lace front wig is the most natural-looking type of wig as it offers an undetectable hairline. Lace front wigs are made with a thin, transparent piece of lace that is trimmed to fit your hairline and glued in place. The individual hairs are then hand-tied to the lace, giving the appearance of a natural, growing hairline.
At Daniel Alain, our lace front wigs are made with only the finest European hair and can be styled in any way you please. So you can wear your wig with confidence, knowing that it looks (and feels) like the real thing.
Is a Lace Front or Full Lace Wig Better?
A lace front wig is a good choice if you're looking for a natural-looking wig with an undetectable hairline. A full lace wig, on the other hand, offers the most natural look as it can be styled in any way and worn in a variety of styles.
While full lace wigs offer more breathability than lace front wigs (which normally have hand-tied or machine wefted caps), they can also become looser over time. Lace front wigs tend to be more secure and designed for everyday wear.
What Do I Need to Know Before Buying a Wig?
How often you'll wear the wig and for what purpose will help determine which wig is best for you. For example, if you're looking for a wig to wear on special occasions or for short-term use, then a synthetic wig may be a good choice. If you're looking for a wig to wear every day, human hair is the way to go.
You'll also want to consider your budget as the best wigs can cost anywhere between $2,000 to $10,000. And finally, you'll want to find a comfortable wig to wear and easy to care for.
At Daniel Alain, we offer a wide variety of wigs to suit any need or budget.
What Makes a Wig High-Quality?
The type of hair used and how a wig is constructed are the two main factors that determine its quality. For example, a wig made with 100% European hair will be of a higher quality than one made with synthetic fibers or lower-grade human hair.
Similarly, a wig that is hand-tied will be of a higher quality than one that is machine wefted. The reason for this is that hand-tied wigs are made with each individual hair strand tied to the lace by hand. This creates a more natural look and feel, as well as a wig that is more durable and long-lasting. Machine wefted wigs will be limited to certain styles and won't offer the same level of naturalism.
Are Wigs the Best Option for Hair Loss?
Wigs are an excellent option for those experiencing hair loss, as they offer a natural-looking solution that is easy to care for. And with so many different types and styles of wigs available, you're sure to find one that suits your needs and taste.
At Daniel Alain, we offer other solutions for treating women's hair loss. Learn more about those here.
What is the Best Website to Buy a Wig?
If you're looking for the best website to buy a wig, then look no further than Daniel Alain. Between our precious European hair, hand-tied construction, and natural-looking designs, we offer the best wigs available on the market.
Browse our collection of wigs today and find the perfect one for you.